Easy, quick, and delicious are just a few words to describe this Shrimp Scampi dish! With just a few ingredients you'll have dinner ready in no time.
This post is in partnership with Bare Bones Broth. Though I am compensated for my work, all opinions are my own.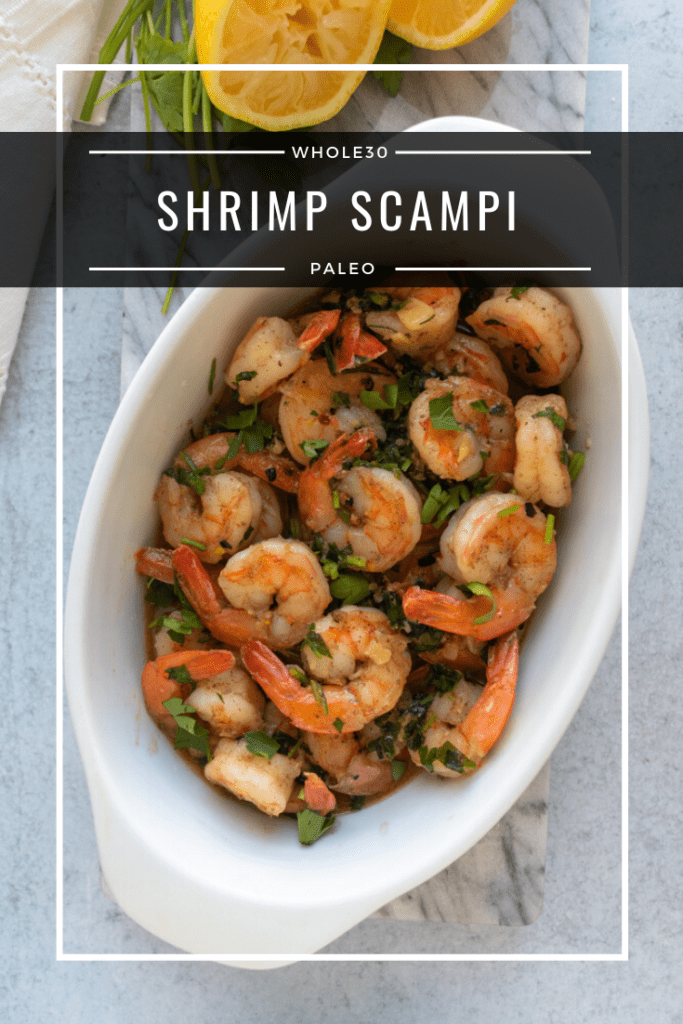 Shrimp Scampi is a dish I refuse to order at a restaurant. It is grossly overpriced and you don't get enough of what you paid for. Plus, it's also one of those dishes that can easily be made at home and it takes about FIFTEEN, yes 15, minutes max!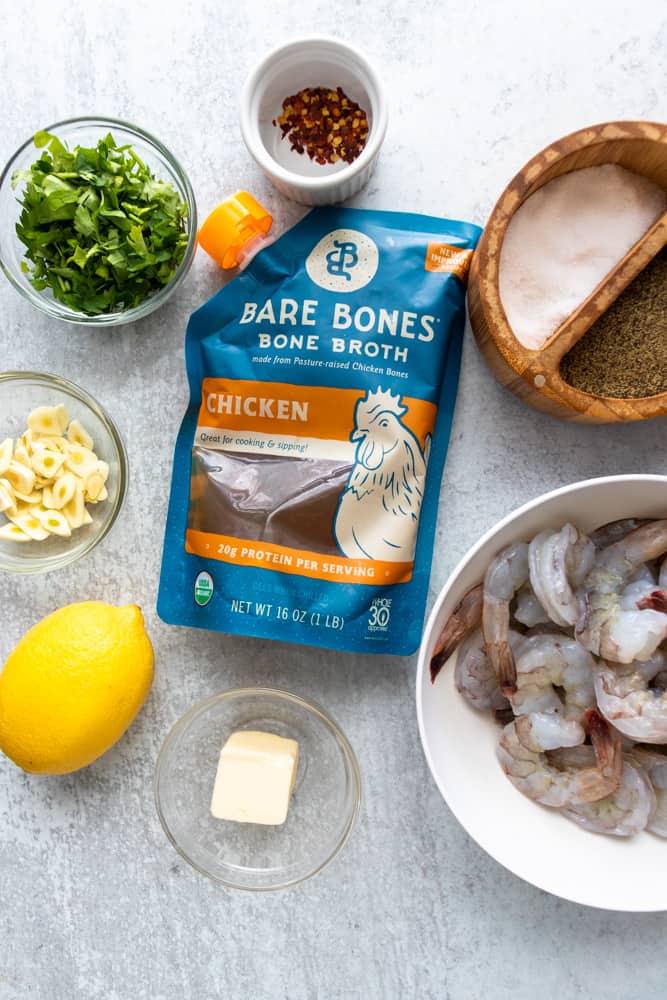 I also love shrimp scampi because it's such a versatile dish. You can have it as an appetizer or as a main dish. If you're having it as an appetizer, serve it with some nice crusty bread, and if you're having it as a main dish, serve it over some pasta OR my personal favorite cauliflower mash.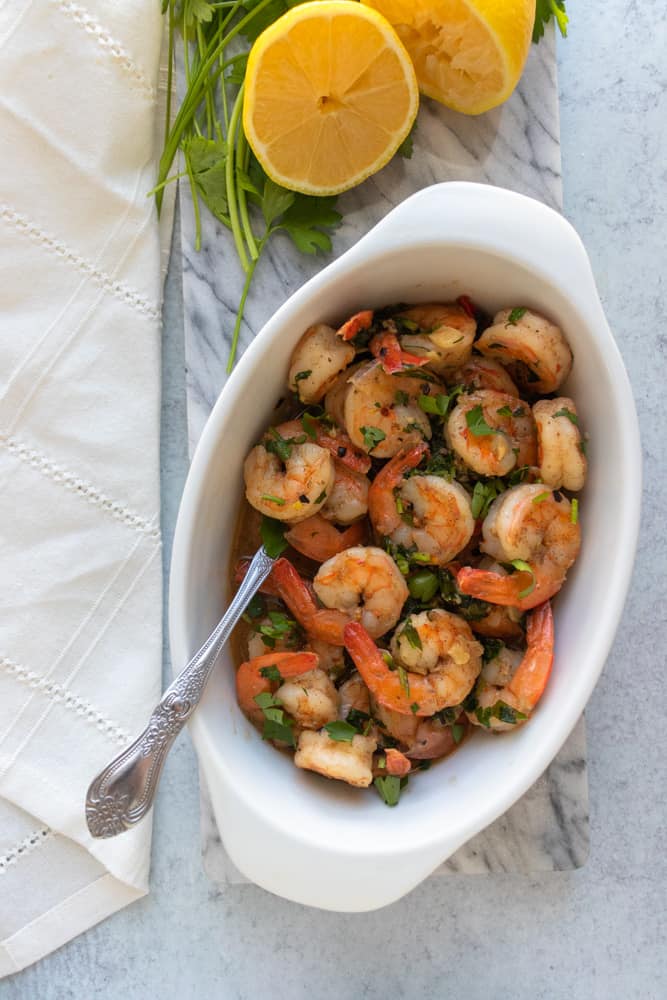 This recipe was also developed with the help of my Instagram followers. I'm starting a new series where I pick an ingredient or product to create a recipe around. My followers will vote in my Instagram stories which direction my recipe will go.
This time around the ingredient was Bare Bones Broth Organic Chicken Broth. My followers wanted a recipe that was:
non-soup
made on the stovetop
had animal protein
didn't matter if it was Asian inspired
made in 30 minutes or less
didn't matter if it had 5 ingredients or more
I am pretty sure this recipe covers all the bases!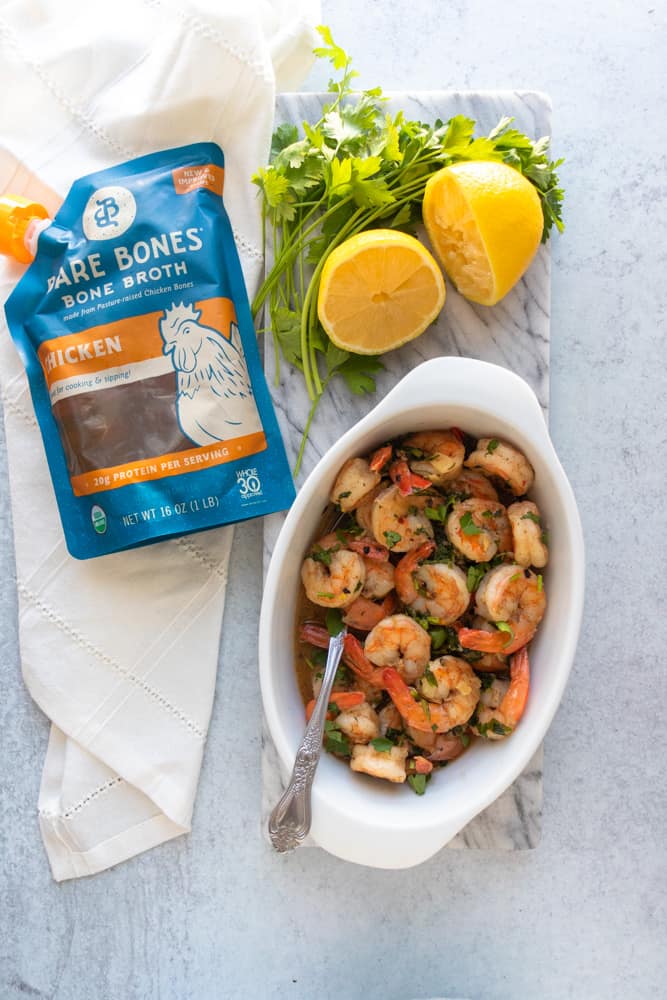 Traditionally, shrimp scampi is made with white wine, but I know that a lot of my readers are following a paleo/keto diet and I know some people don't like cooking with alcohol so Bare Bones Broth Organic Chicken Broth was the perfect replacement.
Many of you know I'm a huge fan of bone broth, but I'm not a huge fan of making my own. Bare Bones Broth is my go-to bone broth for many reasons. Bone broth has a lot of nutritional value and what's amazing about Bare Bones Broth is that you can see the quality of the broth right from the package!
Not many store bought bone broth gets gelatinous –which I personally believe is a sign of good quality bone broth, but Bare Bones Broth does. They are using quality bones and ingredients and you can taste the difference! This is why I leave it to them when it comes to my bone broth. They are the experts.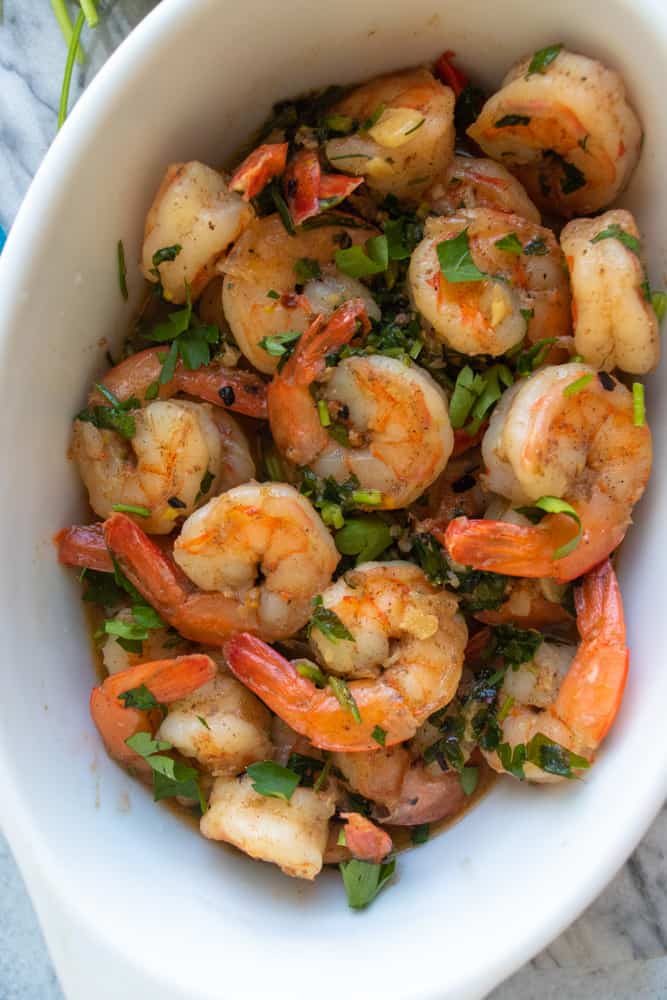 Now back to this shrimp scampi. Here are a few things to ensure the perfect dish every time:
I recommend buying larger shrimp and leaving the tail on when you peel it. Leaving the tail makes it look pretty and holds a lot of flavor.
This recipe moves fast so have ALL of your ingredients prepped and ready before you start cooking.
Try to keep your heat at medium. Any higher you run the risk of burning the garlic and overcooking the shrimp.
Like I mentioned, I like mine over cauliflower mash or pasta, but it's great with a crusty bread, over mashed potatoes or even over a baked potato.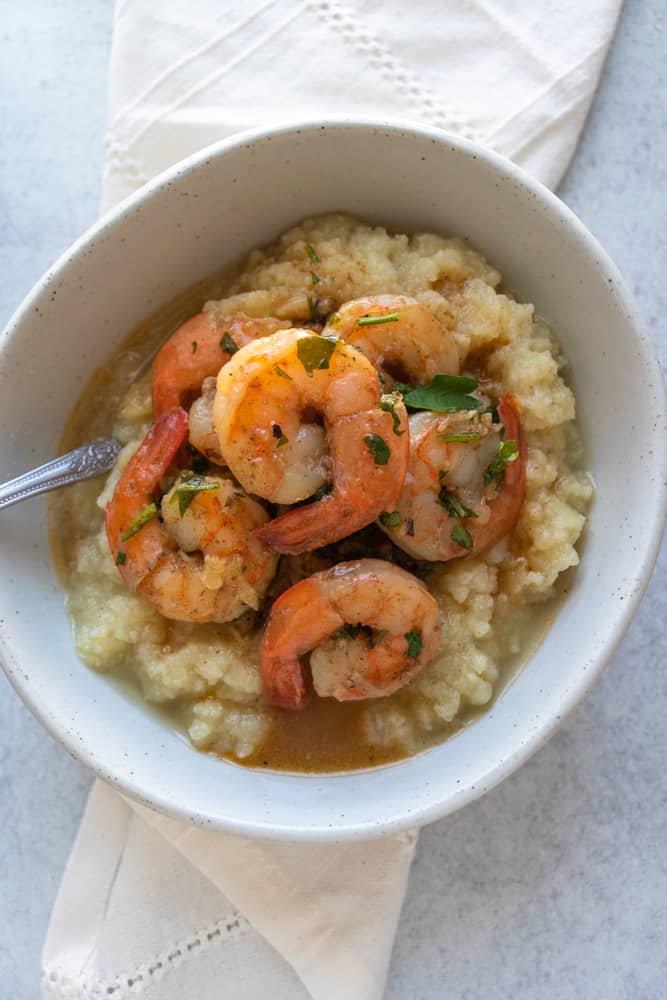 I hope you all enjoy this quick and delicious dish as much as I do! If you make this recipe, be sure to tag me on Instagram!
Shrimp Scampi (Paleo, Keto, Whole30)
This Shrimp Scampi is an alcohol free version that comes together in 15 minutes or less. It's made with simple ingredients, but is packed with lots of flavor.
Ingredients
2

tbsp

ghee

or butter

4

garlic cloves

thinly sliced

¼

tsp

red chili flakes

1

tsp

kosher

more to taste

1 ½

lb

shrimp

peeled and deveined with tail still on

¼

cup

finely chopped parsley

½

tsp

fresh ground black pepper

more to taste

1

lemon

cut into wedges
Instructions
Preheat skillet over medium heat.

Add in the ghee and garlic, and cook for 45-60 seconds or until ghee is melted and garlic is fragrant.

Next add in the red chili flakes and kosher salt then pour in BBare Bones Organic Chicken Bone Broth. Stir and then let simmer for 4-5 minutes.

Add in the shrimp and simmer on each side for 2-3 minutes or until cooked through.

Turn off the heat and mix in the chopped parsley, ground black pepper, kosher salt if needed, and squeeze half the lemon over the shrimp.

Serve with additional lemon wedges.
---
SIMILAR RECIPES:
Instant Pot Shrimp Boil
Spicy Coconut Shrimp
Mango Shrimp Avocado Salsa
---