Summertime is finally here, and I love making making fresh salsas –especially the kind with my two favorite fruits: mangoes and avocados. Sometimes I get a little crazy and throw in some shrimp to fancy it up a bit and because protein. This mango shrimp avocado salsa will not disappoint!
This recipe is the perfect appetizer if you are hosting friends and family. It does not matter if you are doing the Whole30 or not because everyone can enjoy it! Prep all of the ingredients with the exception of the avocado, mix it together and refrigerate it. Once you are ready to serve the mango shrimp avocado salsa, mix in the diced avocado and serve!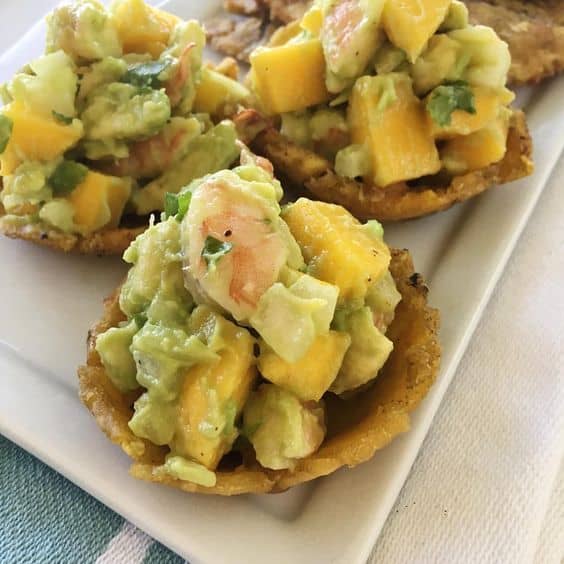 I love this "recipe" because you can adjust the ingredients to your preference. If you want more avocados, add more avocados. If you prefer it to be mango heavy, add more mangoes. If you like it tangy, add more lime juice. Make it your own by adjusting it to what you like!
Also, in my humble opinion, this mango shrimp avocado salsa is best served with tostones, but you can serve it with anything. (How to make tostones cups can be found in my tostones post.) If tostones isn't your thing, it's great with baby bell peppers or tortilla chips (I love Siete grain free tortilla chips). I've had it over steak for a cheaper version of surf and turf. You can keep the shrimps whole and throw it over a bed of greens for a complete salad. The possibilities are truly endless.
Bring or make this to your next BBQ or gathering, and I am sure it will be a hit with everyone that tries it.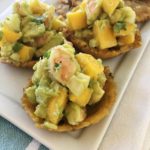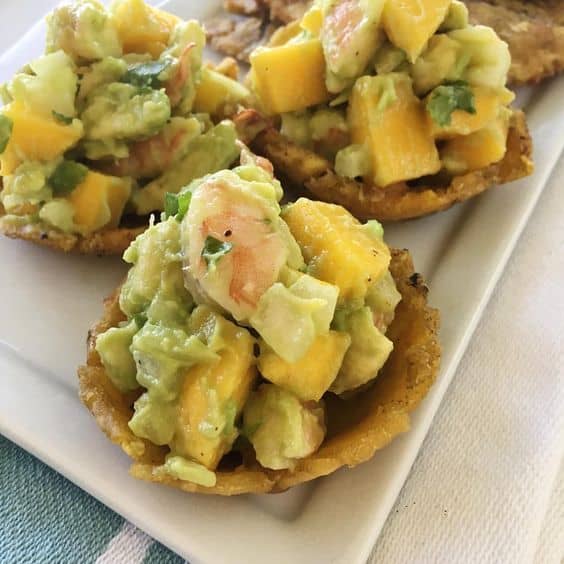 Mango Shrimp Avocado Salsa
Ingredients
2

large mangos*

peeled and diced

1

lb

shrimp

cooked and chopped

1

large avocado

diced

1/2

onion finely

diced

1/4

cup

cilantro

chopped

1

jalapeno

diced (optional)

1

lime

juiced

1

tsp

kosher salt

1/2

tsp

fresh ground black pepper
Instructions
Place all ingredients in a bowl and mix together.

Adjust seasoning to taste.
Recipe Notes
*if mangoes aren't in season, you can use frozen mangoes. Just let the mangoes thaw, chop them up to bite size pieces and mix with other ingredients. Start with a cup and go from there.
Pin this recipe for later!
This post contains affiliate links. If you make a purchase using my links, I will receive a small commission but it will not cost you anything extra. Thank you for your support!