These super easy and crispy air fryer kale chips are going to be your go-to snack! You can simply have them with a little kosher salt and black pepper OR get creative and season them with your favorite herbs and spices.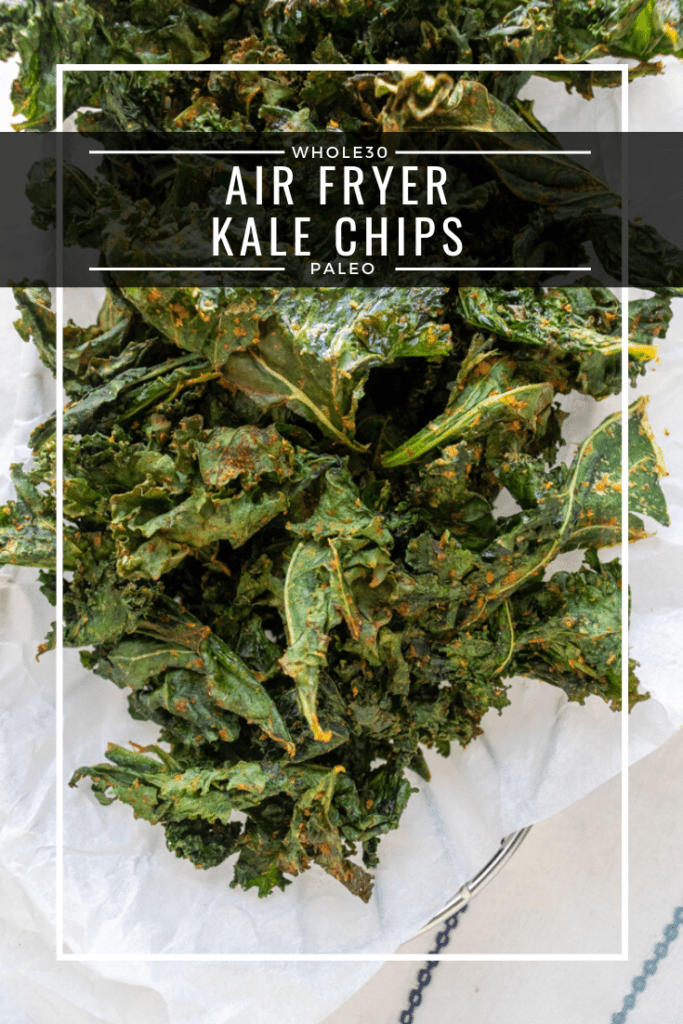 Long gone are they days you pay for overpriced kale chips. These homemade air fryer kale chips are a total game changer and will cost you wayyyy less than buying a small bag that supposedly feeds two people, but really is meant for just one person.
Turning kale into kale chips is my favorite way to eat kale. The edges get super crispy and charred, and you can season it however you like.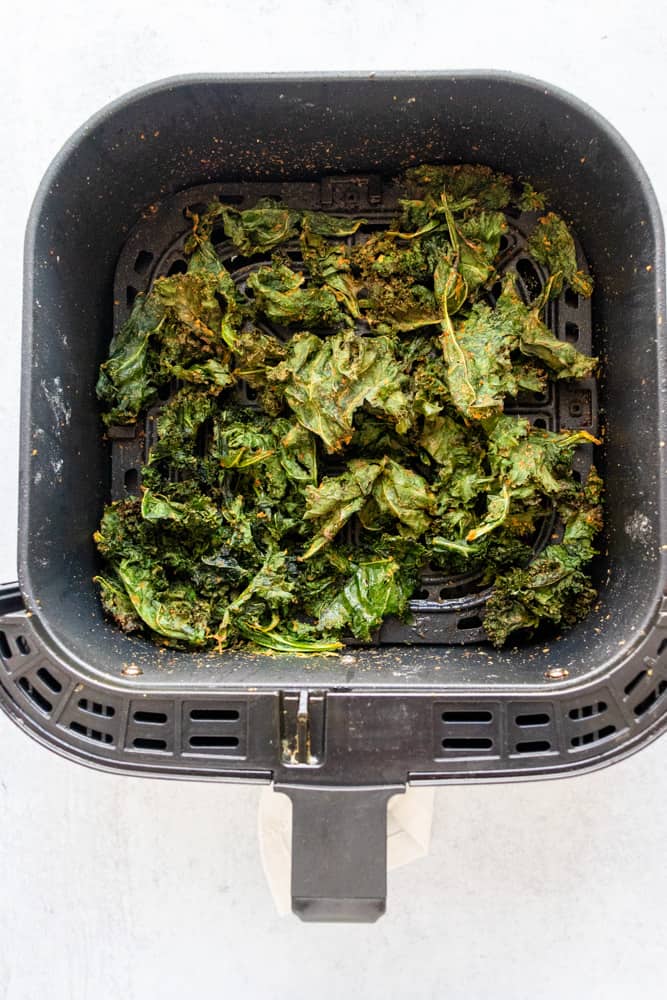 I love making them in them in the air fryer because it literally takes less than 10 minutes. I'll share with you the oven method as well, but if you are looking for a new kitchen appliance, I cannot recommend the Gourmia Digital Air Fryer (not sponsored, just love it) enough.
I use my air fryer almost everyday –especially during the summer when I don't want to turn on my oven and heat up the whole house. It's basically a mini conventional oven and there isn't much you can't cook in it. If you do decide to get one, I highly recommend get the 6qt. Trust me.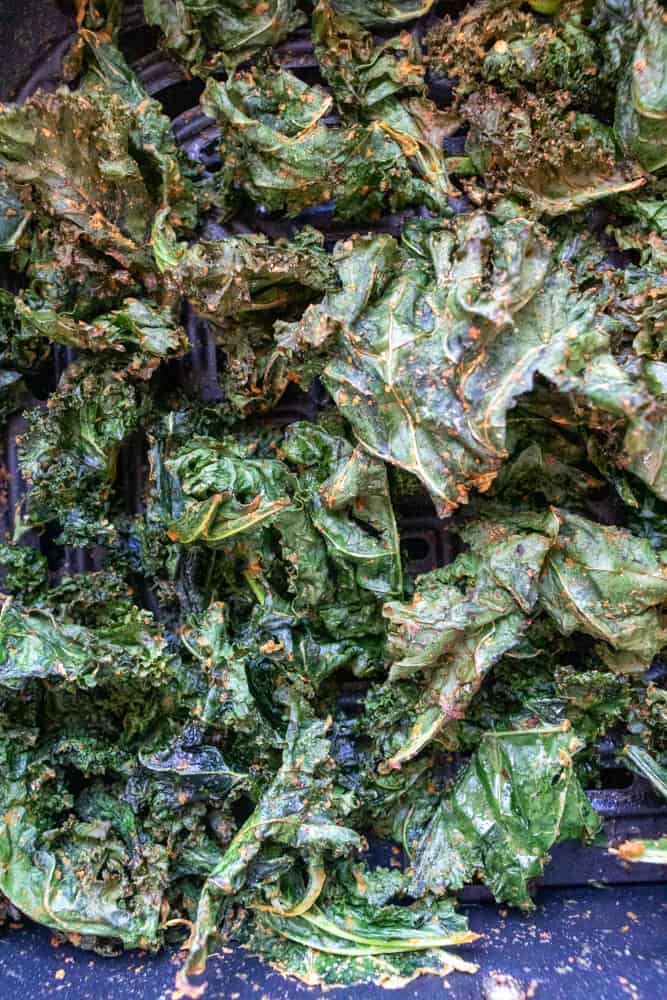 Anyway, back to these delicious air fryer kale chips. My favorite way to them is seasoned with a "cheesy" seasoning that's packed with so much flavor. I use to buy one called nacho cheese kale chips, but for $6 a bag, I was burning a hole in the pocket. No bueno.
One bunch of organic kale costs me about $2 and all the seasonings I need are already in my pantry. This is such a great low cost healthy snack that you can make as often as you want!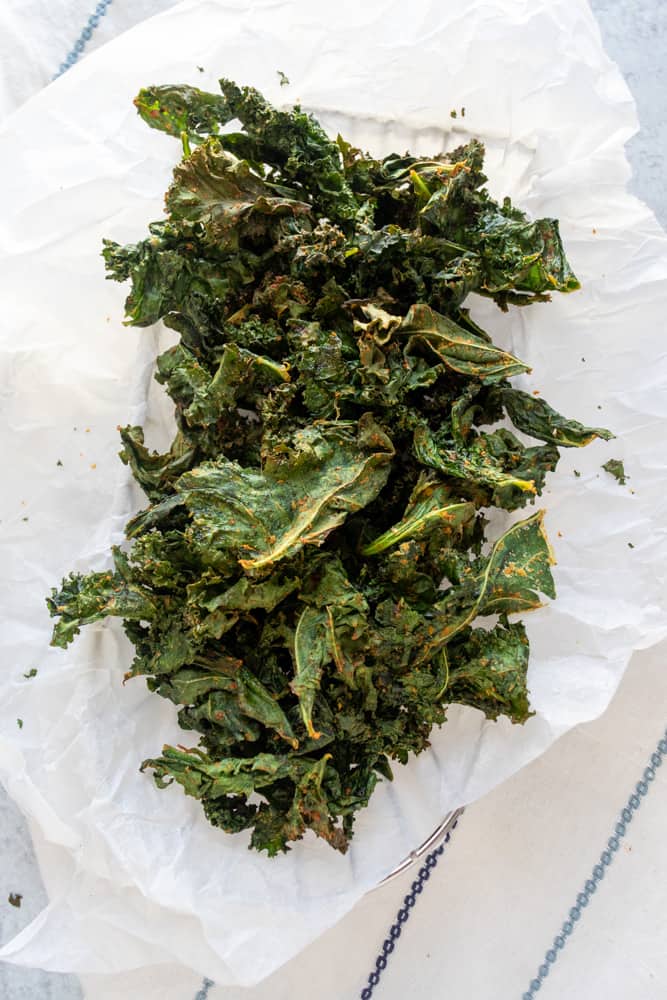 A few key things to make sure you get crispy air fryer kale chips all the time:
Make sure your kale is dry. Moisture is the enemy of crispiness. You don't want to steam your kale.
A little actually goes a long when it comes to coating it with a cooking oil. You don't need to oversaturate the kale leaves. Just enough so it's lightly covered and the seasoning has something to adhere to.
I suggest shaking the kale chips in the air fryer every couple minutes to ensure all of them get crispy. Soggy kale chips is not good.
These are great right out of the air fryer or you can let them cool to room temperature to enjoy. They'll still be crispy!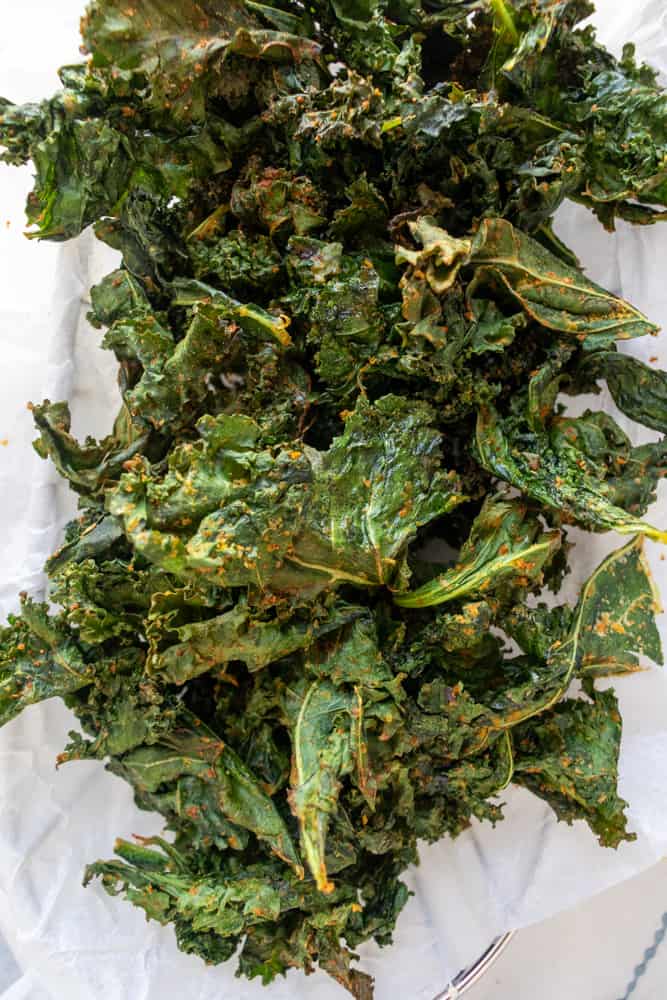 Now go out there and make yourselves some air fryer kale chips and tell me what kind of flavors you create!
Air Fryer Kale Chips (Paleo, Keto, Vegan)
Air Fryer Kale Chips are made in fraction of the time in an air fryer. The kale chips are light and crispy.
Ingredients
1

bunch of kale

kosher salt

to taste

ground black pepper

to taste
"Cheesy" Seasoning (optional)
Instructions
Pat kale dry then remove kale leaves from stem and rip into bite size pieces.

Spray kale with avocado oil spray and season with kosher salt and ground black pepper to taste.

Optional: season with "cheesy" seasoning and toss until kale leaves are coated with seasoning.

Add kale to air fryer basket.

Cook at 400F for about 5-6 minutes or until desired crispiness, shaking a couple times.

Serve warm or at room temperature.
Recipe Notes
Oven method: preheat oven to 300F. Place kale chips onto a baking sheet in a single layer (you may need more than one baking sheet). Roast for about 20-25 minutes or until the kale becomes crispy.
---
SIMILAR RECIPES:
Air Fryer Home Fries
Air Fryer Tostones
Air Fryer Crispy Chicken Sandwich
---