This Sesame Chicken Stir Fry is such a classic stir fry recipe. It's always been my go-to and I hope it becomes a go-to for you! The base is pretty simple, and you can change it up to your liking.
Stir fry recipes are one of my favorites because they come together super fast, and they are always delicious! You can literally throw anything you want together, have it be done within 30 minutes and call it stir fry.
Sesame chicken stir fry is such a classic recipe in my opinion. You can find a variation of it at so many different Chinese restaurants, but making it at home is so doable. Plus, I'm sure you could prep, cook, and eat this recipe long before you even get your takeout order delivered to you.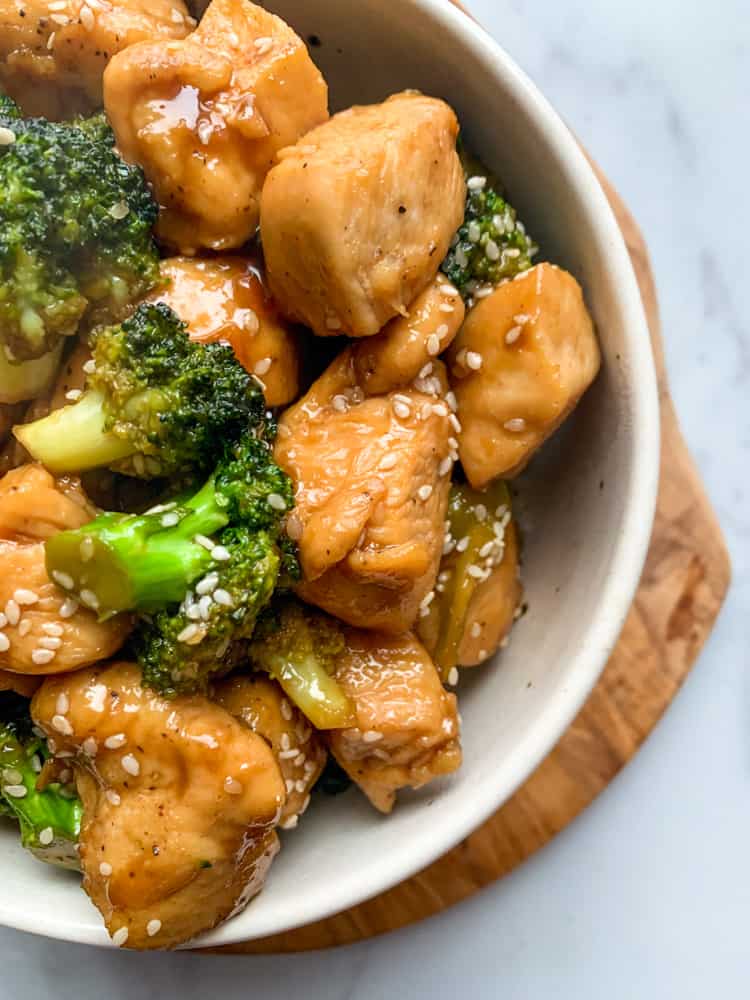 Seriously, this sesame chicken stir fry took me less than 30 minutes to make and I had leftovers for lunch the next day. Win-win in my book!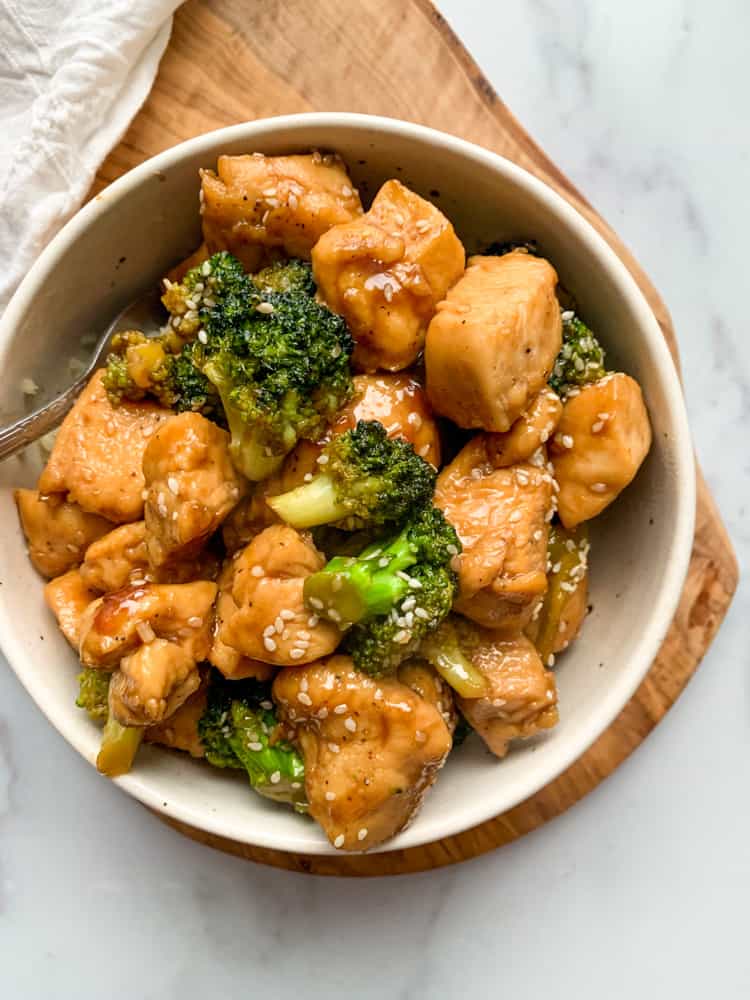 Here's how I always ensure I get the best stir fry no matter what:
Prep ALL of your ingredients before cooking. Stir fry moves fast and you don't want to be chopping things up while things are cooking because you'll most likely burn whatever it is you're cooking.
I always have a formula for my stir fry: protein + at least one veggie + stir fry sauce. If you have these three components, you'll have a good stir fry.
I always get asked why I coat my chicken in tapioca flour, potato starch, and etc. Why? Because it will help the sauce adhere to the chicken, it will help thicken up the sauce, and it will help it get crispy.
I know everyone has different dietary needs, so if broccoli doesn't work for you, you can replace it with any other veggie your little heart desires.
I like using a wok when I make sir fry, but if you don't have one, use a cast iron skillet. If you don't have a cast iron skillet, use a skillet that can handle high heat. I personally think it makes a difference.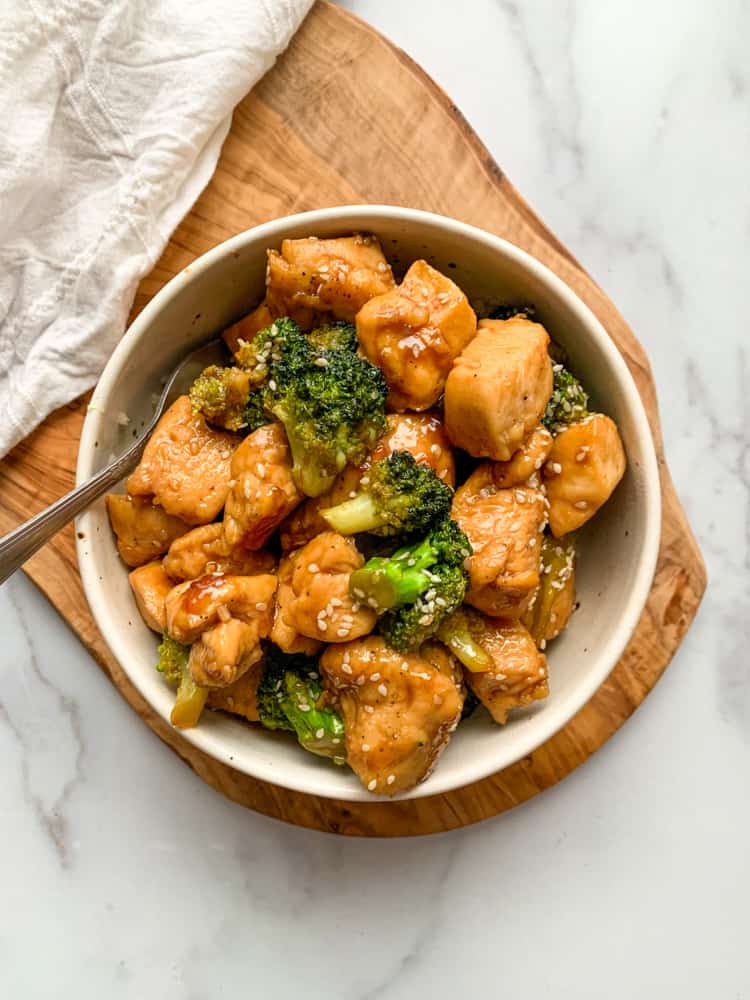 Next time you're in a pinch for a quick meal, add this sesame chicken stir fry to the menu, and enjoy! Be sure to tag me on Instagram if you make the recipe.
Sesame Chicken Stir Fry (Paleo, Keto, Whole30)
Ingredients
1

lb

chicken breast

½

tsp

ginger powder

½

tsp

garlic powder

1

tsp

kosher salt

½

tsp

ground black pepper

¼

cup + ½ tbsp

tapioca flour

or arrowroot flour

1

tbsp

avocado oil

3

garlic cloves

minced

1

tbsp

grated fresh ginger

½

cup

coconut aminos

½

cup

chicken broth

1

tsp

sesame oil

1

cup

broccoli florets*

1

tbsp

sesame seeds

kosher salt

to taste

ground black pepper

to taste
Instructions
Cut chicken breasts into cubes and season with ground ginger, garlic powder, kosher salt, and ground black pepper.

Next, coat the chicken with tapioca flour making sure to shake off any excess.

Preheat a wok or skillet over medium-high heat with avocado oil.

Add the chicken making sure to spread the chicken out so most of it is touching the wok. Let sit for a couple minutes and then stir.

Remove chicken from wok (doesn't have to be full cooked) and set aside.

Next add in the garlic and ginger. Stir fry for 15 seconds then add in the coconut aminos and chicken broth.

Lower the heat to medium. Whisk in ½ tbsp tapioca flour, and bring to a gentle simmer.

Add the broccoli florets, mix, and let simmer for about 6-8 minutes.

Turn the heat back up to medium-high, stir in the chicken and cook until chicken is fully cooked and broccoli is done to your likeness.

Turn off the heat and mix in sesame seeds.
Recipe Notes
*Feel free to use any veggie of your choice (i.e. zucchini, bell peppers, and etc).
---
SIMILAR RECIPES:
Cashew Butter Chicken Stir Fry
Spicy Almond Butter Stir Fry
Thai Holy Basil Stir Fry
---