Fresh, citrusy, and flavorful are just a few words to describe this delicious Orange Rosemary Chicken recipe. You really cannot go wrong pairing a citrus (in this case oranges) with rosemary. The two work so well together!
This post is in partnership with Bare Bones Broth. Though I am compensated for the work I do, all opinions are my own.
It is not a secret that I love chicken –especially chicken thighs. They are far superior than chicken breasts and I will die on this hill. LOL Since I basically eat chicken almost everyday, I always like to change it up. I keep it simple but flavorful, and I will never compromise one for the other.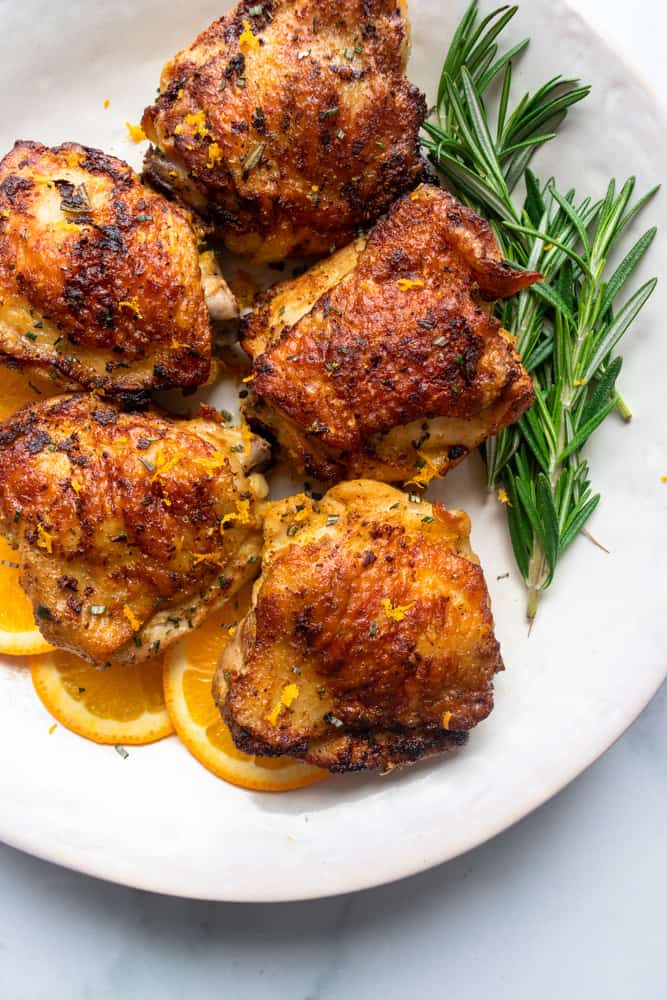 This Orange Rosemary Chicken recipe was inspired by a citrus whole roasted chicken I had at an event, and I couldn't stop thinking about it. I chose to make orange the prominent citrus flavor in this recipe because oranges are in season and we are getting some of the lemon flavor from Bare Bones Broth Chicken Rosemary & Lemon flavor.
It's also no secret that I love Bare Bones Broth. Yes, I know I can make my own, but honestly, I'm really lazy and I'd rather leave this to the experts. I've mentioned this before, but there are so many reasons why I love Bare Bones Broth. You see the quality of the broth straight from the package.
It's packed with so many beneficial nutrients and it's pretty darn good! Their broths add a lot of depth and flavor to any dish (i.e. I love using their beef bone broth for my taco meat).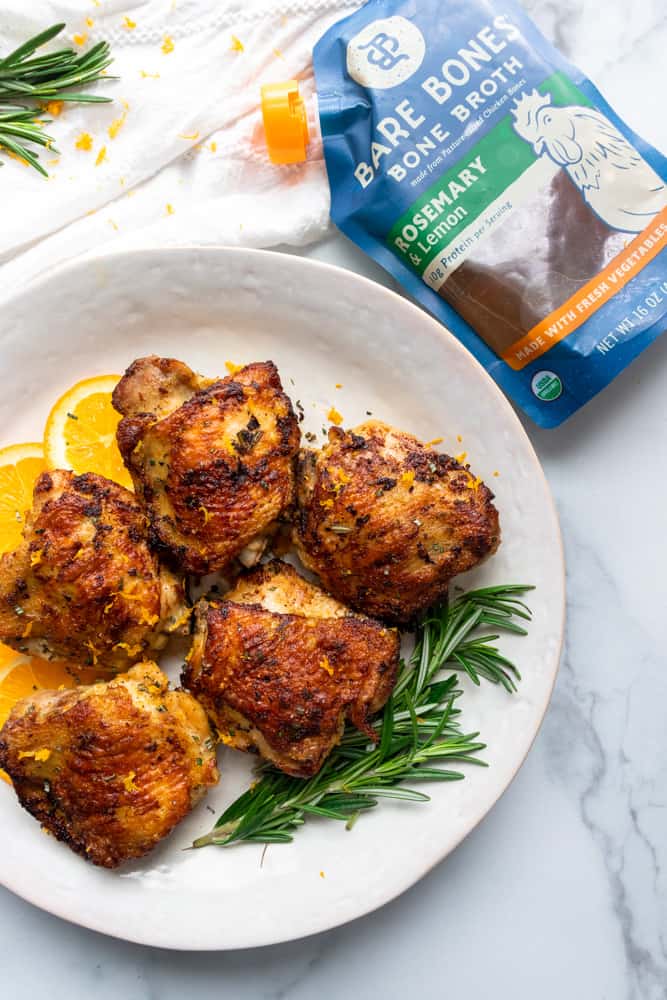 Now back to this Orange Rosemary Chicken recipe. What's great about this recipe is that you can totally make it your own. Here are a few tips to always ensure you get the best roasted chicken!
You can actually replace the chicken thighs with a whole chicken. That's how I originally had this recipe, but I was too lazy to spatchcock a whole bird, and I always have chicken thighs in my freezer.
Since we're using zests and fresh herbs, I highly highly recommend getting more of the marinade under the skin. Not only will this infuse flavor into the chicken meat, but when you sear the chicken skin side down, you won't be getting too many burn bits and pieces from the zest and rosemary.
If you can't find Bare Bones Broth Chicken Rosemary & Lemon flavor, you can use their regular chicken broth. It will still just be as good!
You can turn the pan juices into a gravy if you want. Just whisk in 1-2 teaspoons of tapioca or arrowroot flour (depending on how much juices you have left) into the skillet over medium heat. Continue to whisk until it thickens and you get a gravy consistency.
This orange rosemary chicken recipe is super versatile. It can be more heavier dish served with things like mashed potatoes or roasted squash or you can make it lighter with a fresh salad. I did both. LOL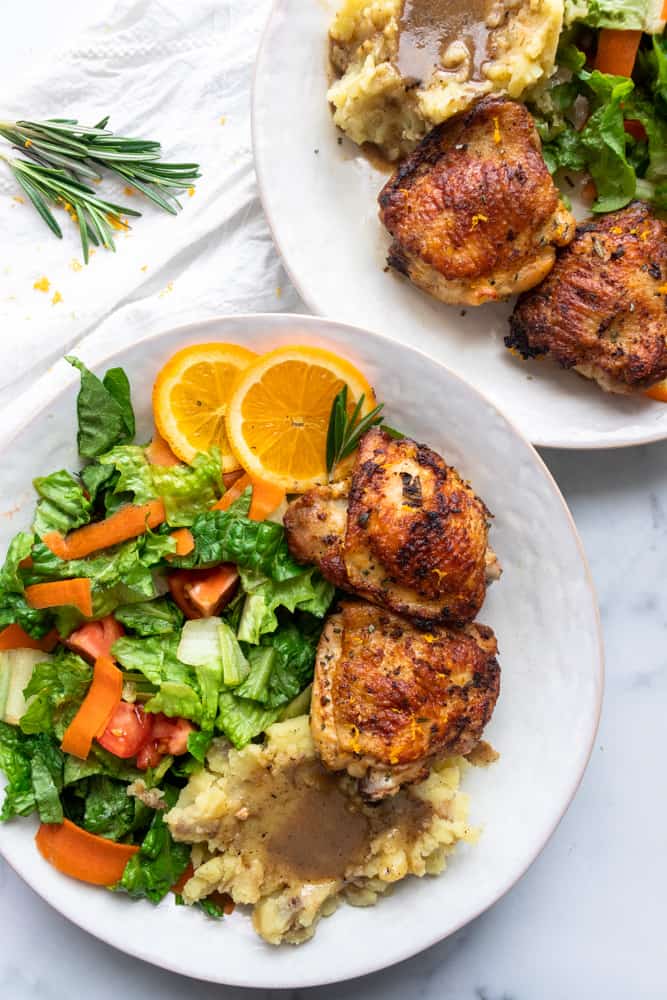 Now, go make the best chicken you'll ever have! Seriously, it's so good and I'm convinced it'll be a go-to recipe when you need to change up how you prepare chicken thigh (or a whole chicken). Be sure to tag me on Instagram if you make this recipe!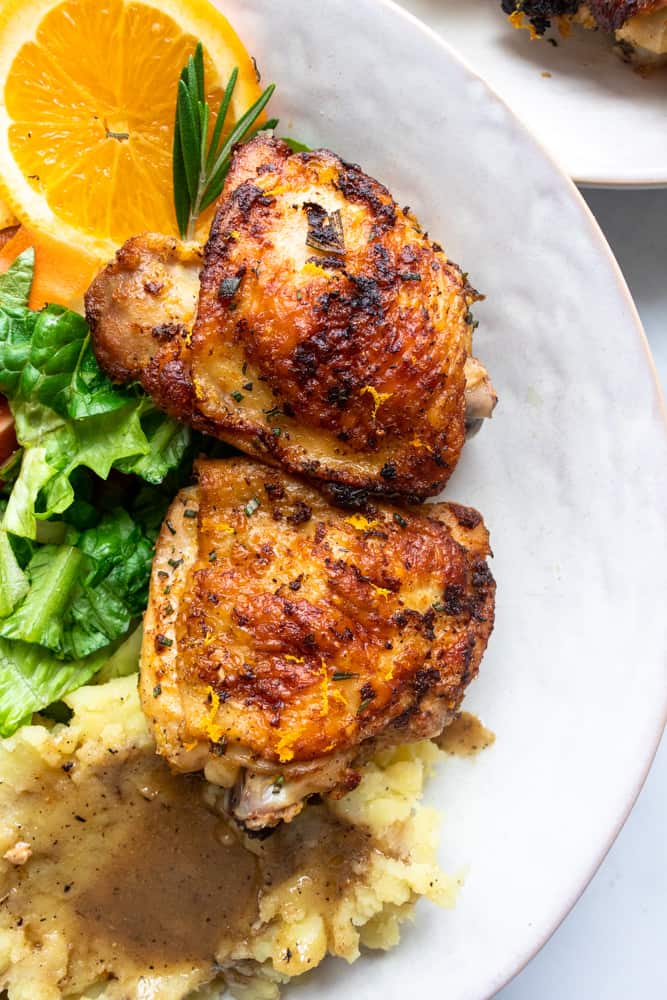 Orange Rosemary Chicken (Paleo, Keto, Whole30)
Ingredients
4-6

chicken thighs

¼

cup

ghee

or butter

1

tbsp

orange zest

½

tbsp

lemon zest

4-6

garlic cloves

minced or grated

1

tbsp

fresh chopped rosemary

1

tsp

kosher salt

½

tsp

ground black pepper

½

cup

Bare Bones Broth Rosemary Lemon Chicken Broth

or chicken broth

2

oranges

one juiced and the other sliced

1

onion

cut into wedges

4

garlic cloves

peeled and crushed

1

fresh rosemary sprig

kosher salt

to taste

ground black pepper

to taste
Instructions
Pat chicken thighs dry and loosely peel the skin back making sure it's still attached.

In a bowl, mix together ghee, orange zest, lemon zest, minced garlic, chopped rosemary, kosher salt, and ground black pepper.

Rub ghee mixture onto chicken making sure to get mixture under the skin as well. Let the chicken marinate for 30 minutes.

Preheat oven to 425F. Preheat oven safe skillet over medium-high heat with avocado oil.

Once the skillet is heated, brown the chicken thighs skin side down. Brown for about 4-5 minutes or until the skin is golden brown.

Remove the chicken thighs from the skillet (they won't be cooked through) and set aside.

Turn the heat down to medium-low, remove access oil and any burnt pieces from the skillet.

Add Bare Bones Broth Rosemary Lemon Chicken Broth, orange juice, onion wedges, and garlic cloves to the skillet and scrape any leftover bits from the bottom of the skillet.

Turn off the heat and then lay the orange slices and rosemary sprig in the skillet.

Add the chicken back into the skillet and then place the skillet into the oven. Roast for about 25-30 minutes or until the internal temperature reaches 165F.

Serve the chicken with pan drippings on top.
---
SIMILAR RECIPES:
Mango Habanero Crispy Chicken Thighs
Foolproof Crispy Chicken Thighs
Hot Fried Chicken
---