My Scoop n Go meal prep method is one of the five meal prep methods I share in my Meal Prep and Plan Guide. It's by far my favorite method, and it's saved me in the past whether I'm doing a Whole30 or not. Scoop n Go was inspired by places like Chipotle and chopped salad places where you create a bowl mixed with different veggies and protein.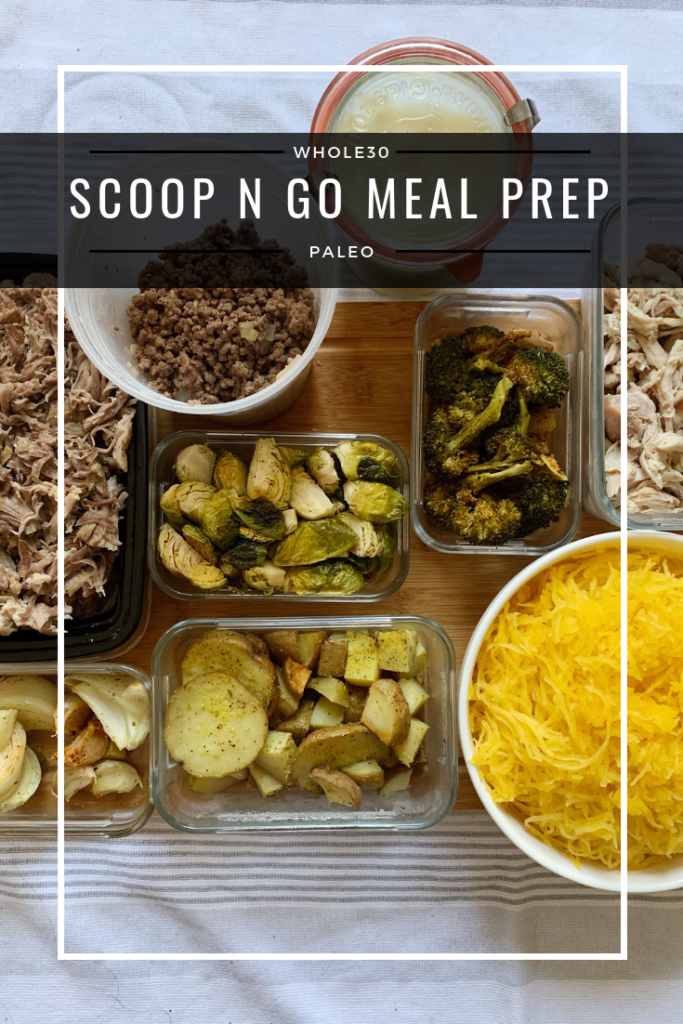 This method is perfect for those with a full schedule, it will help prevent food boredom, and it does not take too much of your time to prep everything. When I use to work in an office and had a 9-5, I had to be out the door by 7AM. It did not leave much time for me in the morning to take the time to prepare breakfast AND lunch before my day started. That's when this Scoop n Go method came in.
All I had to do was pick and choose a few different combinations for each meal, and I was out the door. In the office, I had an array of different sauces and spices, so I could create a different meal with each bowl. I never got bored with my food because it was different each time!
With the Scoop n Go method, you can pick 4-5 different veggies and 3-4 different proteins to prep. I also like to have additional greens/fresh veggies (i.e. spinach, lettuce, chopped celery, and etc) to have on deck just to make sure I'm getting enough veggies in, and I always have healthy fats to complete my meal (i.e. avocados, olives, nuts, and etc). I typically prep every Sunday morning and it usually takes me less than 3 hours to complete everything.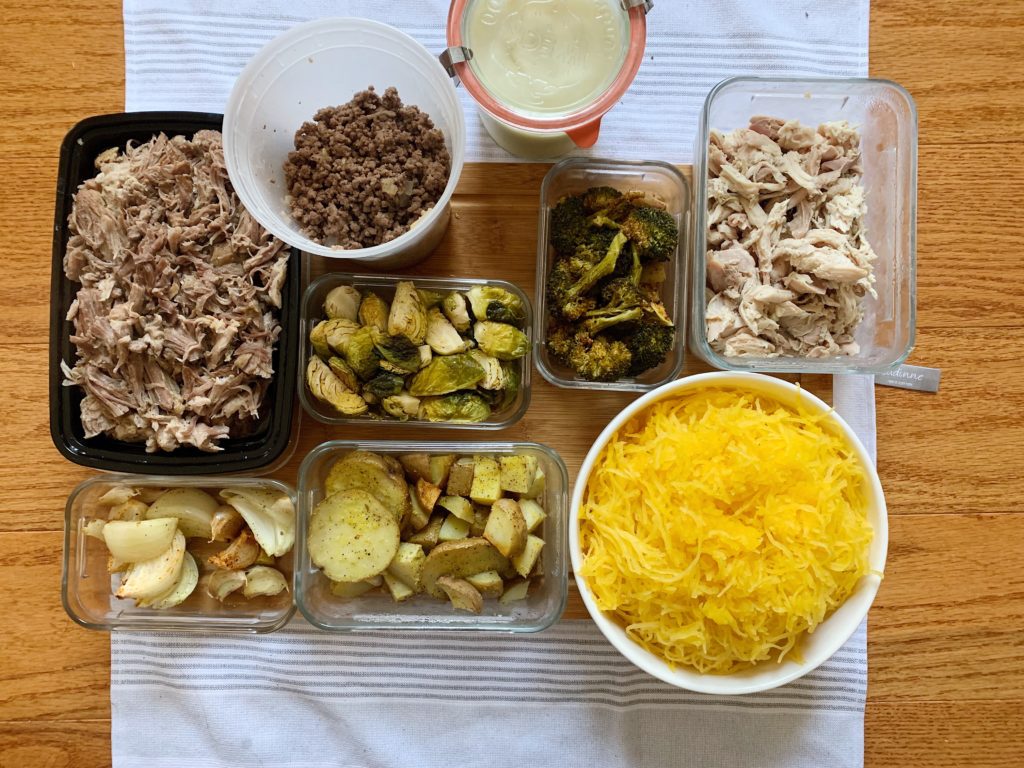 When prepping the food, I like to keep my seasonings simple so that throughout the week I can easily change the flavor profile. Here's what's on this week's menu:
Ground beef cooked with the roast onions and garlic chopped up
Roasted veggies: broccoli, brussels sprouts, potatoes, onions, and garlic
Instant Pot spaghetti squash
Fresh chopped veggies: celery, carrots, and radishes
Here are three of the many meals you can make using this method:
Meal 1: Ground beef, potatoes, brussels sprouts, onions heated in a skillet with mustard and mayo, and then topped with a fried egg. It's a riff off my "cheeseburger" skillet.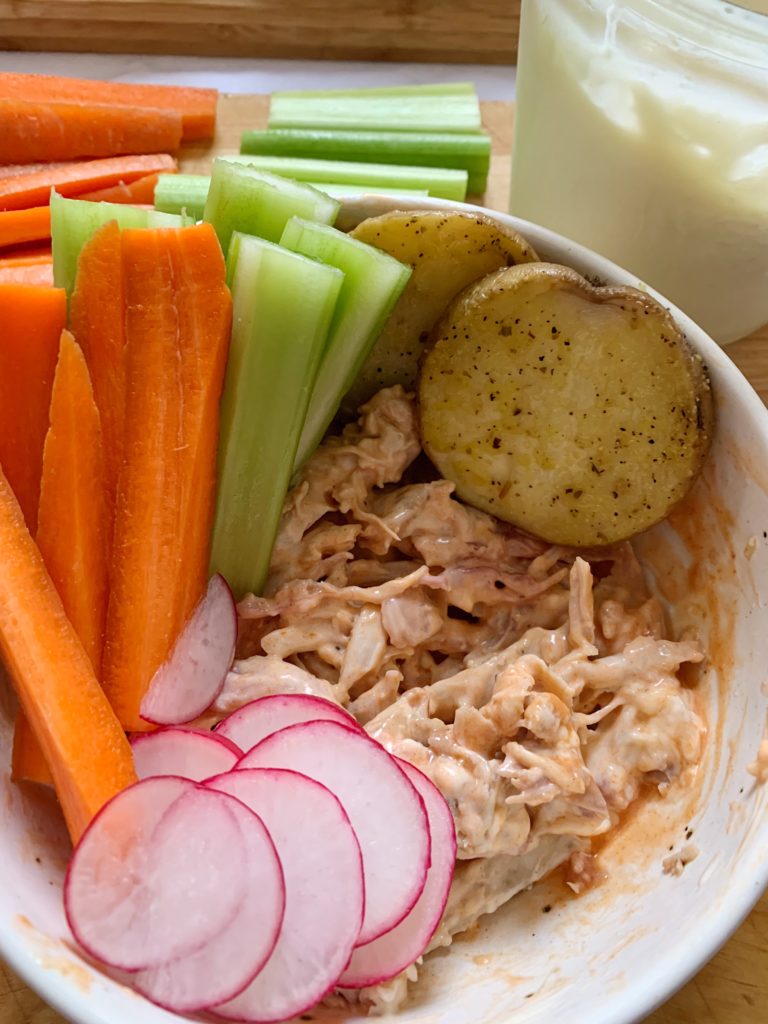 Meal 2: shredded chicken, basic mayo, hot sauce, salt & pepper with fresh veggies and potato slices to scoop. A riff off my buffalo ranch chicken salad.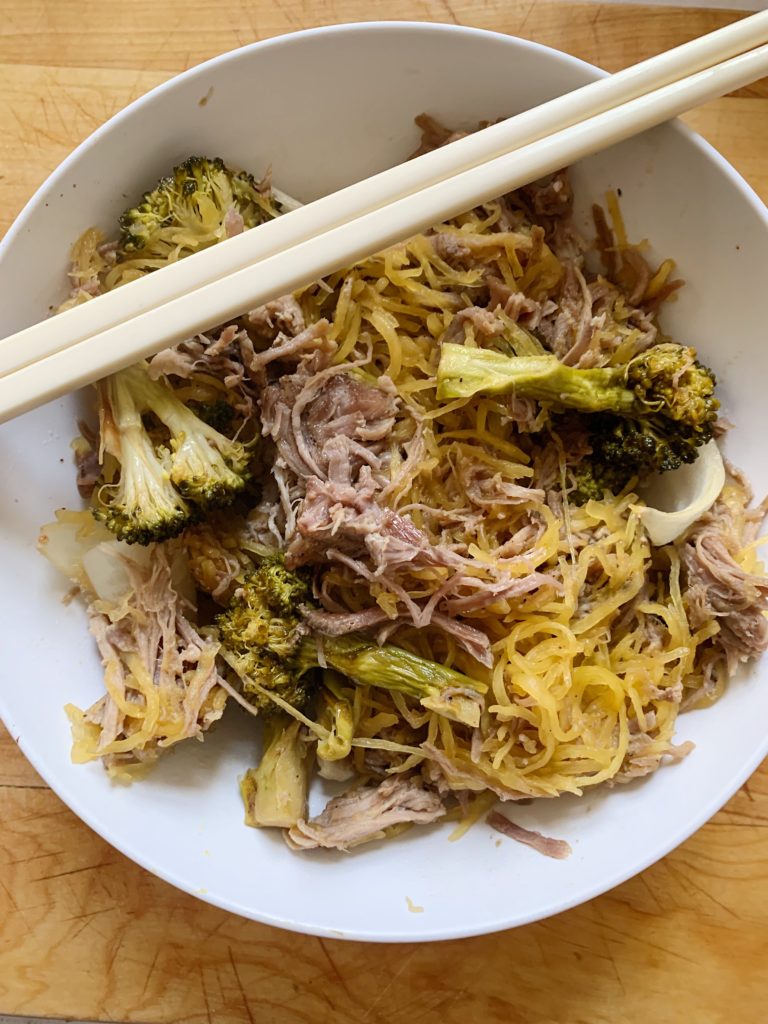 Meal 3: Instant Pot pulled pork, spaghetti squash, broccoli, onions, and garlic. Stir fried with coconut aminos and fish sauce.
There you have it! One meal prep, three meals, and many more meals to create with all the food you made! Click here or the picture to download your free copy of the Scoop n Go meal prep method.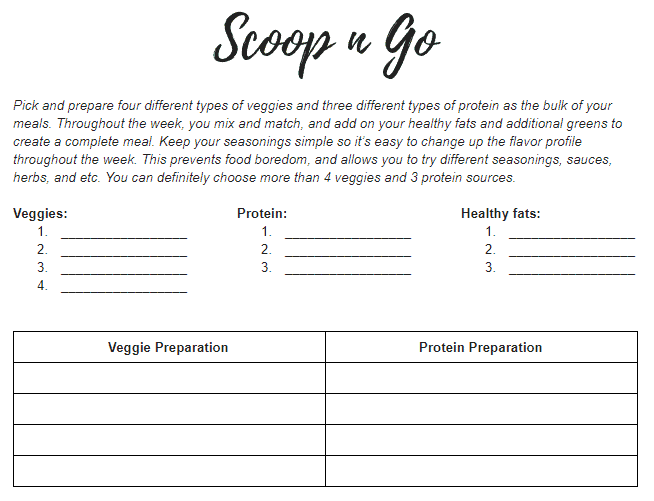 To purchase my Meal Prep and Plan Guide, click here or on the image.

Happy Meal Prepping!