These Basic Asian Meatballs are Whole30 and Paleo friendly. They are the perfect meatballs to use in place of any protein in your Asian inspired dishes for a quick and easy meal.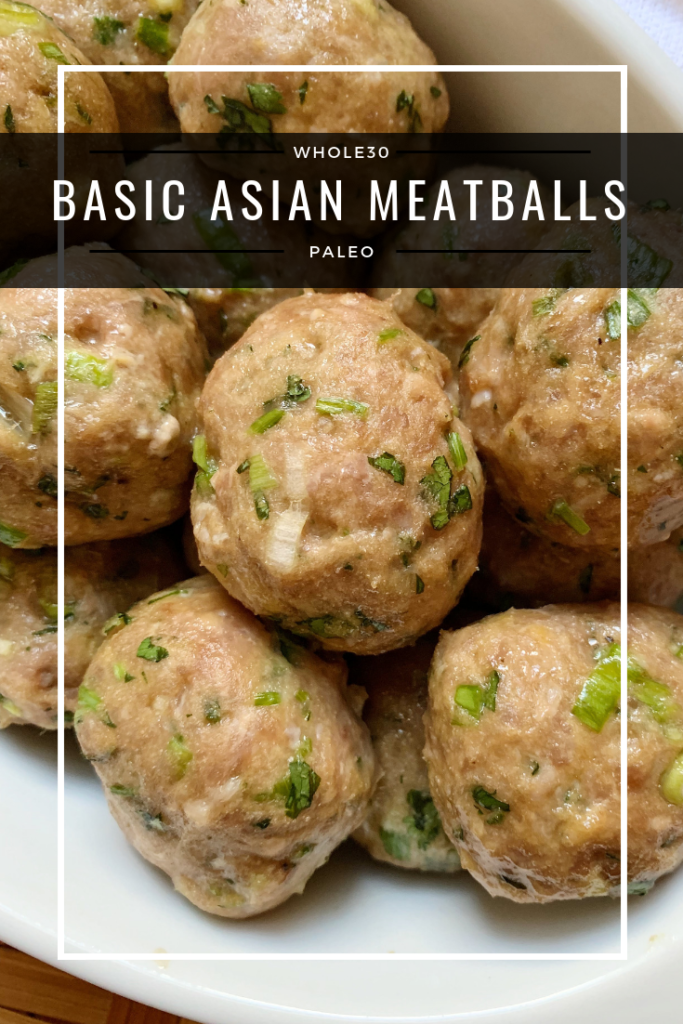 At this point, everyone knows I love meatballs. They are perfect for meal prepping or keeping in your freezer for those last minute meals. They are super versatile, and you can literally flavor them anyway you want and they'll most likely come out delicious. (This is really re-inspiring me to write that e-cookbook with all the different meatball recipes I have played around with in the past.) These basic Asian meatballs are not different.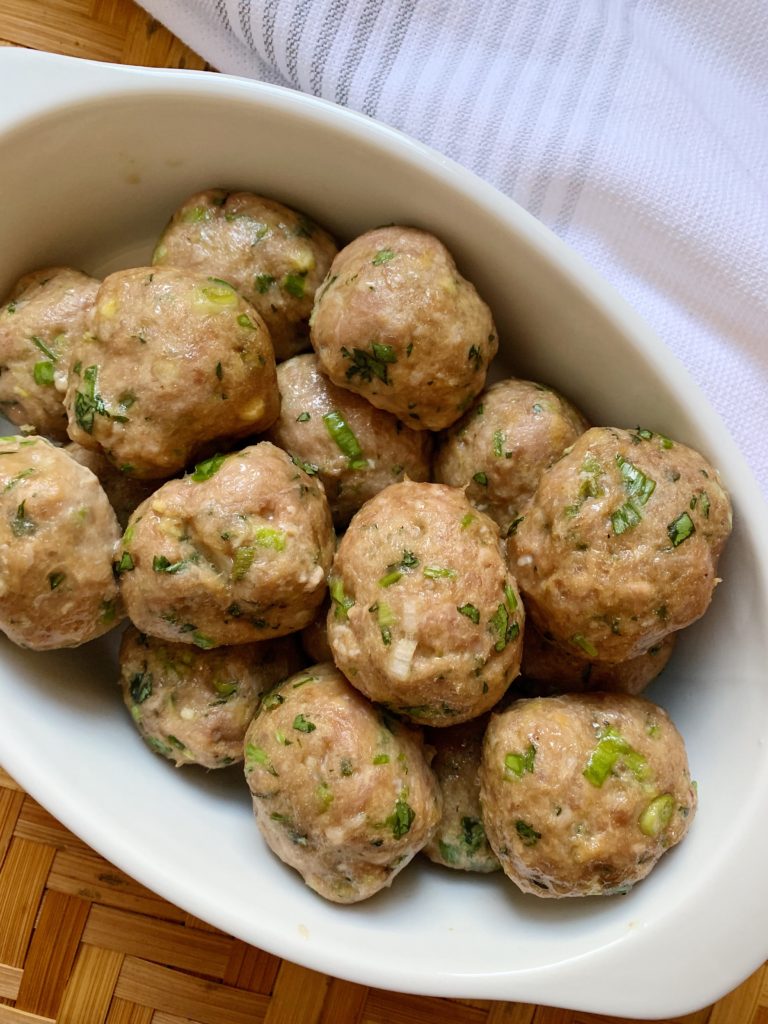 They can be eaten alone or can be tossed in your favorite sauce (i.e. teriyaki sauce). You can throw them in soups, stir fries, and/or salads. These meatballs will become a staple in your kitchen. They will save you lots of time, and you guys know I'm big on saving time in the kitchen.
I have been using these basic Asian meatballs in place of the proteins that some of my Asian inspired dishes call for. You can let them thaw from the freezer or just throw it straight into the dish and they will quick defrost and absorb whatever flavors you are using.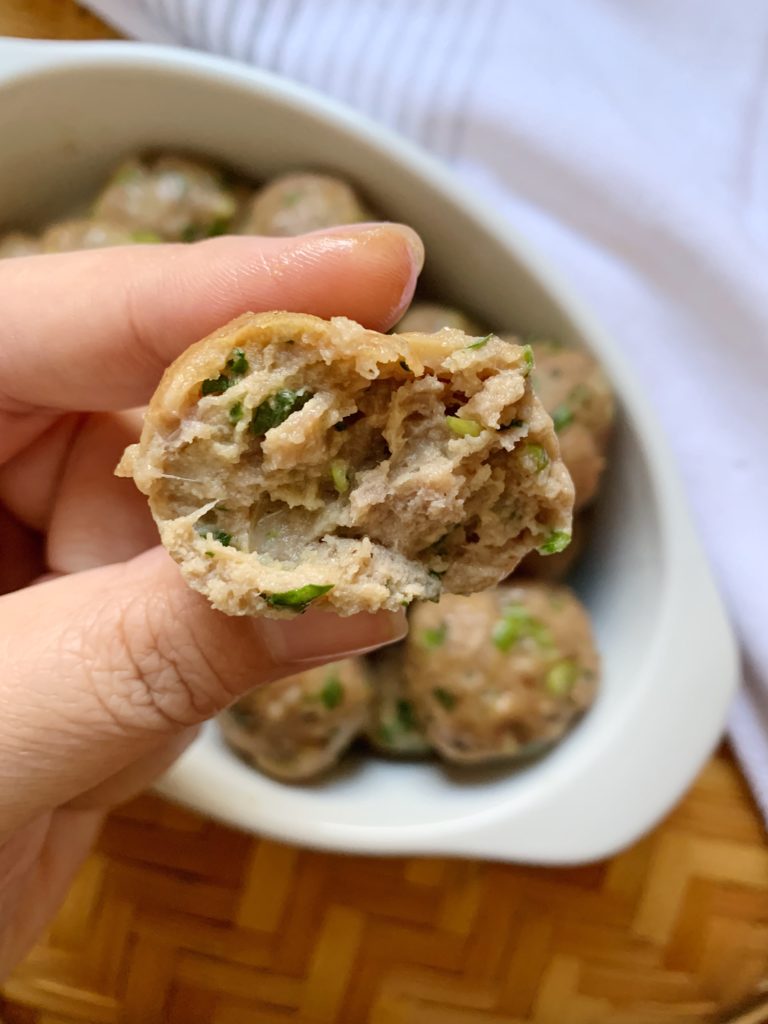 As always, you can always make this recipe your own. If you can't find ground chicken, use ground turkey or pork. You can bake or pan fry the meatballs. You can freeze them cooked or uncooked. You can turn them into burger patties if you! The possibilities are really endless, and I hope you enjoy them just as much as I do!
FYI: I will have to say these meatballs are definitely more meant for use in other dishes. If you decide to just have them plain, I recommend pairing them with a little coconut aminos mixed with fish sauce and some chili peppers for dipping. That will add a little more flavor to the meatballs.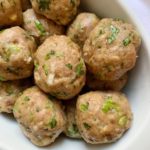 Basic Asian Meatballs (Whole30, Paleo)
A basic Asian meatball recipe that is perfect to use in place of other proteins in your Asian inspired dish.
Ingredients
1

lb

ground chicken

or ground turkey or ground pork

1

egg

beaten

2

garlic cloves

minced

1/4

cup

finely sliced green onions

1/4

cup

finely chopped cilantro

1/3

cup

almond flour

or cassava flour

2

tsp

kosher salt

1

tsp

black pepper
Instructions
Preheat oven to 375F. Line baking sheet with parchment paper.

In a mixing bowl, add in the ground chicken, egg, garlic, green onions, cilantro, almond flour, kosher salt, and black pepper.

Mix everything together but do not over work the ground chicken. Mix until well combined.

Once mixed, create golf ball sized meatballs or use a medium cookie scoop to form meatballs.

Line the meatballs on the baking sheet and roast for about 18-20 minutes depending on size of meatballs.

Use the meatballs in your favorite stir fry recipe, curry recipe, soup recipe, or store in the freezer once they have cooled down. The meatballs can be used straight from the freezer into whatever dish you are making.
This blog post contains affiliate links. If you make a purchase using my link, I will receive a small commission but it will not cost you extra. Thank you for your support!