At this point, you all know I love meatballs, and these lamb meatballs are inspired by the dishes I had growing up in my best friend's Greek household. I ate a lot of lamb, but I personally don't cook with it much. It's not my first choice of animal protein, but when I have it, I absolutely love it.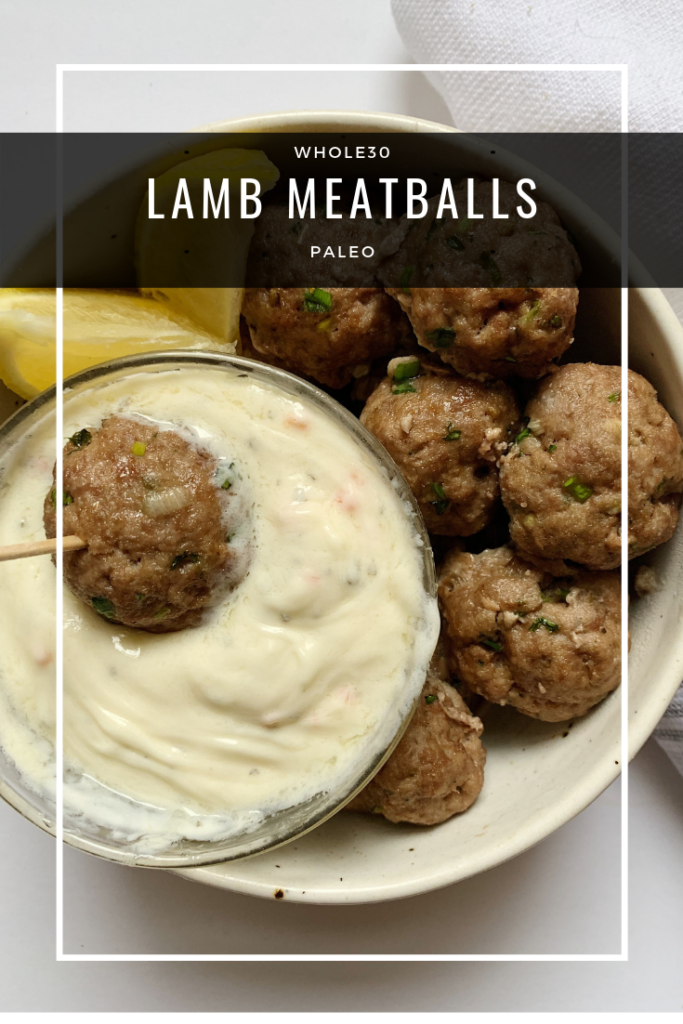 These lamb meatballs bring me back to eating delicious Greek food on the regular. Lowell, MA has a large population of Greek people and Greek cuisine plays a large role in the diverse community I grew up in. One of my favorite bakeries back home is a little Greek bakery that sells the best cookies you can imagine, and the fresh bread made daily was such a treat. I always make a pit stop whenever I'm home.
Anyway, back to these lamb meatballs. If you're new to lamb or you find the taste of lamb a little too game-y for you, you can always change the recipe and use half ground lamb and ground beef. The beef will help cut the gaminess (is that even a real word?) of the lamb.
For awhile I had to do that because for some reason ground lamb has a stronger taste than like lamb racks for me. My taste buds can be weird sometimes, but I eventually eased my way into just using straight up ground lamb meat when making these meatballs.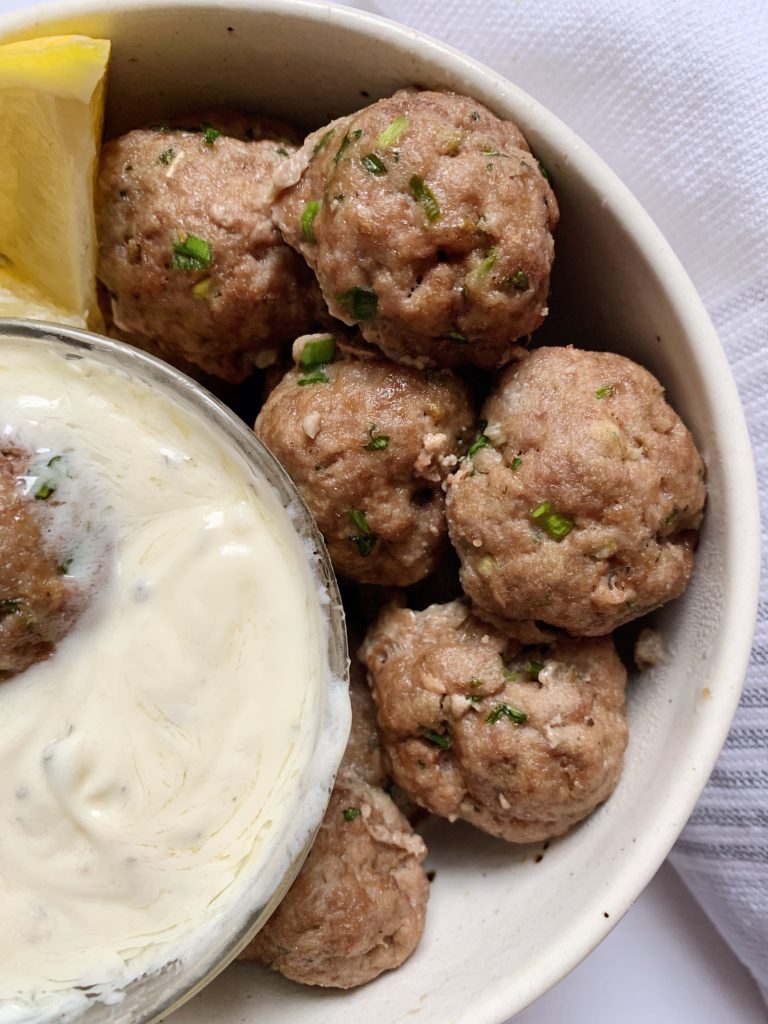 I will also share with a quick and easy Whole30 and Paleo friendly tzatziki sauce that pairs perfectly with the lamb meatballs. Tzatziki is one of those sauces that I forget about until I have it and then I'm obsessed for a few months. I love dipping french fries into it or just raw veggies. Super delicious!
And of course, yes these lamb meatballs are meal prep friendly! They're even delicious cold to be honest with you. Pair the meatballs with a Greek inspired salad and use the tzatziki as the dressing. Super east, and super delicious! Happy Meatballing!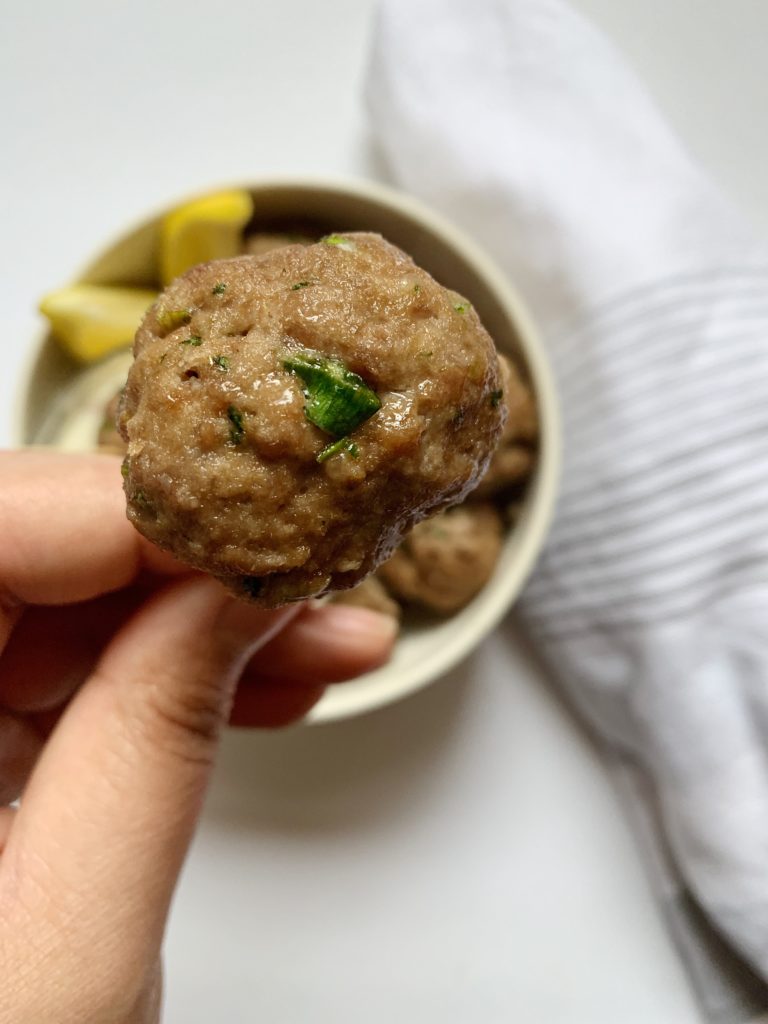 Lamb Meatballs (Whole30, Paleo)
Lamb meatballs inspired by Greek flavors.
Ingredients
Lamb Meatballs
1

lb

ground lamb

1

egg

beaten

1/2

medium

onion

finely chopped

1

garlic clove

finely minced

1/4

cup

cassava flour

or almond flour

2

tbsp

chopped mint

2

tbsp

chopped cilantro

1

tbsp

cumin powder

1

tbsp

sumac powder

1

tsp

kosher salt

1

tsp

ground black pepper

lemon wedges
Tzatziki Sauce
1

cup

mayo

1/4

cup

grated cucumber

squeeze as much liquid out

2

tbsp

finely chopped mint

1/2

lemon

juiced

1

tbsp

olive oil

2

garlic cloves

grated or finely minced

1/2

tsp

kosher salt

1/2

tsp

ground black pepper
Instructions
Lamb Meatballs
Preheat oven to 375F, line a baking sheet with parchment paper and lightly grease with avocado oil.

In a mixing bowl, add the ground lamb, beaten egg, finely chopped onion, minced garlic, cassava flour, mint, cilantro, cumin powder, sumac powder, salt, and black pepper.

Combine the ingredients until well mixed.

Using a medium sized cookie scoop, scoop the mixture to form meatballs and then line on baking sheet. If you don't have a cookie scoop, make golf ball sized meatballs. You should get around 18 meatballs.

Bake the meatballs for 20 minutes or until cooked through.

Serve with tzatziki sauve and lemon wedges (squeeze lemon before eating)!
Tzatziki Saue
Mix all ingredients in a bowl and refrigerate until ready to use.
This post contains affiliate links. I will receive a small commission if you purchase an item using my link and it will not cost you extra. Thank you for your support!