These Plantain Croutons are the simplest crouton replacements you could make. They are great on salads or to have as a quick snack to munch on. These plantain croutons only need three ingredients, but the possibilities to make them any flavor you like is endless!
A follower of mine on Instagram shared with me these plantain bites which were green plantains cut into cubes and fried until golden perfection. I was tempted to buy a bag for myself but decided to not pay like 3 bucks for a small bag and make my own.
At my local grocery store, green plantains are 2 for $0.89 and I already had the avocado oil and kosher salt at home. So this is a wicked budget friendly recipe. Win win for everyone!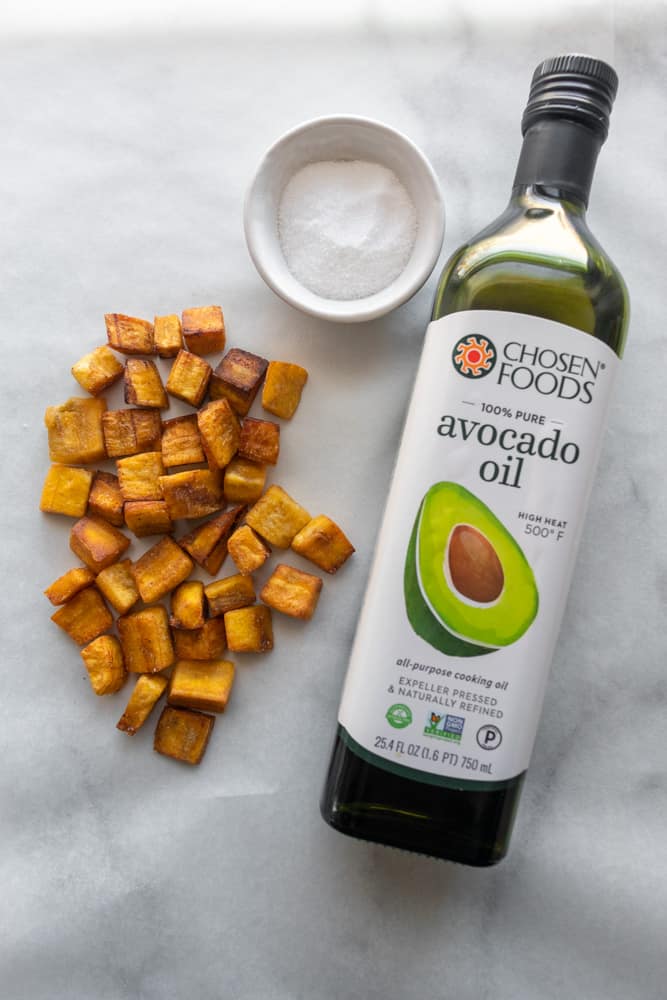 Back in the day when I thought I was eating healthy, my salads consisted of iceberg lettuce, lots and LOTS of croutons, shredded cheese, and an obscene amount of ranch dressing. LOL Health is subjective, but I'm pretty sure I was just eating croutons with a side of lettuce and defeated the purpose of getting my greens into my diet.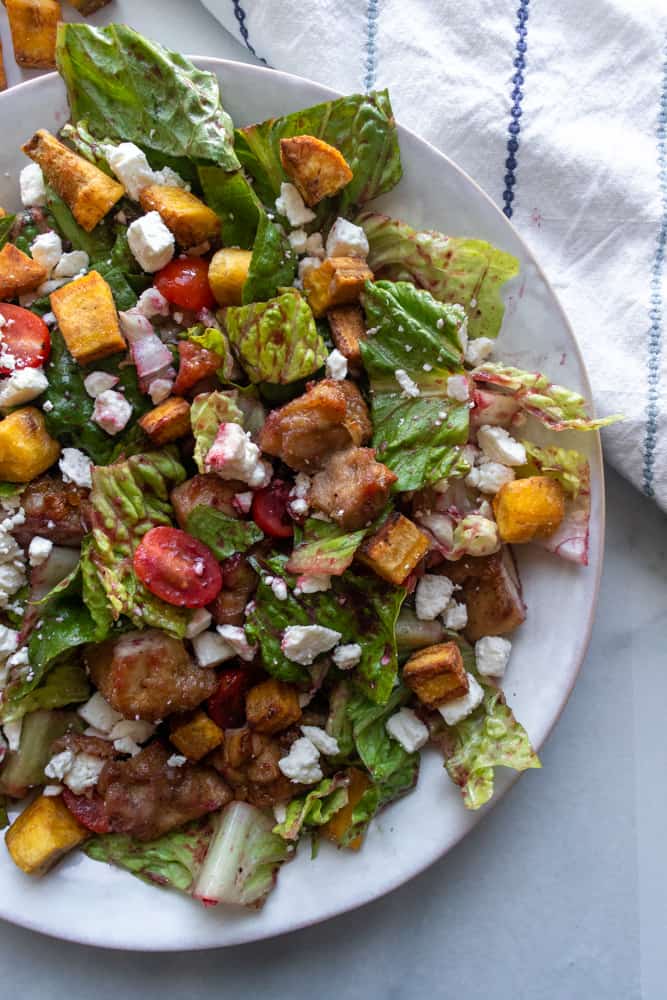 Since I try to stay clear from gluten, croutons aren't a part of my salads, but that's no longer the case! These plantain croutons hit that super crunchy spot you need in a salad.
I prepared the plantain croutons two different ways: pan fried in a skillet and air fried in the air fryer. Each work really well but they give you a different type of crunch.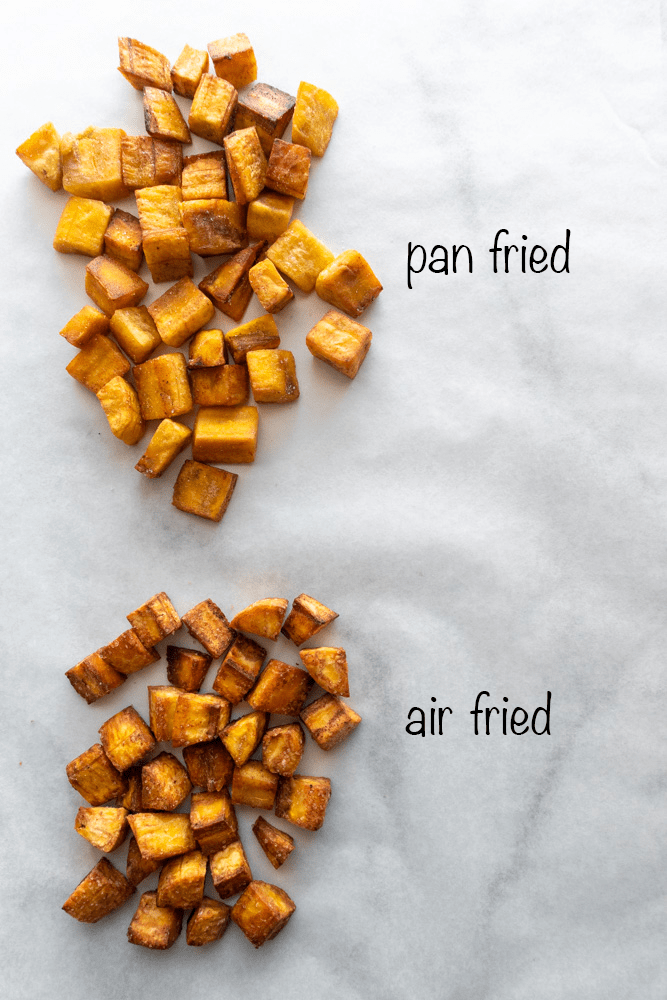 If you pan fry the plantains, you get a nice crispy exterior with a soft and fluffy interior. If you like your croutons crunchy through and through, you can cook it longer on the skillet OR you can just air fry it. I personally like it pan fried.
I kept it simple with kosher salt as the seasoning, but you can toss these plantain croutons in so many different herbs and spices. I tossed them in garlic and vegan parmesan cheese, and they were delicious. My bestie tossed hers in a cajun spice mix and they were such a great snack!
So use this recipe as the base and get creative. Be sure to tag me on Instagram to show me your creation!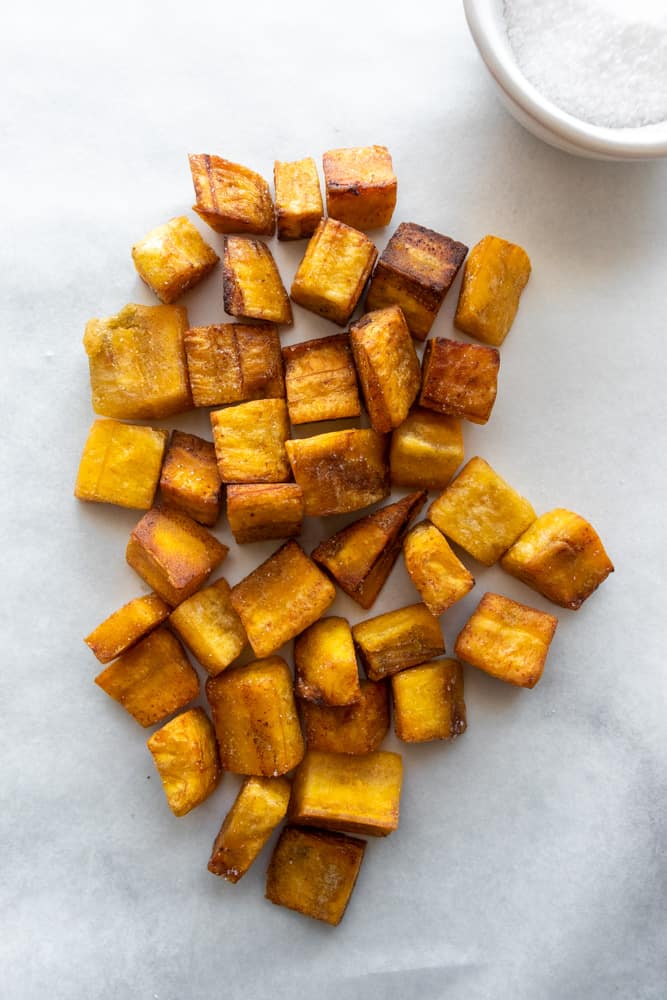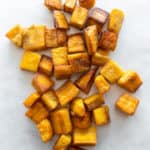 Plantain Croutons (Paleo, Vegan, Gluten Free)
Ingredients
2

green plantains

¼-½

cup

avocado oil

or any cooking oil

kosher salt
Instructions
Peel and cut plantains into bite size cubes.

Preheat skillet over medium heat with avocado oil.

Once oil is hot (350-375F) add the plantains and cook for 15 minutes tossing and turning the plantains every few minutes. (If you plantains are browning too quickly, adjust the heat)

When plantains are golden brown and soft on the inside, add to a paper towel lined plate, and season with kosher salt.

Air Fryer method: toss cubed plantains in avocado oil, season with kosher salt and add to air fryer basket. Air fry at 400F for 15-20 minutes or until plantains are golden brown and crispy. Toss plantains halfway through.
---
SIMILAR RECIPES:
Air Fryer Tostones
Shallow Fried Green Plantains (Tostones)
Air Fryer Home Fries
---