This Iced Collagen Matcha Latte is refreshing, easy to make, and filled with lots of good for you nutrients. It only has 5 ingredients and takes about 5 minutes to put together. Get ready to make your new favorite drink!
This post is in partnership with Bare Bones Broth. Though I am compensated for the work I do, all opinions are my own.
I love to kickstart my day with this Iced Collagen Matcha Latte. I use Bare Bones 100% Grass-fed Collagen Protein for added protein in my diet (alongside other health benefits) and I love matcha because it gives me an energy boost without the caffeine crash later on the day.
If you haven't jumped on the matcha or collagen protein train yet, this Iced Collagen Matcha Latte might change your mind. It's budget friendly, super easy to make, and has so many health benefits. Plus, I don't think there are places that will add collagen into your drink for you.
So as always, homemade will always be better!
What is matcha?
All matcha is green tea, but not all green tea is matcha. Matcha is made from whole tea leaves that are specially grown then dried out and ground into a fine powder. Since you are consuming the whole tea leaves, you are also drinking all of the beneficial nutrients that come with it.
What are some matcha benefits?
Energy boost but doesn't give you that caffeine crash like coffee. Packed with antioxidants like EGCG (epigallocatechin gallate). Helps boost metabolism. Fights inflammation.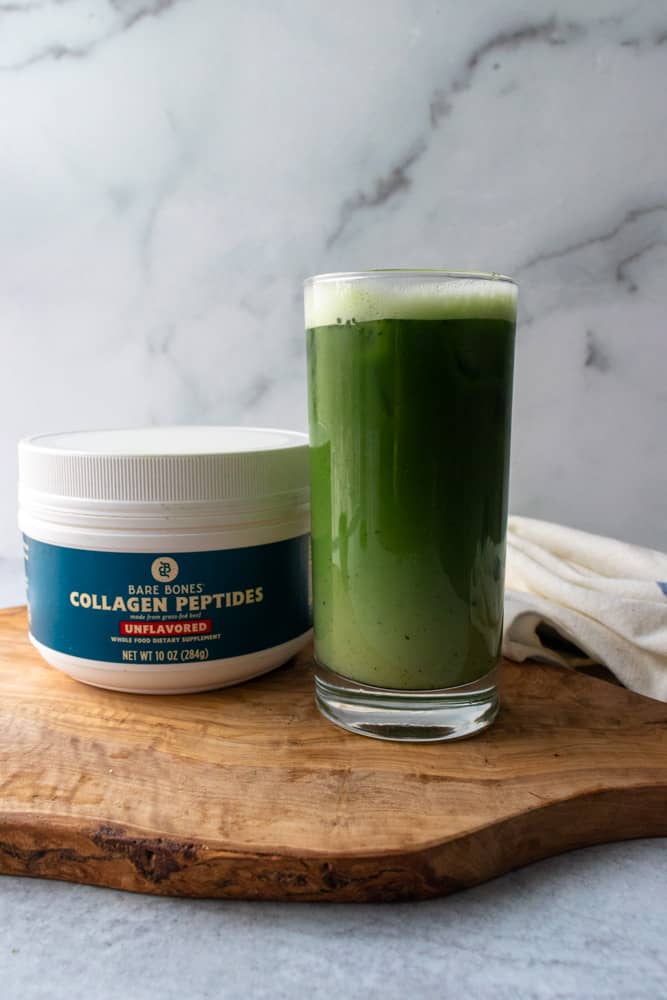 What is collagen?
According to Bare Bones Broth: Collagen is the most abundant protein in the human body. It forms your bones, joints, skin, hair and nails. Collagen is a very elastic and tough to break protein, and is what gives the human body fluid motion.
Why add collagen protein to your diet?
Per Bare Bones Broth, as we age, our body produces less collagen, resulting in wrinkled skin, weakened bones, sore joints, and brittle hair and nails.
Supplementing with a daily dose of collagen peptides has been shown to improve skin elasticity and hydration, strengthen hair and nails, improve bone and joint health, and improve overall body function.
It helps with digestion & gut health, joint & bone health, and with sleep & hydration. Find further details on the health benefits of collagen protein here.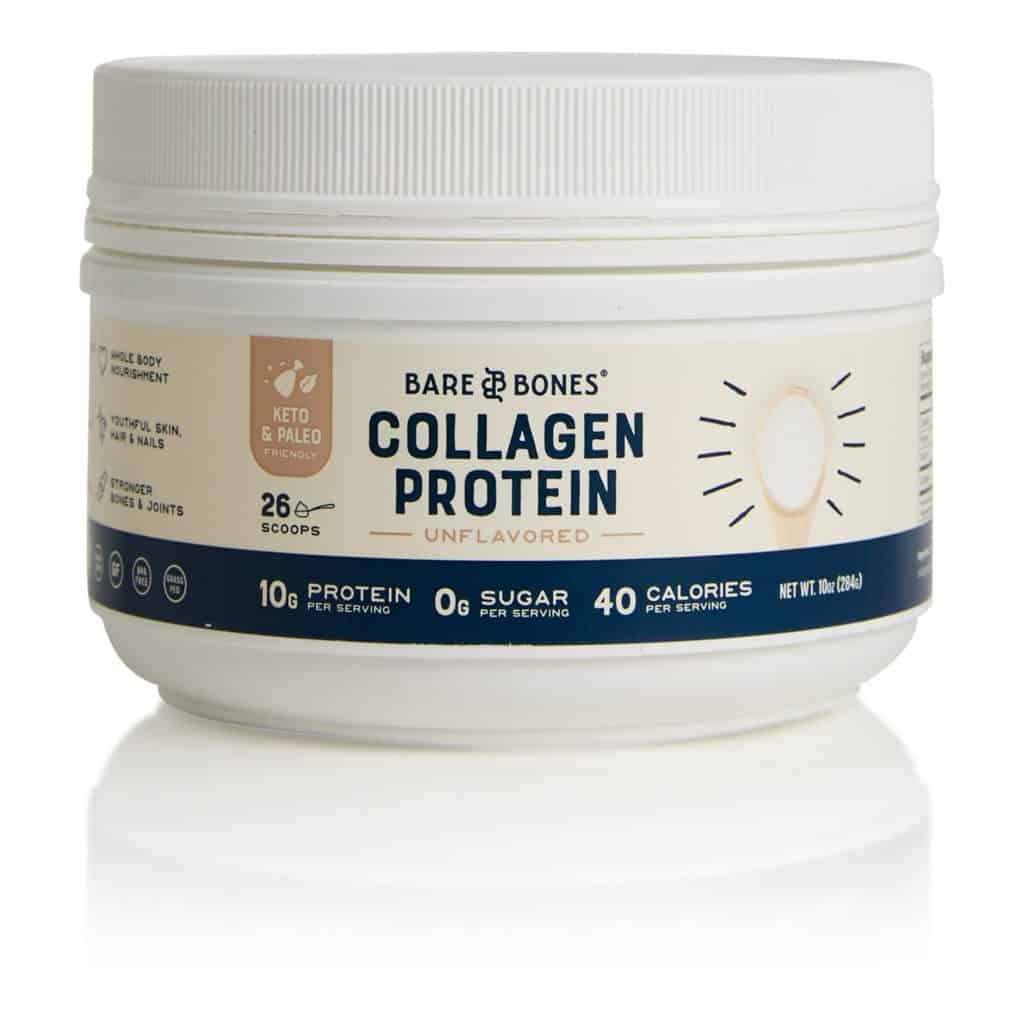 Why Bare Bones 100% Grass-fed Collagen Protein?
High quality collagen made from 100% grass-fed bovine hide collagen peptides. Dissolves quickly in hot or cold liquids. Flavorless so it can be used in your favorite drinks, like this Iced Collagen Matcha Latte, smoothies, and dishes. It's super versatile.
Tips for the best Iced Collagen Matcha Latte:
You can use any kind of milk that fits your dietary needs. I prefer almond milk or cashew milk because they get super creamy when mixed with the collagen protein.
I highly recommend heating up the milk you use (it just needs to be lukewarm so the honey can blend well), but if you really want to cut down on time, you can add the milk, collagen protein and honey into something like a drink mixer and shake until everything is well combined.
A handheld frother will be your best friend. It's such a great investment and makes mixing everything together so well! They're pretty inexpensive. I got mine for less than $10.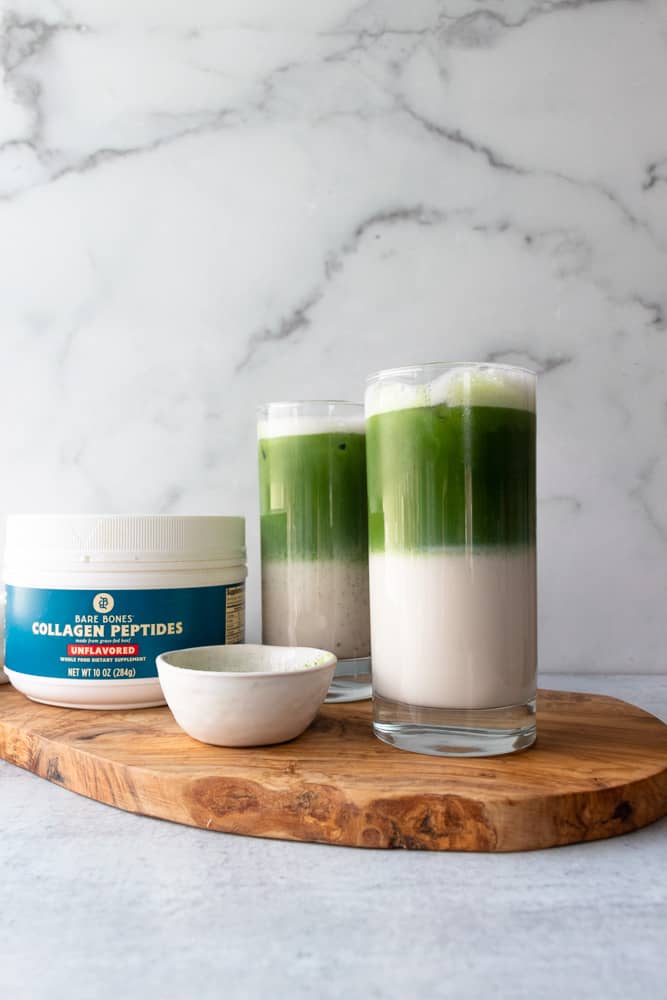 I hope you enjoy this Iced Collagen Matcha Latte as much as I do! Be sure to tag me on Instagram if you make this drink.
Iced Collagen Matcha Latte
Ingredients
1

cup

almond milk

or any milk of choice

2

tsp

honey

or maple syrup (optional)

1

tsp

matcha powder

5

oz

water

ice cubes
Instructions
Warm almond milk in a microwave or on the stovetop until it's lukewarm.

Add 1 scoop of Bare Bones Broth Grass-fed Collagen Protein and honey to almond milk. Mix until well combined. (I like to use a handheld frother)

In a bowl, add the matcha powder and water. Mix until well combined.

Fill a glass with ice cubes, add the almond milk mix and then the matcha.
---
SIMILAR RECIPES:
Mango Mint Green Tea
Chicken Mango Salad Bites
Spicy Honey Butter Chicken Wings
---