Alright friends, we're going to categorize this lemon pepper chicken with rosemary garlic potatoes recipe under: sounds fancy, but is easy AF to make. It's also one of those dishes where no one has to know it's Whole30 and Paleo friendly. They'll gobble it up and ask for more. Trust me.
Also, bonus points, it's a one skillet (if you have a cast iron or oven safe skillet) meal that can be thrown together any night of the week! You all know I love a good one skillet dish.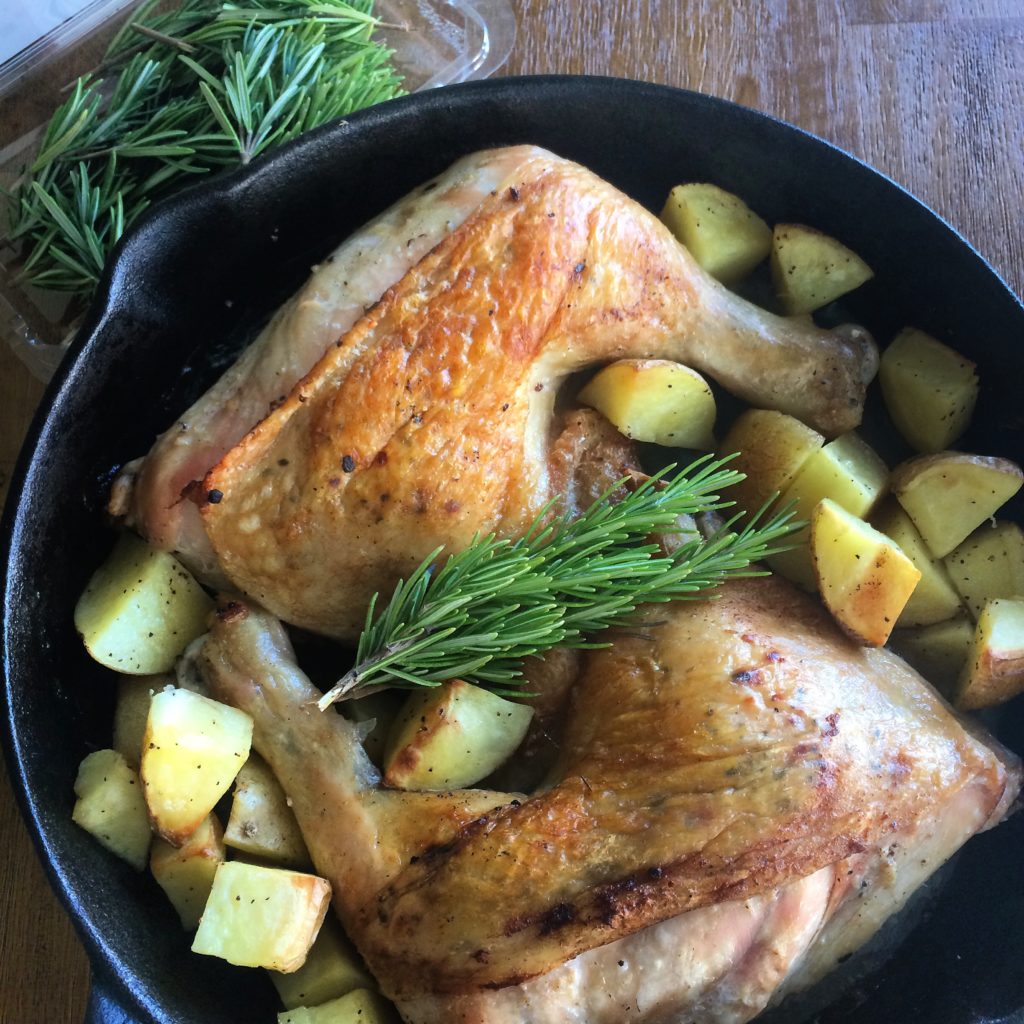 A few pro-tips when it comes to making this lemon pepper chicken with rosemary garlic potatoes recipe:
1. If there's one kitchen essential everyone should invest in, it's a cast iron. They last forever so you'll get a bang for your buck (is that even the correct saying?). I have a collection of cast irons, but a good 12″ one is perfect. You can grab one here. I'm convinced cooking in a cast iron makes everything taste better. It definitely helps when you want to get things nice and golden brown crispy.
2. To prevent your chicken from burning, season under the chicken skin. The seasoning is actually what burns first. Plus, the chicken skin already has so much flavor and seasoning the meat under it means maximum flavor in every bite.
3. Always pat your chicken skin dry before browning. If there's moisture, you run the risk of steaming the skin instead of browning it, and it definitely will not get crispy.
4. Double this recipe for meal prepping. You'll be happy you did. 🙂
Lemon Pepper Chicken with Rosemary Garlic Potatoes
Ingredients
1-2

lbs

chicken thigh and drumstick combo

doesn't have to be attached

1

lb

yukon potatoes

diced

1

tbsp

lemon pepper seasoning

homemade or store bought

1

+ ½ tbsp ghee or grassfed butter

2

garlic cloves

minced

1

tbsp

fresh rosemary

chopped

1

tsp

kosher salt

½

tsp

fresh ground black pepper
Instructions
Preheat oven to 400F. If you don't have a cast iron, line a baking sheet with parchment.

Heat a large cast iron (or whatever skillet you have) with 1 tbsp

ghee

or grassfed butter over medium-high heat.

Season chicken with lemon pepper seasoning. Pro-tip: to prevent seasoning and skin from burning, gently pull back chicken skin and season under it. Chicken skin already has a lot of flavor so season the meat under it to get flavor in every bite.

Pat chicken skin dry, then place in cast iron skin side down and brown for 7-8 minutes. You want skin to get golden brown and crispy. Once crisped, flip chicken, turn off heat and drain any excess oil.

In the meantime, mix with potatoes, ghee, minced garlic, chopped rosemary,

kosher salt

, and pepper. Add potatoes to cast iron skillet filling in all of the spaces. If you don't have a cast iron or an oven safe skillet, add everything to your baking sheet.

Roast chicken and potatoes for 35-40 minutes or until chicken is cooked through and potatoes have browned.
Lemon Pepper Seasoning:
Preheat oven to lowest setting. Line baking sheet with parchment paper, place lemon zest and peppercorns on baking sheet.

Bake until lemon zest is dried, about 30 minutes depending on oven and temperature.
Pin this recipe for later!

**Please note this post contains affiliate links. It does not affect the cost of the product but I do make a small commission to help keep this blog running if you decide to make a purchase. Dolly's Whole Life is a participant in the Amazon Services LLC Associates Program, an affiliate advertising program designed to provide a means for sites to earn advertising fees by advertising and linking to Amazon.com.