These Crispy Smashed Potato Nachos are a fun and non-traditional take on your classic nachos. The crispy smashed potatoes make the perfect vessel for all of your favorite nacho toppings!
This post is in partnership with Bare Bones Broth. Though I am compensated for the work I do, all opinions are my own.
I love potatoes and I love nachos. So why not put the together and make these delicious crispy smashed potato nachos?! The idea actually came to me when I was eating a baked potato filled with taco meat, nacho cheese, guac, sour cream, and lots of hot sauce.
As much as I love baked potatoes, I wanted to scale it so it could feed lots of people, and that's when the idea to use small potatoes as the "chips" of the nachos came to me!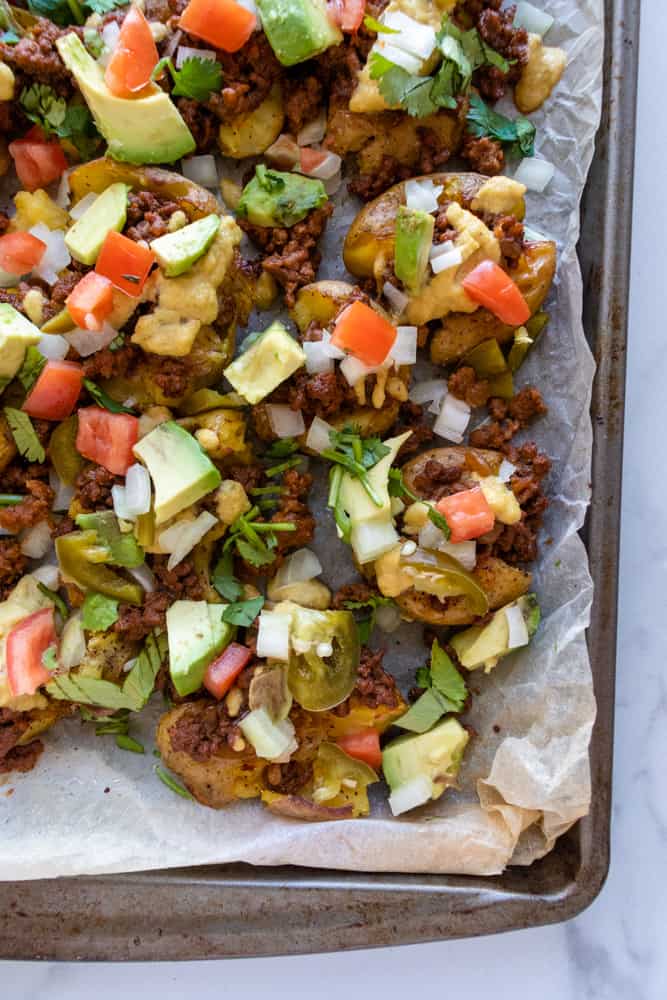 Crispy smashed potatoes are one of my favorite ways to have potatoes. They are nice and crispy on the outside, but soft and fluffy on the inside. My favorite are the little craggily charred bits from smashing the potatoes. SO good.
Potatoes are great vessels for any kind of dish because they absorb so much flavor especially when you have perfectly seasoned ground beef. The base of this recipe is definitely the crispy smashed potatoes and the ground beef.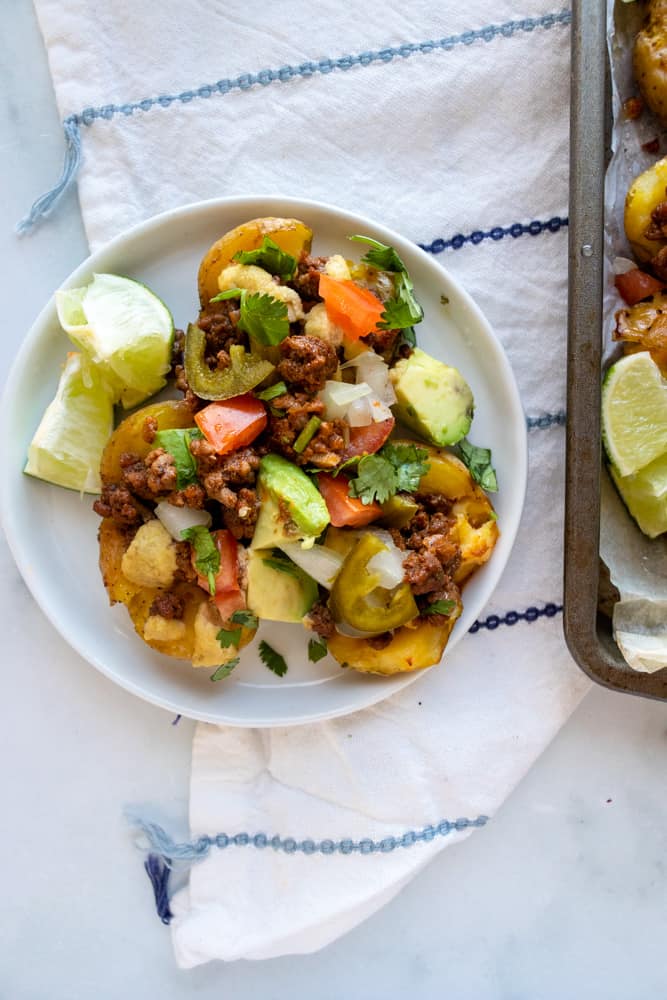 I don't want to brag, BUTTTT my taco meat is pretty darn awesome. Most of that has to do with using Bare Bones Beef Bone Broth. Not only does that add more nutritional value, but it helps keep the taco meat super luscious and adds lots of flavor.
Ever try to reheat taco meat and it reheats kind of dry and not so great? Well, add some bone broth and it will make a world of a difference. Trust me on this one!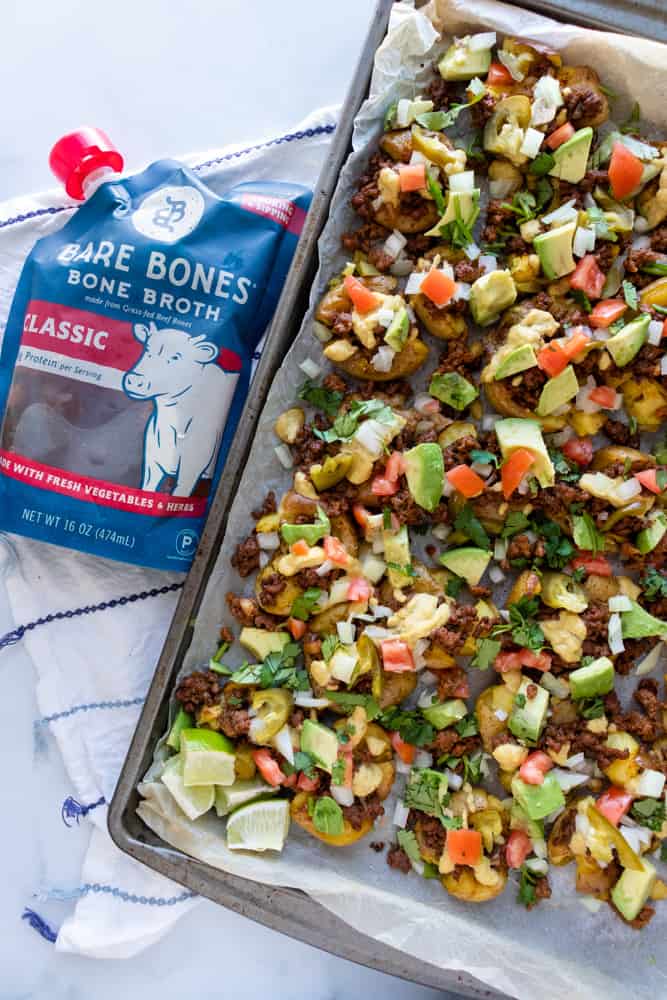 I can go on and on about how much I love Bare Bones Bone Broth, but what I really do love the most is that you can see the quality of their broth right from the package. It's probably one of the few store bought bone broths that actually gets gelatinous –that's a BIG deal in the bone broth world. You can read all the health benefits here.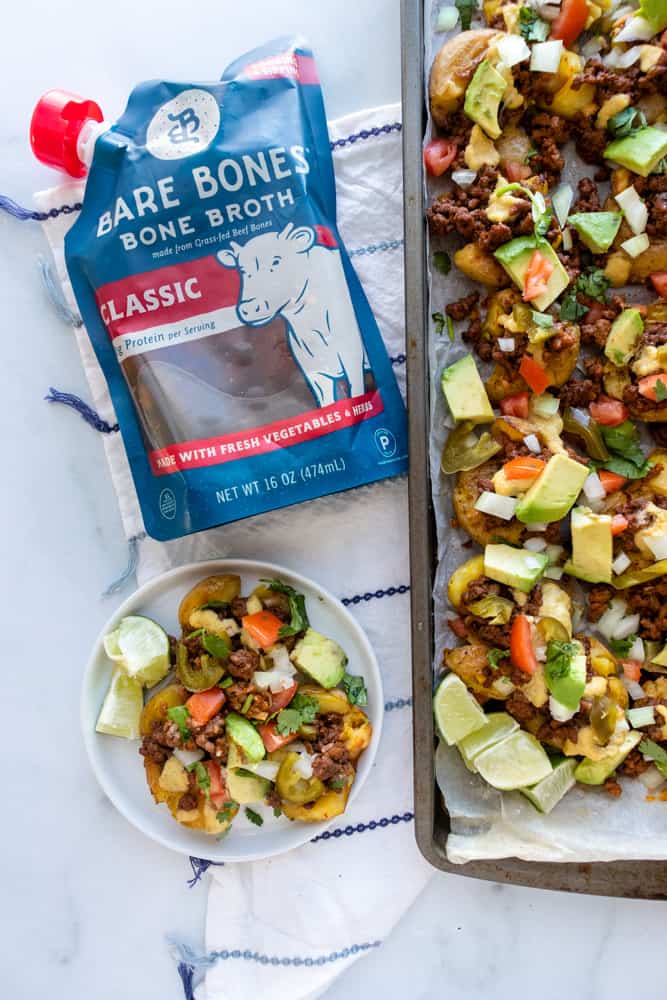 Now back to these crispy smashed potato nachos. Here are a few things:
Make this recipe completely yours. Like I said, the base of this recipe are the potatoes and ground beef. Other than that, top it with everything and anything your little heart desires!
You can serve this a couple different ways: 1) make the nachos with all the toppings and serve or 2) make a nacho bar by having family and friends make their own nachos. Just layout all the toppings and have people go to town!
You can make this ahead of time. Boil the potatoes and make the taco meat the night before. Store in the fridge and when ready to serve, smash the potatoes, and roast. Reheat taco meat however you like.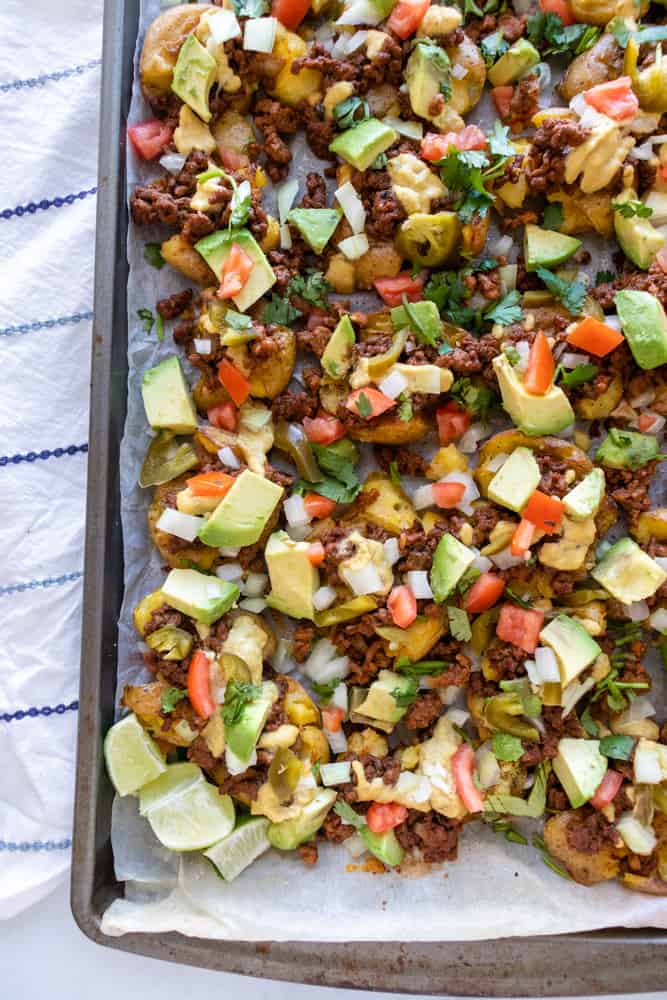 I hope you love this fun rendition of nachos as much as I do! If you do make these crispy smashed potato nachos, be sure to tag me on Instagram.
Crispy Smashed Potato Nachos
Ingredients
Crispy Smashed Potatoes
2

lbs

small potatoes

2

tbsp

avocado oil

2

tsp

kosher salt

1

tsp

ground black pepper
Ground Beef
1

lb

ground beef

½

onion

finely diced

2

garlic cloves

finely minced

1

tbsp

taco seasoning

2

tbsp

tomato paste

1

tbsp

avocado oil

kosher salt

ground black pepper
Nacho Topping Options
diced onions

diced avocados

diced tomatoes

paleo nacho cheese

or shredded cheese

chopped cilantro
Instructions
Crispy Smashed Potatoes
Bring a large pot of water to a boil. Preheat oven to 425F. Line a baking sheet with parchment paper.

Add potatoes and boil until fork tender ~12-15 minutes.

Remove potatoes from water and place them on the baking sheet.

Gently smash the potatoes with a fork.

Brush potatoes with avocado oil and season with kosher salt and pepper. Roast for 15 minutes or until the potatoes get crispy.
Ground Beef
Preheat skillet over medium heat with avocado oil.

Add the onions and garlic and cook until onions are translucent.

Next add in the ground beef, break up the beef, and then add the taco seasoning.

When the ground beef is almost cooked stir in the tomato paste and Bare Bones Beef Bone Broth.

Lower the heat and gently simmer for 5 minutes. Taste to see if you need additional kosher salt and black pepper.
Nachos
Remove crispy smashed potatoes from the oven. Top it with the ground beef.

If using shredded cheese, add the shredded cheese and put it back into the oven for a few minutes to melt.

Then top the nachos with whatever toppings of your choice and serve.
---
SIMILAR RECIPES:
Loaded Tostones Nachos
Paleo Nacho Cheese
Queso Fundido con Chorizo
---