Furikake French Fries might just be the only way you eat french fries. These simple but flavorful french fries are perfect as a side dish with your favorite burgers or even some karaage chicken! They're also great as a main dish if that's how you want to roll too!
One of my favorite things about eating in Hawaii was the unlimited amount of foods topped with furikake. It wasn't just limited to rice or fish. They put that ish on everything!
So when I made a random pit stop at a North Shore food truck and got a burger with furikake french fries and wasabi mayo to dip it in, my life was changed. I think about that meal often so of course I had to remake it!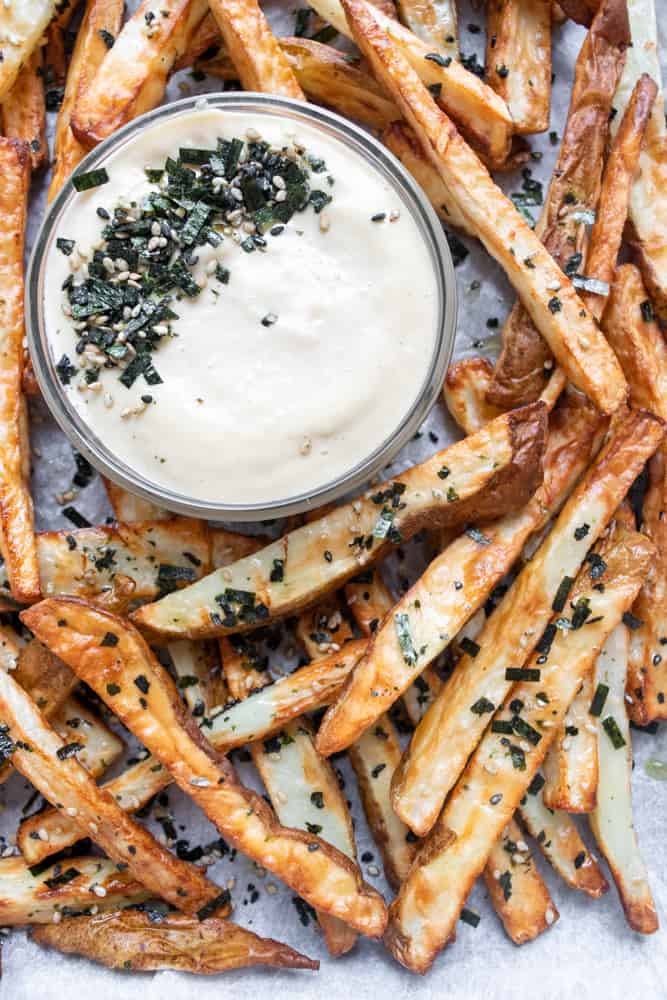 What is furikake? Furikake is a Japanese seasoning filled with cut up nori, sesame seed, bonito flakes and other seasonings to make it delicious. There are so many different combinations to fit anyone's taste! You'll find it used to mostly season rice and fish dishes, but like I said, it can go on anything and everything.
Side note: If anyone from the Big Island, Hawaii is reading this, please send me some Furikake One-Ton chips. Please please pleeeeeease!
It adds that hit of umami to any dish and can be found at almost any Asian grocery store and even some American grocery stores (check the Asian section). I recently bought Trader Joe's version –which has super clean ingredients, and I love it!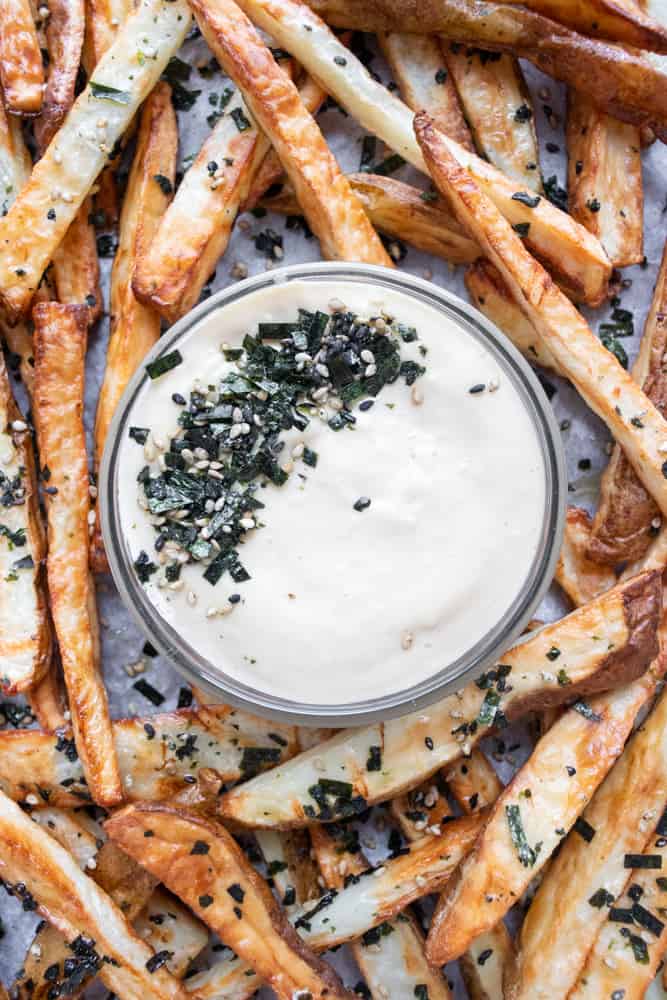 These Furikake French Fries are so easy to make. I highly suggest you pair it with the Wasabi "Soy" Mayo to bring everything together, but good ole plain mayo works too.
I'm a firm believer that mayo or any mayo based dipping sauce pairs better with french fries than ketchup. I will die on this hill.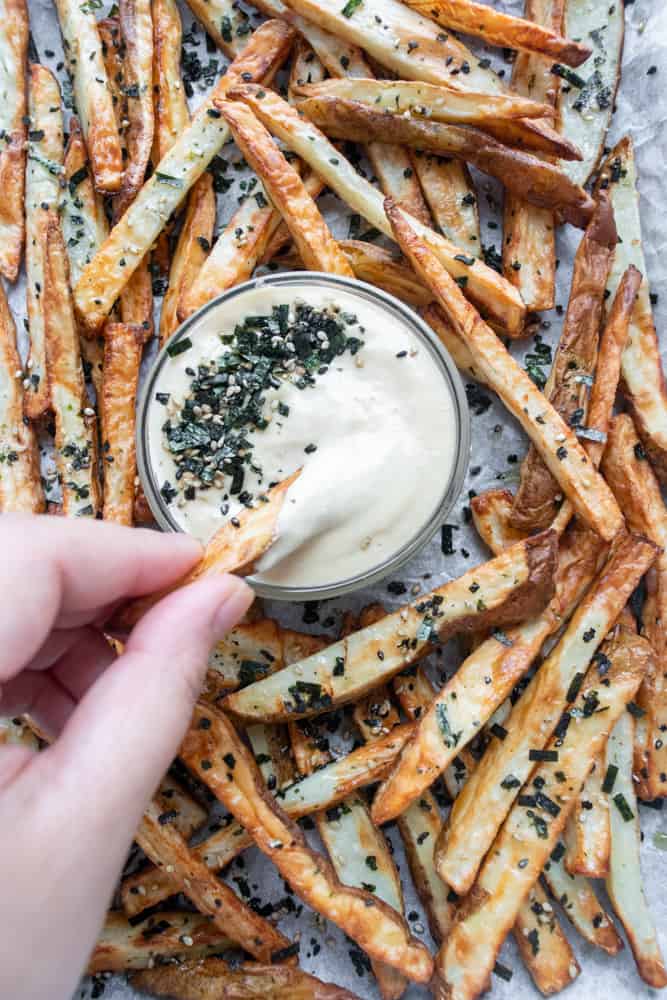 OH, and if you want to make this dish even simpler, you can totally use frozen potatoes. Only thing I suggest doing is spritzing it with a bit of avocado oil after it's done cooking and then toss it in the furikake seasoning. You just want something that will help the furikake seasoning to stick to.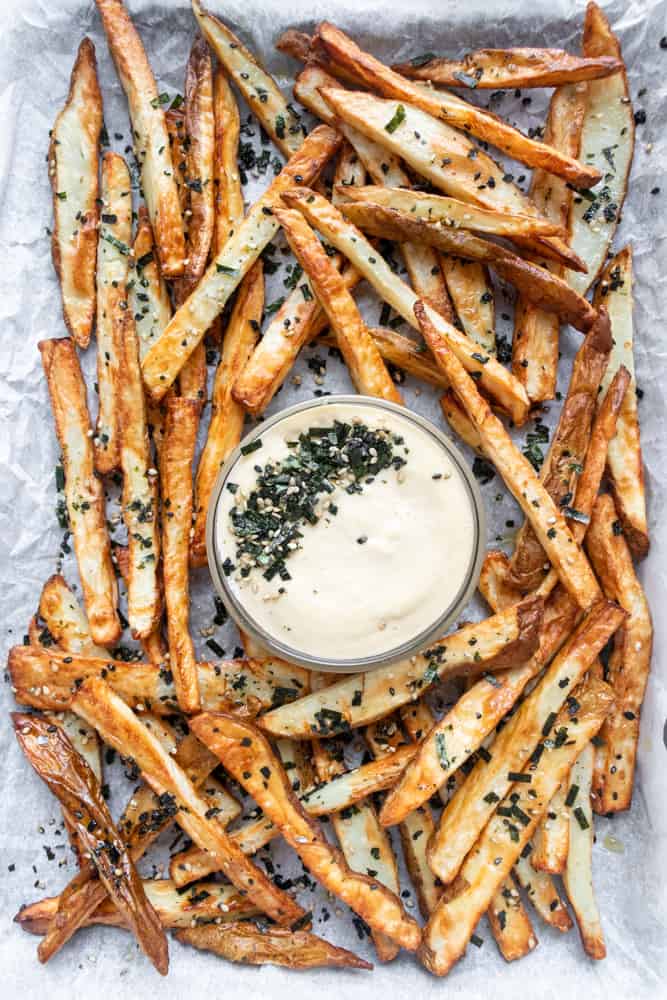 I hope you enjoy this dish as much as I do! If you make this recipe, be sure to tag me on Instagram.
Furikake French Fries (Paleo, Whole30)
Instructions
Preheat oven to 375F. Line baking sheet (might need two) with parchment paper.

Scrub potatoes clean or peel the skin off. I keep the skin on.

Cut into 1/4 inch thick french fries. Add to a bowl with cold water and let sit for at least 30 minutes.

Meanwhile, melt duck fat five minutes before removing potatoes from water.

Remove potatoes from water, pay dry (make sure they are really dry), and then toss in duck fat and season with kosher salt.

Add potatoes to baking sheet in a single layer making sure not to overcrowd the potatoes.

Roast for 20 minutes then toss the potatoes. Turn the oven up to 425F and roast for an additional 15-20 minutes or until french fries are crispy and golden brown.

Air Fryer Method: place potatoes in air fryer basket and cook at 400F for 22 minutes shaking halfway through.

Once french fries are cooked toss them with furikake seasoning and serve.
Wasabi "Soy" Mayo
If using wasabi powder, mix it with the coconut aminos until well combined.

Add the wasabi mixture to the basic mayo alongside onion powder. Mix until well combined.

Refrigerate until ready to use.
---
SIMILAR RECIPES:
Steak Frites
Karaage (Japanese Fried Chicken)
Poke Tuna Stacks
---