Moo Ping (Thai Grilled Pork) is a popular dish found at many street food vendors in Thailand. This dish can easily be replicated at home with a few simple ingredients. Moo Ping (Thai Grilled Pork) is the perfect dish to prepare ahead of time for meal prep or a quick and easy protein option. It is also great as an appetizer for entertaining.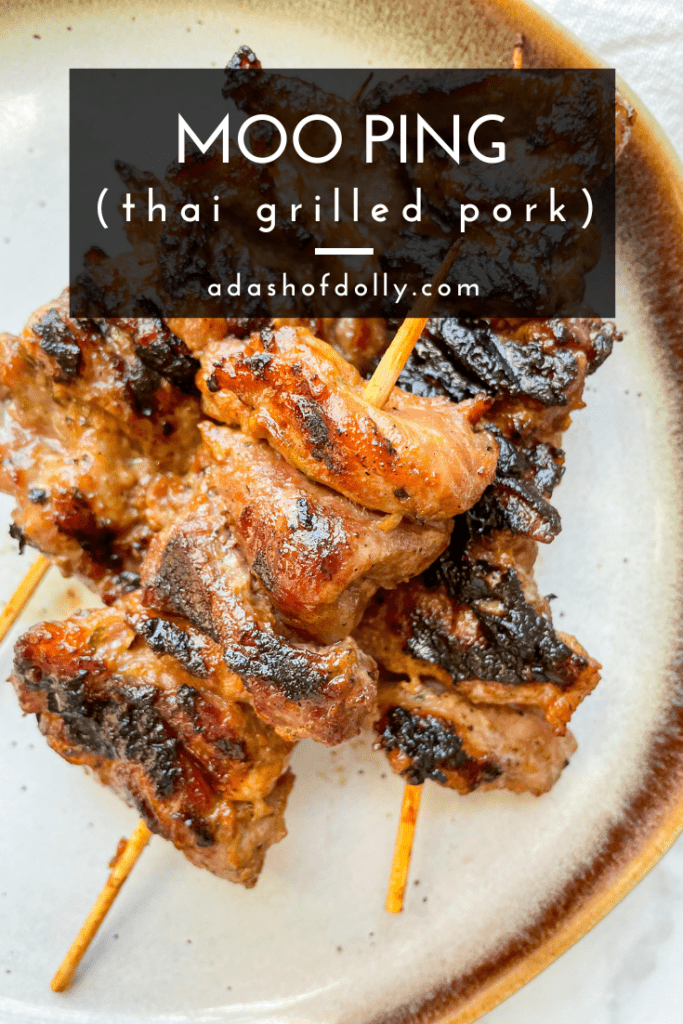 Moo Ping (Thai Grilled Pork) is one of the simplest dishes to make. The only hard part is waiting for the pork to marinate! …and maybe skewering the pork pieces into the bamboo skewer.
In Thai (and Lao) 'moo' means pork/pig and 'ping' means grilled, and you can find these perfectly grilled juicy skewers all over the street food vendor scene in Thailand. Moo ping can be eaten alone or with freshly made sticky rice (khao niew).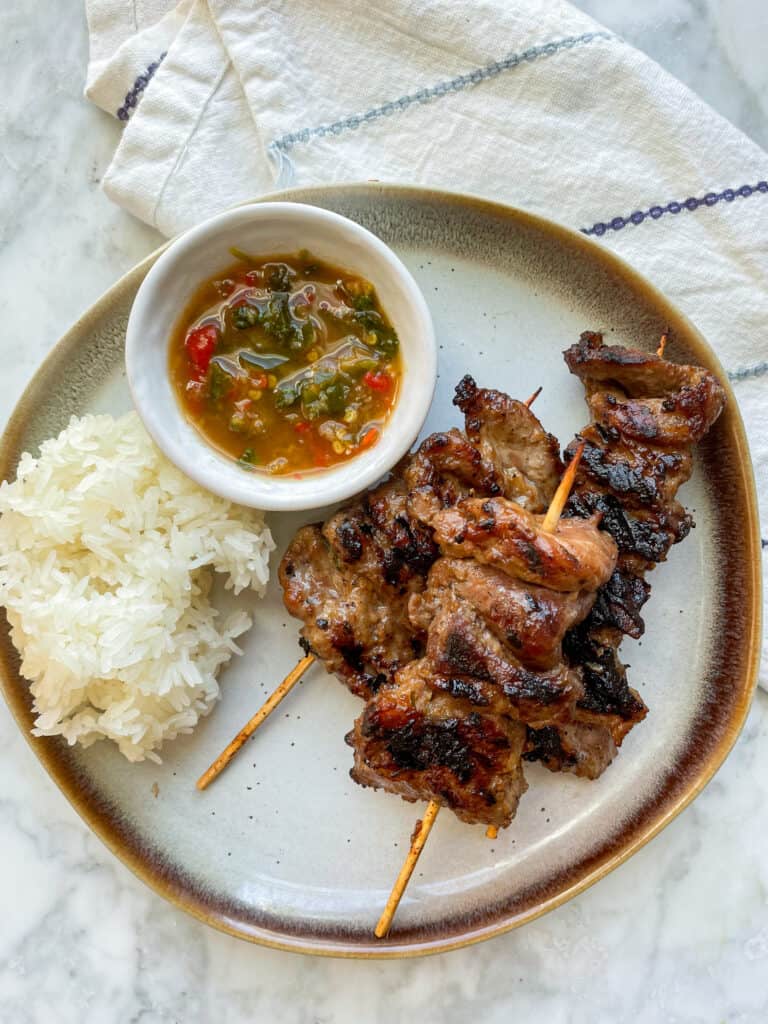 I personally love eating moo ping (Thai grilled pork) with sticky rice and my Jeow Som –a spicy and sour Lao dipping sauce. All of the flavors work so well together and you will always have the perfect bite!
There are various versions of this recipe, but this is the version I grew up eating. There's the perfect balance between sweet and savory, and we all know I love flavor combos! This dish is perfect for entertaining and meal prepping. It can be served as an appetizer or as the main protein.
WHAT YOU'LL NEED FOR MOO PING (THAI GRILLED PORK):
Pork shoulder or any kind of fatty cut
Cilantro root or cilantro stem
Garlic cloves
Black peppercorns
Brown sugar or palm sugar
Oyster sauce
Light soy sauce
Dark soy sauce
Coconut milk
Cornstarch or tapioca flour, arrowroot flour, or potato starch
HELPFUL TIPS AND TRICKS TO GET THE BEST MOO PING (THAI GRILLED PORK):
Using a fattier cut of pork will really help ensure you get moist juicy skewers. Cuts like pork shoulder, pork butt, or pork collar are great for this recipes because the fat runs through the meat.
Thinly slice the pork to ensure fast and even cooking.
Cilantro root is used in a lot of Thai and Lao cooking. If you can't find a cilantro bunch with the roots sill attached, cilantro stems are the perfect alternative.
If you have access to palm sugar, use that before brown sugar. I chose brown sugar because I know it is more accessible to people.
Light soy can be replaced with regular soy sauce however if using light soy sauce I highly recommend getting a Thai brand like this one here.
Use full fat coconut milk.
The coconut milk can also be used to baste the pork skewers if you are using a leaner cut of pork like pork loin or pork chops.
This dish can be made on a grill, grill pan, or the air fryer.
Don't forget to soak your bamboo skewers for at least 30 minutes!
I hope you enjoy this dish as much as I do! It always brings me back to my childhood. If you make it, please be sure to tag me on Instagram so I can see your recreation!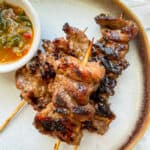 Moo Ping (Thai Grilled Pork)
Prep Time
2
hours
30
minutes
Instructions
Thinly slice pork shoulder and set aside.

In a mortar add in cilantro root, garlic cloves, black peppercorn, and brown sugar. Using a pestle, ground until well combined and a rough paste is formed.

Once paste is formed, stir in the oyster sauce, light soy sauce, dark soy sauce, and coconut milk. Mix until well combined.

Coat sliced pork shoulder cornstarch, mix until all pieces are coated.

Pour marinade over pork shoulder and marinate for 2 hours or over night.

Skew pork slices into bamboo skewer making sure to tightly pack the pork pieces.

Once skewed, refrigerate the skewers for 30 minutes to help the skewers keep its shape.

Grill/grill pan: preheat grill or grill pan over medium-high heat, grease grill with avocado oil. Place skewers on grill and cook for 10-12 minutes flipping over halfway through.

Air Fryer: lightly grease air fryer basket, place skewers in the air fryer, and cook at 375F for 12-14 minutes flipping halfway through.
Recipe Notes
*It's best to use a fattier cut of pork like pork shoulder, pork butt, pork collar. If using pork chops/loin keep the fat cap on the pork and make sure each skewer has a fatty piece.
**If using a leaner cut of pork, set aside 1/4 cup of the coconut milk to baste the pork skewers each time you flip it. This will help keep the pork moist and juicy.
---
SIMILAR RECIPES:
Thai Pork Omelette (Kai Jeow Moo Sab)
Jeow Som (Lao Spicy & Sour Dipping Sauce)
---
SOME OF MY POSTS CONTAIN AFFILIATE LINKS. IF YOU USE MY LINKS TO PURCHASE A PRODUCT, I WILL RECEIVE A SMALL COMMISSION, BUT IT WILL NOT COST YOU ANYTHING EXTRA. THANK YOU FOR YOUR SUPPORT!