Sticky rice (khao niew) is a staple in Lao and Thai cuisine. This tutorial on how to make sticky rice will show you different methods on how to cook the sticky rice to ensure you can make this at home whether you have the traditional tools or not!
Sticky rice or khao niew (khao = rice, niew = sticky) in Lao and Thai is a staple in our diet. It is served with almost every meal throughout the day or can be used in various recipes like mango sticky rice and khao jee (Lao sticky rice pancake).
Nothing reminds me more of my childhood than a fresh batch of sticky rice being made. One of my favorite snacks was fresh made sticky rice with a little bit of salt. It's like every Lao kid's go to snack!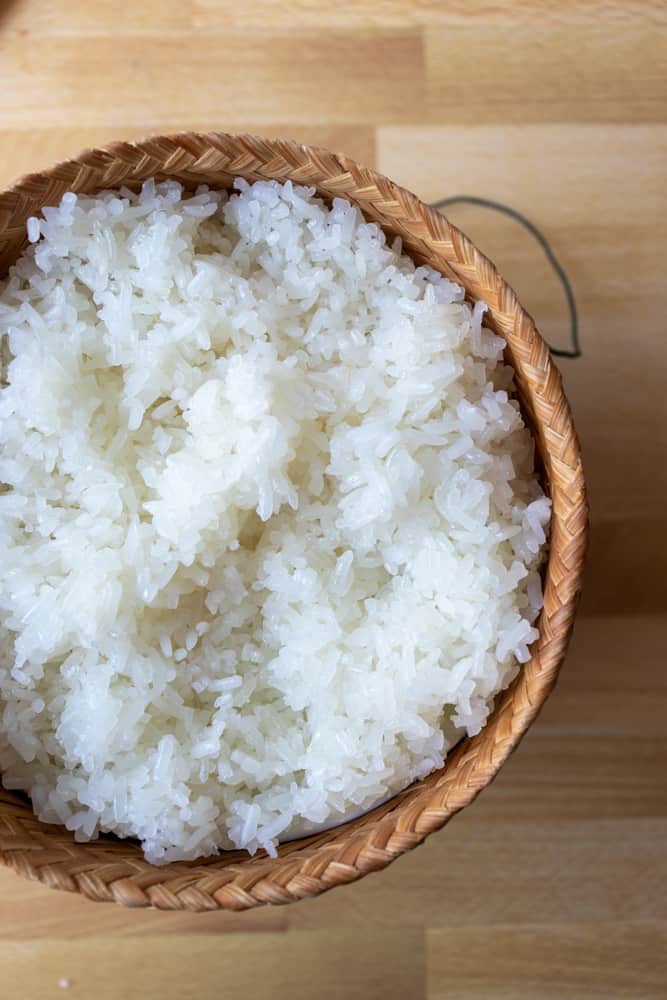 Let's cover a few things about khao niew.
What is sticky rice? Sticky rice also known as glutinous rice or sweet rice is a short grained rice that has more sugar and is much starchier than jasmine rice or other long grain rice. It's opaque in color and must be soaked in water for at least 4 hours to overnight. When purchasing it make sure the label reads "glutinous rice" or "sweet rice".
Is sticky rice gluten free? Yes! The word glutinous is referring to its starchier content and sticky consistency.
How is sticky rice eaten? You typically use your hands to eat sticky rice. It's used like a vessel for dips, sauces, and whatever you're eating it with. Sticky rice is usually served with almost every meal that has protein and a dipping sauce.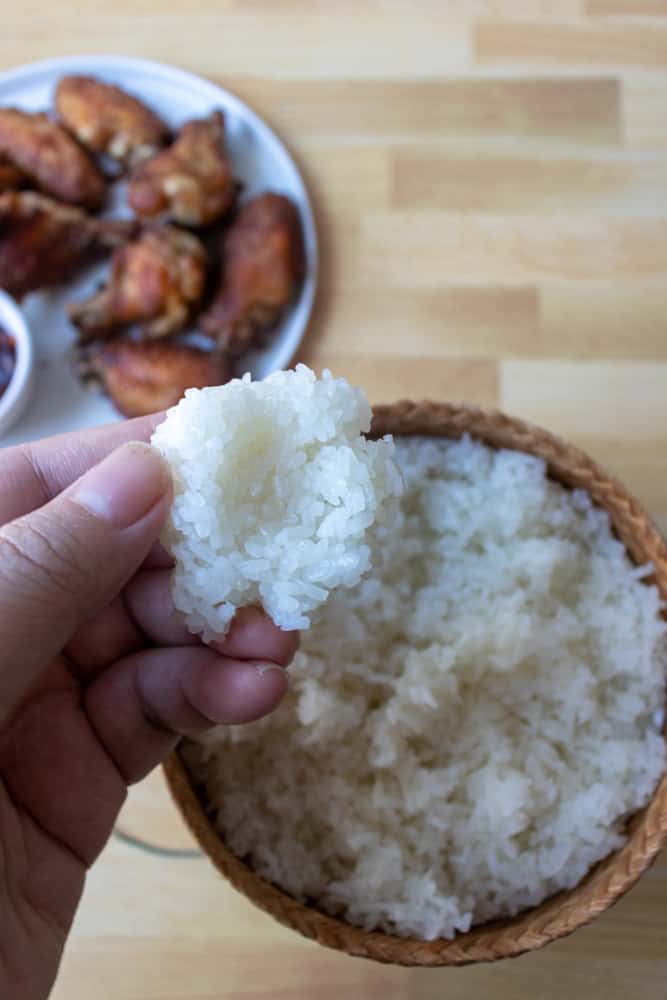 How is sticky rice made? Traditionally it's made in a bamboo steamer basket and pot after the rice has been soaking in water for 4-12 hours. The bamboo steamer basket is cone shaped and placed over boiling water. The rice is cooked for 25-30 minutes depending on how long you've soaked the rice.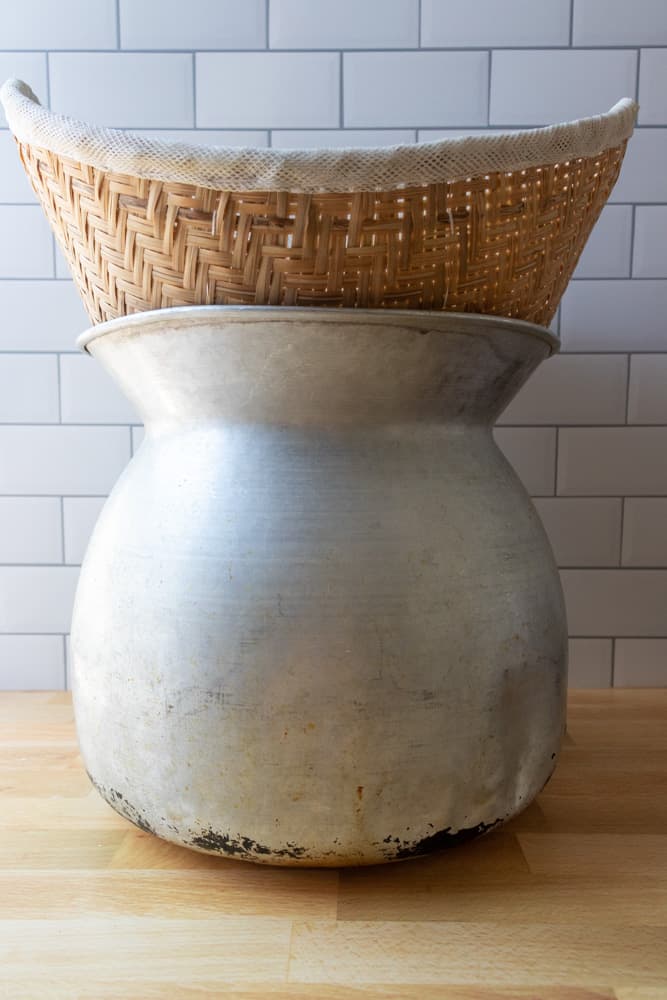 How do you store sticky rice? Traditionally it's stored in a bamboo basket with a lid (aep khao). This will keep the rice warm and tender. You can also store it in an airtight container for up to a day or two. Khao niew is best eaten right away so it's always best to only make enough for your meal.
Can you reheat sticky rice? If you do have leftover rice you can reheat it by steaming it again until it's tender.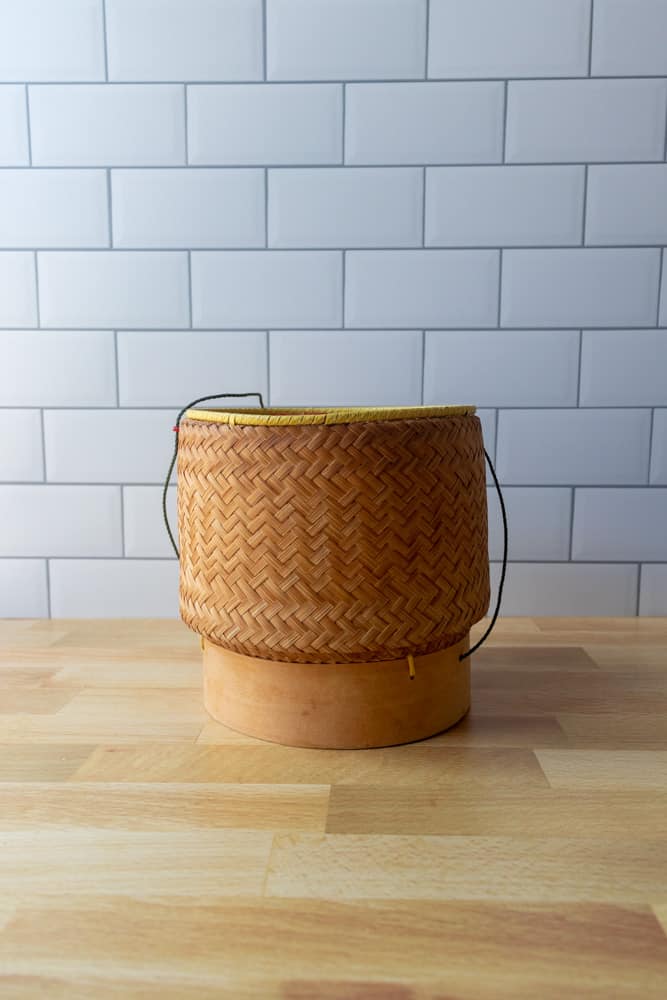 What if I don't have a traditional bamboo steamer and pot? There are a few different nontraditional ways to cook khao niew. Here's a list of a few ways (please note rice should be soaked for at least 4 hours to overnight before cooking):
Cheesecloth or tea towel method: after soaking your rice, drain it, place it on the cheesecloth or tea towel, fold the cloth over the rice so it's completely covered. If you have a steamer pot, bring the water to a boil over medium-high heat, add the cheesecloth to the top pot, cover, and cook for 20-30 minutes or until tender but not overcooked. Remove rice from cheesecloth, place on a flat surface, fluff the rice with a spatula, and then place in container.
A mesh strainer method: add water to the pot (you want to make sure the water doesn't touch the bottom of your strainer), add soaked rice into a large strainer (make sure the holes in your strainer are fine) that will fit your pot, place strainer on top of the pot, cover and steam for 20-30 minutes flipping the rice halfway through over medium-high heat. Remove rice from strainer, fluff, and then place in container.
Splatter guard method: here is a GREAT tutorial on how to cook sticky rice on a splatter guard.
Stovetop method: add a heatproof colander to a large pot, add water until it barely reaches the bottom of the colander, add rice to colander, cover, and steam for 20-30 minutes flipping the rice halfway through over medium-high heat. Remove rice from colander, fluff and then place in container.
Instant Pot method: add one cup of water to the Instant Pot, make sure water isn't going to touch the rice (use the trivet if you need to), place a colander or steamer that will fit inside the pot, add the rice, close the lid, seal it, and cook the rice on high pressure for 12 minutes. Let it natural release for 10 minutes, remove rice, fluff, and then add to a container.
A few tips and tricks to ensure you always get the best sticky rice:
You must wash the rice before you soak it. It will probably take 5-6 washes before the water is clear.
The rice has to be soaked for at least 4 hours to overnight. This is important because it will help with the cooking process and texture of the rice.
Don't skip fluffing the rice. This will help make sure the rice isn't one big ball. It'll be sticky but you should be able to see the separate grains of rice.
You really do want to eat this as fresh as possible. When sticky rice cools down, it gets kinda tough and the longer it sits out, the harder it will get.
Sticky rice can really be eaten with just about anything! Use it as a vessel to soak up leftover juices from a steak, dip it in a runny yolk, or just have it with salt for a quick snack!
Now go out there and make yourself some sticky rice! Be sure to tag me on Instagram so I can see.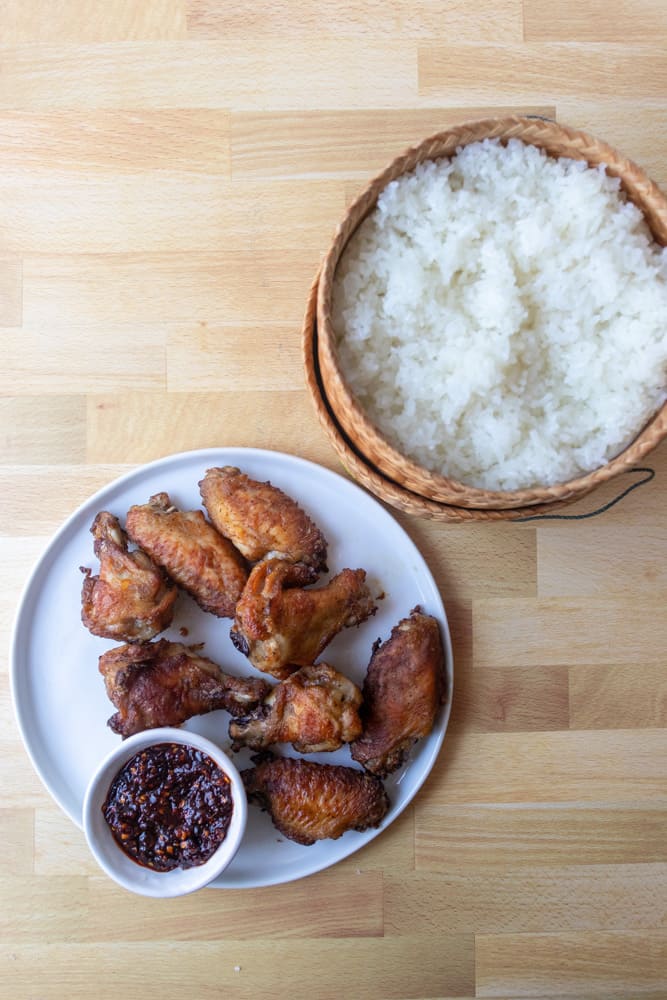 ---
SIMILAR RECIPES:
Green Papaya Salad
Thai Fried Chicken
Mango Sticky Rice
---
---
a dash of dolly is a participant in the Amazon.com Services LLC Associates Program, an affiliate advertising program designed to provide a means for sites to earn advertising fees by advertising and links to Amazon.com. As part of this Amazon Associates program, the Website will post customized links, provided by Amazon, to track the referrals to their website. This program utilizes cookies to track visits for the purposes of assigning commission on these sales.