This Beef Pepper Rice recipe is inspired by Pepper Lunch's popular dish. It is a quick and easy meal that can be thrown together in no time. There is the perfect balance of sweet and savory that will have you wanting to make this dish everyday! With a few simple ingredients, this will be one of your go-to meals.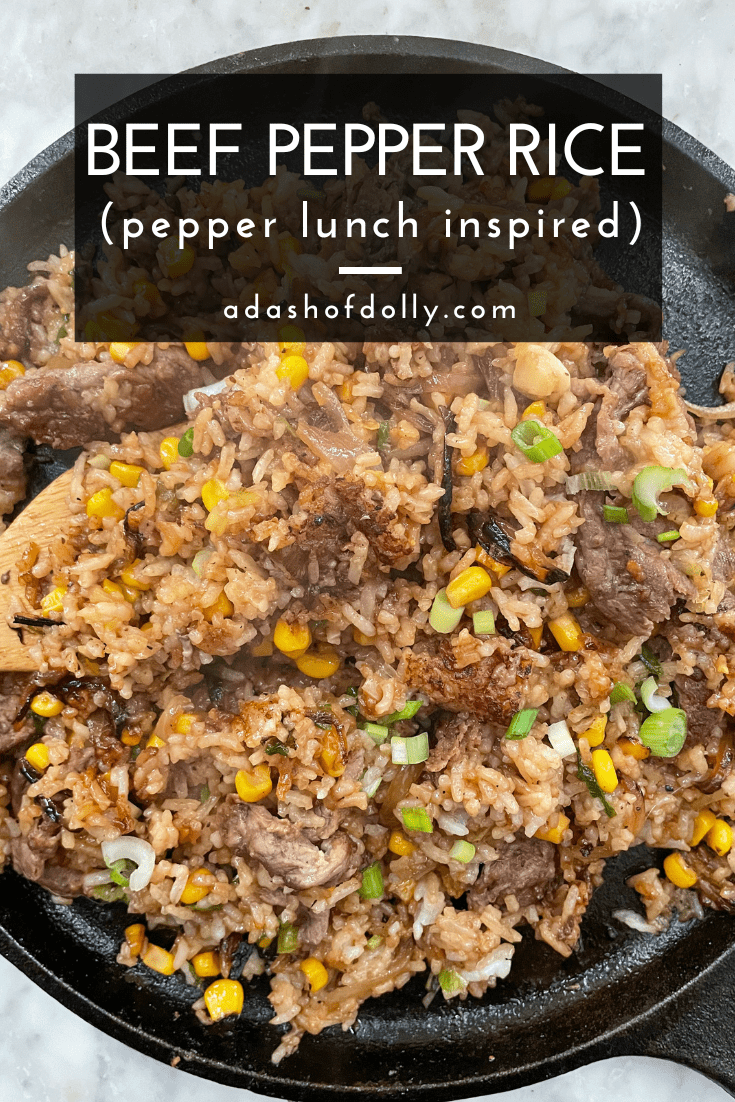 I am not one to jump on the food trend bandwagon because most of the time the recipe or food item that is trending typically is not that great. However, I must say, this Beef Pepper Rice dish kept showing up on my feeds and I could not stop thinking about it. The more I kept seeing it, the more I needed to try it.
This recipe is a copycat recipe from a restaurant called Pepper Lunch where they serve sizzling hot fried rice dishes on a cast iron skillet. All the reviews rave about the dishes there so I knew I had to play around with the popular beef pepper rice dish.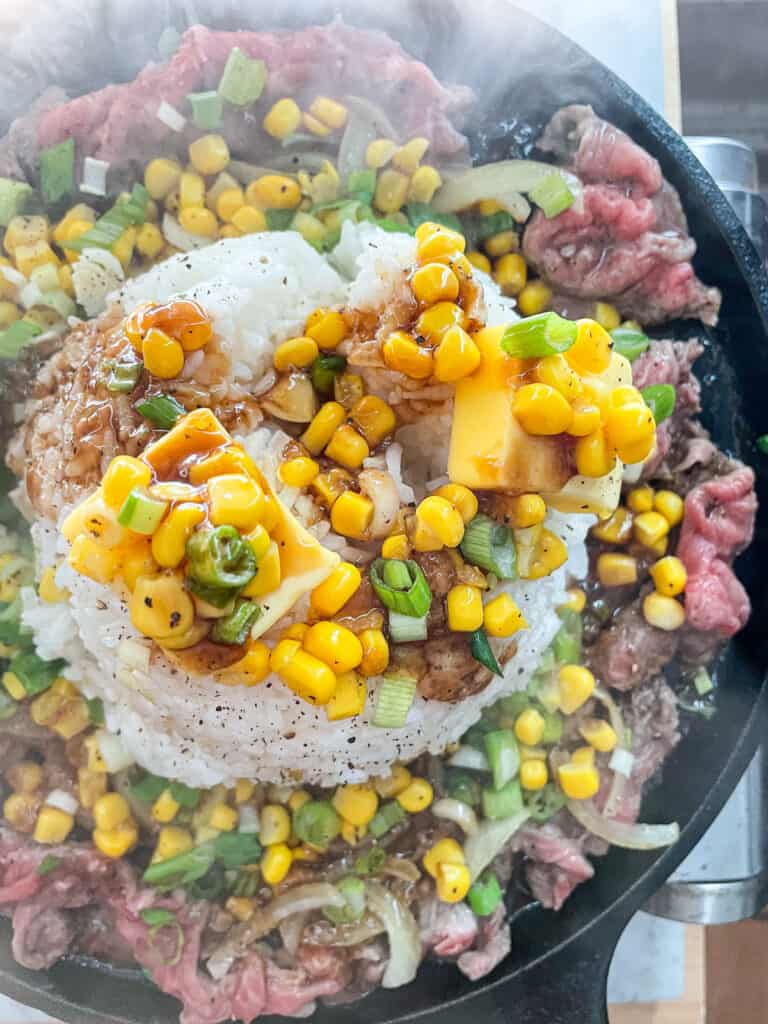 I tried many different recipes I found online and finally came to a recipe that really ignited my tastebuds. The sauce used for the fried rice is sweet and savory with a little bite from the ground black pepper. All of the ingredients meld so perfectly together. If you use a cast iron skillet to make this dish, the rice will get nice and crispy.
This dish is so simply but yet packs so much flavor, I am almost sure you will be making it time after time!
WHAT YOU'LL NEED FOR THE BEEF PEPPER RICE:
Soy sauce (I like Kikkoman low sodium soy sauce for this recipe), honey, oyster sauce, garlic cloves, and. ground black pepper
Half a medium onion
Half a pound of thinly sliced beef –it can be pre-sliced or you can slice a cut of beef
Leftover white rice if you don't have leftover white rice learn how to make rice perfect for fried rice here
Canned or frozen corn kernels (I like to use sweet corn)
Butter or ghee
Green onions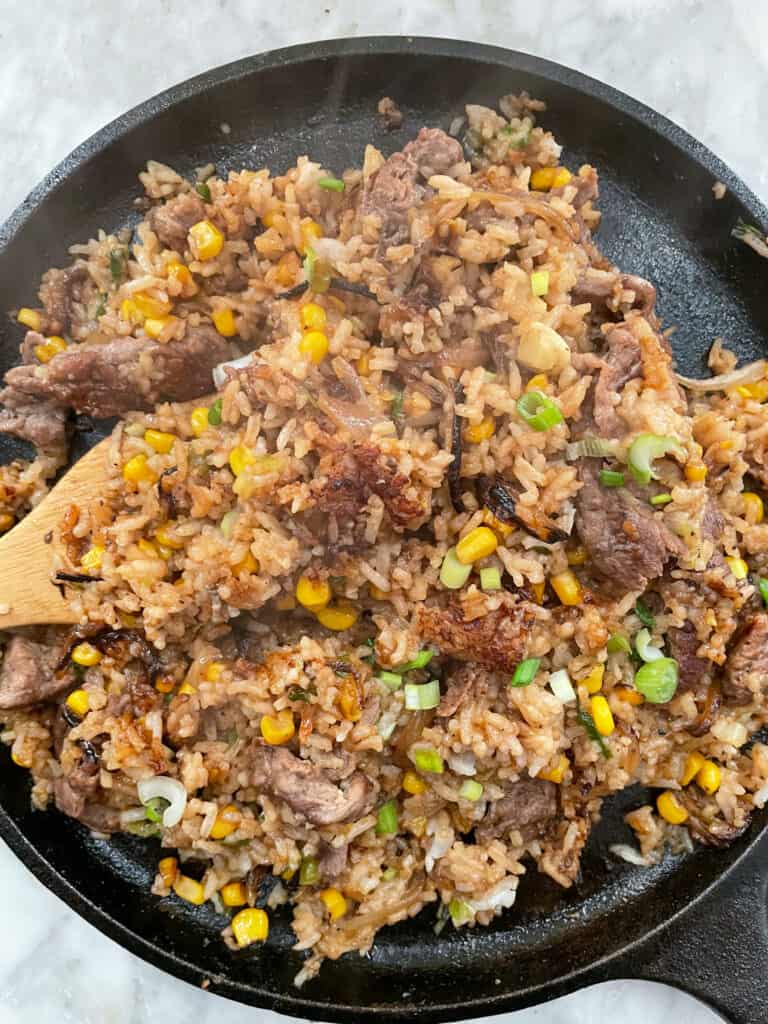 HELPFUL TIPS AND TRICKS TO GET THE BEST BEEF PEPPER RICE:
To save time, I buy shaved steak or the thinly sliced beef used for hotpot at the Asian market. This saves time; however, if that is not available to you, buy any cut of beef (I personally like fattier cuts), freeze it for about 30 minutes and then thinly slice it. Freezing the meat a bit will make it easier to slice. Oh, and always cut against the grain for a tender piece of meat!
The measurements of each ingredient for the sauce can be adjusted to your liking, I personally like mine more on the peppery side so I tend to add more black pepper. If you want it sweeter, you can add more honey if you want. Make the adjustments according to your tastebuds!
This dish serves two but if you are serving more than two people it is best to cook it in batches to get the best results. Since this dish quickly comes together it will not take too much time to cook it in batches. You can of course double or triple the sauce recipe and store it for later use.
You can use canned or frozen corn kernels but I prefer canned because there is a less likely chance of watering down the dish.
I highly recommend using a cast iron skillet because it will give you a nice char on the rice if you so wish to have charry bits in your fried rice. (Please have charry bits in your beef pepper rice and thank me later!)
I hope you enjoy this dish as much as I do! It is the perfect dish to make if you need a quick meal or just want something warm and comforting. If you make it, please be sure to tag me on Instagram so I can see!
Beef Pepper Rice (Pepper Lunch Inspired)
Ingredients
Beef Pepper Rice
avocado oil

or any cooking fat

½

medium onion

thinly sliced

½

lb

thinly sliced beef

1 ½

cups

leftover white rice

1-2

tbsp

butter

or ghee

½

cup

canned corn kernels

or frozen corn kernels

2

green onions sliced

more for garnish

ground black pepper

optional according to taste
Instructions
Beef Pepper Rice Sauce
Combine all ingredients in a bowl and mix until well combined.
Beef Pepper Rice
Preheat cast iron skillet or any skillet with enough avocado oil to lightly grease the bottom of the skillet over medium-high heat

Add the onions and saute for 2-3 minutes or until onions start to soften

Once onions have soften, scoot onions the the middle of the skillet, and then place the thinly sliced beef around the perimeter of the skillet. Let the beef sit for a couple minutes and then scoot the onions to the perimeter of the skillet alongside the beef.

Next add the rice to the middle of the skillet where the well was created.

Top the rice with the butter (the more butter the more rich and decadent the dish) and then add the corn and green onions on top.

Add the Beef Pepper Rice sauce to the skillet and then mix everything together until well combined.

Evenly spread the rice on the skillet and let sit for a couple of minutes to form some char on the rice and steak.

Mix until everything is cooked through. Optional: add additional ground black pepper to taste and garnish with green onions
---
SIMILAR RECIPES:
---
SOME OF MY POSTS CONTAIN AFFILIATE LINKS. IF YOU USE MY LINKS TO PURCHASE A PRODUCT, I WILL RECEIVE A SMALL COMMISSION, BUT IT WILL NOT COST YOU ANYTHING EXTRA. THANK YOU FOR YOUR SUPPORT!