When I did my first round of Whole30, I knew I had to make a dish inspired by The Meatball Shop in NYC (hello, Meatballs Over Garlic Cauliflower Mash). It was favorite go-to restaurant when I needed a quick and delicious meal. I wouldd get my usual: spicy meatballs over mashed potatoes and then ended my meal with a customized ice cream cookie sandwich.
Those days are long gone because not only am I sensitive to gluten and dairy, but I live in Los Angeles so I can no longer support my habits of frequenting The Meatball Shop. Thus the birth of this delicious meatballs over garlic cauliflower mash recipe!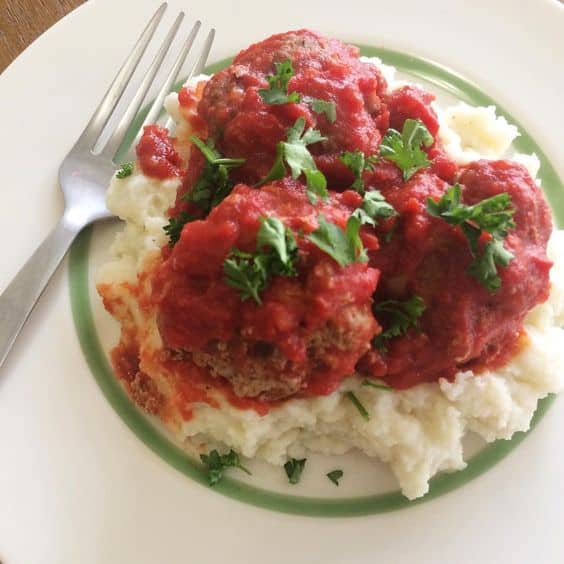 This meal has easily become a staple in my house because I always have meatballs in my freezer ready to be thawed and eaten over the creamy and garlicky cauliflower mash. If you've never had cauliflower mash, you're in for a treat! I didn't like cauliflower at first, but this recipe changed it for me. The garlickier (is that even a word?) the better I say! I also have an Instant Pot method for the garlic cauliflower mash if Instant Potting is your thing!
We can also categorize this meatballs over garlic cauliflower mash recipe as "sounds fancy AF", but is actually super easy to make. So if you want to impress people, this is the recipe to do it!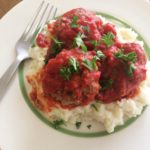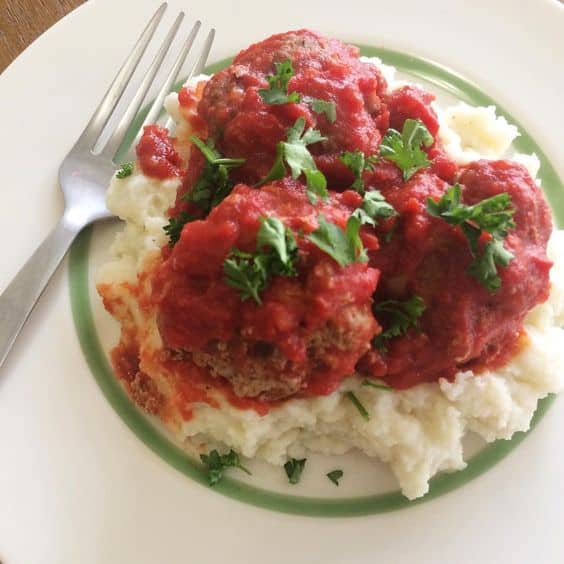 Meatballs Over Garlic Cauliflower Mash
Ingredients
For the cauliflower mash:
1

cauliflower head

4

garlic cloves

1

tbsp

ghee

1

tsp

kosher salt

1/2

tsp

black pepper
Instructions
For the meatballs:
Pre-heat oven 400°F.

Mix all ingredients but marinara sauce and parsley in a bowl.

Form golfball size meatballs. You'll get about 12-15 meatballs.

Place meatballs on a lightly greased baking sheet. Bake for 8-10 minutes. Does not have to be cooked through.

Place marinara sauce in a pot, season to taste and bring to a simmer.

Place meatballs in marinara sauce and simmer for about 10-15 minutes or until meatballs are cooked through.
For the cauliflower mash:
Chop cauliflower into large florets.

Season cauliflower with salt, steam for 12-15 minutes or until fork tender with garlic cloves.

Transfer cooked cauliflower into a blender, add ghee, and black pepper. (More salt if needed)

Blend until smooth and creamy.

Serve meatballs over cauliflower mash. Garnish with parsley.
Pin this recipe for later!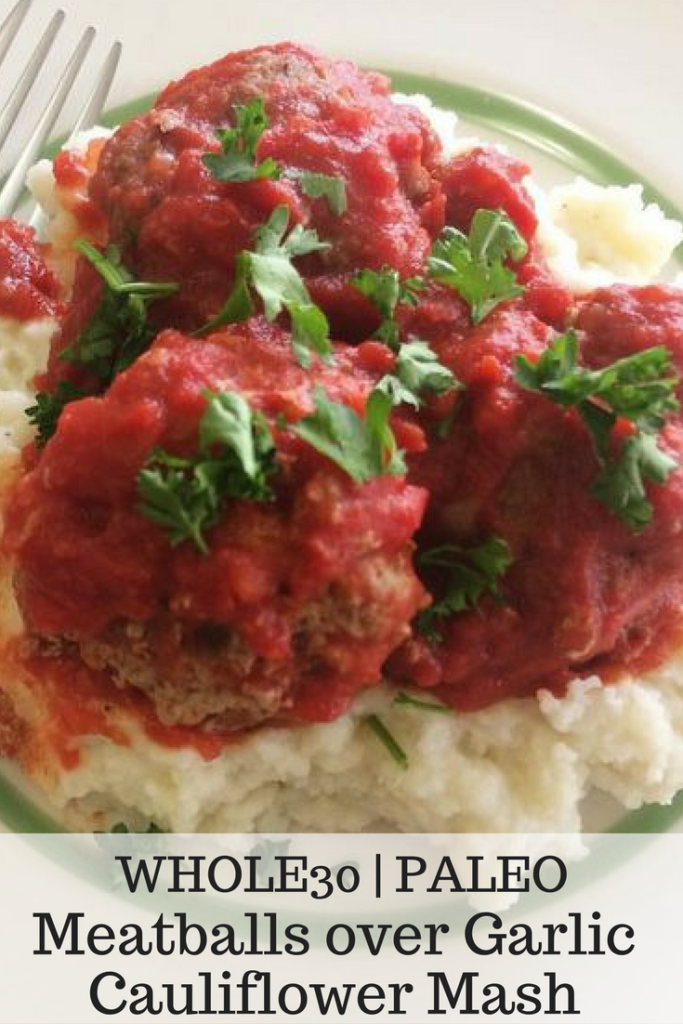 **Please note this post contains affiliate links. It does not affect the cost of the product but I do make a small commission to help keep this blog running if you decide to make a purchase. Dolly's Whole Life is a participant in the Amazon Services LLC Associates Program, an affiliate advertising program designed to provide a means for sites to earn advertising fees by advertising and linking to Amazon.com.