I love me some Instant Pot chili dogs! They are so versatile and can be made to fit and kind of diet whether you are doing the Whole30, Paleo, gluten-free, and etc. I personally believe if you have a good chili base and good quality hot dogs, you're already off to a good start.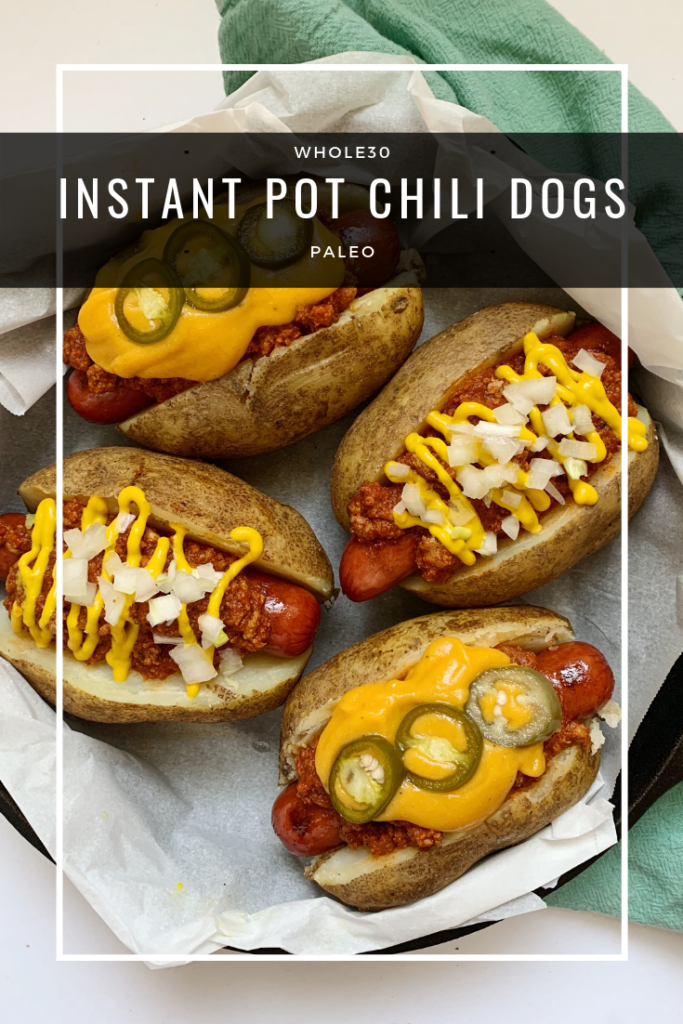 Now, I know there are people who prefer their chili dogs a certain way. It probably also depends on where you grew up as well. I am not too picky because I love any and all kinds of topping on mine, but if you have a way of topping your chili dogs, then do you. This recipe, like all of my recipes, is a guide to make it into your own.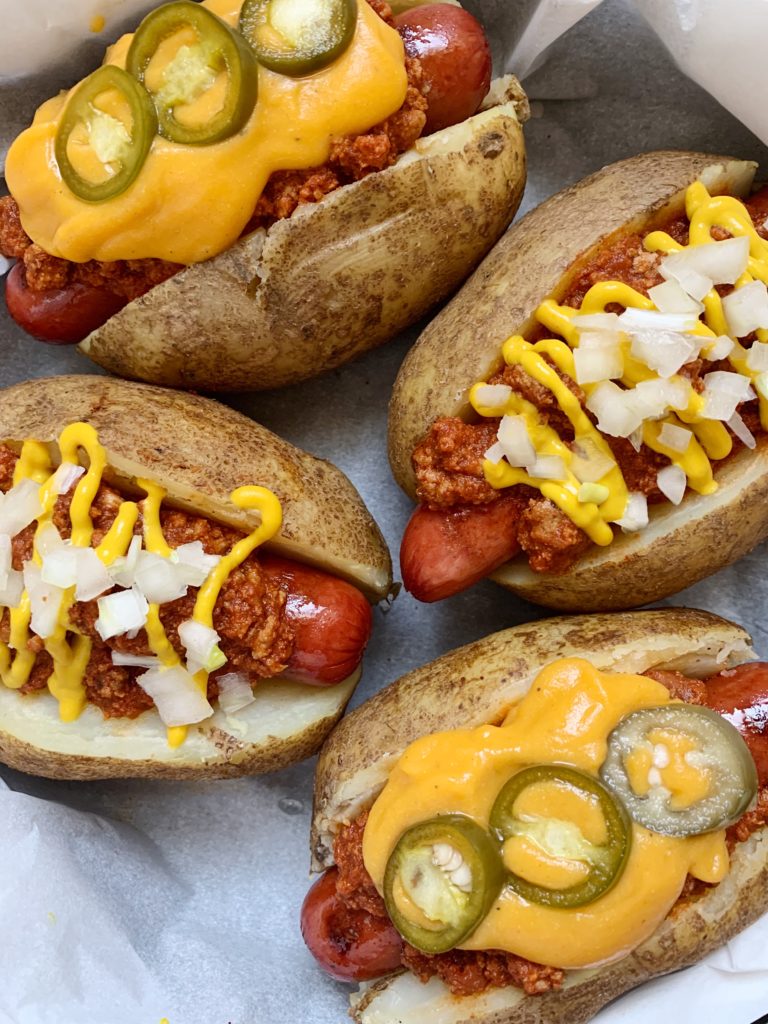 I also love this Instant Pot chili dogs recipe because if you're doing something like the Whole30, it caters to everyone and you do not have to make a million different meals for your friends and family. You can make the chili and prepare the hot dogs, and then have people create their own chili dogs. You can turn this into an Instant Pot chili dogs bar with a plethora of toppings.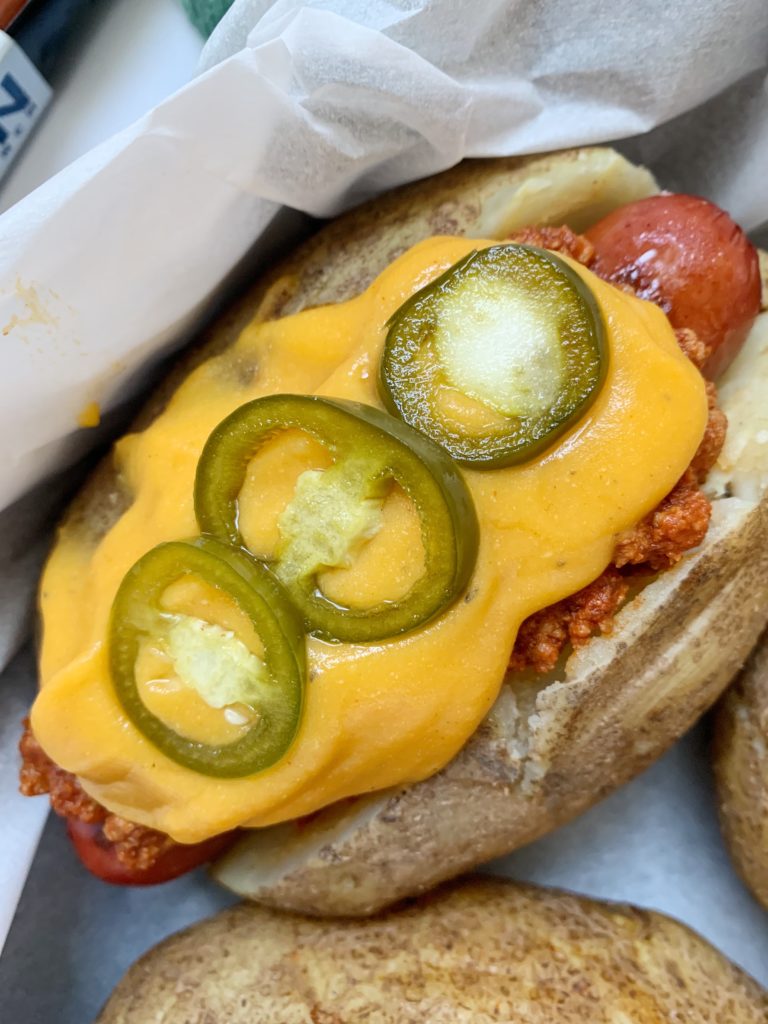 My favorite two ways of having these chili dogs is to stuff it into a baked potato, top it with the chili and then top it with either: paleo nacho "cheese" and jalapenos or regular ole yellow mustard and diced fresh onions. Serve it with a nice big green salad and you have a delicious and complete meal!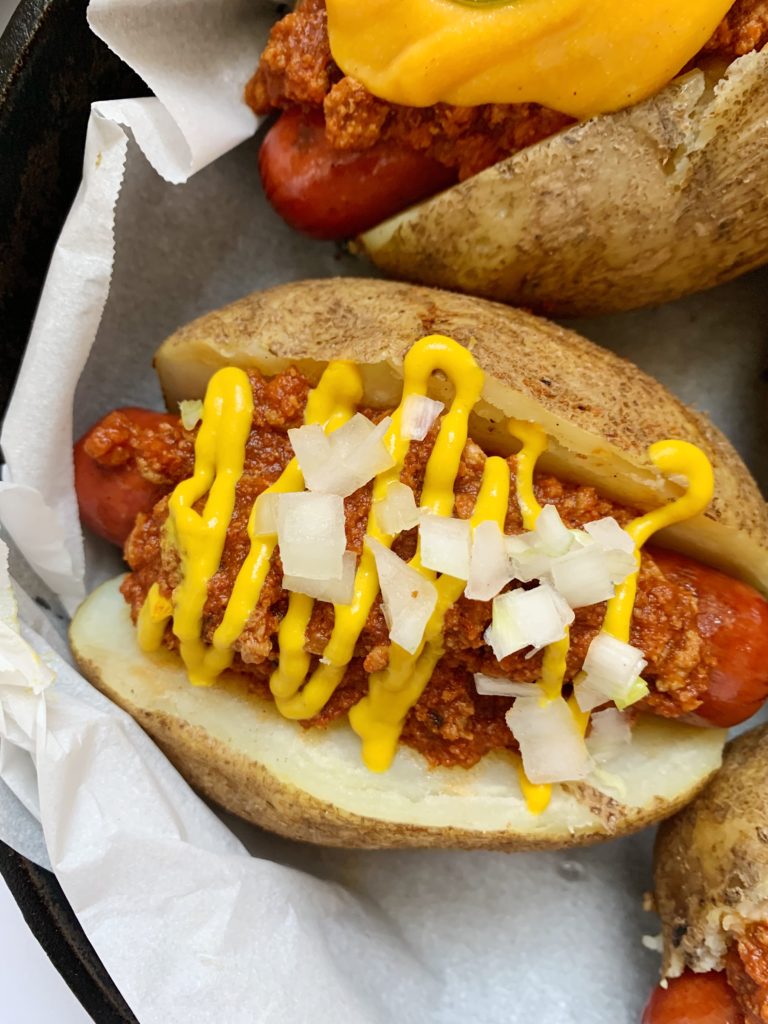 If you're serving this to a crowd for something like the Super Bowl, you can definitely double the chili recipe and keep it warm in your slow cooker or Instant Pot. Also, the chili freezes really well and is perfect for meal prepping. I like to put it into a single serving container, freeze it, and when I'm ready to eat it, I'll let it thaw int he fridge and just reheat it on the stove.
Instant Pot Chili Dogs (Whole30, Paleo)
A Whole30 and Paleo take on the classic chili dogs.
Instructions
Instant Pot Chili
Turn your Instant Pot into saute mode. Add in about one tablespoon of ghee.

Once the Instant Pot is "hot" add in the finely diced onions and minced garlic. Saute with for about 1 minute or until fragrant.

Next add in the chili powder, cumin, cayenne pepper, smoked paprika, kosher salt, and black pepper. Mix it with the onions and garlic and saute until fragrant.

Once the spices become fragrant and have bloomed, add in your ground beef and breaking it into smaller pieces and coating it with onions, garlic and spices.

When the meat is coated, turn the Instant Pot off, add in the beef bone broth and diced tomatoes. Stir until well combined.

Put the lid onto the Instant Pot, seal it shut, and then press the "bean/chili" button. Let cook for 25 minutes.

Let the Instant Pot naturally release pressure for about 10 minutes and then manually release it.

Stir the chili and taste to see if you need more kosher salt and pepper.
Chili Dogs
Prepare the hot dogs to your preference.

Split the baked potatoes in half, add in the hot dogs, top it with the chili, and then add any toppings you want.
Recipe Notes
Slow cooker: add all of the chili ingredients into a slow cooker and cook on low for 6-8 hours or on high for 4 hours.
This post contains affiliate links. I will receive a small commission if you purchase an item using my link and it will not cost you extra. Thank you for your support!