These Jalapeno Ranch Chicken Nuggets are the perfect appetizer for the Super Bowl or basically any night of the week. They are crispy, crunchy, and full of flavor. I love throwing them on top of salads or making a lettuce wrap with them. The hint of jalapeno comes from Artisan Tropic jalapeno flavored cassava strips. They're also the reason why you get the crispy crunchy exterior.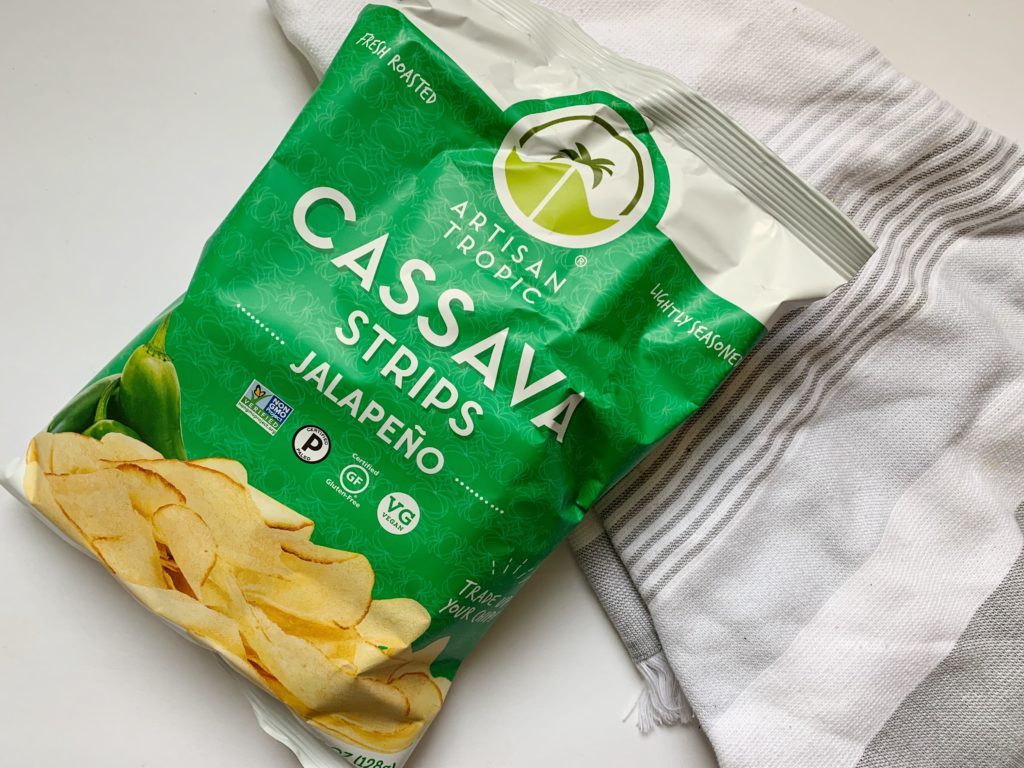 When Artisan Tropics came out with this new jalapeno flavor, I absolutely had to create a recipe around it. The recipe was inspired by a salad I was eating and the dressing was this delicious jalapeno ranch that I could have easily eaten by the spoonful. If you haven't tried Artisan Tropics, I highly recommend giving their cassava strips or plantain strips a try.
They are the perfect potato chip replacement, and the strips are roasted not fried. I love dipping them in guacamole or I use them to make my loaded nachos. They are super versatile and perfect if you follow the Paleo diet and for life after Whole30.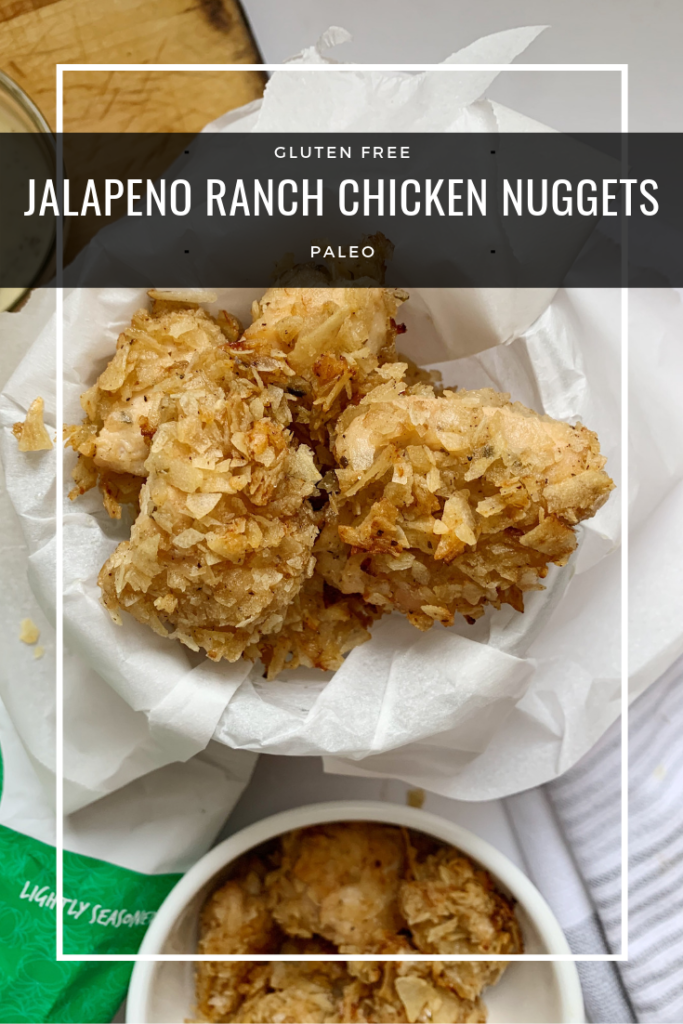 A few things about this recipe:
It's perfect for meal prepping, but just know it probably won't be as crunchy the next day. Throw it onto a skillet or toaster oven to heat it up. To be honest, it's also delicious cold.
If you don't want to make chicken nuggets, you can also make chicken strips. Both are the perfect finger food.
If you can't find ranch dressing that's paleo friendly, you can dredge the chicken in eggs seasoned with the ranch. You will still get that ranch flavor that pairs perfectly with the jalapeno cassava strips.
Because someone will ask, yes I'm sure you can make this in the air fryer. I don't have one, but if you figure it out, let me know and I will update this post and give you credit!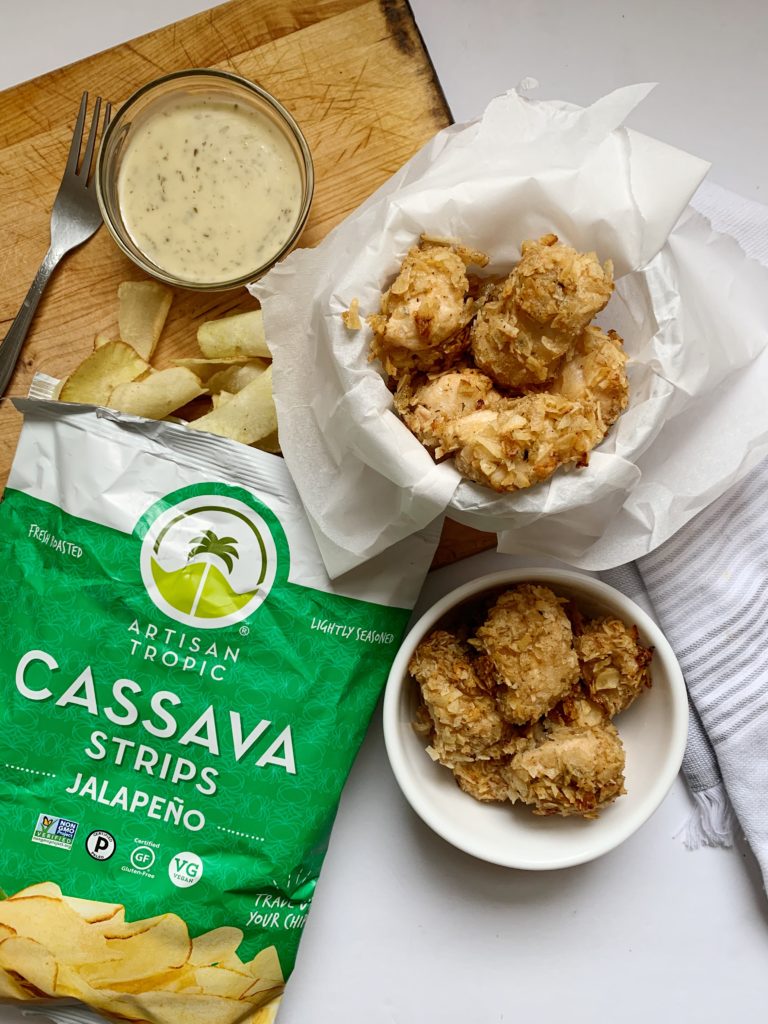 I hope you make these jalapeno ranch chicken nuggets and enjoy them as much as I do! They are a great way to change up how you make chicken nuggets and I'm sure they will be a hit at your Super Bowl viewing party!
Jalapeno Ranch Chicken Nuggets (Paleo, Gluten-Free)
A crispy crunchy chicken nugget recipe perfect as appetizers or the main protein for a salad.
Instructions
Preheat oven to 375F. Line a baking sheet with parchment paper and lightly grease with avocado oil.

Place 1 bag of Artisan Tropic Cassava Strip Jalapeno in a zip lock bag, and crush using a rolling pin or something heavy. You still want a few pieces that are bigger than a fine powder.

Add the cassava flour into the zip lock bag and shake to make sure everything is mixed. Set aside.

In one shallow bowl, add the arrowroot flour and in another, add the ranch dressing.

Meanwhile, pat the chicken cubes dry and then season with ranch seasoning. Make sure each piece is coated with seasoning.

Dredge the chicken cubes into the arrowroot flour, shake off the excess, and then dredge in the ranch dressing.

Add chicken cubes into the zip lock bag with the cassava strips. Close the bag and then shake until all the chicken cubes are well coated.

Place the chicken nuggets onto the baking sheet, bake for 15 minutes, flip then bake for another 10 minutes.

Turn your oven up to broil and then broil for 3-5 minutes or until the chicken nuggets get lightly golden brown.

Serve with more ranch dressing mixed with jalapeno slices!
Ranch Seasoning
Add all ingredients to a bowl and mix until well combined. Store in an airtight container until ready to use.
This post is sponsored by Artisan Tropic. Though I get compensated for my work, all opinions are my own.