Grilled Potato Salad is the only way you should have potato salad. You can quote me on that, and I will argue with anyone who says otherwise. With summer grilling season around the corner, it's time to take advantage of that grill!
The post is in partnership with The New Primal.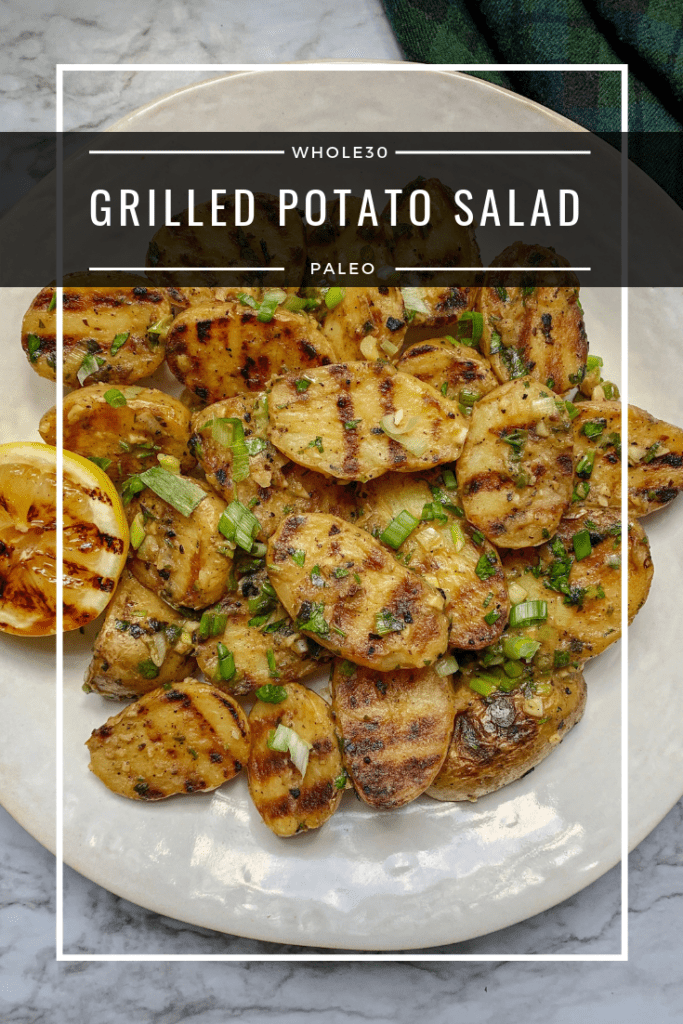 I will be the first to admit that I was not a fan of any kind of potato salad –grilled or not. I quickly learned that was because I was consuming mayo heavy unseasoned potato salad. So I wrote it off for a very long time.
Recently I had potato salad that didn't have an mayo in it whatsoever and it was packed with flavor. Besides not having mayo, I LOVED that the potatoes were grilled and had a smoky charry (is this even a real word? LOL) taste to it. It was seasoned perfectly, and I would have been happy having it as the main dish.
There are two key elements to this Grilled Potato Salad: 1. you absolutely need to grill your lemon. It just adds so much flavor, it's unreal. Trust me and just do it. 2. The New Primal Noble Made Citrus Zest Dressing is the perfect sauce for this recipe.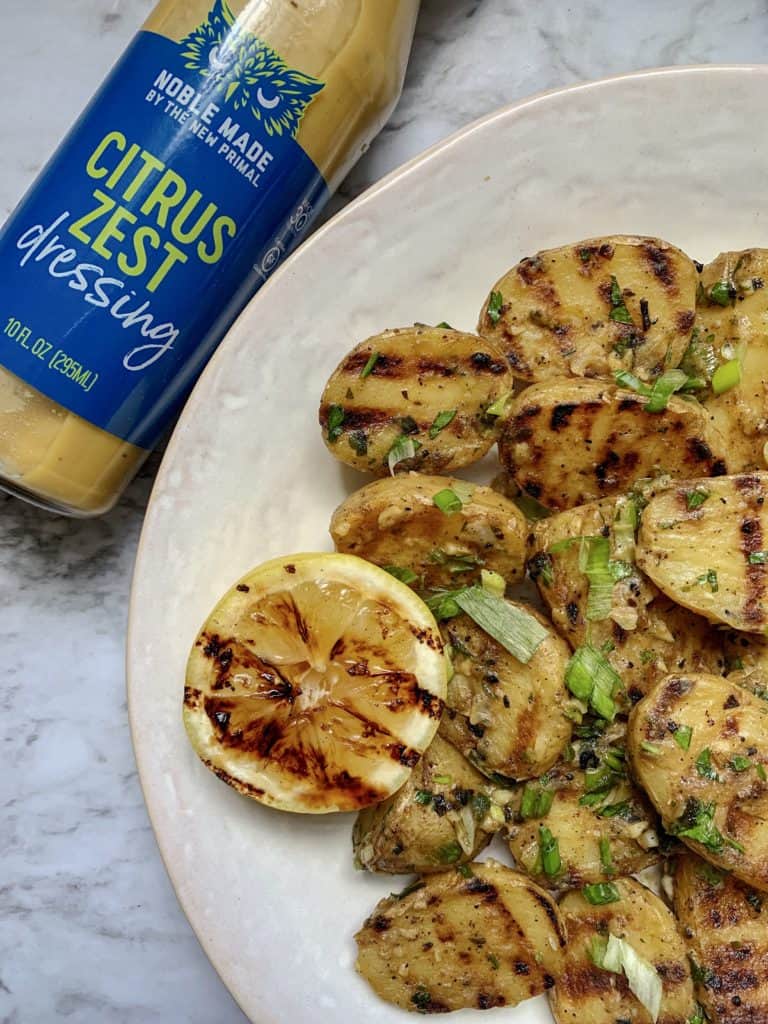 Why The New Primal Noble Made Citrus Zest Dressing?
It's called Citrus Zest but has a strong mustard base to it. When I think of potato salad, I always think of having some element of mustard in the recipe. This dressing is perfect for that!
The dressing works so perfectly with the other ingredients. It isn't overpowering and really helps bring everything together.
It's Whole30 approved which means real food ingredients!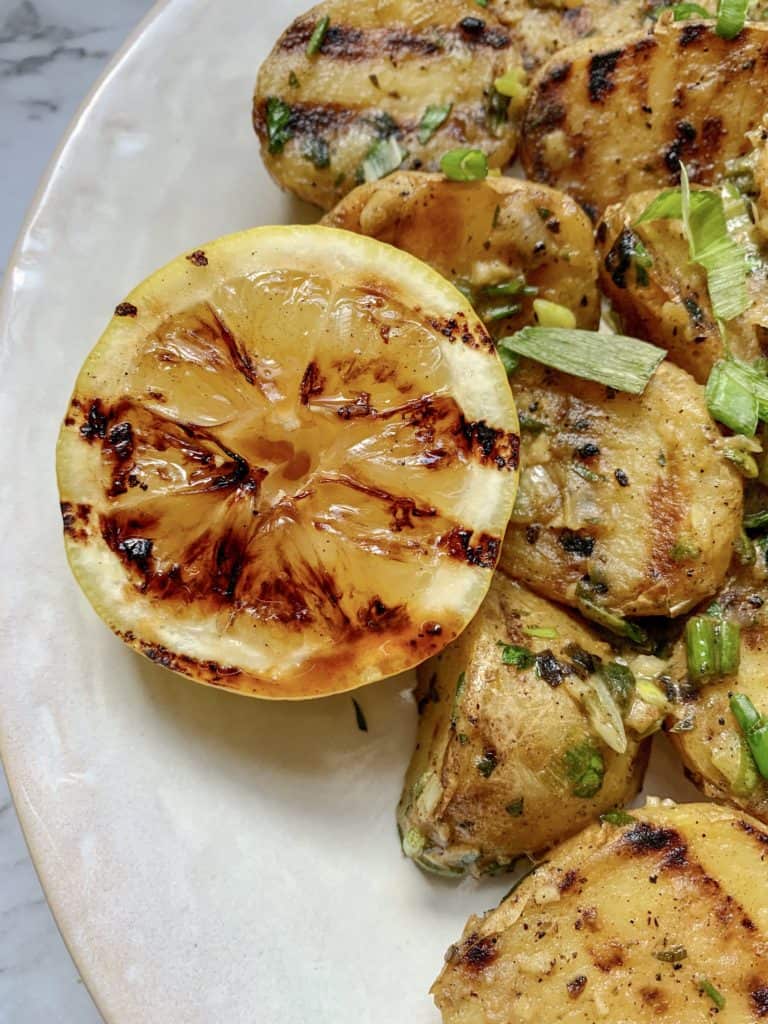 I hope you enjoy this grilled potato salad as much as I do! I'm pretty sure it's going to be the best summer side dish you bring to your next barbecue!
Grilled Potato Salad (Whole30, Paleo)
Ingredients
2

lbs

baby yellow and/or red potatoes

4

garlic cloves

minced

2

tbsp

fresh parsley

minced

2

tbsp

olive oil

1/4

cup

Noble Made Citrus Zest Dressing

1/4

green onion

thinly sliced

1

whole lemon

kosher salt

fresh ground black pepper
Instructions
Add potatoes into a large pot with cold water and a generous amount of kosher salt.

Parboil for about 5-6 minutes. Do not cook potatoes all the way through.


Once parboiled, slice the potatoes in half lengthwise and place in a large bowl.


Add half the minced garlic, half the minced parsley, olive oil, a pinch of kosher salt and black pepper to the bowl. Toss until the potatoes are coated.


Preheat a grill over medium-high heat and grease your grill with avocado oil.


Place the potatoes cut side down and grill for 5-8 minutes flipping occasionally.


Slice the lemon in half and grill it cut side for 3-4 minutes. Remove once charred.

Meanwhile, in the same bowl the potatoes were in, add in the remaining minced garlic and parsley. Then add in the Noble Made Citrus Zest Dressing and a little more than half the sliced green onions. Mix until well combined.

Add the grilled potatoes to the bowl, squeeze the grilled lemon over the potatoes, and then toss until well coated. Taste to see if you need more kosher salt and black pepper.

Garnish with remaining green onion slices and serve warm.

---
SIMILAR RECIPES:
Grilled Sriracha Turkey Patties
Asian Inspired Coleslaw
Paleo Animal Style Fries
---
---
Please note that I only work with companies and use products that meet the values and standards of a dash of dolly. This post is sponsored by The New Primal. While I am compensated for the work I do, ALL of the opinions are my own and 100% honest. Thank you for your support!