These dairy free Garlic "Parmesan" Chicken Wings are going to be a total game changer for your next game day viewing party or just any night of the week! They are crispy and packed with so much flavor.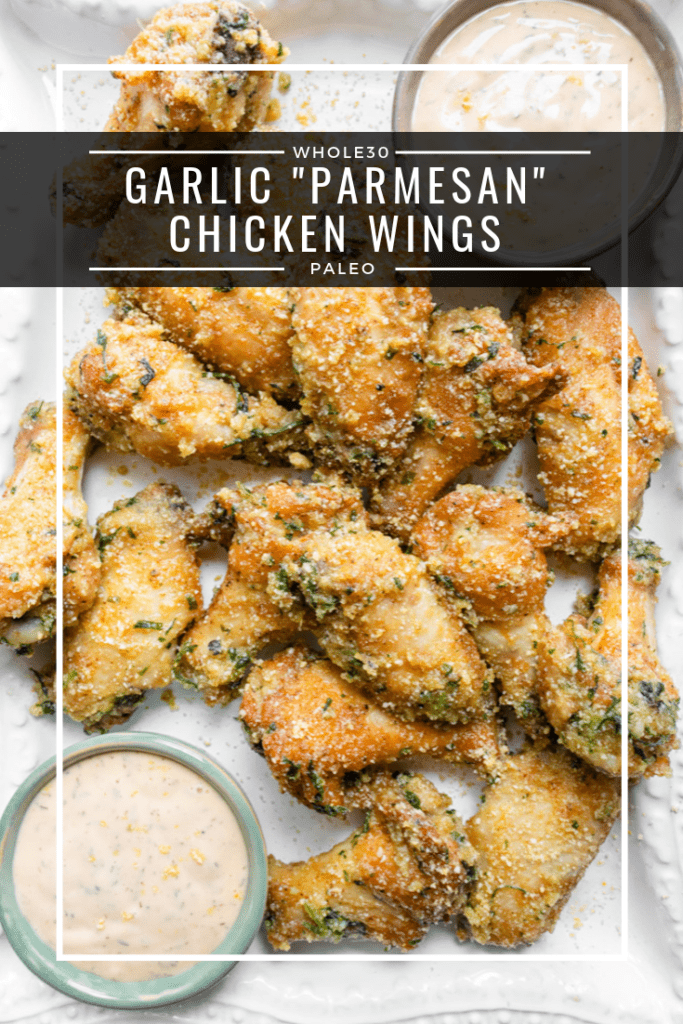 We all know I have an affinity for chicken wings. I love making them at home because 1) it's so much more cost effective and 2) you have to total control on what goes into them and how you make them.
I love them baked, fried, air fried, barbecued, and cooked any other way so long as they are flavorful and juicy. I'm really not asking for much. LOL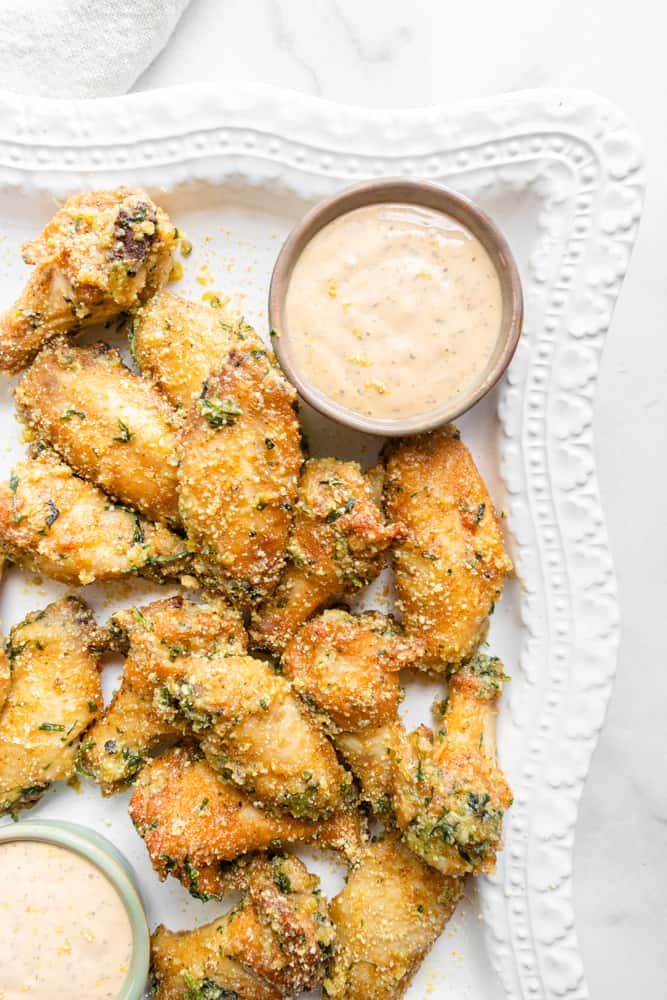 When I'm not in the mood for some kind of spicy chicken wings, my next go-to is always garlic parmesan, but since your girl is lactose intolerant I had to come up with another way to get my fix and thus was born these Garlic "Parmesan" Chicken Wings.
I will always give credit when it's due, and I have to thank the vegans for coming up with this vegan parmesan cheese recipe. It's not my own but I've been making it enough that I had to share it with all of you.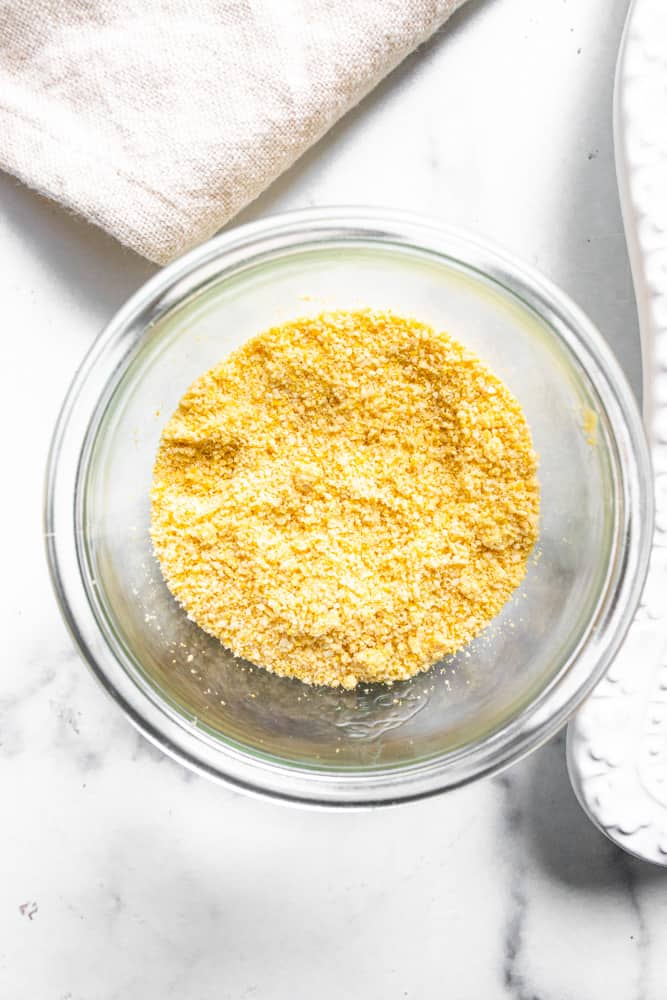 The vegan parmesan cheese is a handful of ingredients that I'm sure you already have in your kitchen! Now, before anyone comes at me, obviously this is an alternative to the real deal and it's not going to taste exactly like the real deal.
If you can tolerate dairy, then definitely go for the real stuff. And by real stuff I mean shredded parmesan from a block and not shaking it out of a green canister. But to each their own.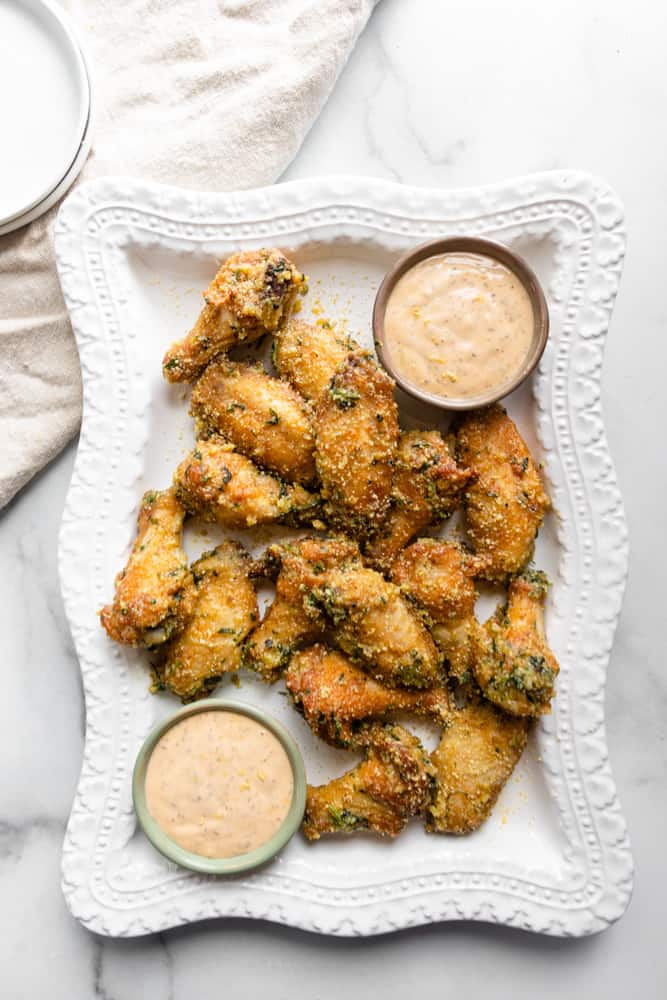 Now back to these delicious Garlic "Parmesan" Chicken Wings. A few key things:
If you can find potato starch, buy it and use it. This will help with crisping the chicken. I like using potato starch because it's similar to rice flour which is used in Asian chicken wings to get them crispy. If you can't find potato starch, tapioca flour is the next best thing.
I roasted my chicken in the oven, but you can totally air fry these or pan fry them. Your call.
I like to serve my wings with some kind of creamy sauce whether it be Caesar dressing, ranching dressing, and etc.
I hope you enjoy these wings as much as I do!
Garlic "Parmesan" Chicken Wings (Paleo, Keto, Whole30)
Ingredients
Garlic "Parmesan" Chicken Wings
Instructions
Vegan Parmesan Cheese
Add all ingredients into a food processor.

Blend until cashew is a fine powder or resembles regular parmesan cheese.

Store in an airtight container until ready to use.
Garlic "Parmesan" Chicken Wings
Preheat oven to 450F. Line a baking sheet with parchment paper and spray or brush with avocado oil.

Pat the chicken wings dry then season with kosher salt, ground black pepper, garlic powder, and chili powder. Mix until all wings are coated.

Next lightly dust the chicken wings with the potato starch. Shake off any excess.

Place chicken wings on baking sheet and spray or brush avocado oil.

Oven method: Roast the chicken wings for 20 minutes, flip, and then bake for an additional 10-12 minutes or until chicken is cooked through.

Air fryer method: lightly spray or brush chicken wings with avocado oil. Place in air fryer basket and cook at 375F for 22 minutes tossing half way. Then turn the air fryer up to 400F and cook for an additional 5 minutes or until wings are cooked through.

Meanwhile, add ghee, minced garlic, and chopped parsley to a sauce pan over medium heat for about 5 minutes or until ghee is melted and garlic has infused ghee.

Once chicken is done, add to a large bowl, pour the melted ghee, and vegan parmesan to the chicken. Toss until well coated.
---
SIMILAR RECIPES:
Mustard BBQ Chicken Wings
Spicy BBQ Chicken Wings
Sesame Ginger Chicken Wings
---