With less than 10 ingredients, you will have this Queso Fundido con Chorizo on the table in no time! It is dairy free, but still has that creamy and flavor packed queso we know and love. Served with some plantain chips by Artisan Tropic and this will be a party favorite!
This post is in partnership with Artisan Tropic.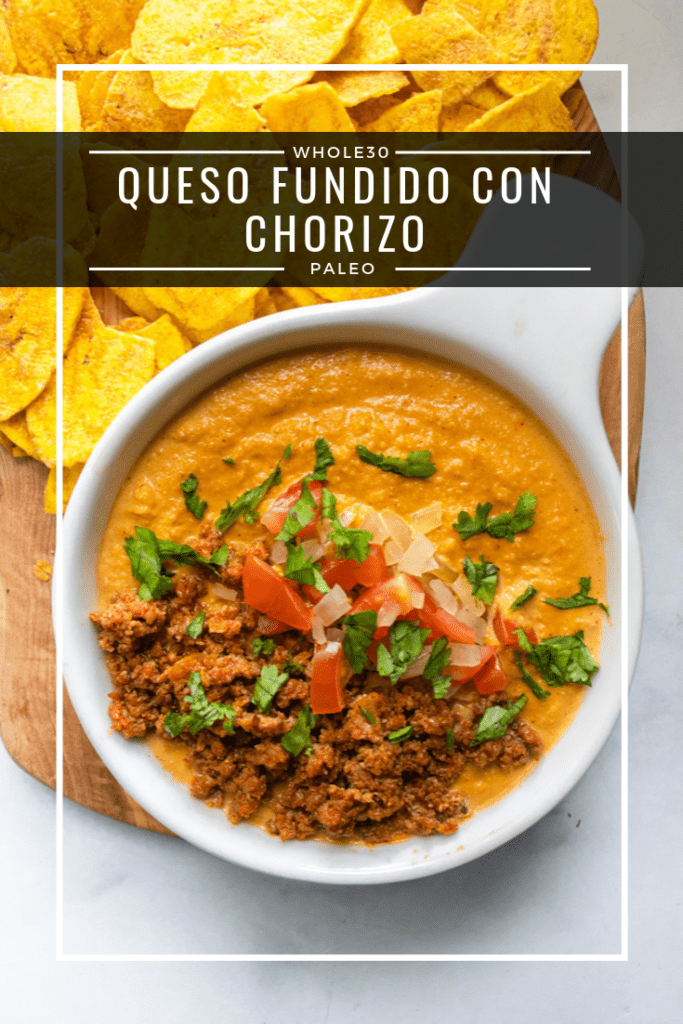 I am 100% without a doubt a dip kinda girl. Unfortunately for me, the best dips are always dairy based and since I've learned I'm lactose intolerant, it's become an issue. My doctor definitely doesn't appreciate me popping lactaid pills so frequently, so as I always do, into the kitchen I went.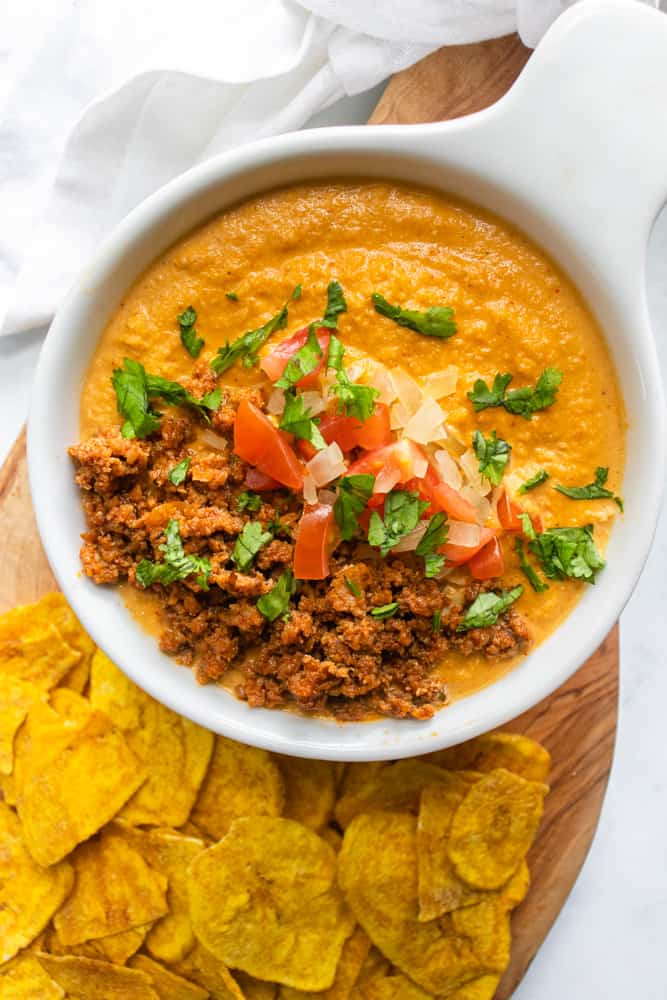 I love queso fundido con chorizo and wanted to make a dairy free version that was quick and easy to make. As much as I love my paleo nacho cheese, I wanted to create a "cheese" base that didn't require much effort. This queso fundido con chorizo is cashew based but if you're allergic or can't have cashews for whatever reason, my paleo nacho cheese is a great alternative for this recipe!
Bonus: no cooking required to make the queso!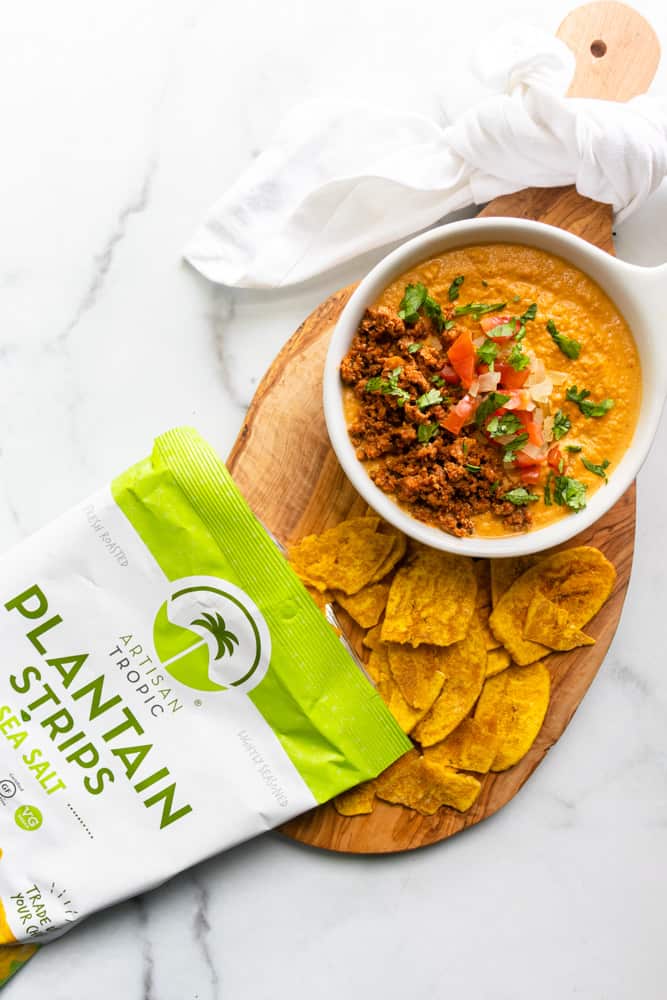 As much as I love tortilla chips, sometimes you need to change it up. I highly recommend using Artisan Tropic's sea salt plantain strips to dip in the queso fundido con chorizo. The plantain strips pair perfectly with the dip and are sturdy enough to scoop as much as possible!
Artisan Tropic creates plantain and cassava strips that are the perfect alternative to chips.They have a variety of different flavors, but I like the good ole classic sea salt. I get mine at Whole Foods but check out their store locator to see where you can pick up a few bags for yourself!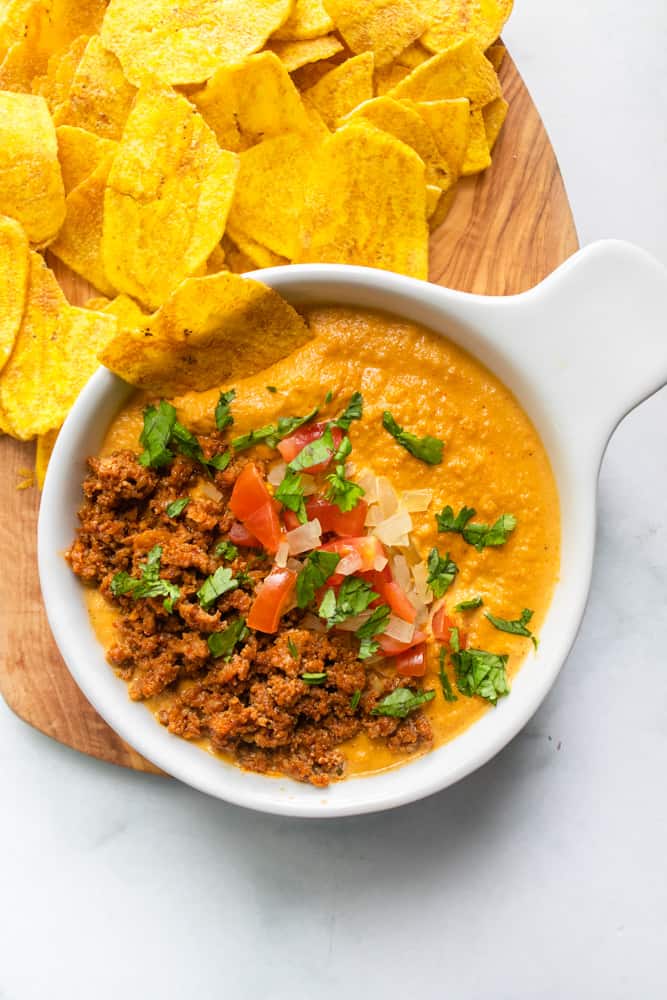 A few things to help make you get the best Queso Fundido con Chorizo:
If you don't have a high speed blender or your food processor isn't the best, soak the cashews for at least 30 minutes in hot water. Drain and then add to the blender and follow the rest of the directions.
For the handful of vegetarians/vegans who read my blog, you can omit the chorizo or use a plant based substitute to keep it completely vegan.
Depending on your chorizo, you might have to adjust the seasoning of your dip. If you have a spicier chorizo, hold back on the jalapeno slices. If you know your chorizo is saltier, hold off on the salt til the end.
This is best served warm. Since it's so quick to make, you can whip it up right before serving. If you do make it ahead of time, add a little water to the dip before reheating in the microwave or stove.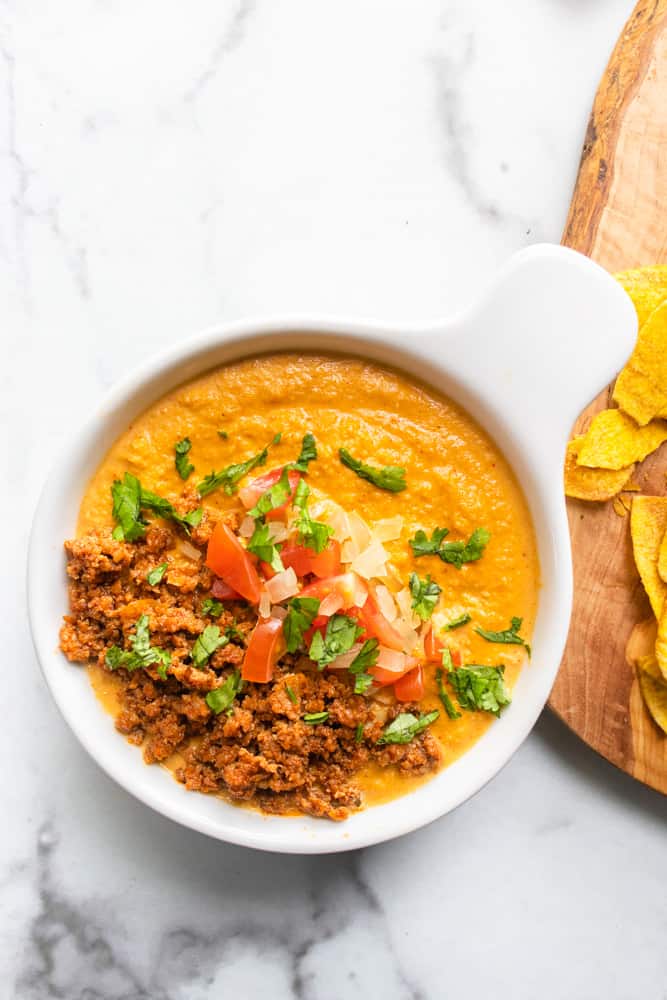 I hope you enjoy this recipe as much as I do! Be sure to tag me on Instagram if you do make it.
Queso Fundido con Chorizo (Dairy-Free, Paleo, Whole30)
Instructions
Preheat skillet over medium-high heat with avocado oil.

Add chorizo and cook until no longer pink. Set aside.

In a blender or food processor, add in the cashews, garlic clove, jalapeno slices, nutritional yeast, ground cumin, chili powder, kosher salt, and hot water.

Blend until you get a smooth and creamy consistency. If your queso is still thick, add more water if needed.

In a bowl, mix together a little more than half the chorizo with the queso.

Add the queso funido con chorizo to a serving bowl and top with remaining chorizo.

Serve warm with plantain strips!
Recipe Notes
If you don't have a high power blender or food processor, soak the cashews in hot water for at least 30 minutes. Remove from water then add to the blender. You will still need to add the 1 cup of hot water to the dip. 
Recipe inspired by Minimalist Baker.
---
SIMILAR RECIPES:
Paleo Nacho Cheese
Loaded Tostones Nachos
Instant Pot Chili Dogs
---