This Paleo chicken and artichoke spezzatino (stew) was inspired by Giada de Laurentiis' Chicken, Artichoke and Cannellini Bean Spezzatino. When I lived in NYC, my roommate and I would make batches upon batches of this soup because it was simple and cheap to make (we were broke college grads who preferred spending our money at happy hour). We always had a batch in our freezer ready to be thawed and eaten with a fresh piece of bread from my favorite bougie specialty store (again, spending habits weren't the greatest then).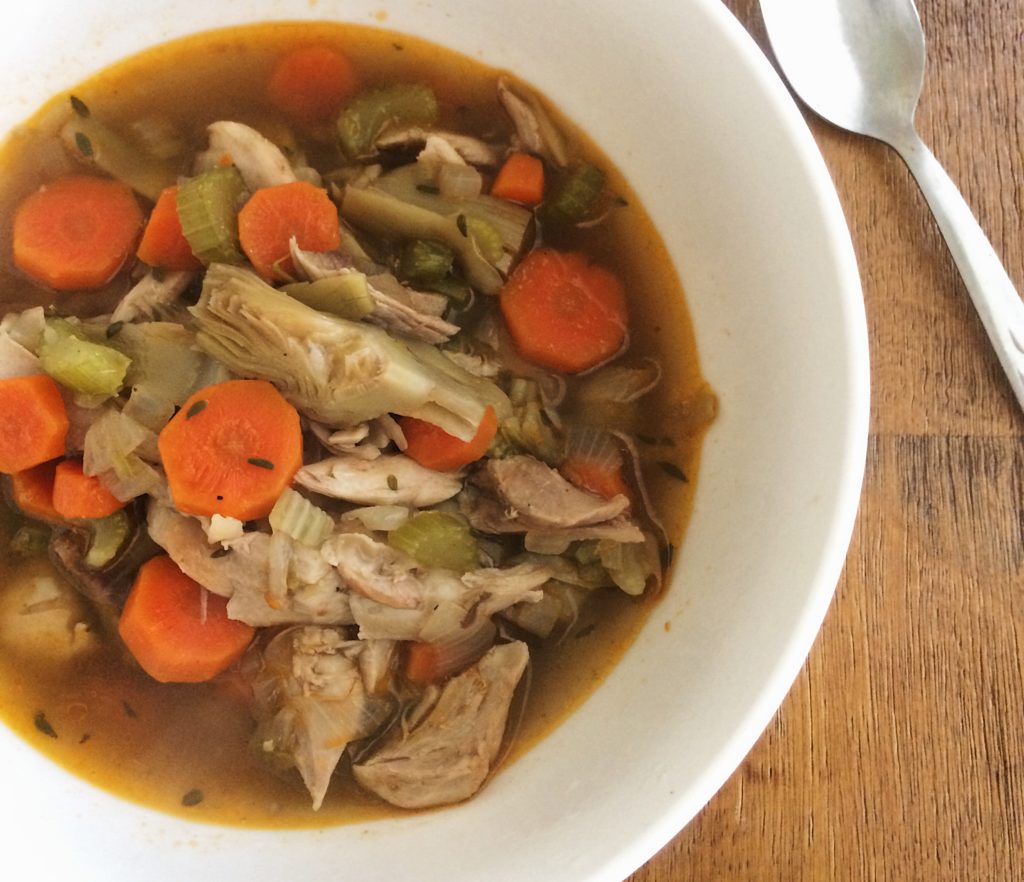 Long gone are the happy hour and bread eating days, but this stew is still a favorite of mine. It's one of those recipes that are super nostalgic. It makes you want to curl up in a cozy blanket while watching movies and not think about anything else. Who doesn't love a good ole cozy recipe, right?! Right.
So when I did a round of Whole30 during the winter months, I knew I had to recreate this stew. Once the temperature drops, I'll make a huge batch at the beginning of the month, portion the amount I want to eat for the week and then freeze the rest. It'll last you through the winter and you'll thank yourself for making it.
Oh, and I'm sure this Paleo Chicken and Artichoke Spezzatino (Stew) can be made me in the Instant Pot or slow cooker, but this is one of those soups I actually prefer making on the stove top. Your whole entire house is going to smell delicious!
Paleo Chicken and Artichoke Spezzatino (Stew)
Ingredients
2

lbs

chicken thigh & drumstick combo

chicken breast with rib bone works too

28

oz

chicken broth

2

bacon slices

chopped

2

medium carrots

peeled & chopped

2

celery stalks

thinly sliced

1

onion

diced

3

garlic cloves

minced

1

bag frozen artichoke hearts

thawed & chopped

1

cup

loosely packed basil

chopped

2

tbsp

tomato paste

2

tsp

dried thyme

1

bay leaf

1-2

tsp

kosher salt

1

tsp

fresh ground black pepper
Instructions
Preheat large pot over medium heat. Add chopped bacon and cook until crisp.

Remove bacon while leaving grease in the pot and set aside. Lower heat to medium, add in carrots, celery, onion, and garlic cloves. Season with salt and pepper. Saute until onions are translucent.

Mix in chicken broth, tomato paste, basil, dried thyme, bay leaf. Stir until tomato paste dissolves and then add chicken. Make sure chicken is covered with liquid.

Lower heat to medium-low, bring chicken broth to a simmer and simmer for 25 minutes uncovered. Stir occasionally.

After 25 minutes stir in chopped artichoke and simmer for another 15 minutes or until chicken is cooked through.

Remove chicken, let cool for 5 minutes or ready to handle. Shred or chop chicken to bite size pieces. Stir chopped chicken back into the pot and simmer for an additional 5 minutes to warm everything through. Season if necessary.

Serve with chopped bacon on top.
Pin this recipe for later!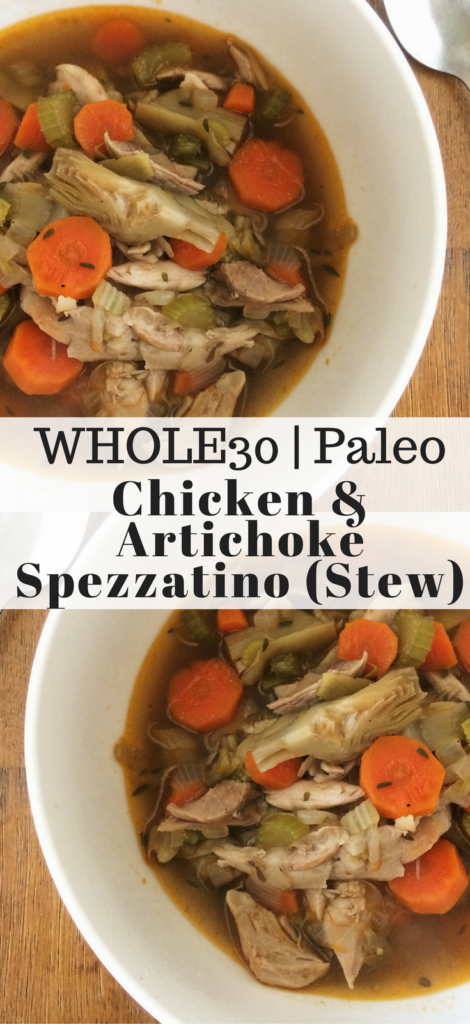 **Please note this post may contain affiliate links. It does not affect the cost of the product but I do make a small commission to help keep this blog running if you decide to make a purchase. Dolly's Whole Life is a participant in the Amazon Services LLC Associates Program, an affiliate advertising program designed to provide a means for sites to earn advertising fees by advertising and linking to Amazon.com.