This Vietnamese Lemongrass Chicken is the perfect source of protein for any dish. The perfectly cooked chicken is marinaded in a sweet and savory marinade that encompasses iconic flavors found in many Vietnamese dishes. You can this chicken as the protein base for many dishes such as vermicelli noodle bowls, Vietnamese broken rice dish, and/or a simple salad.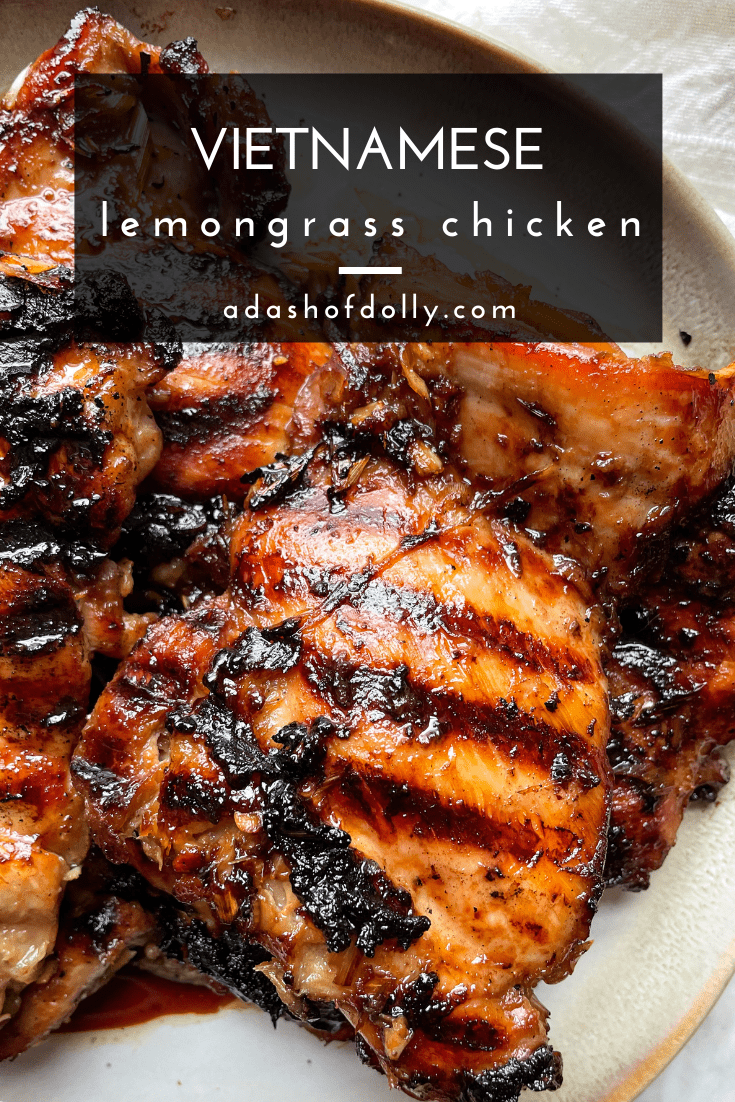 Vietnamese food is definitely up in my top five favorite types of cuisine. Though pho is the most widely known dish, there are so many other dishes in the Vietnamese culture that needs to be highlighted! For example, this Vietnamese Lemongrass Chicken. I was so excited when a really good friend shared her recipe with me. By recipe, she just gave me the ingredients and told me to figure out the measurements. LOL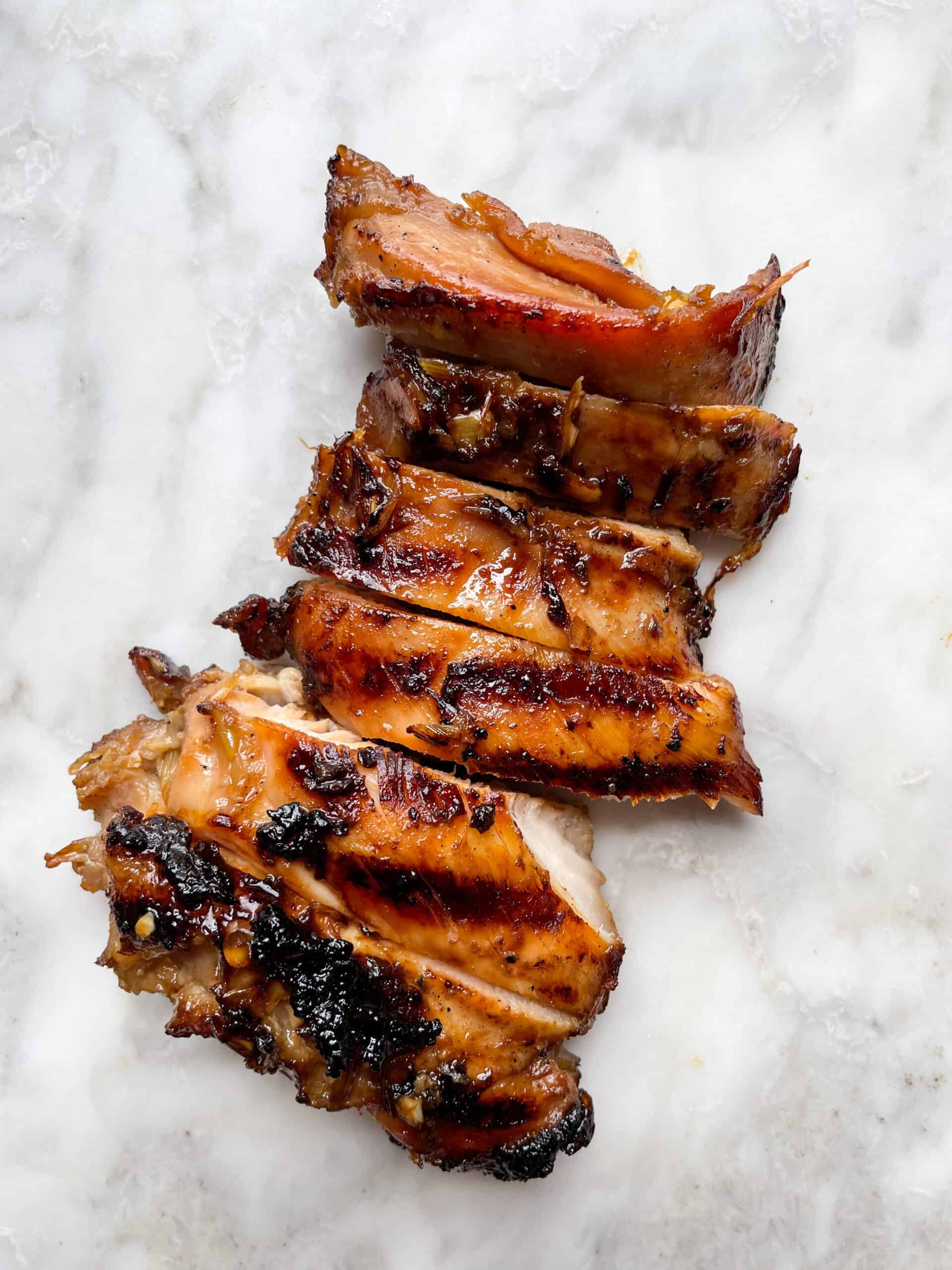 Anyway, I first had this chicken when in a dish called Vietnamese Broken Rice (com tam) where it was served with broken rice, pickled carrots and daikon, sliced cucumbers, tomatoes, and a crispy fried egg at a local Vietnamese restaurant. It was so comforting and filling –it quickly became one of my hyper fixation meals (I am notoriously known to eat the same thing weeks on end!).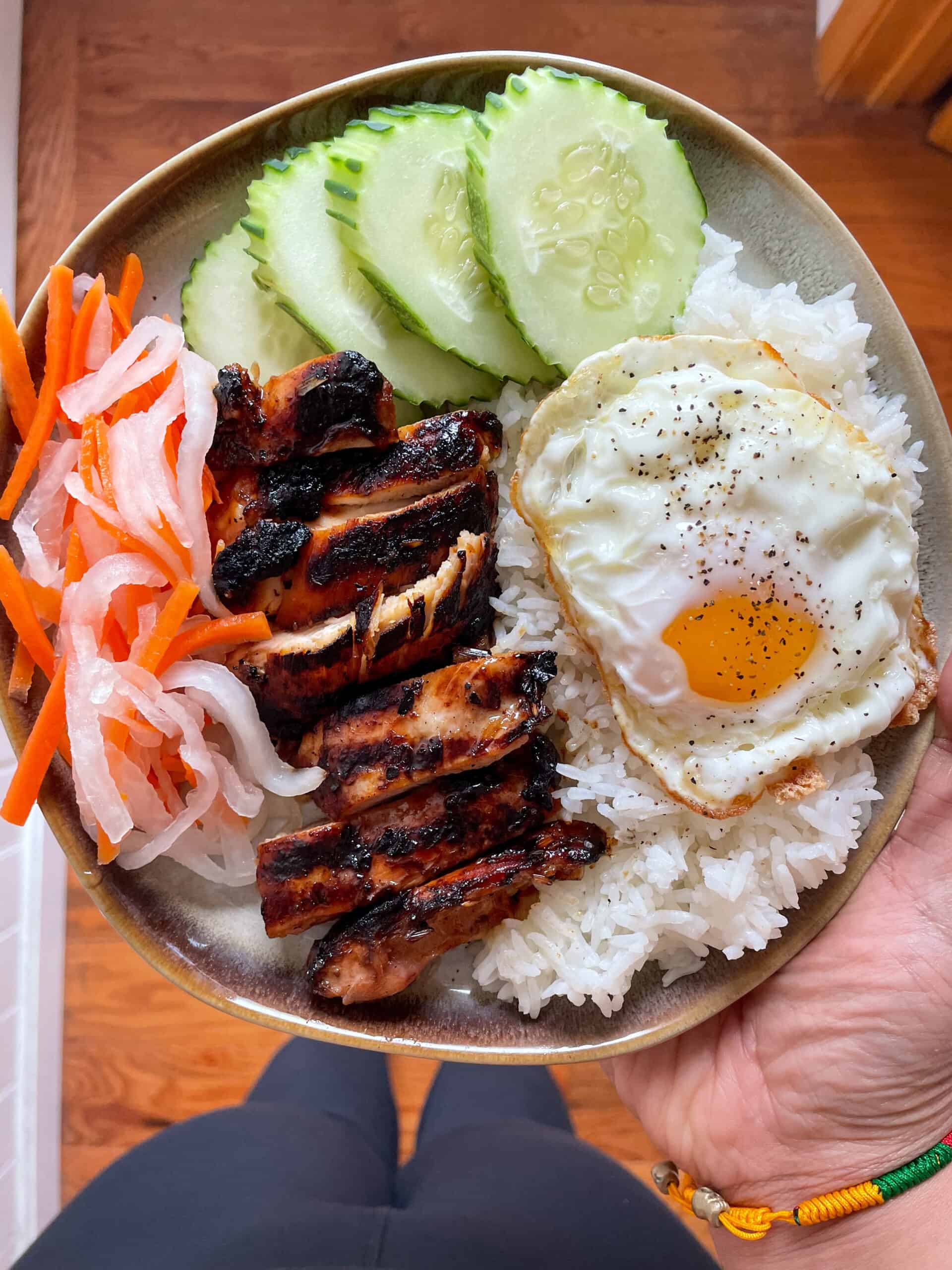 The Vietnamese lemongrass chicken can also be used for so many different dishes. You can add to a vermicelli bowl, on top of a salad, or just have it on its own as a snack. Whatever the case maybe, I'm sure you will be enjoying as your main protein for any meal!
WHAT YOU'LL NEED FOR THE VIETNAMESE LEMONGRASS CHICKEN:
Shallots
Garlic
Lemongrass
Fish sauce
Dark soy sauce (coconut aminos to make this paleo/gluten free or tamari sauce to make it gluten free)
Honey
Brown sugar
Chicken thighs (or pork chops)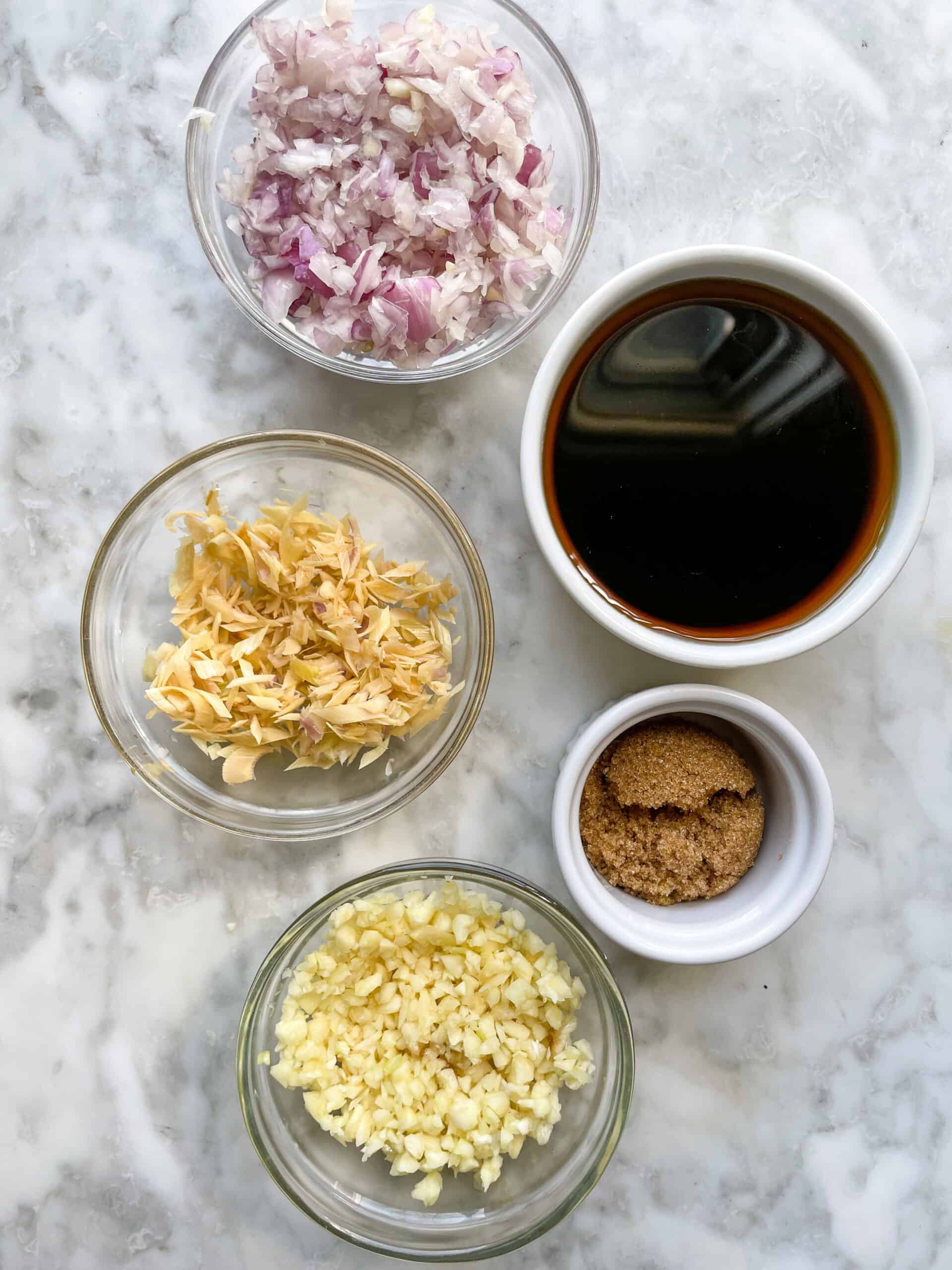 HELPFUL TIPS AND TRICKS TO GET THE BEST VIETNAMESE LEMONGRASS CHICKEN:
Make sure to finely mince the shallots and garlic (measurements for shallots and garlic are a guideline)
If you are using lemongrass for the first time, you want to use the bottom thicker portion. Make sure to finely mince the lemongrass stalk because it can be tough to chew.
Mix all of the marinade ingredients together to ensure everything is well combined and the brown sugar has dissolved. This will also ensure the chicken is evenly marinated.
Before cooking the chicken, I like to shake off the excess marinade before cooking.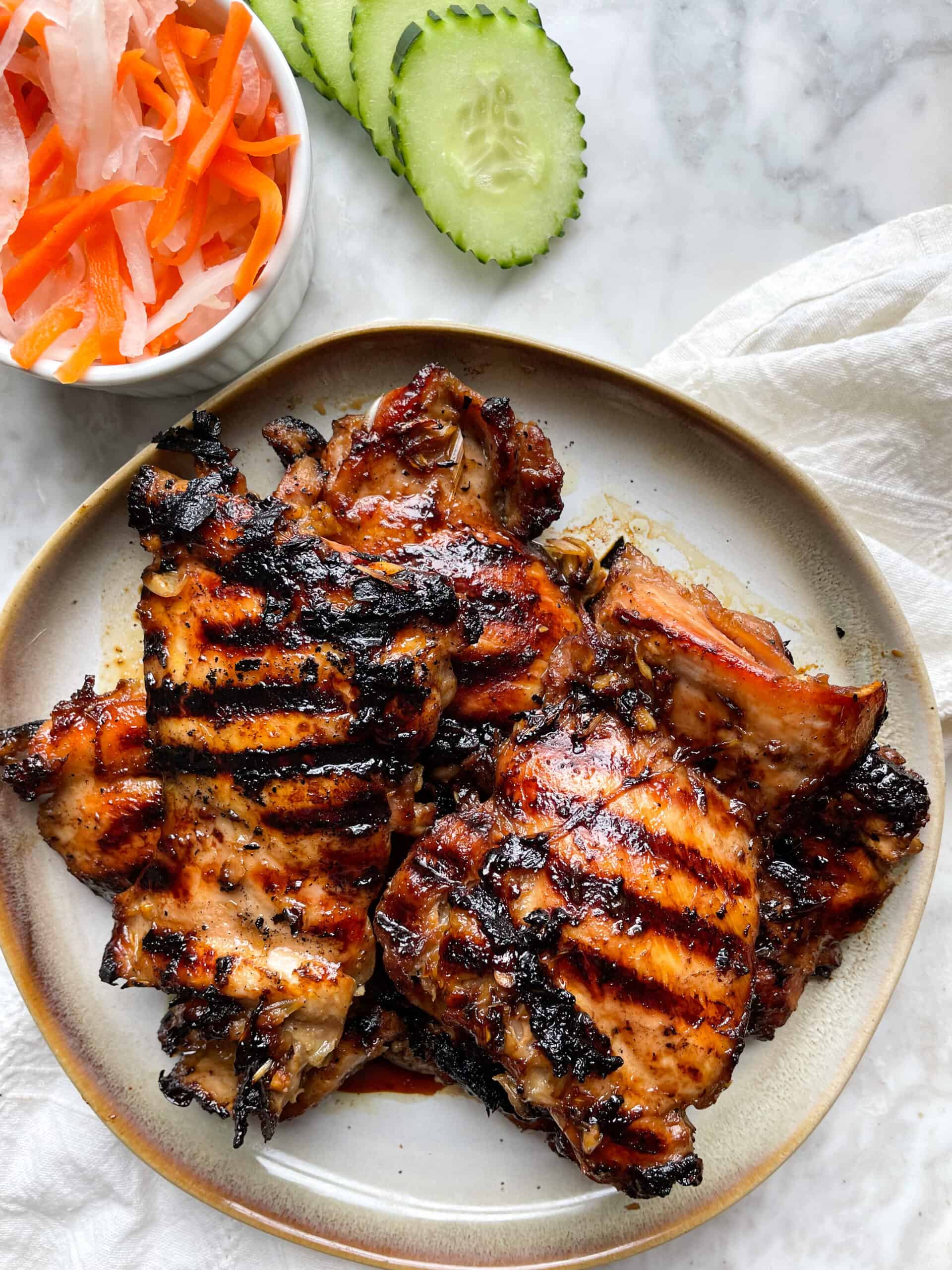 I hope you enjoy this recipe as much as I do! If you make it, please be sure to tag me on Instagram so I can see your recreation.
Vietnamese Lemongrass Chicken (Paleo and Gluten Free Options)
Ingredients
¼

cup

minced shallots

6

garlic cloves

minced

3

tbsp

minced lemongrass

¼

cup

fish sauce

2

tbsp

dark soy sauce

or coconut aminos or tamari sauce

2

tbsp

honey

or maple syrup

1

tbsp

brown sugar

or coconut sugar

1

lb

boneless skinless chicken thighs
Instructions
Combine minced shallots, minced garlic, mined lemongrass, fish sauce, dark soy sauce, honey, and brown sugar into a large bowl. Mix until well combined,

Add chicken thighs to the marinade, cover, and refrigerate for 2 hours or overnight.

Grill Method: grill chicken over medium-high heat for 7-8 minutes per side or until internal temperature reaches 165F

Air Fryer Method: place chicken thighs into air fryer basket and air fry at 375F for 14-16 minutes or until internal temperature reaches 165F.

Oven Method: preheat oven to 400F, place chicken thighs on parchment lined tray, and roast for 20-22 minutes or until internal temperature reaches 165F.

Pan Fry Method: preheat a skillet over medium heat, add a tablespoon of cooking oil to the skillet, add the chicken thighs, and cook on each side for 7-8 minutes or until internal temperature reaches 165F.
---
SIMILAR RECIPES:
---
Some of my posts contain affiliate links. If you use my links to purchase a product, I will receive a small commission, but it will not cost you anything extra. Thank you for your support!