Strawberry Milk has recently become a popular drink all over the internet thanks to a little cafe in South Korea! This simple drink requires only three simple ingredients and can be made in less than 10 minutes.
So I have been seeing strawberry milk all over the internet. From Tik Tok videos to YouTube videos. I've learned that a little cafe in South Korea has put it on the map, and since I sadly won't be going to South Korea any time soon, I had to make my own.
Ya'll, it is the simplest thing you could possibly make. So no more powdered strawberry milk for my American friends. Let's use fresh ingredients that are easily accessible.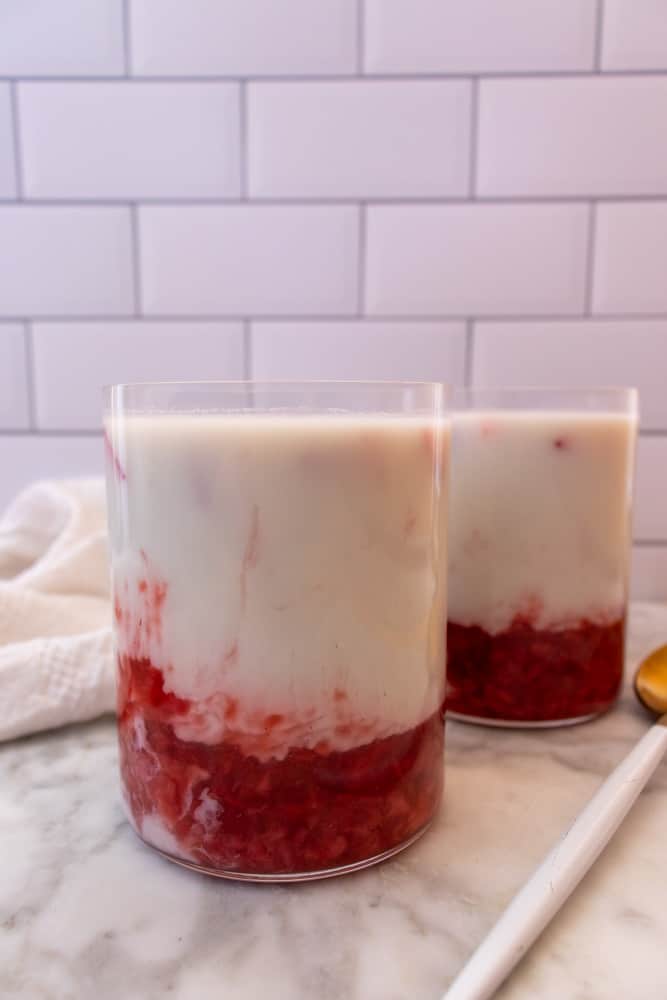 This drink literally only needs three ingredients. Yes, that's it. Since it's such a simple recipe, I highly recommend investing in good quality strawberries so you get the best strawberry milk possible.
WHAT YOU'LL NEED FOR THE STRAWBERRY MILK:
Ripe strawberries (you can use frozen strawberries here too. just let them thaw out)
Sugar (coconut sugar is a great alternative)
Oat milk (or any milk of choice)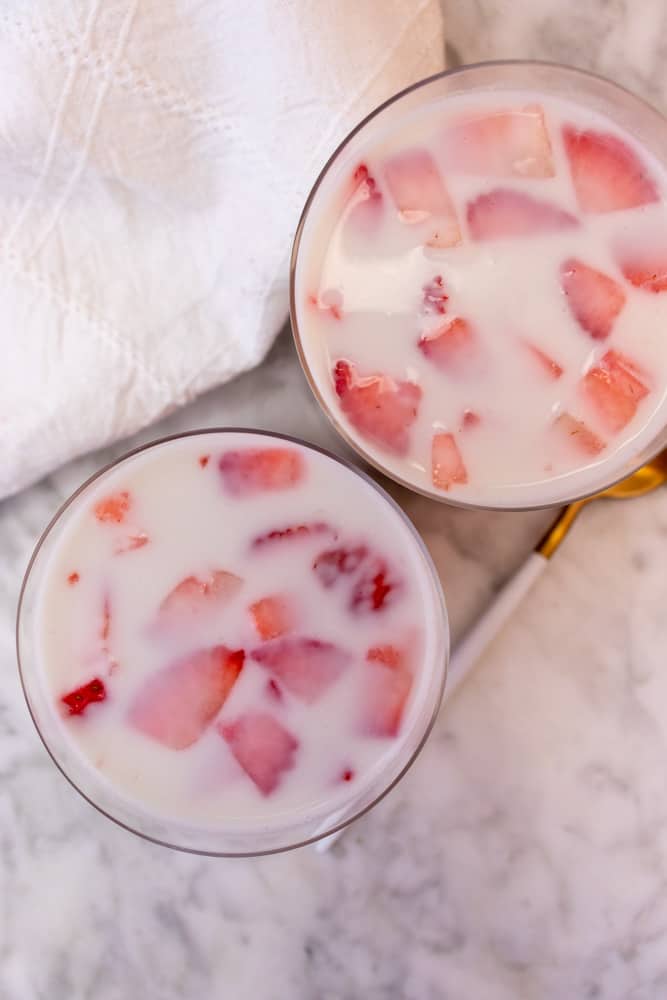 HELPFUL TIPS AND TRICKS TO GET THE BEST STRAWBERRY MILK:
Invest in a good quality strawberries that are at their peak. Frozen strawberries work great too because they are picked at their peak. Just let the frozen strawberries thaw out before use.
The strawberry jam can last a good while so you can make it way in advance.
When making the strawberry jam, taste as you go. You decided how much sugar you need/want in it.
Be sure to let the strawberry jam completely cool. This will thicken it up.
If you're going to bottle your strawberry milk, assemble the drink but do not mix it until ready to consume.
I prefer making the drink in advance and letting it sit in the fridge for awhile so the flavors really settle in.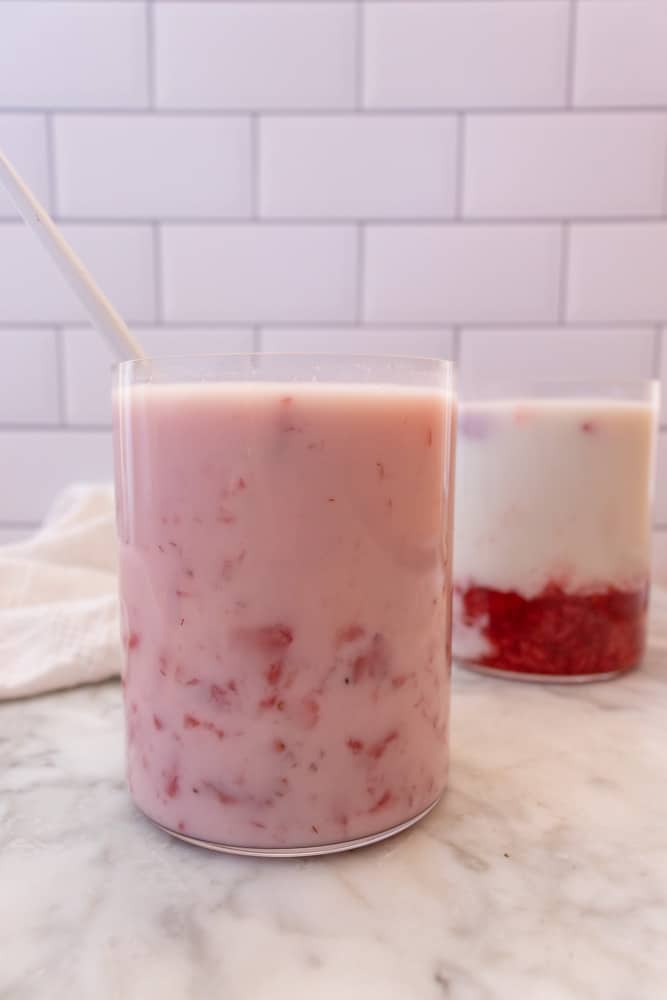 One way to serve the strawberry milk is to top it off with some matcha to make a strawberry matcha latte! It's been my go to drink, and if you make it, be sure to tag me on Instagram so I can see!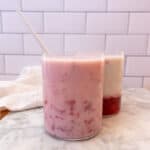 Strawberry Milk (Vegan & Dairy Free)
Ingredients
12-14

ripe strawberries

2-4

tbsp

sugar

oat milk

or any milk of choice
Instructions
Wash and clean strawberries. Cut off the stems and then dice strawberries into small cubes.

Add a little over half of the diced strawberries into a saucepan with 2 tbsp of sugar (more if your strawberries aren't sweet or you want your jam sweeter).

Turn the heat onto medium and start smashing the strawberries with a fork.

Bring to a gentle boil while stirring and smashing. You still want it a bit chunky.

Let the strawberries simmer for about 1-2 minutes. Remove from heat and let cool down completely.

Once the strawberries are cooled, add a couple scoops to the bottom of your glass.

Top the strawberry jam with ice, oat milk, and then the remaining diced strawberries.
---
SIMILAR RECIPES:
---
Some of my posts contain affiliate links. If you use my links to purchase a product, I will receive a small commission, but it will not cost you anything extra. Thank you for your support!