Stuffed Potato Balls – Whole30 and Paleo friendly. This is a rendition of Porto Bakery's stuffed potato balls or papas rellenas in Spanish.
If you live in the L.A. area, and have never been to Porto's Bakery, stop reading and go now. When you get there order a dozen of their stuffed potato balls and thank me later. I also recommend ordering their guava and cheese pastry, but there's no way I'm going to try to make a rendition of that. There are only 3 locations and each location requires me sitting in L.A. traffic, but I'm telling you, those stuffed potato balls are 100% worth it.
The last time I was there, I went right when they opened and got the chance to talk with one of the bakers. Obviously I asked him for the stuffed potato balls recipe so I can make a rendition of it that fits my diet. Deep fried potatoes are delicious, but does absolutely nothing for my health. Once I got the recipe, I went straight to the kitchen to start recipe testing!
This recipe seems labor intensive, but it really isn't. I promise. Since Thanksgiving is right around the corner, this would be the perfect way to use leftover mashed potatoes!
So all you would have to do is make the filling which takes less than 30 minutes. Once you make these, you'll be making them all the time. They're so addicting, and I'm sure they'll be a major hit with friends an family.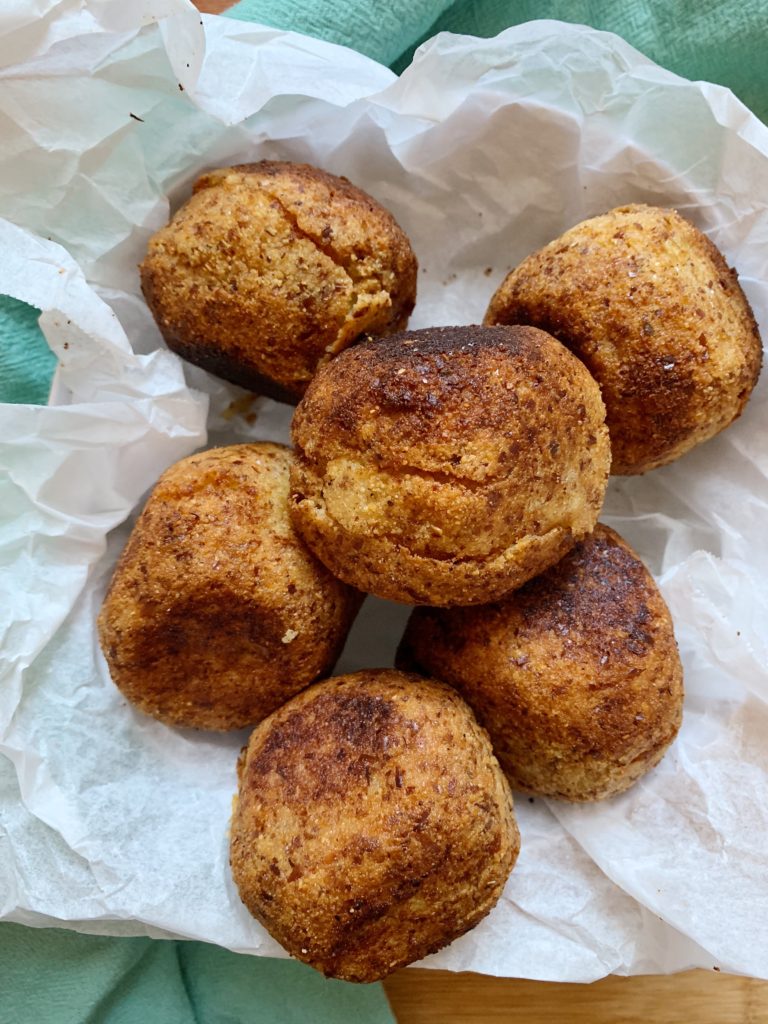 A couple things that will make this recipe even easier than it already is:
Invest in a cookie scoop or a whole set. This will ensure each potato ball is the same size. I bought this set

here

and used the large one to make these stuffed potato balls. These cookie scoop are also great for meatballs.
If you're using leftover mashed potatoes, make sure the potatoes are on the stiffer side. So if you know you're going to make these, set aside 2-3 cups before adding whatever your usually add to make your mashed potatoes. Creamy mashed potatoes won't hold up and you'll be left with a mess when you go to fry these.
These are freezer friendly! Once you bread the stuffed potato balls, freeze them in a single layer, once frozen you can then transfer to a ziplock bag or container. When you want to make them all you have to do is fry them up.
I hope you all enjoy this recipe as much as I do! Now I don't have to sit in L.A. traffic when the craving hits.
Stuffed Potato Balls (Whole30, Paleo)
Total Time
2
hours
45
minutes
Ingredients
Meat filling:
1

lb

ground beef

½

large onion

finely diced

1

green bell pepper

finely diced

1

red bell pepper

finely diced

2

garlic cloves

minced

2

tbsp

tomato paste

1

tsp

paprika

1

tsp

cumin

1

tsp

dried oregano

1

tsp

black pepper

½

tsp

kosher salt
Instructions
Mashed potatoes:
Bring a large pot of water to a boil, add diced potatoes, and cook until fork tender, about 20-25 minutes.

Drain the potatoes, then mash with ghee, garlic powder and kosher salt.

Set aside until potatoes have completely cooled. Refrigerated mashed potatoes are best for this recipe.
Meat filling:
While the potatoes are cooking, preheat skillet over medium-high heat with about 1 tablespoon of avocado oil.

Place the diced onion, green bell pepper, and red pepper to the skillet and saute until onions are translucent.

Once onions are translucent, add the ground beef, and minced garlic to the skillet. Break up the meat while cooking.

When the ground beef is cooked through, remove excess liquid leaving 1-2 tablespoons behind. Stir in the tomato paste, paprika, cumin, dried oregano, black pepper, and kosher salt. Mix until tomato paste is well incorporated.

Remove meat from skillet and let it completely cool down.
Stuffed potato balls:
Using a large cookie scoop*, measure out a ball onto your hands and then flatten the ball into a small circle.

Make small indentation in the middle of the flatten ball, and place about 1-2 teaspoon of the meat filling in the indentation. Don't over stuff the potato balls.

Bring the sides up towards the middle to cover the filling and start smoothing out to form a ball shape.

Repeat these steps until all of the mashed potatoes and meat filling is used.

In a shallow dish, whisk the eggs with water until well combined.

In another shallow dish, combine the almond flour, arrowroot flour, kosher salt, and black pepper.

Dip the potato balls into the eggs making sure all sides are coated.

Then place potato balls to almond flour mixture and then roll it in the mixture until lightly coated. Shake off excess almond flour, and place on a plate. (The key here is to make sure the potato balls are lightly coated.)

Once all of the potato balls are coated, refrigerate for at least 2 hours or you can freeze them at this point.

Preheat a skillet over medium-high heat with ¼ cup avocado oil. Depending on the size of the skillet you might need more oil. You want the oil to be about ½ inch high.

Sprinkle a bit of almond flour into the skillet to see if it's ready. If the almond flour starts bubbling immediately, your oil is ready.

Add the potato balls to the skillet (you might have to cook in batches) and brown all sides. This will take about 3-4 minutes on each side. If your potato balls start to brown too quickly, adjust the heat.

When all sides are browned, drain the potato balls on a paper towel lined, and then serve immediately.
Recipe Notes
If you don't have a cookie scoop, just measure 3-4 tablespoons of mashed potatoes to make the potato balls.