Buddha bowls have been taking the hip foodie world by storm, and these mashed plantain Buddha bowls fit the bill. In the non-hip foodie world, we've been making these bowls for awhile now. I personally call them power bowls or whatever the theme of my bowl is (i.e. taco bowls), but to each their own. Since Buddha bowls sound way cooler than power bowls, I'm okay with jumping on this bandwagon. Plus, if this means more people will be eating more nutrient dense foods, I'm all about that!
Another thing I'm all about are plantains, and recently I've been broadening my horizon and eating them in different forms (not just in tostones form). Lately it's been mashed with protein and paired with a bunch of other veggies, and thus was born the mashed plantain Buddha bowls.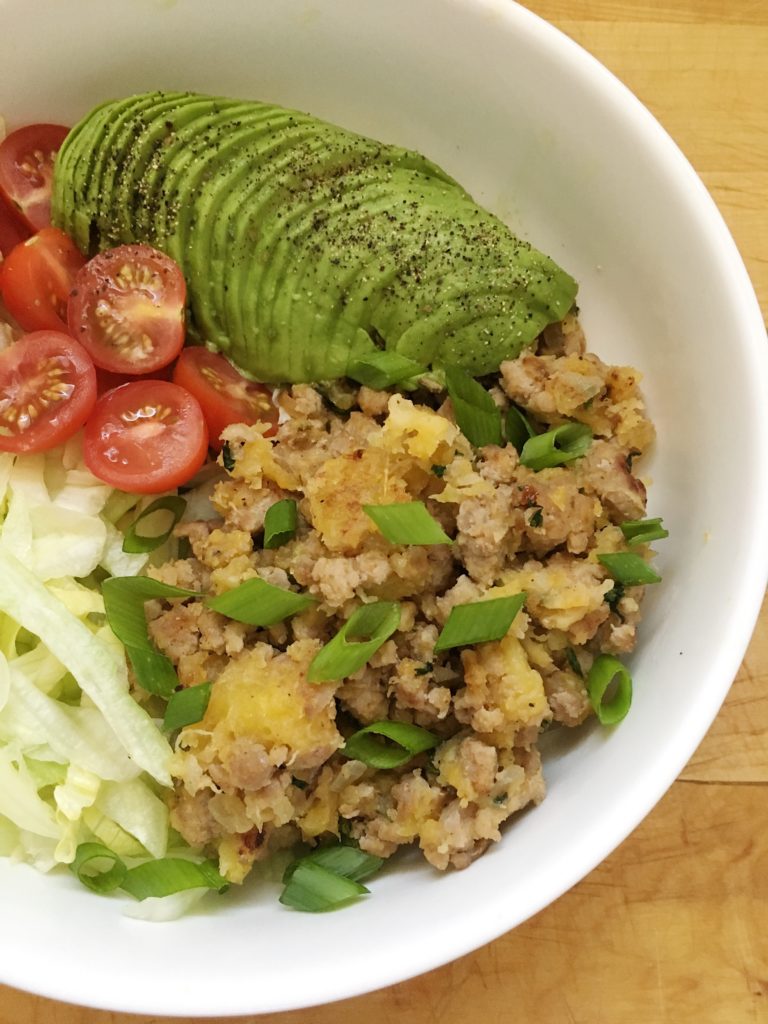 The key to this bowl is using ripe plantains so you can get the sweet and spicy flavor combo. Other than that, feel free to customize your mashed plantain Buddha bowls to your taste preference. I always make sure to have proteins, veggies, healthy fats and some carbs. Whatever diet you follow, you can make the bowls fit into your dietary needs.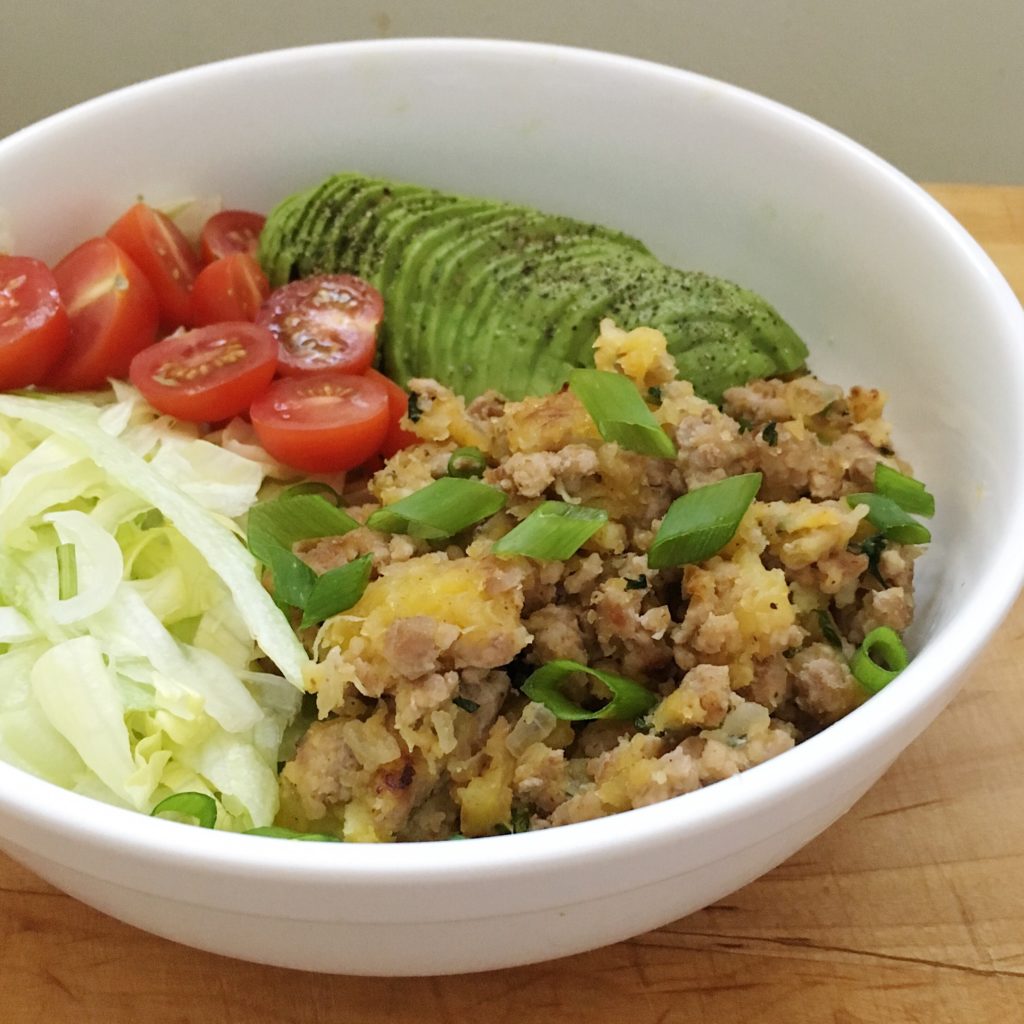 In this particular mashed plantain Buddha bowl bowl I had spiralized zucchinis at the bottom and topped it with the mashed plantains and ground pork, lettuce, tomatoes, avocado and green onions. The combinations are endless!
You can definitely make this ahead of time and have it be a part of your meal prep. I just recommend packing the toppings separately so things don't get mushy and/or soggy.
Mashed Plantain Buddha Bowls
Ingredients
Buddha Bowls:
2

ripe plantains

1

lb

ground pork

you can use any type of protein

1

garlic clove

minced

½

onion

finely diced

¼

cup

cilantro

chopped

1 ½

tbsp

taco seasoning

2

tsp

kosher salt

separated

1

tsp

black pepper

separated
Topping Suggestions:
Diced avocado

Diced tomatoes

Chopped green onions

Avocado crema

Pico de gallo

Fresh onions

diced

Cilantro

Cauliflower rice

Chopped lettuce

Spiralized vegatables
Instructions
Buddha bowls:
In a large pot, fill it with water and bring to a boil.

Cut plantains (with skin on) into 3 or 4 pieces. Add to pot and boil for 8-10 minutes or until fork tender.

Remove plantains, allow to cool to the touch, peel skin off, mash then season with 1 tsp of kosher salt and ½ tsp of black pepper. Set aside.

In a large skillet, preheat over medium heat with about 1 tablespoon of avocado oil. Add onions, saute until translucent.

Add ground beef and season with taco seasoning, salt and pepper. Cook until no longer pink. Adjust seasoning according to taste.

Once ground beef is cooked stir in mashed plantains and cilantro. Mix until well combined and everything is heated through.

Serve in a bowl with additional toppings.
Taco seasoning:
Mix spices together and store in an airtight container until ready to use.
Pin this recipe for later!

**Please note this post may contain affiliate links. It does not affect the cost of the product but I do make a small commission to help keep this blog running if you decide to make a purchase. Dolly's Whole Life is a participant in the Amazon Services LLC Associates Program, an affiliate advertising program designed to provide a means for sites to earn advertising fees by advertising and linking to Amazon.com.