Spicy, portable, and packed with flavor. Be sure to make double of these Spicy Chicken Croquettes because they will be gone before you know it!
This post is in partnership with The New Primal.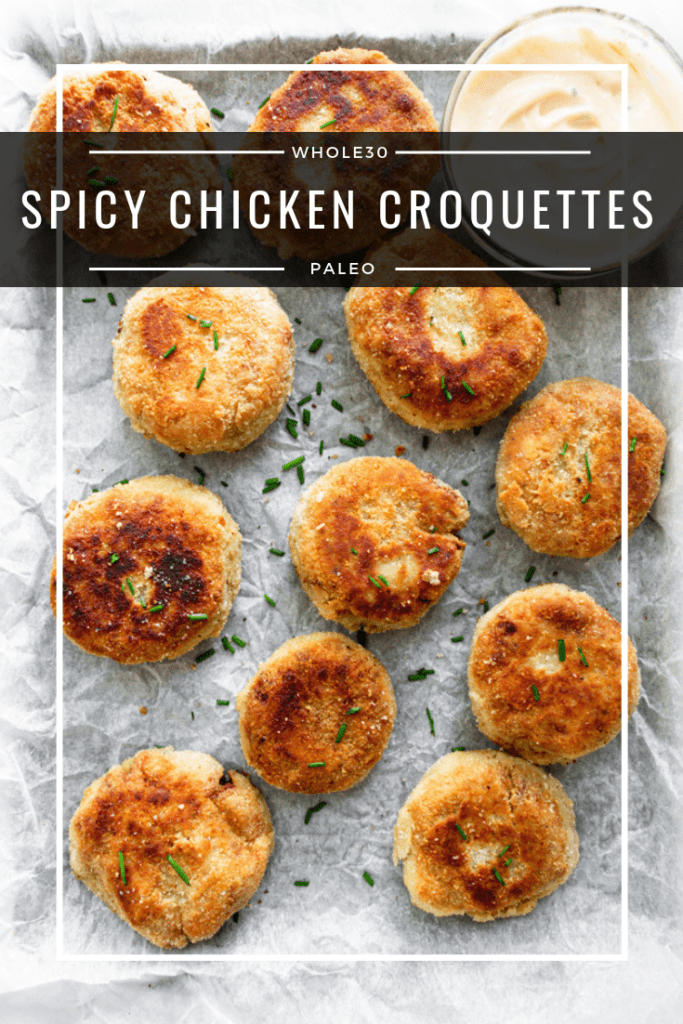 Okay, so I realized the word croquettes is really just a fancy way of saying patties or cakes. Call them whatever you want but just make these Spicy Chicken Croquettes, okay? Okay.
The first time I had croquettes, they were Japanese croquettes where it was mashed potatoes mixed with a delicious teriyaki ground beef. I LOVED it.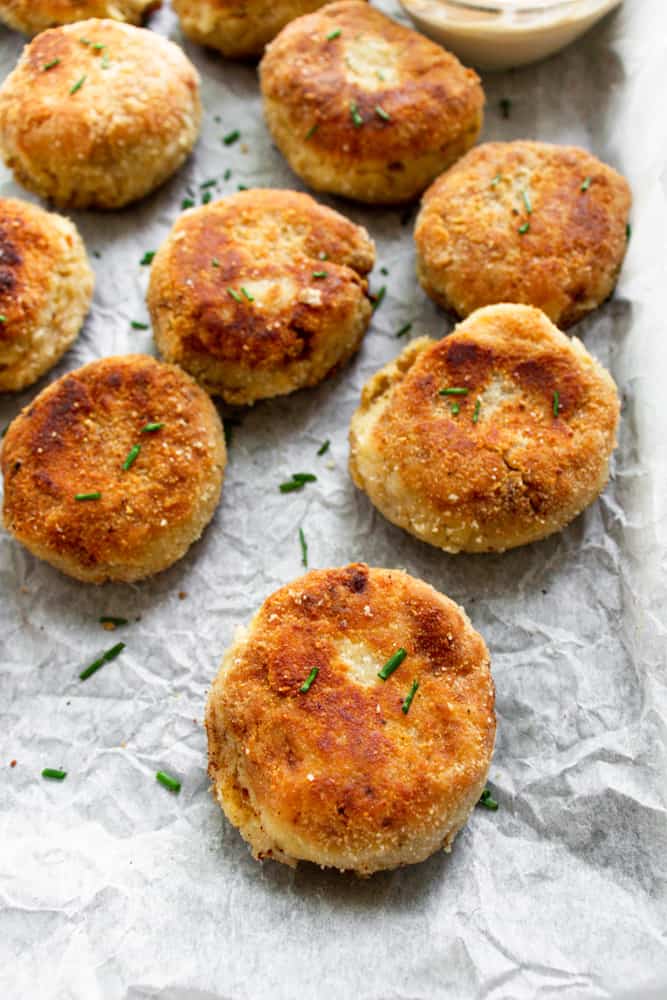 One day I was having one of those days where I was craving the croquettes and the cravings just wouldn't go away. I didn't have any of the ingredients to try to recreate the Japanese ones though. So when I went refrigerator and freezer diving, I found some ground chicken and we all know I always have The New Primal Noble Made Hot Buffalo Sauce in my pantry.
That's when the creative juices started flowing, and thus was born these Spicy Chicken Croquettes.
The spiciness obviously comes from The New Primal Noble Made Hot Buffalo Sauce. No one should be surprised the hot flavor is my favorite, but The New Primal does carry a mild and medium flavor if you can't handle the heat.
We also all know my infinity for The New Primal and their products. The use real whole ingredients and the sauces always make life much easier in the kitchen. They don't lack in flavor and will help enhance any dish you're making. 10/10 will always recommend The New Primal.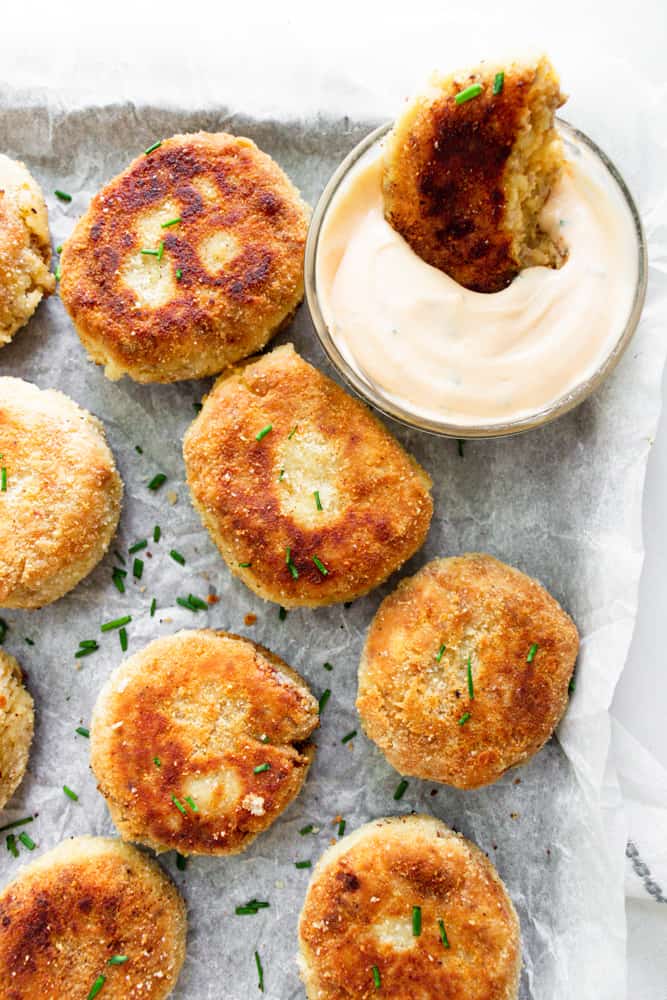 Now, let's focus on these croquettes. Here are a few key things:
If you are organized and plan ahead, I recommend using leftover mashed potatoes. The stiffer and colder the mash potatoes, the better.
You can use any kind of ground protein you want, but i definitely recommend dark ground chicken or turkey.
When cooking the ground chicken with the hot buffalo sauce, you want to make sure the liquid has absorbed into the chicken and/or has evaporated. You don't want it too wet. Trust me.
Yes it can be baked or air fried, but I don't recommend it.
This is can also be made ahead of time. Go through the whole process, lay the croquettes in a single layer, freeze and then move to a ziplock or container. Fry straight from the freezer.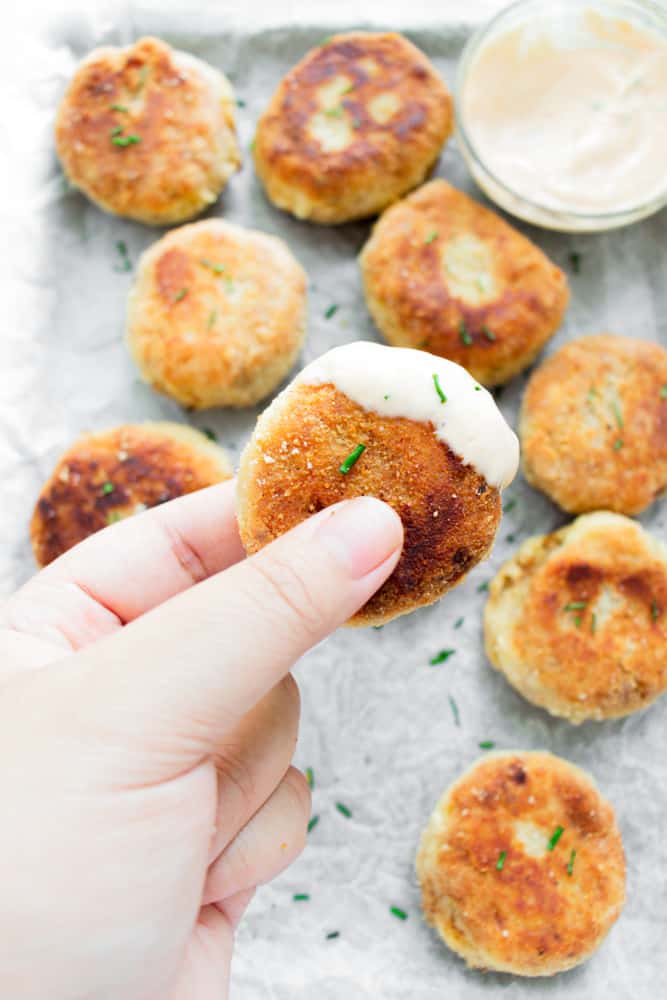 I hope you enjoy these crispy golden deliciousness as much as I do. Be sure to pick up a bottle of The New Primal Noble Made Hot Buffalo Sauce and get to make these croquettes!
Spicy Chicken Croquettes (Whole30, Paleo)
Ingredients
Mashed Potatoes
4

russet potatoes

peeled and diced

kosher salt
Instructions
Dipping Sauce
Mix the basic mayo and Noble Made Hot Buffalo Sauce together.

Store in a container and refrigerate until ready to use.
Mashed Potatoes
Bring a large pot of water to a boil, salt the water with kosher salt, add diced potatoes, and cook until fork tender, about 20-25 minutes.

Drain the potatoes, season with kosher salt to taste, then mash the potatoes in the same pot over medium heat. The heat will help dry the potatoes.

Refrigerate until ready to use.
Spicy Chicken Croquettes
Preheat skillet over medium-high heat with 1 tbsp avocado oil.

Add in the ground chicken, break apart with a wooden spoon, and cook for 5-7 minutes.

Drain any excess liquid then add in the garlic powder, kosher salt, and black pepper. Mix until well combined.

Next stir in the Noble Made Hot Buffalo Sauce. Cook until the hot buffalo sauce is absorb.

Once chicken is cooked through, add it to the mashed potatoes, combine, and then place the mixture in the refrigerator for at least 20 minutes.

In the meantime, add the tapioca starch, eggs, and almond flour into three different shallow bowls.

When the chicken mixture is cooled, use a medium size cookie scoop (1-1 ½ tbsp) and form the croquettes. Roll into a round ball or flatten into patties.

Lightly coat the croquettes in tapioca starch (make sure to shake off excess), then the eggs, and then the almond flour. Repeat until all croquettes are coated.

Preheat a large skillet over medium-high heat and add enough avocado oil to cover the bottom.

Gently place the croquettes into the skillet and cook for 3-4 minutes per side or until golden brown.

Serve warm with dipping sauce.
---
SIMILAR RECIPES:
Chicken Katsu Onigirazu
Jalapeno Ranch Chicken Nuggets
Cashew Butter Chicken Stir Fry
---