This Peanut Garlic Udon Stir Fry is the perfect dish when you want a quick and easy meal that's packed with flavor and can be customized to your liking. Everything comes together in less than 20 minutes!
My affinity for udon noodles runs really deep. It's definitely in the top 3 spots when it comes to different Asian noodles I love to eat. There are a few variations of udon noodles, but my favorite are the thick chewy ones that are perfect for stir fry.
It soaks up whatever flavor you cook it in and really fills you up.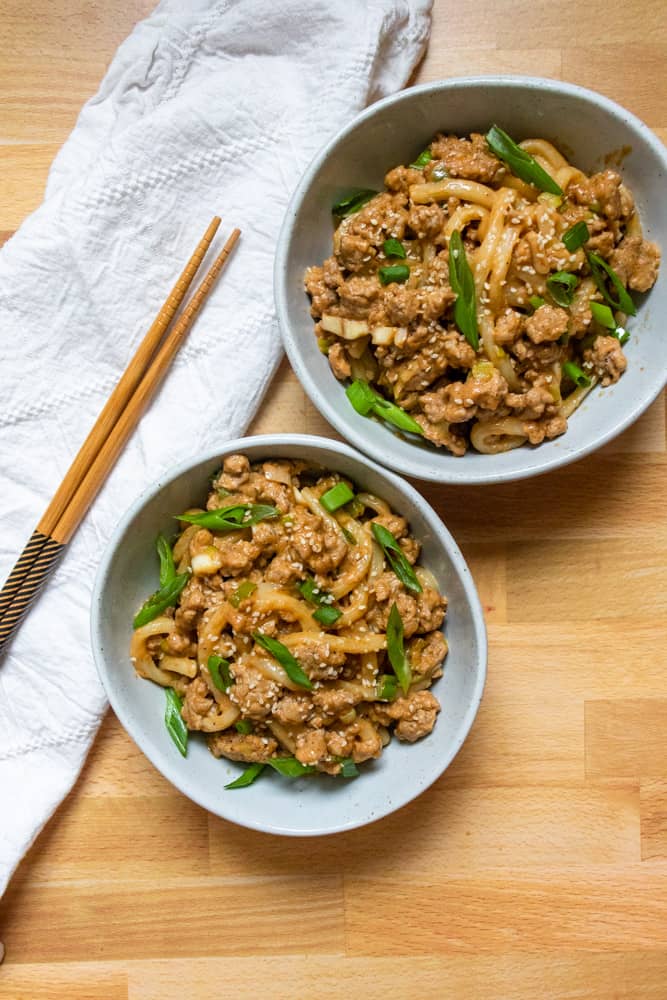 Udon noodles originate from Japan and there are lots of theories on where and when it started. It's said that Japan was introduced to flour milling from China which led to different Japanese noodles (i.e. udon, soba, ramen, and etc).
The different shapes and sizes of the noodles vary from region to region, and are used in so many different ways. My favorite is yaki udon which means stir fry udon.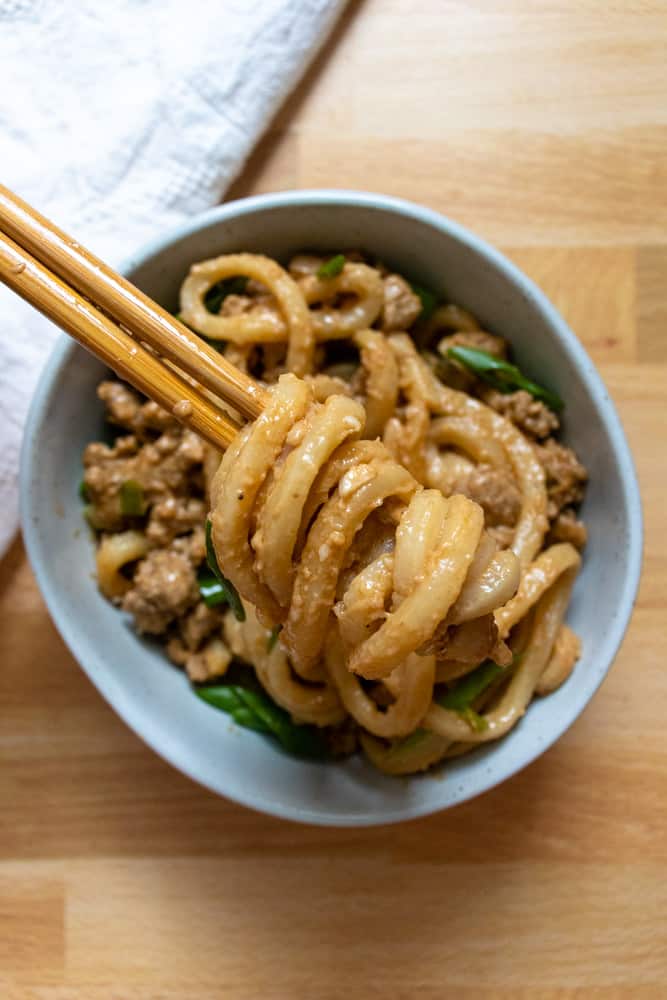 This Peanut Garlic Udon Stir Fry was inspired by a cold noodle salad I had awhile back when visiting friends in San Francisco. It was the perfect summer weather dish but I wanted to turn it into a dish whenever you needed warmth and comfort food.
What I love about dishes like this is that you can completely make it your own. I'm sharing the base of this recipe but feel free to add veggies, different cuts of protein, and toppings.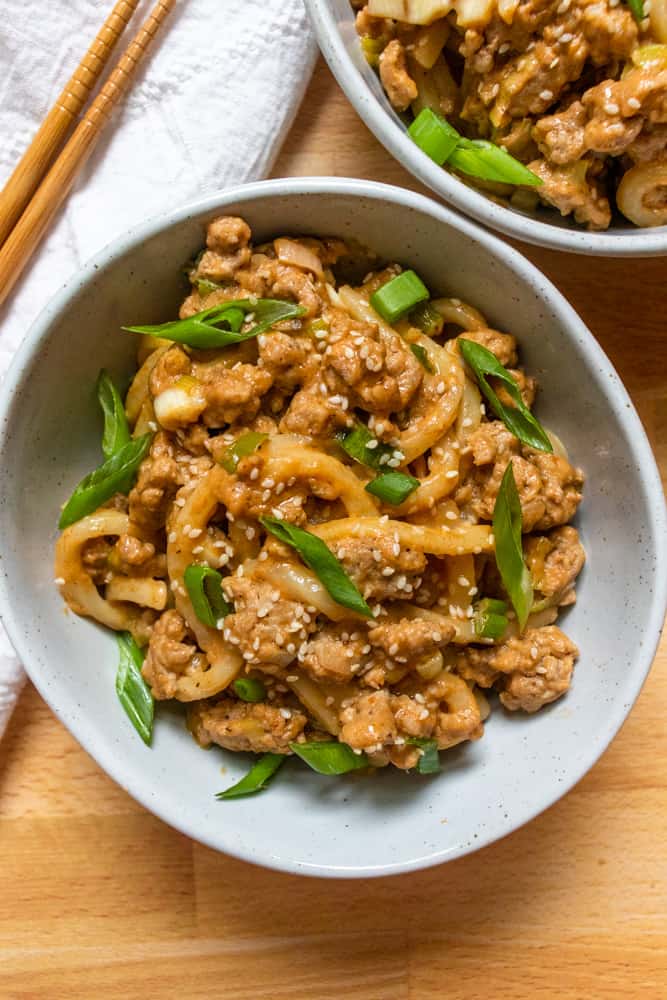 Here are a few things to ensure you get the best Peanut Garlic Udon Stir Fry:
If you can't find udon noodles you can use linguine pasta or any other kind of thick cut noodle.
If you're gluten free/paleo, spaghetti squash is a great replacement. If not spaghetti squash, use a durable root veggie to spiralize. Zucchini noodles don't work too well with this recipe since the sauce is pretty heavy.
The lime wedges are non-negotiable. The lime juice helps cut the heaviness of the sauce and brings a freshness to the dish.
If you don't do peanut butter, cashew butter is the best choice. I find cashew butter easier to work with than almond butter and it has a similar taste to peanut butter. If you have to use almond butter then use almond butter.
This dish is also best served warm!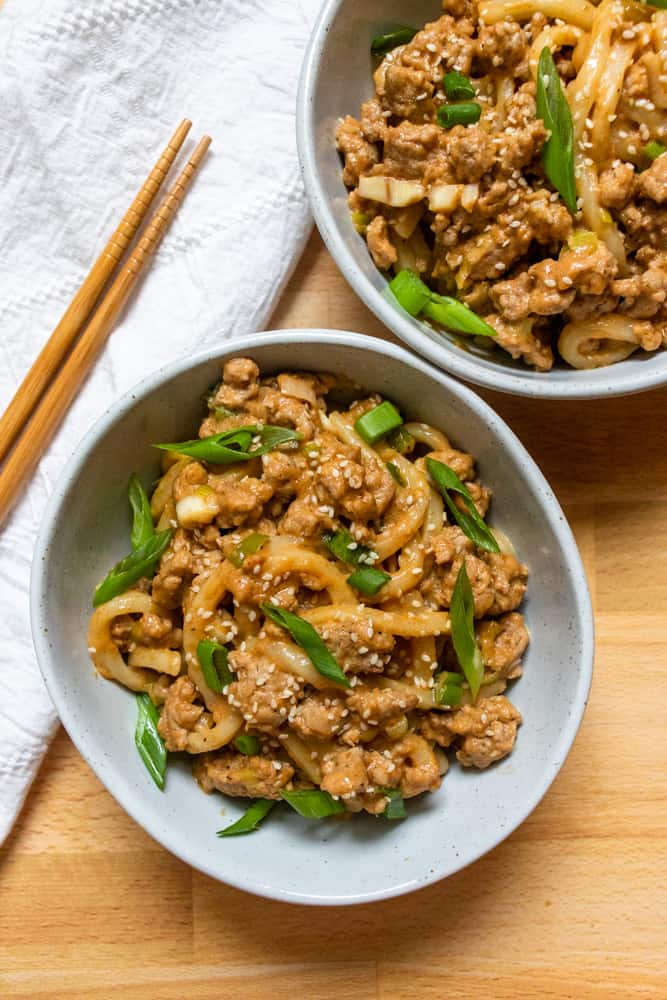 I hope you enjoy this quick, easy, and delicious peanut garlic udon stir fry as much as I do! Be sure to tag me on Instagram if you make it. I love seeing your creations.
Peanut Garlic Udon Stir Fry
Ingredients
2

packets of udon noodles

or 2-3 cups cooked spaghetti squash

2

tbsp

avocado oil

4

garlic cloves

roughly chopped

½

lb

ground chicken

or any ground protein (omit if vegan or use extra firm tofu)

¼

cup

coconut aminos

or soy sauce or tamari

3

tbsp

peanut butter

or cashew butter

2

tbsp

sesame oil

2

tbsp

rice wine vinegar

1

tbsp

grated fresh ginger

1-2

tsp

sriracha sauce

2

green onions

sliced

1

tbsp

sesame seeds

kosher salt

to taste

ground black pepper

to taste

lime wedges
Instructions
Preprare udon noodles according to package. Once done remove from water, toss in a bit of sesame oil and set aside.

Preheat wok or skillet over medium high heat with avocado oil.

Add in the garlic and stir fry for 30-60 seconds.

When garlic is fragrant add in the ground chicken, break it up, and make sure it is spread out in the wok or skillet. You want as much touch the heat so it gets nice and charry.

Season the chicken with kosher salt and ground black pepper. Then let the chicken sit for 3-4 minutes.

In the meantime, mix together the coconut aminos, peanut butter, sesame oil, rice wine vinegar, grated ginger, and sriracha.

When the chicken is about done, add in the green onions, sesame seeds, and the udon noodles.

Pour in the stir fry sauce, mix until well combined, and cook for an additional 2-3 minutes or until chicken is completely cooked through.

Serve the udon stir fry with lime wedges and enjoy!
---
SIMILAR RECIPES:
Sesame Ginger Udon Stir Fry
Spicy Garlic Linguine
Cashew Butter Chicken Stir Fry
---