Mango Sticky Rice is one of Thailand's most iconic desserts. The balance of sweet and a touch of savory with a couple different textures makes this a really delicious dessert.
I'm not much of a sweets person and I think it's because I grew up eating Thai and Lao desserts that aren't nearly as sweet as American desserts.
You'll find that a lot of desserts from Laos and Thailand are coconut based while using ingredients you'd typically find in savory dishes. Though sugar is used in these desserts a lot of the sweetness also comes from the fruit.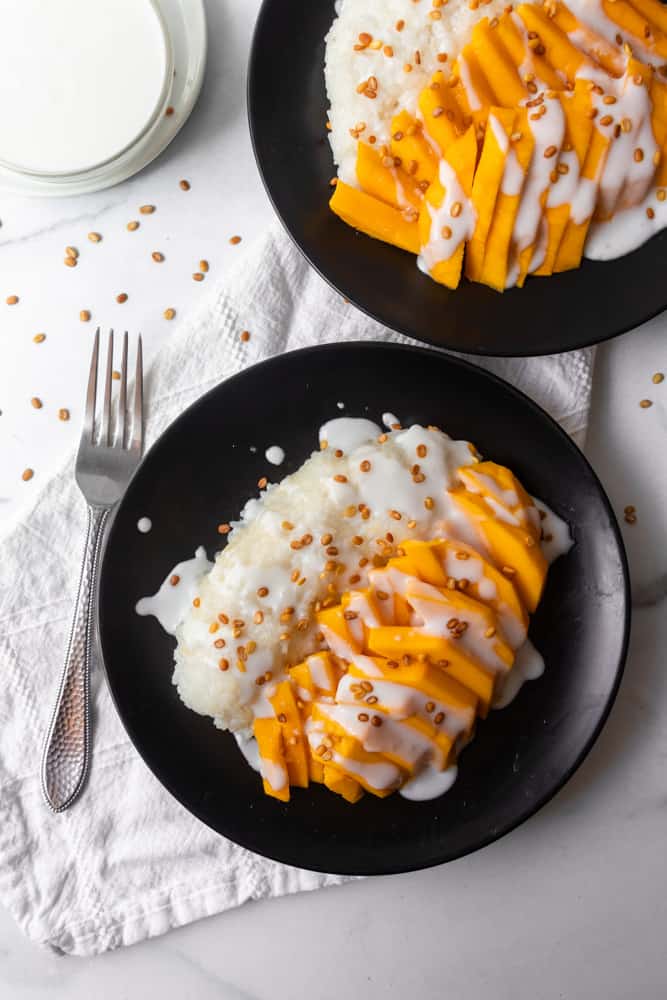 Mango sticky rice (khao niew muk muang) is the prime example of desserts in Lao and Thai cuisine. You have the coconut based sauce, the sticky rice (that's typically eaten with your regular savory meals), and of course the super sweet and ripe yellow mango.
This dessert is surprisingly easy to make once you've mastered making sticky rice. The ingredients are so simple but work so well together to create a rich and luscious dessert.
Now, there are so many ways to make mango sticky rice and I definitely recommend you play around with the ratio of sugar and salt. I don't like mine overly sweet because I don't want the coconut cream to overpower the flavor of the mangos. There's definitely a fine line, but to each their own.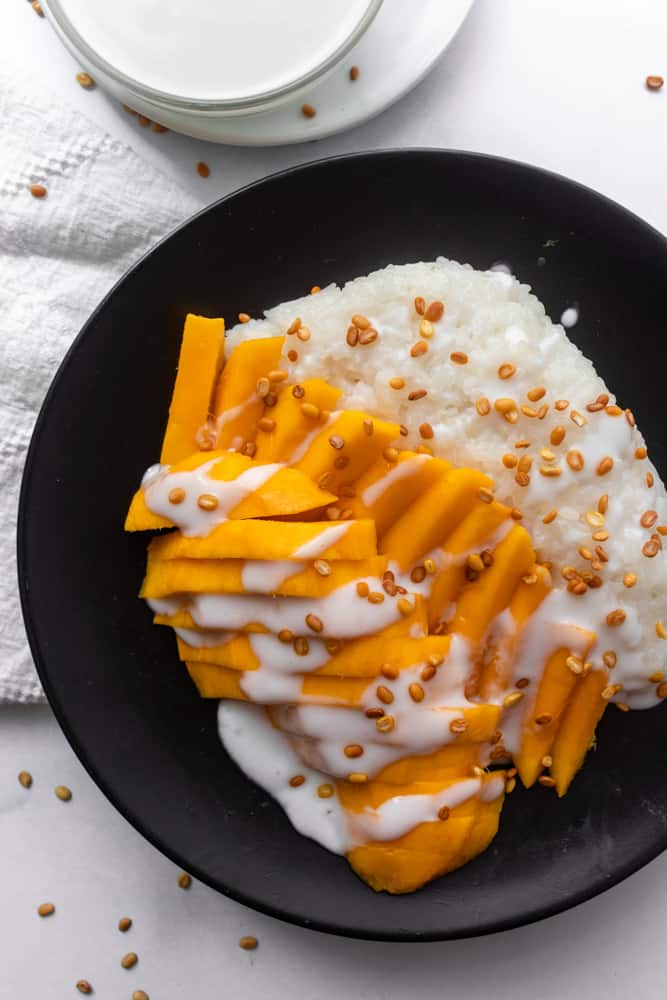 Here are a few things to ensure you get the best mango sticky rice:
Glutinous rice (or sweet rice) is a must when it comes to this dish. I've laid out how to make sticky rice using different methods here.
Make sure you're using full fat coconut milk. None of that watered down nonsense.
When you pour the coconut milk mixture into the rice, do not be alarmed with how watery it looks. Give the rice time to absorb the coconut milk.
Ataulfo mangos also known as yellow, champagne, or honey mango are a must! These mangos are traditionally used in Thailand and you can find them almost anywhere here in the states. If you can't find them for whatever reason, just make sure you're using really ripe mangos.
Split yellow mung beans are the preferred choice over sesame seeds. These are vital because they add a crunchy texture when toasted to the super smooth and creamy dessert. If you do use sesame seeds I recommend using black sesame seeds. They texture is closer to the split yellow mung beans.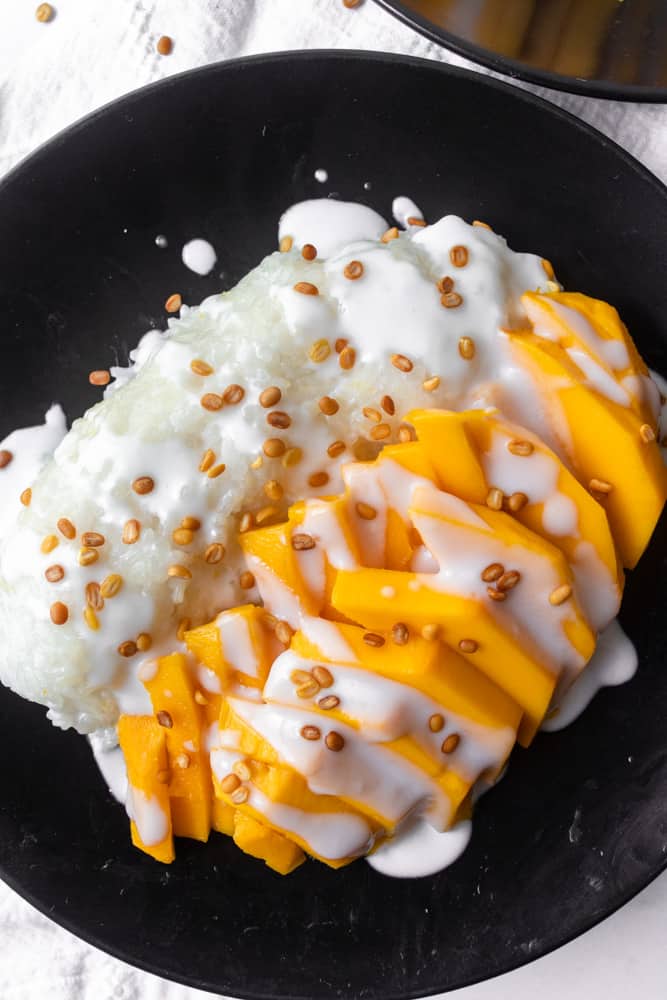 I hope you enjoy this iconic dessert as much as I do. If you make the recipe be sure to tag me on Instagram so I can see!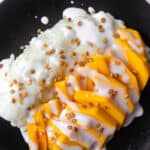 Mango Sticky Rice (Khao Niew Muk Muang)
Instructions
Wash rice until water is clear. Soak for at least 4 hours to overnight.

*Bamboo steamer and pot: fill pot with water making sure it doesn't touch the bottom of the steamer basket. Add rice to bamboo steamer basket, place basket on pot, cover with a small lid, steam for 20-30 minutes flipping a little over halfway through. To flip rice: hold the sides of basket and flip the rice over like you would eggs.

While rice is cooking, mix coconut milk, sugar, and salt together.

Divide the coconut milk mixture in half.

When rice is done cooking, add it to a bowl and mix with half of the coconut mixture. Cover and let sit for 5-10 minutes or until rice absorbs coconut milk.

Add the other half of coconut milk mixture to a saucepan over medium heat. Stir in the rice flour and bring the coconut milk to a gentle boil for a couple minutes or until the coconut milk has thickened. Remove from heat and seat aside.

Next add the split yellow mung beans to a skillet over medium heat. Toast the mung beans until slightly golden and fragrant.

Peel the mangos and cut into slices.

Add sticky rice to a plate, then the mango slices, drizzle the coconut cream in the saucepan over the rice & mango slices, and then sprinkle the split yellow mung beans on top.
Recipe Notes
*If you do not have a traditional bamboo steamer and pot to cook the rice, please check out how to make sticky rice in nontraditional ways here.
---
SIMILAR RECIPES:
How to Make Sticky Rice
Lao Inspired Chicken Wings
Benihana Chicken Fried Rice
---
---
a dash of dolly is a participant in the Amazon.com Services LLC Associates Program, an affiliate advertising program designed to provide a means for sites to earn advertising fees by advertising and links to Amazon.com. As part of this Amazon Associates program, the Website will post customized links, provided by Amazon, to track the referrals to their website. This program utilizes cookies to track visits for the purposes of assigning commission on these sales.