Hawaiian Loco Moco – Whole30 and Paleo friendly. A twist on the classic comfort food that originated from Hawaii. A perfect meal for any day of the week.
The last time I was in Hawaii was almost ten years ago, and I'm counting down the days til I'm back on the beautiful island of Oahu, hanging out with my best friend, and eating Hawaiian loco moco for basically every meal. If you don't know what Hawaiian loco moco or you've never had it, you're in for a treat! I don't know a dish so simple can be so delicious and so comforting.
Hawaiian loco moco consists of a well seasoned burger patty on top of rice with a delicious brown gravy and a fried egg to top it all off. These four things are the best combination of food you could ever ask for. You'll find variations of the dish across the island, but for the most part, those four items are the key elements. Some places also serve it with Hawaiian macaroni salad which is a nice contrast to the dish because it's cold and has a freshness to it.
This dish is the ultimate comfort food. It's usually one of those stick to your ribs kind of meals where you don't want to move after you eat; however, this version won't have the same affect because we're replacing the rice with cauliflower rice. Don't worry, my Hawaiian friends, it'll still hit the nostalgia factor. I promise! It will also keep you full for quite some time as well.
P.S. my favorite part about this Hawaiian loco moco is the gravy. OH.MY.GOD. the gravy is to die for! If I could, I would bathe in it. I recommend making a double batch because you will want slurp it all up! This gravy would also be great with my basic Asian meatballs.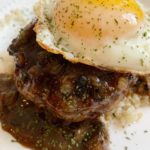 Hawaiian Loco Moco (Whole30, Paleo)
Ingredients
Loco moco:
Cauliflower rice

Fried eggs
Instructions
Burger patties:
Preheat skillet over medium-high heat with about ½ tablespoon of avocado oil.

In a bowl, mix ground beef with finely diced onion, beaten egg, almond flour, coconut aminos, fish sauce, kosher salt, and black pepper.

Once combined, form four equal patties making sure the center is thinner the edges.

Cook burger patties until your desired doneness, and then set aside.
Gravy:
In the same skillet as the burger patties, add more avocado oil if your burgers didn't render any fat.

Add mushrooms and onions to the skillet and saute until onions start to caramelize. Make to scrape the bits left from the burgers.

Add in the beef broth, coconut aminos, fish sauce, and black pepper.

Bring the gravy to a boil, and then lower the heat to bring gravy down to a simmer.

While the gravy is simmering, mix arrowroot flour with about 2-3 tablespoons of warm water to create a slurry.

Pour the slurry into the gravy making sure it is well combined.

Simmer gravy until it thickens which will take about 10-15 minutes. Once thickened, taste to see if you need more salt.

Add the burger patties back to the skillet to warm up.
Loco moco:
While burgers are reheating, prepare your cauliflower rice, and fry the eggs.

First layer cauliflower rice on plate, add a burger patty on top, then spoon the gravy over the burger patty, and then top with an egg. Best served warm!