These Furikake Chicken Wings draws inspiration from the iconic Hawaiian furikake chicken that can be found all over the islands of Hawaii. With a few simple ingredients these wings are sure to be a hit at your next game watching gathering or for a quick and delicious dinner any night of the week.
One of the simplest but most delicious plates you can get in Hawaii is furikake chicken with rice and macaroni salad. There is just something about the sweet and savory chicken bites that pair perfect with warm rice and cool macaroni salad.
Instead of chicken bites I decided to turn one of my favorite dishes into chicken wings because who doesn't love chicken wings?! These furikake chicken wings are sure to be a hit with friends and family. They're great on their own or with rice and macaroni salad.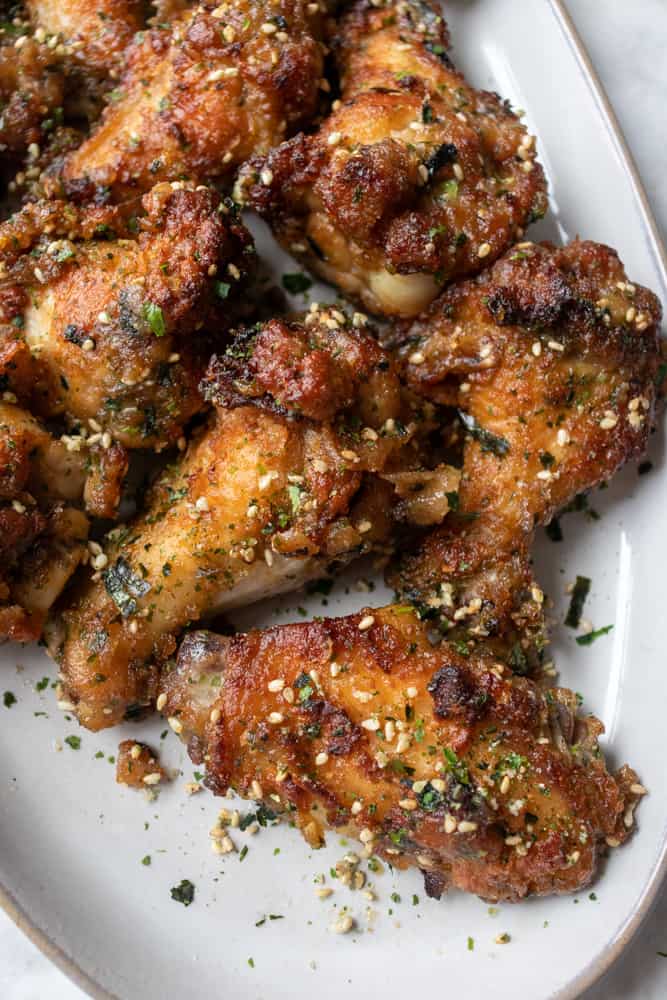 WHAT IS FURIKAKE?
Furikake is a Japanese rice seasoning that mainly consists of nori sheets and sesame seeds. There are a variety of flavors and brands out there. Trader Joe's carries one that is paleo friendly. I personally like this brand here. Furikake can be used for so many reasons outside of seasoning rice. Try making my Furikake French Fries that would pair perfectly with this recipe!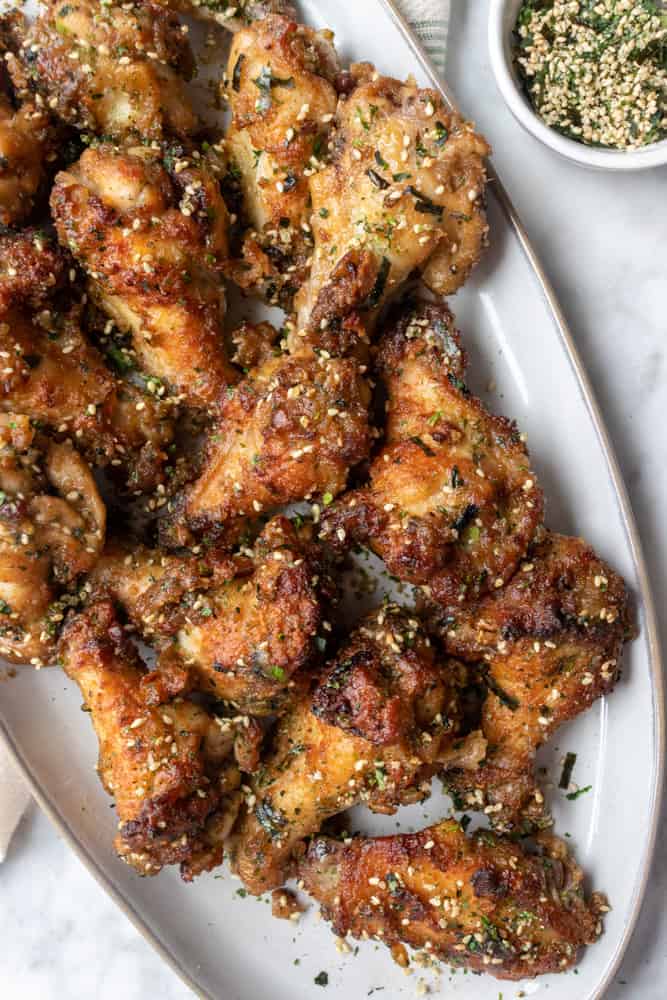 WHAT YOU'LL NEED FOR THE FURIKAKE CHICKEN WINGS:
Chicken wings that are split are what I use but you can also cube up boneless chicken thighs or breasts.
Coconut aminos if you're keeping this paleo/gluten free. Soy sauce (or shoyu as it's called in Hawaii) if you want to keep it traditional. Tamari if you want it gluten free.
Rice wine vinegar gives it that sweetness and tang.
Spices & aromatics: garlic, ginger, kosher salt, and ground white pepper.
Furikake is the star of this recipe.
Potato starch is my preferred starch for dredging but cornstarch is a great replacement. Tapioca flour for my paleo friends.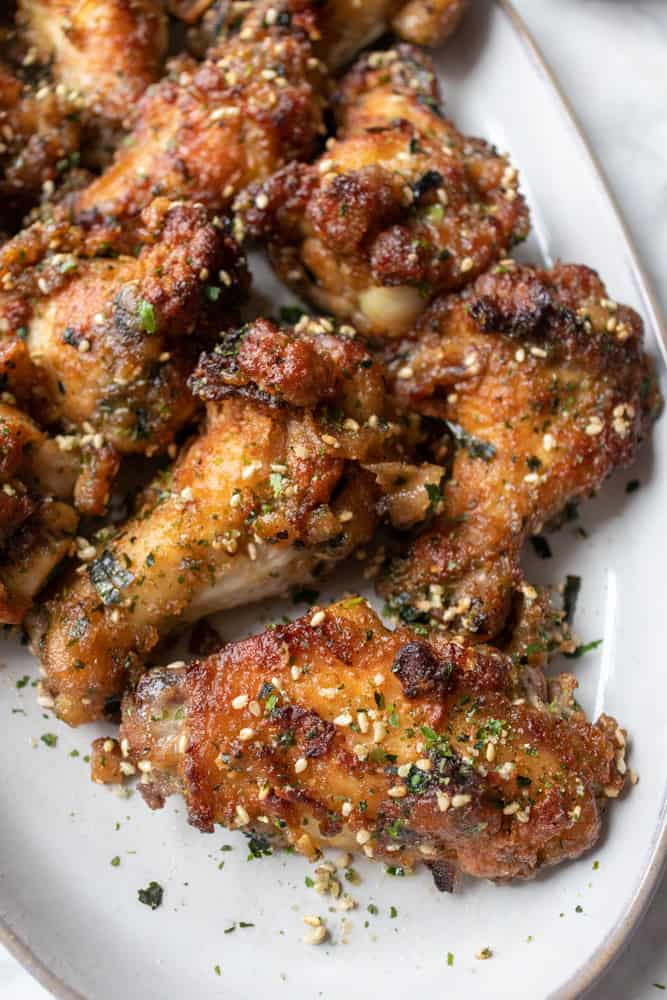 HELPFUL TIPS AND TRICKS TO GET THE BEST FURIKAKE CHICKEN WINGS:
Feel free to adjust the marinade to your liking. I personally like mine a little more on the garlicky side.
Keep as much liquid on the chicken before toss in the potato starch.
Be sure to really press the potato starch into the chicken wings. It'll give it those crispy craggly bits.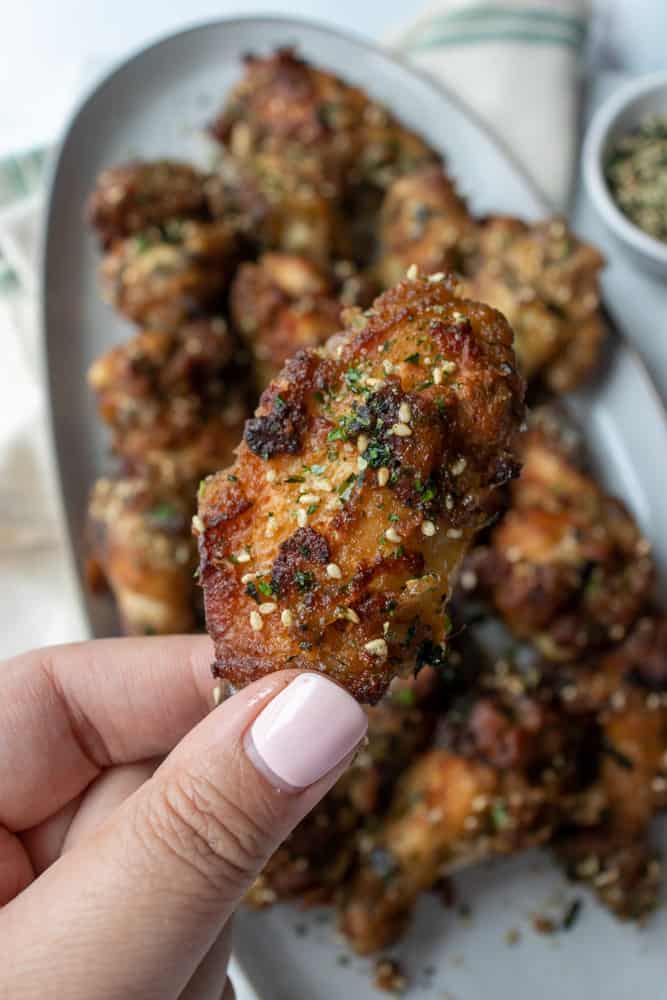 I hope you enjoy these Furikake Chicken Wings as much as I do! Be sure to tag me on Instagram if it you make.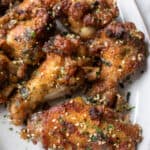 Furikake Chicken Wings (Gluten Free with Paleo Options)
Instructions
Pat chicken wings dry. Add to a large bowl with coconut aminos, rice wine vinegar, garlic cloves, grated ginger, kosher salt, ground white pepper, and furikake.

Marinate the chicken wings for at least 30 minutes to overnight.

Once chicken wings are marinated toss in potato starch and shake off excess before cooking.

Air Fryer method: add chicken wings to air fryer basket, spray with cooking oil, cook at 375F for 20 minutes shaking halfway through, afterwards turn air fryer up to 400F and cook for an additional 5 minutes.

Frying method: preheat a large skillet over medium heat. Add in enough oil to cover the bottom of the skillet with 1/4 inch height. Once heated, add the chicken into the skillet but don't overcrowd the skillet. Cook in batches if you need to. Fry for 12-15 minutes flipping halfway through.

Oven method: preheat oven to 450F. Line a baking sheet with parchment paper. Add the chicken wings to baking sheet in a single layer, spray with cooking oil, roast for 20 minutes, flip and roast for an additional 10-12 minutes or until chicken wings are cooked through and golden brown.

Toss the cooked wings in more furikake and serve.
---
SIMILAR RECIPES:
Spicy Honey Garlic Chicken Wings
Spicy Honey Butter Chicken Wings
Karaage (Japanese Fried Chicken)
---
Some of my posts contain affiliate links. If you use my links to purchase a product, I will receive a small commission, but it will not cost you anything extra. Thank you for your support!