This Yum Salad (Lao Salad) is a traditional Lao salad that uses fresh vegetables and herbs while being dressed with a sweet and savory egg yolk dressing. This salad is packed with lots of flavor using the simplest ingredients.
This post is in partnership with NatureSweet.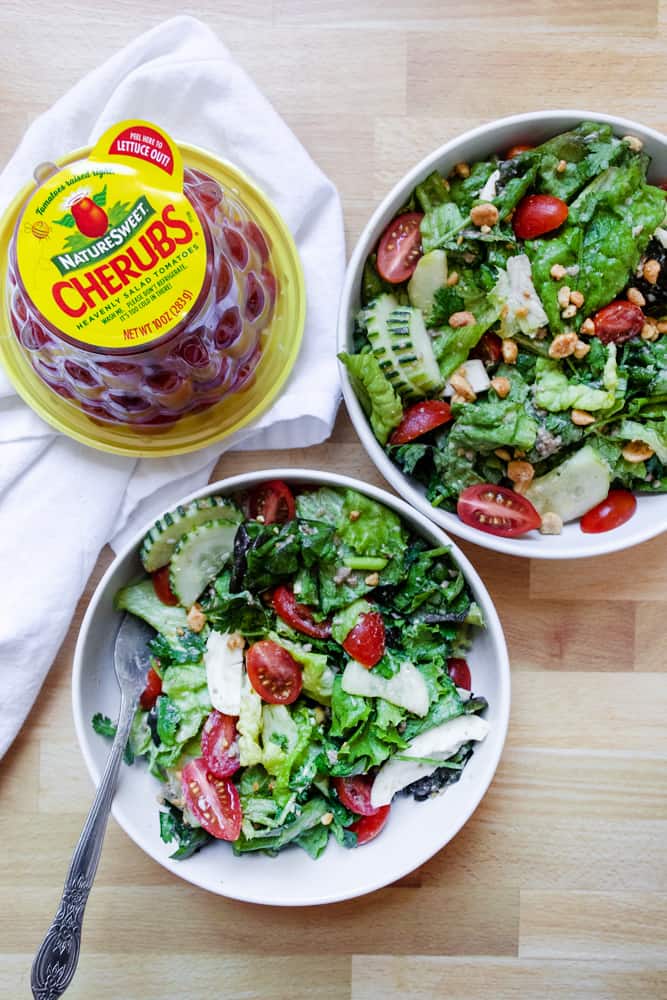 Yum (which translates to "mix" in Lao and Thai) Salad is a dish you will find being made in many Lao households. This salad was how my mom got my brother and me to eat our vegetables while growing up.
This salad is unique because it is tossed in an egg yolk dressing that includes ground beef (or any ground protein) as a part of the dressing. The egg yolk dressing is the perfect combination of sweet and savory, and like always it's a recipe that you make into your own depending on your preference.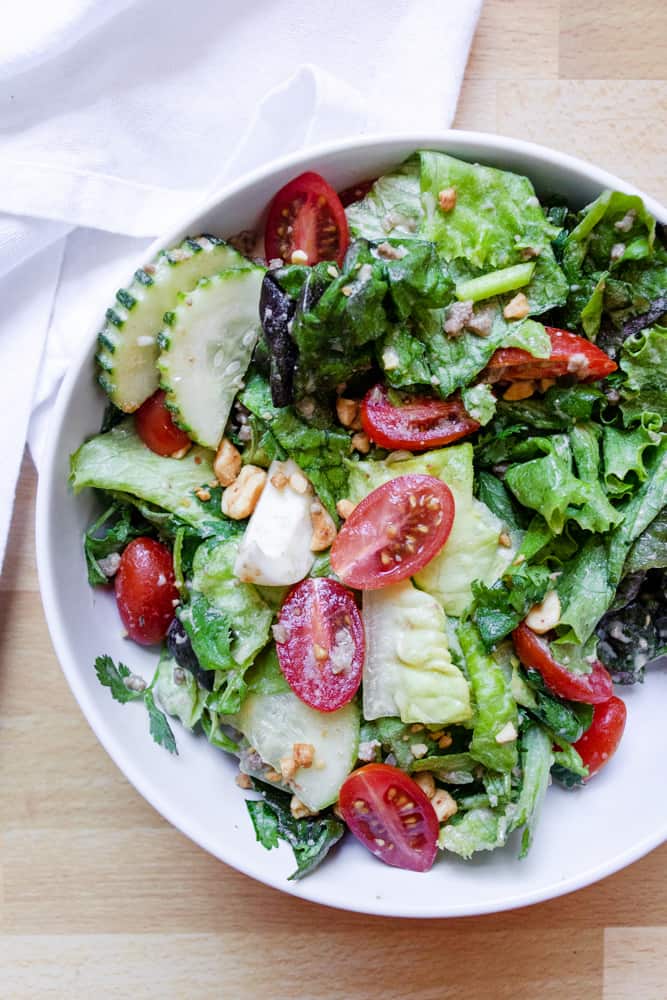 Now, we all know a good salad has different textures and flavors that work together to create the best bites. I'm very big on having a variety of textures in my salads and that is why I love using NatureSweet Cherubs.
My mom's recipe calls for using large tomatoes sliced and tossed in the yum salad. However, this water downs the salad and the tomatoes quickly wilt because the dressing is on the heavier side.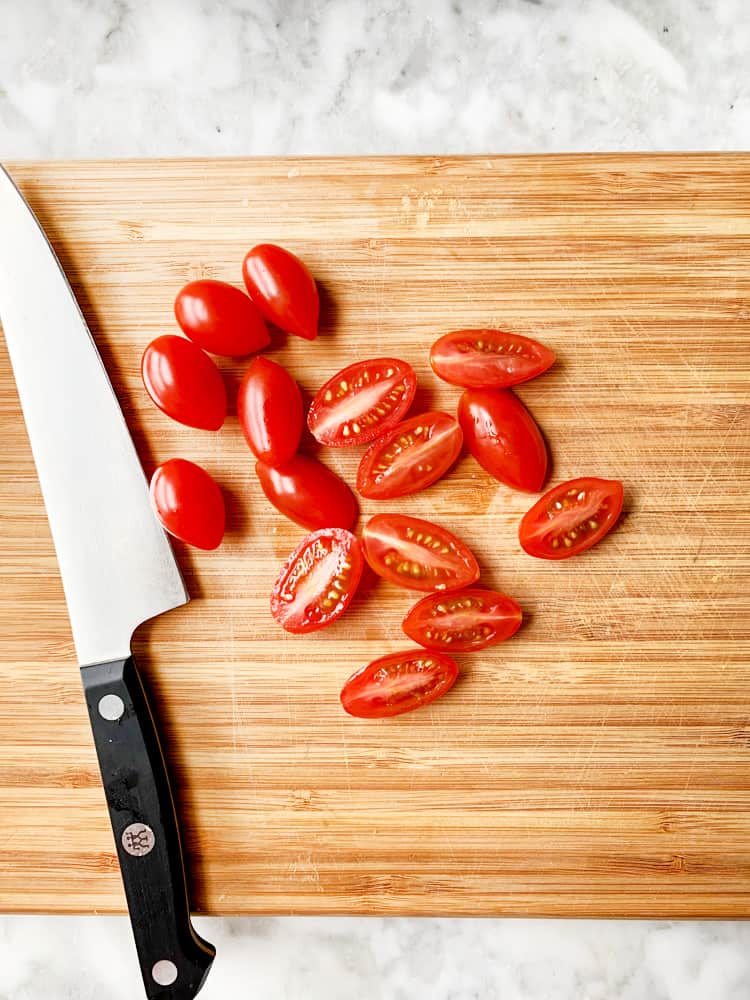 NatureSweet Cherubs are the perfect replacement for this Yum Salad because they are firm and maintain their shape when tossed in the egg yolk dressing. They still have that bite to them while being the juiciest tomatoes.
Another reason I love using NatureSweet Cherubs is the time and care it takes to picking these tomatoes. NatureSweet tomatoes are picked at the peak of perfection, tested for quality control, and then shipped out within 24 hours!
The tomatoes are also non-GMO and no harsh chemicals are used –which makes me feel good about adding it to this yum salad and serving it to friends and family. To learn more about NatureSweet and their commitment to providing the best tomatoes, check them out here.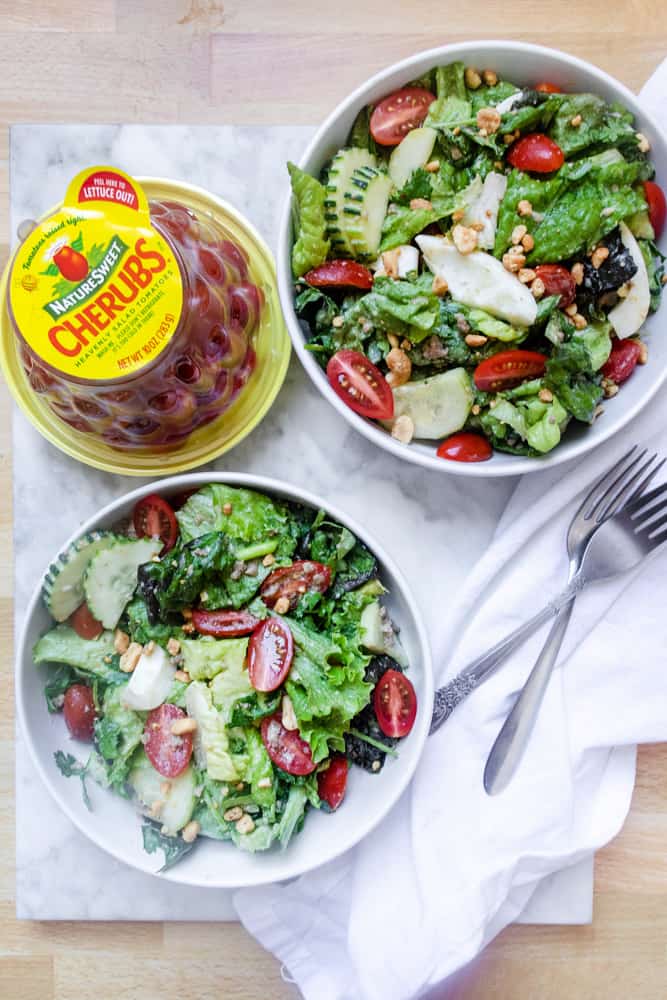 WHAT YOU'LL NEED FOR THE YUM SALAD (LAO SALAD):
Ground beef or any ground protein of choice. Pork is a great alternative.
Garlic
Fish sauce
Sugar (I use plain white sugar)
Kosher salt
Hardboiled eggs
Red & green leaf lettuce (you can use any lettuce of choice)
NatureSweet Cherubs
Cucumbers
Cilantro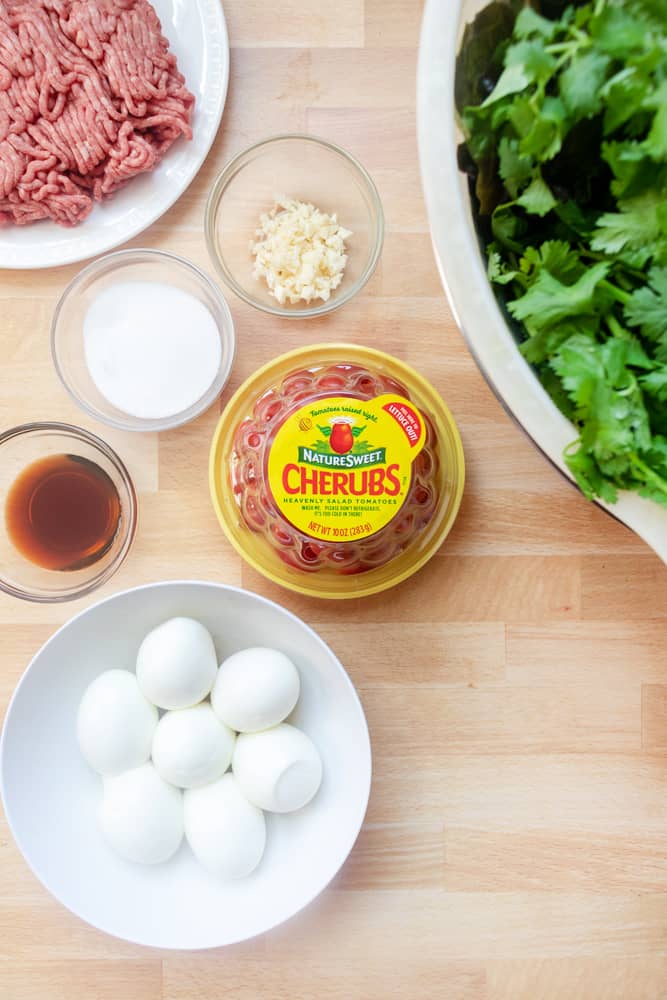 HELPFUL TIPS AND TRICKS TO GET THE BEST YUM SALAD (LAO SALAD):
You can use any kind of greens and herbs you want in this salad. The ones I've included is what my mom traditionally uses.
The NatureSweet Cherubs can be kept whole, but I prefer them sliced in half so they can soak up the dressing.
Whether you're using red and/or green leaf lettuce, chop the lettuce into at least 1 inch pieces or bigger. You can even just tear the lettuce apart. You want larger pieces so it holds up in the egg yolk dressing.
The egg yolk dressing is truly based on taste preference, however, err on the side of sweeter. You'll still get the flavor combo of sweet and savory.
Do not mix the egg yolk dressing with the salad until ready to serve. Remember "yum" means mix, but you can also serve the salad with the dressing on the side.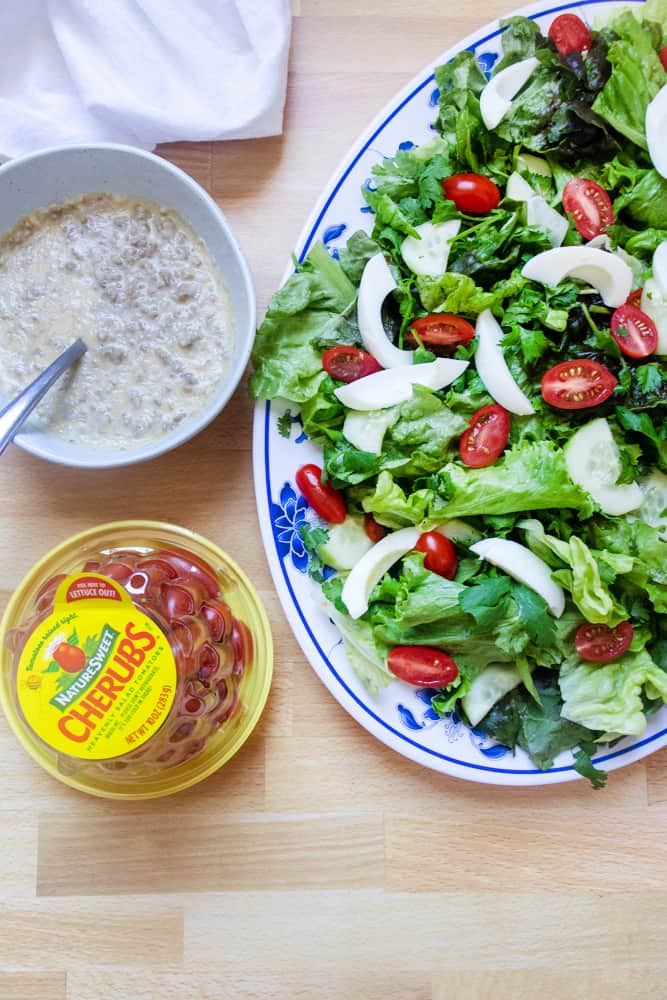 This Yum Salad is also meant to be served family style. So the next time you're looking for a delicious and fresh salad to serve, be sure to add this salad to the menu and to pick up some NatureSweet Cherubs!
Yum Salad (Lao Salad)
Ingredients
Egg Yolk Dressing
2

garlic cloves

minced

1

tbsp

avocado oil

or cooking oil of choice

1

lb

ground beef

or ground pork

1

tbsp

fish sauce

4

tbsp

sugar

(more to taste)

1

tsp

kosher salt

(more to taste)

8

hard boiled eggs

1-2

cups

warm water
Yum Salad (Lao Salad)
5

cups

chopped red leaf lettuce1

5

cups

chopped green leaf lettuce1

10

oz

NatureSweet Cherubs

sliced in half

2

cucumbers

peeled and sliced

2

cups

roughly chopped cilantro

sliced hard boiled egg whites

½

cup

crushed roasted peanuts

(optional)
Instructions
Egg Yolk Dressing
Preheat a skillet over medium heat with avocado oil and garlic.

Stir the garlic until it becomes fragrant (you don't want it to brown or burn). Add in the ground beef making sure to break it apart.

Next, stir in the fish sauce, sugar, and kosher salt.

Once the ground beef is cooked through. Remove it from the heat and set aside. Let the ground beef cool until slightly warm.

While the ground beef is cooling, cut the hard boiled eggs in half, remove the egg yolk and place into a large bowl. Slice the egg whites into quarters and set aside.

Using a fork, mash the egg yolks until its broken up into small crumbly pieces.

Once cooled, add the ground beef into the large bowl with the egg yolks and stir until well combined.

Next, start by pouring about 1-1 ¼ cups of the warm water into the egg yolk and ground beef mixture while stirring. If the dressing is still too thick, continue to add more water until you get creamy consistency that is slightly runny.

Taste the dressing and adjust the seasoning to your preference. This dressing should be on the sweeter side.
Yum Salad (Lao Salad)
Place the chopped red leaf lettuce, green leaf lettuce, sliced NatureSweet Cherubs, sliced cucumbers, and cilantro into a large mixing bowl.

Pour in all of the egg yolk dressing over the salad and mix until well combined. (See note 2)

Add in the sliced egg whites and gently mix.

Optional: mix in roasted crushed peanut or serve on the side.
Recipe Notes
Chop the lettuce into larger 1 inch pieces or you can use your hands to tear the lettuce into large chunks. Since it will be tossed in a heavier dressing, you don't want it to easily wilt.
If you are not immediately serving the salad, do not mix the salad with the egg yolk dressing until ready to serve.
---
This is a sponsored post written by me on behalf of NatureSweet.