This twice baked sweet potatoes recipe is a great for those days you don't want eggs for breakfast, and if you've ever done a Whole30 or are currently doing one, I'm sure you're aware of hitting the threshold when it comes to eggs. This is a great alternative that takes a bit of time, but is perfect for meal prepping because you can easily batch cook it and have it ready for a quick and easy meal throughout the week.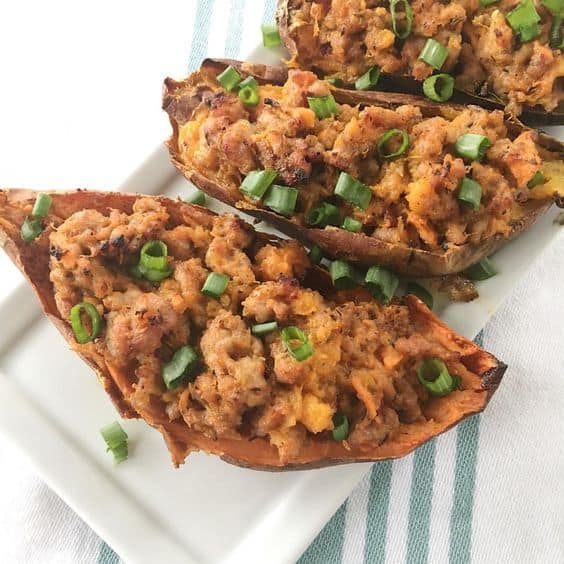 I also love that it's super versatile, and can easily be made to your own taste and liking. Sometimes I swap out the pork for turkey or add a few more spices to change the flavor profile. Try the original and then play around with it! I love topping it with hot sauce and guacamole. When I'm feeling wild and crazy, I will also add a dollop of lactose free sour cream.
If sweet potatoes aren't your thing, you can also use regular white potatoes or even acorn squash. I also think butternut squash would work too, but again, try the original twice baked sweet potatoes recipe first and then play around with it.
As always, yes it's meal prep friendly, and it's also a great recipe for brunch. You will definitely impress your friends and family with this recipe! I am sure of it.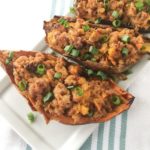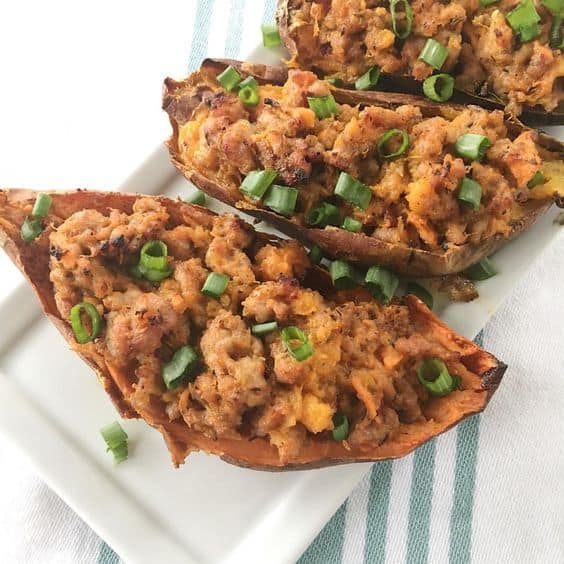 Twice Baked Sweet Potatoes
Instructions
Pre-heat oven to 400°F (204°C).

Scrub sweet potatoes clean and pierce them a few times with a fork.

Place sweet potatoes on a foil lined baking sheet. Bake for 45-60 minutes depending on the size of the potatoes.

Pre-heat a pan with a 1-2 tsp of avocado oil over medium-high heat with garlic.

Season ground pork with spices. Cook until juices run clear.

Once sweet potatoes are done, let them cool until they are ready to be handled and then slice in half lengthwise.

Carefully scoop out the insides of the potatoes trying to not pierce or rip the skin.

Combine scooped out sweet potatoes by mashing it into pork mixture. Mix until well combined.

Sprinkle cinnamon in each scooped out sweet potato then add pork mixture back into the potatoes.

Place the potatoes back in the oven for an additional 10-15 minutes or until the top gets crispy. Serve warm over a bed of greens
Author: Dolly
Pin this recipe for later!

**Please note this post contains affiliate links. It does not affect the cost of the product but I do make a small commission to help keep this blog running if you decide to make a purchase. Dolly's Whole Life is a participant in the Amazon Services LLC Associates Program, an affiliate advertising program designed to provide a means for sites to earn advertising fees by advertising and linking to Amazon.com.