My Thai Coconut Curry Braised Chicken brings in all of the flavor complexities of one of my mom's dish, but doesn't require being in the kitchen for too long! One of my all time favorite dishes growing up was a chicken coconut curry soup that was always a treat whenever my mom made it. She made enough to feed a small army, and it was always better the following day. Since I usually don't have time to dedicate 3-4 hours to make the soup, I figured I needed to make a quick and easy rendition of it.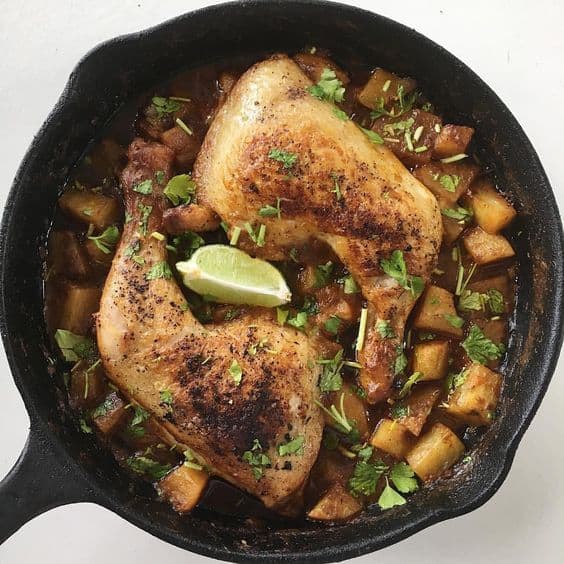 This dish has all the elements of Thai dishes. It has a little kick from the curry and a little sweetness from the coconut milk. The fresh herbs and lime juice brings everything together, and the potatoes make it really hearty. It is a great way to introduce people to the flavors used in Thai cooking. A great way to understand the different flavor profiles used.
I personally enjoy having this dish over cauliflower rice with an extra squeeze of lime. If you're not Whole30-ing it feel free to have it over some good ole white rice, and make sure the rice soaks up all the flavor of this Thai Coconut Curry Braised Chicken. You'll thank me later!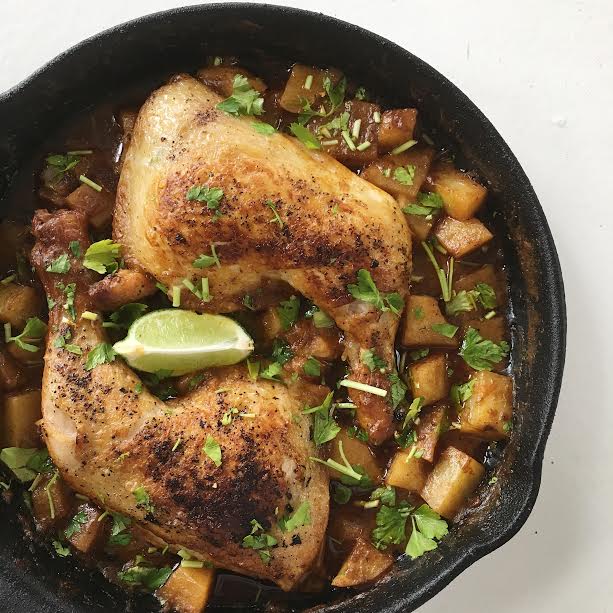 As always, yes this is meal prep friendly! It's great eaten cold or heated up. It also freezes really well. Just portion it into individual sized servings, and when you are ready to eat it, you can thaw it in the fridge overnight and reheat it. It's almost better the next day because the flavors really get a chance to mix and mingle!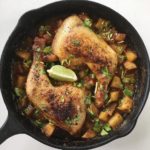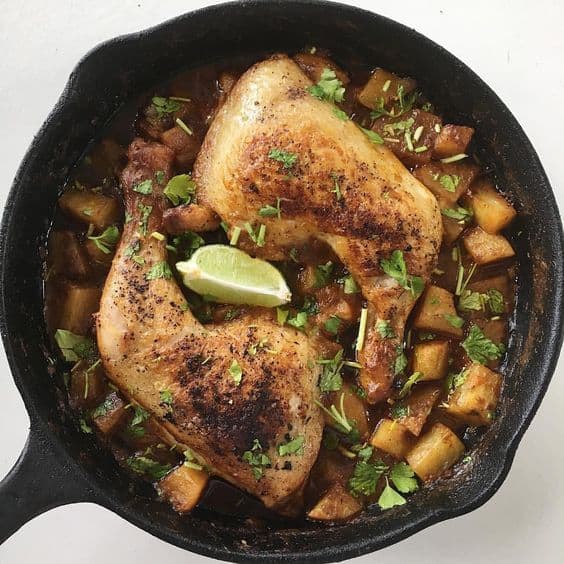 Thai Coconut Curry Braised Chicken
Ingredients
2

quarter leg chicken OR 4-5 chicken thighs

1

russet potato

peeled and chopped

1

can

13 oz full fat coconut milk

2

tbsp

Thai red curry paste

2

tbsp

cilantro

chopped

1

tbsp

ghee

1

tbsp

ginger

grated

1

tbsp

fish sauce

1

garlic clove

minced

1

lime

juiced

Fresh ground black pepper

Lime wedges
Instructions
Preheat oven to 400°F.

Heat ghee in a cast iron pan or oven safe pan over medium-high heat.

Season chicken with salt and pepper.

Place chicken skin side down in pan, sear until golden brown (4-5 minutes), flip chicken and cook for an additional 5 minutes.

Remove chicken after each side has been seared (does not need to be cooked through). Drain excess fat.

Lower heat to medium, add ginger, and minced garlic.

Cook until fragrant then add curry paste. Continue cooking for another 5 minutes mixing the curry paste around.

Add coconut milk, fish sauce, and lime juice to pan. Mix until combined with curry paste, add chopped potatoes, lower heat to low and simmer for about 10 minutes.

Add chicken back into pan skin side up, simmer for another 10 minutes.

Place pan in the oven for 20-25 minutes or until chicken is cooked through.

Garnish with cilantro, lime wedges and serve over cauliflower rice.
Pin this recipe for later!

**Please note this post contains affiliate links. It does not affect the cost of the product but I do make a small commission to help keep this blog running.