Meatloaf: you either love it or you hate. I love it, and this one pan mini bbq meatloaves recipe will change your mind. I never understood why it always got a bad rep. I mean, I guess it's weird that you're compressing a pound or so of meat together to be cooked like a loaf of bread, but there are wayyy weirder things to be consuming. I just think meatloaf has been done wrong, but I'm here to change that!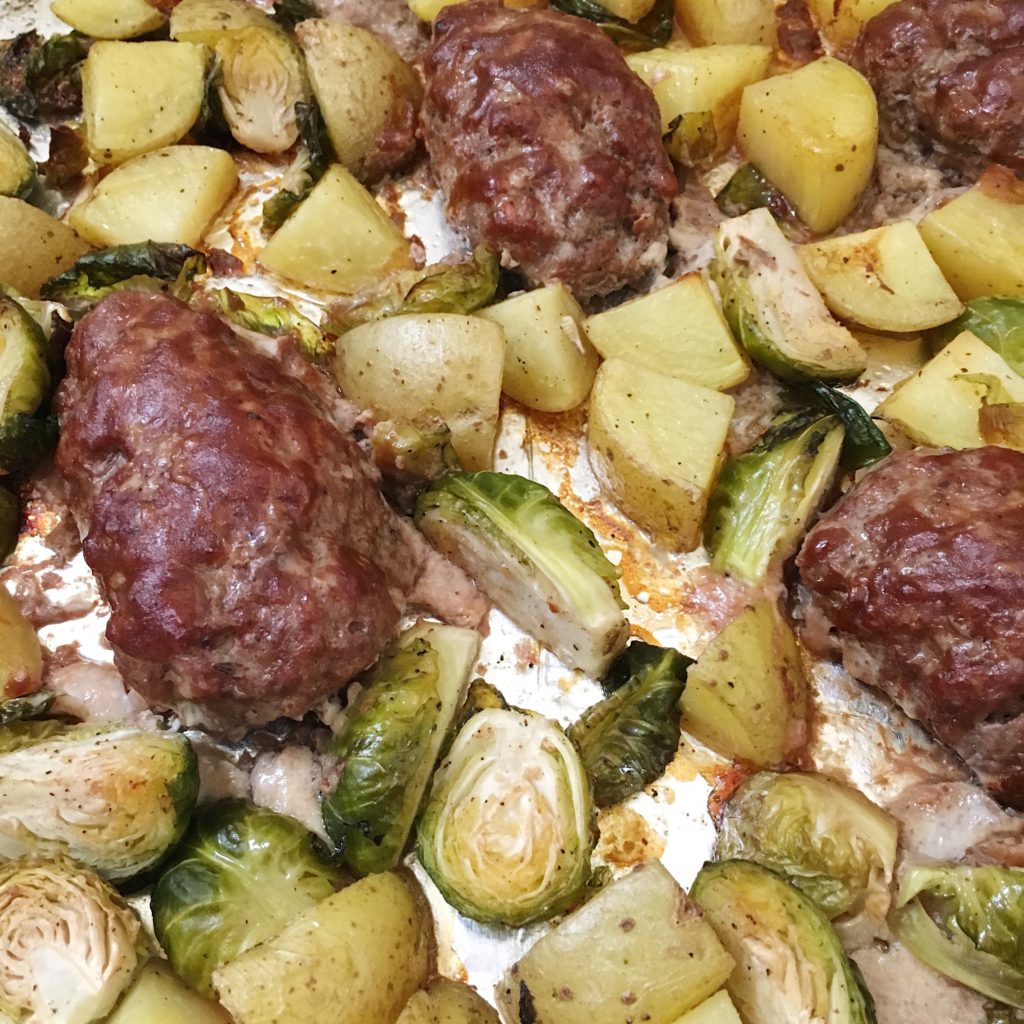 When I lived in NYC, I would always buy pre-made BBQ meatloaf from Fairway Market (it only required me to reheat it in the oven for 10 minutes) with a side of either mashed or roasted potatoes and whatever prepared greens they had that day. Those were my "I'm Carrie Bradshaw living in the big city and don't have time to cook or know how to cook" days. I miss it, but I digress.
I personally prefer using BBQ sauce over ketchup or tomato sauce whenever I make meatloaf. I really like the smokey flavor it gives it. So you better believe this One Pan Mini BBQ Meatloaves has a ton of bbq sauce in it! The bbq sauce also helps it from drying out. So it's definitely necessary.
Also, making the meatloaf mini will also ensure it doesn't dry out or be tough. If dry meat is your thing, do you boo. I won't judge. This recipe is also great because I turned it into a one pan meal, and you can totally customize it to your liking.
I paired my one pan mini BBQ meatloaves with roasted potatoes and Brussels sprouts because I was feeling nostalgic of my NYC days. If that combo isn't your thing, choose something else but make sure the veggies can cook at the same rate as the meatloaves or adjust the cooking time and/or method accordingly. These would also be great with garlic cauliflower mash!
I hope I can change your mind when it comes to meatloaf, and hopefully this recipe becomes a part of your rotation when it comes to your weekly meals!
One Pan Mini BBQ Meatloaves
Ingredients
1 ½

lb

lean ground beef

1

lb

baby potatoes

halved

1

lb

brussels sprouts

trimmed & halved

½

onion

finely chopped

2

garlic cloves

minced

1

egg yolk

beaten

¼

cup

almond flour

¼

cup

+ 2 tbsp BBQ sauce

1 ½

tbsp

BBQ seasoning

2

tbsp

avocado oil

divided

2

tsp

kosher salt

1

tsp

fresh ground black pepper
Instructions
Preheat oven to 400F. Line a large baking sheet with parchment paper or aluminum foil.

In a bowl, toss baby potatoes and brussels sprouts with avocado oil, salt and pepper. Spread evenly on baking sheet.

In a skillet, preheat avocado oil over medium heat. Saute onions and garlic until onions are tender and garlic becomes fragrant, roughly 5-7 minutes.

In a bowl, add onions and garlic with ground beef, egg yolk, almond flour, ¼ cup BBQ sauce, and BBQ seasoning. Mix until well combined.

Shape ground beef into 4x2 mini loaves. Place on baking sheet in between potatoes and brussels sprouts. Brush each loaf with remaining BBQ sauce.

Bake in the oven for 30 minutes or until meatloaves are cooked through, toss potatoes and brussels sprouts half way through.
BBQ Seasoning:
Mix spices and store in an airtight container until ready to use.
Pin this recipe for later!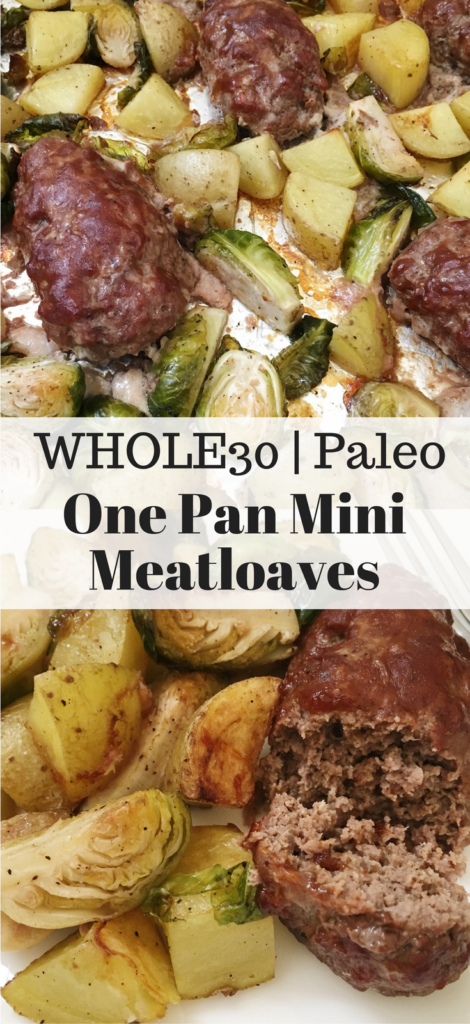 **Please note this post may contain affiliate links. It does not affect the cost of the product but I do make a small commission to help keep this blog running if you decide to make a purchase. Dolly's Whole Life is a participant in the Amazon Services LLC Associates Program, an affiliate advertising program designed to provide a means for sites to earn advertising fees by advertising and linking to Amazon.com.