Grilled Moroccan Chicken with Turmeric Rice – a dish inspired by the warm and bold flavors of Moroccan dishes. The grilled chicken is Whole30 and Paleo friendly! The rice is perfect for those who are gluten free, and I also give instructions on how to use cauliflower rice to make it completely Whole30 and Paleo!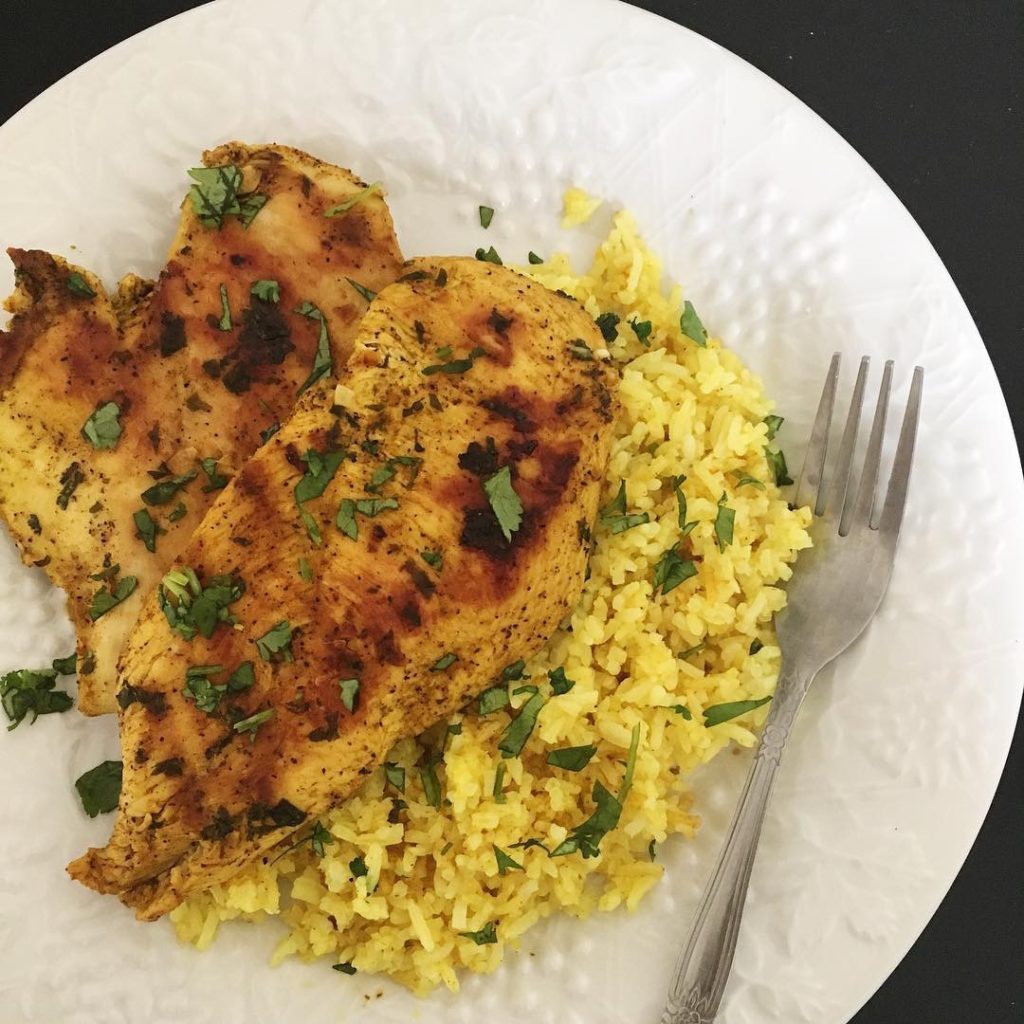 I will be the first to admit that chicken breast is the last cut of chicken I will ever buy. I blame diet culture for ruining chicken breast for me and just about anyone who's ever been on a diet. I decided to make it my mission to redeem chicken breast's reputation, and this grilled Moroccan chicken with turmeric rice will not disappoint!
I definitely recommend grilling it with a grill pan or an actual grill. If you don't have either, use a cast iron skillet. I'm not crazy about baking chicken breast unless I'm making something like my Paleo Buffalo Chicken Tenders, but if baking chicken breast is your thing, by all means. You do you!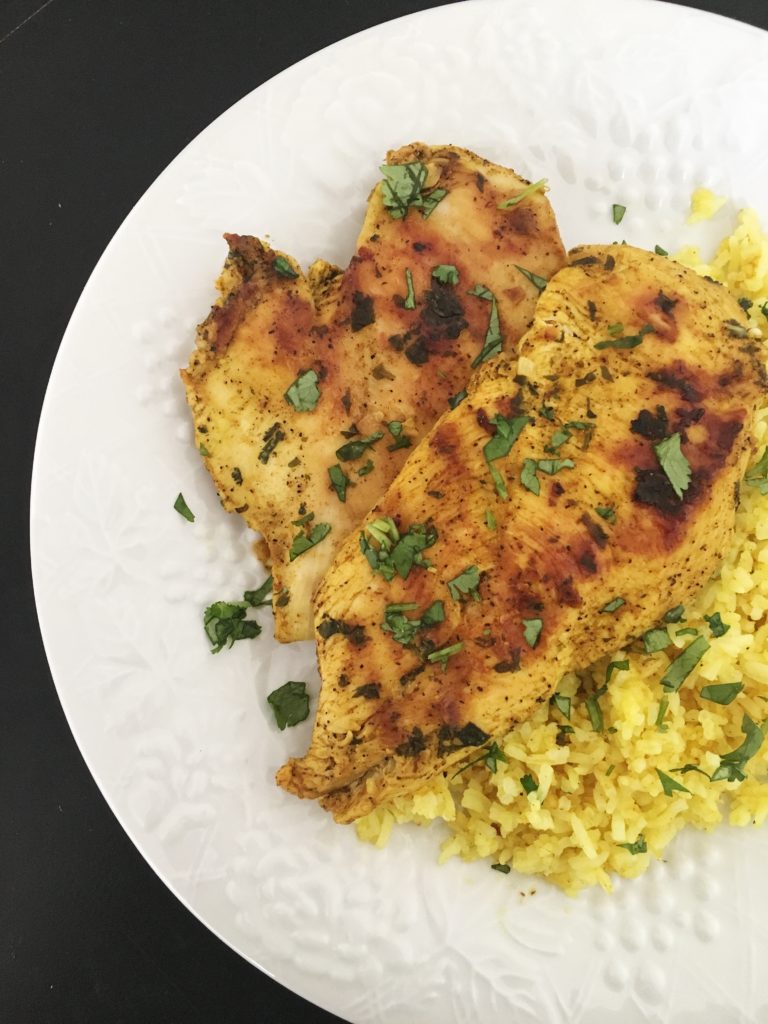 This dish is awesome because it looks and sounds fancy, but it's so easy to make! The hardest part is waiting for the chicken to marinate. I don't know about you, but the waiting game is always the hardest when it comes to preparing dishes.
The smell will tempt you to make it right away, but you definitely want to marinate the chicken for at least 2 hours to get maximum flavor. Also, don't be like me and not reserve some of the marinade to put on your chicken after it's done. You'll want to, trust me! It's so dang good. Use the rice to soak it all up!
Also, this way of making rice is my favorite. It's packed with flavor and is a great way to mix it up if you're getting bored with regular plain rice. Obviously, if you're doing a Whole30 or if you're Paleo, you can substitute the rice with cauliflower. Either way, it'll be delicious!
Grilled Moroccan Chicken with Turmeric Rice
Ingredients
Turmeric Cauliflower Rice
Instructions
Grilled Moroccan Chicken
Slice chicken breasts in half lengthwise, place in a large chicken in a large ziplock and pour marinade over chicken. Make sure chicken is covered with marinade then marinate in the refrigerator for 2-8 hours.

Remove chicken from ziplock, add chicken to grill pan and grill chicken for 4-5 minutes per side or until juices run clear. Let chicken rest before serving with turmeric rice.
Turmeric Rice:
Once melted, add in basmati rice and mix until rice is coated with spices.

Lower heat to low, cover pot and simmer for 15 minutes or until liquid has absorbed.

Once done, fluff rice and taste to see if you need

kosher salt

and black pepper.

Optional: stir in a handful of chopped cilantro.
Turmeric Cauliflower Rice
Cook until cauliflower rice is tender.
Pin this recipe for later!