It wouldn't be Tostones Week without some type of dessert, right? Right! These Chocolate Hazelnut Tostones are my current obsession because they are delicious on their own or used to sandwich your favorite ice cream flavor.
If you're new here, you are going to quickly learn almost all of my favorite recipes are flavor combos. Sweet and spicy is my favorite, but sweet and salty is a definite close second.
These chocolate hazelnut tostones perfectly hit that sweet and salty spot. You get the sweetness from the chocolate and the saltiness from the perfectly salted toston. Then you add the toasted hazelnut element and you have the perfect dessert!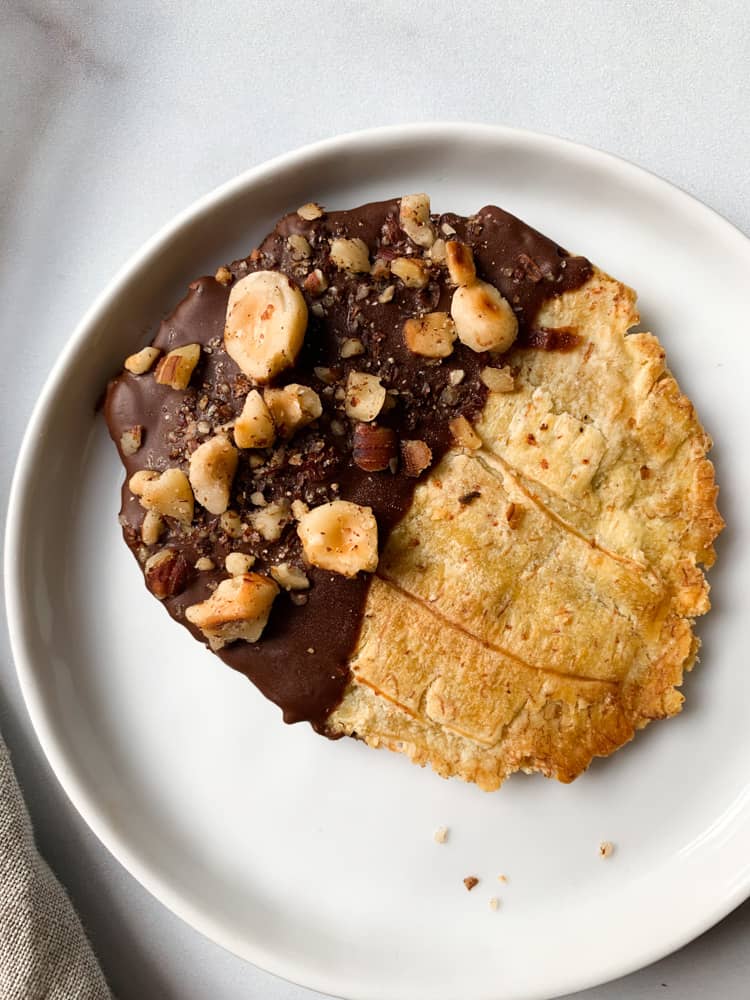 A few things about this recipe:
I used Enjoy Life Mini Chocolate Chips. This is my favorite brand to use when I do make anything chocolate dessert related.
If hazelnut isn't your thing, you can leave them out or use your favorite nut. I used hazelnut because I wanted a Nutella feel!
I like making my tostones bigger because duh! …more surface area! But this works with the plantains cut into coins.
Because you need to refrigerate these so the chocolate solidifies, you won't get super crispy crunchy tostones. Still delicious nonetheless!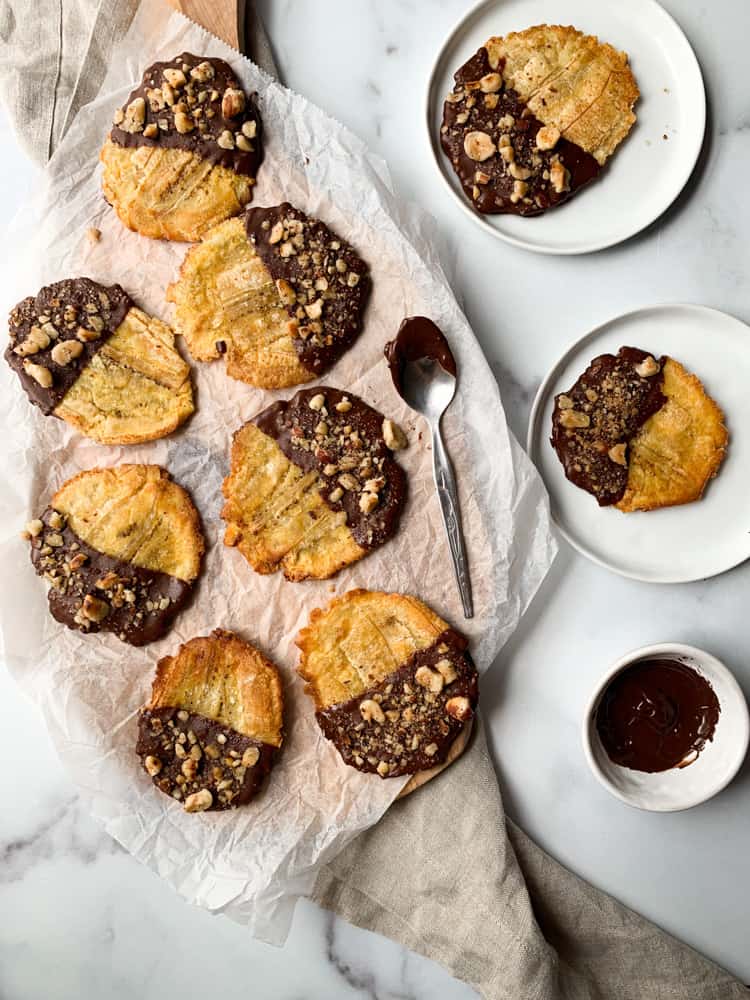 So, there are several ways to eat these:
On its own.
Use the chocolate hazelnut tostones in place of graham crackers when making s'mores.
Make ice cream sandwiches using your favorite ice cream flavor. (I love sandwiching vanilla ice cream in between with chocolate sprinkles around the edges.)
Spread a little nut butter on it.
Turn it into a sweet toast by topping them with different fruits and honey.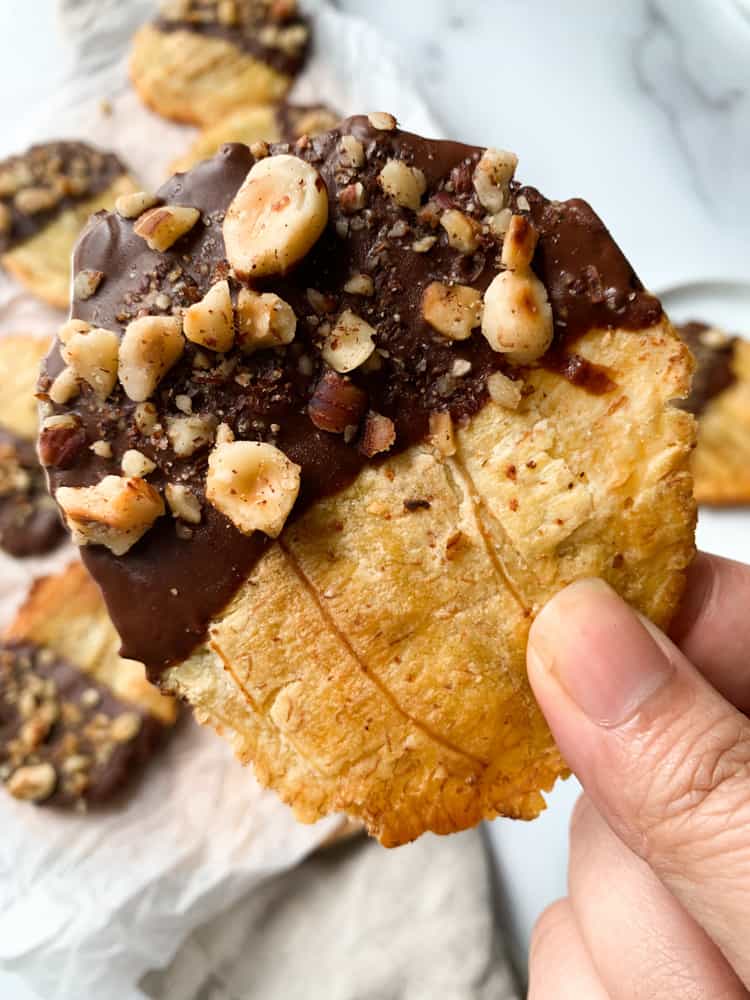 The possibilities are endless when it comes to these chocolate hazelnut tostones. It's definitely one of the easiest recipes to make, but has such a fancy feel to them!
Chocolate Hazelnut Tostones (Paleo, Dairy Free)
Refrigerating Time
1
hour
Total Time
1
hour
25
minutes
Ingredients
4

green plantains

kosher salt

½

cup

chocolate chips

1

tbsp

coconut oil

½

cup

roasted hazelnuts

crushed
Instructions
Cut off the ends of plantains. Then cut plantains into 2 inch pieces.

Cut the 2 inch pieces in half lengthwise and remove the skin.

Preheat a skillet over medium heat with enough avocado oil covering the bottom of the skillet.

Once heated, add the plantains and cook on each side for 3-4 minutes or until lightly browned and cooked through.

Remove plantains from skillet, flatten the plantains using something with a flat surface, and then refry in the same skillet. (Replenish avocado oil if you need to.)

Refry plantains for 2-3 minutes one each side or until golden brown.

Remove tostones from the skillet, place on a paper towel lined plate, and salt immediately.

While tostones cool, melt the chocolate chips with the coconut oil in the microwave or a saucepan.

Once melted, coat half of the tostones on both sides with the chocolate and then sprinkle the chopped hazelnuts while the chocolate is still wet.

Repeat the process until all of the tostones are coated.

Refrigerate in a single layer for at least 1 hour or until the chocolate has solidified.
---
SIMILAR RECIPES:
Churros Inspired Tostones
Shallow Fried Plantains
Oven Baked Tostones
---