Print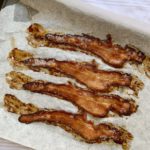 How to Get Perfect Bacon (Whole30, Paleo)
This oven baked method to make bacon is the best way to make it!
Line baking sheet with parchment paper.

Lay bacon slices on baking in a single layer.

Put baking sheet into a cold oven.

Turn oven on to 400F.

When oven reaches 400F, set timer for 12-14 minutes depending on how crispy you want your bacon and how hot your oven gets.