This baked Whole30 falafels recipe is pretty close to the real deal. It took me about 3 different tries to perfect it, but it was all worth it. Falafels are a guilty pleasure of mine, and I'm not even talking about delicious fresh made falafels from a Middle Eastern restaurant. I'm happy with the pre-made weirdo fake one from Trader Joe's wrapped in pita bread with whatever sauce they have that comes with it. Judge me, but I like what I like and I won't apologize.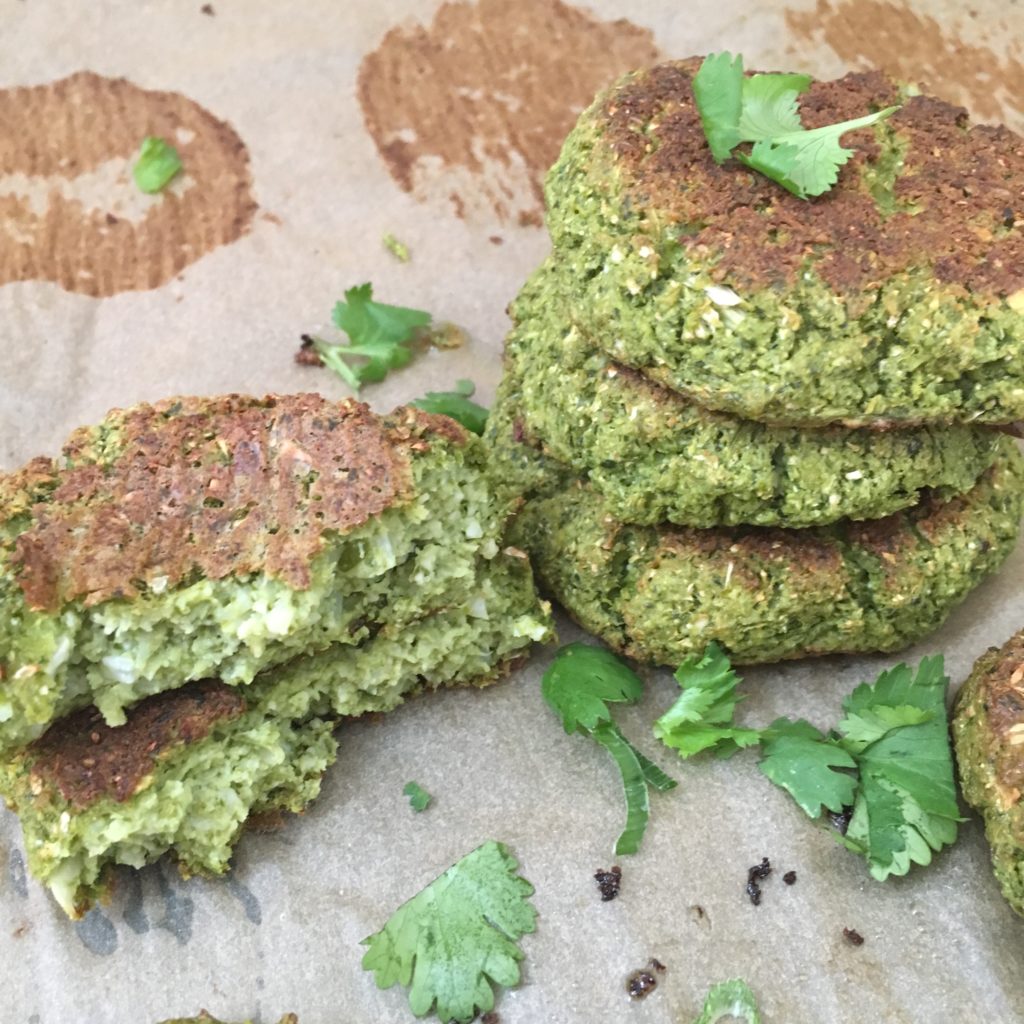 So this baked Whole30 falafels recipe came about when I was doing my September Whole30 and was craving Middle Eastern/Mediterranean food. I realized that a majority of falafel recipes are compliant with the exception of the chickpeas, and cauliflower is the perfect alternative. It gives it that grainy-like texture but can hold up really well when mixing. I was seriously shocked when I first tasted this recipe during development!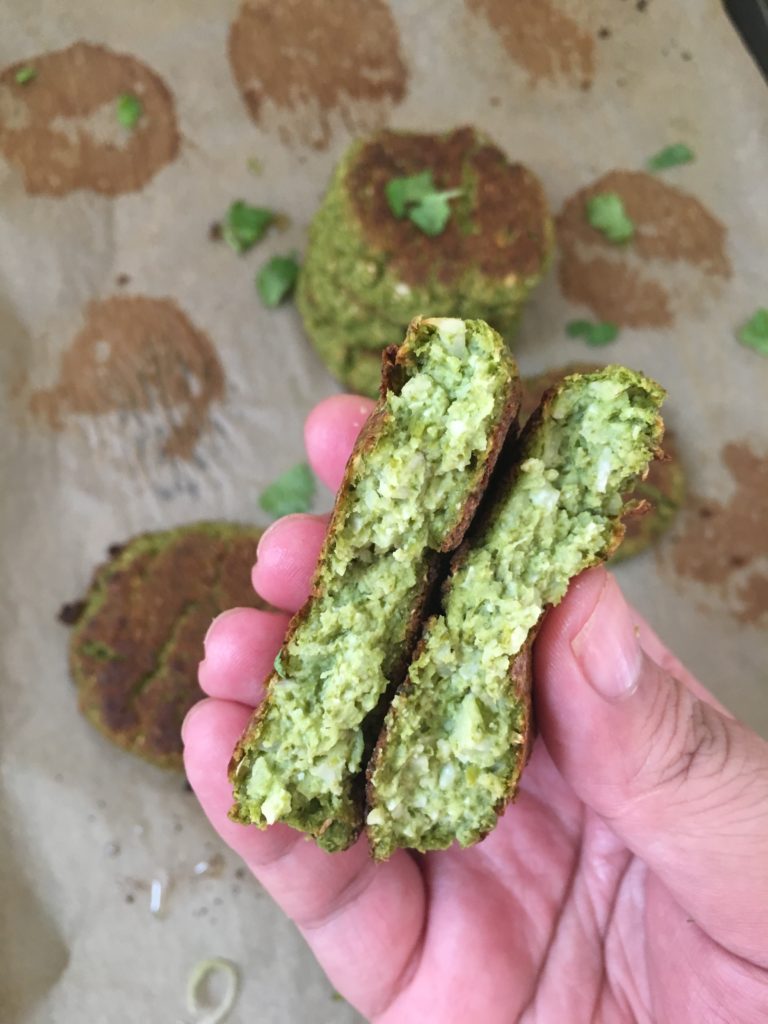 These are best served immediately, but if you want to make a bunch for a later time, you can freeze them and reheat in a skillet that is lightly greased. I love having these baked Whole30 falafels with either hummus or tahini sauce, and it's also great over a salad with a tzatziki dressing. My most recent obsession is using them as burger buns with my lamb burgers. If you find different ways to use this recipe, please let me know! I'm obsessed and I'm sure you will be too.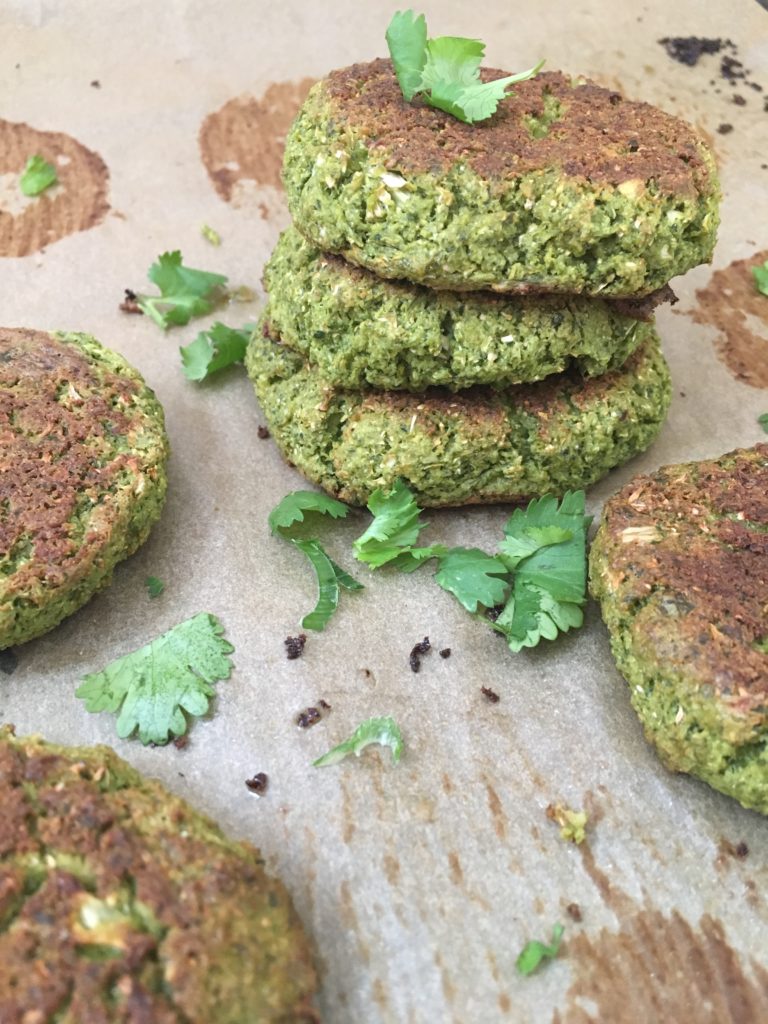 Baked Whole30 Falafel
Instructions
Pre-heat oven to 400F. Line a baking sheet with

parchment paper

and grease with olive oil.

In a food processor, pulse cauliflower florets until minced. Remove cauliflower and set aside two cups.

Add parsley, cilantro, garlic cloves, onion, egg yolks, almond flour, arrowroot flour, ground cumin, salt, pepper, cayenne and water to the food processor. Blend until well combined. Remove into a mixing bowl.

Fold in minced cauliflower to the batter. Mix until well combined.

Grease your hand with a bit of olive oil, scoop about 2-3 tbsp of falafel mix into hands.

Form into a ball, place on baking sheet and lightly press down to make a thick patty. Repeat until all of mixture is used. (You can make the patties as big or as little as you'd like.)

Once patties are formed, lightly brush or spray with olive oil.

Bake for 40 minutes flipping the falafels halfway through.

Serve falafels as soon as possible.
Pin this recipe for later!

**Please note this post may contain affiliate links. It does not affect the cost of the product but I do make a small commission to help keep this blog running if you decide to make a purchase. Dolly's Whole Life is a participant in the Amazon Services LLC Associates Program, an affiliate advertising program designed to provide a means for sites to earn advertising fees by advertising and linking to Amazon.com.