These Chinese Five Spice Ribs are finger lickin' good and can be done in the Instant Pot or oven depending on your preference. The ribs have that iconic Chinese flavor found in so many Chinese dishes.
Nothing beats sticky saucy glazed ribs that are fall off the bone especially when they taste like the ribs you get from your local Chinese restaurant! I might not have a smoker or barbecue grill to make my ribs, but I sure can throw down using what I have, and I would be willing to place all the bets on these Chinese Five Spice Ribs.
Bold statement, but seriously, these ribs are finger lickin' good and have that iconic Chinese flavor found in many dishes (i.e. char sui).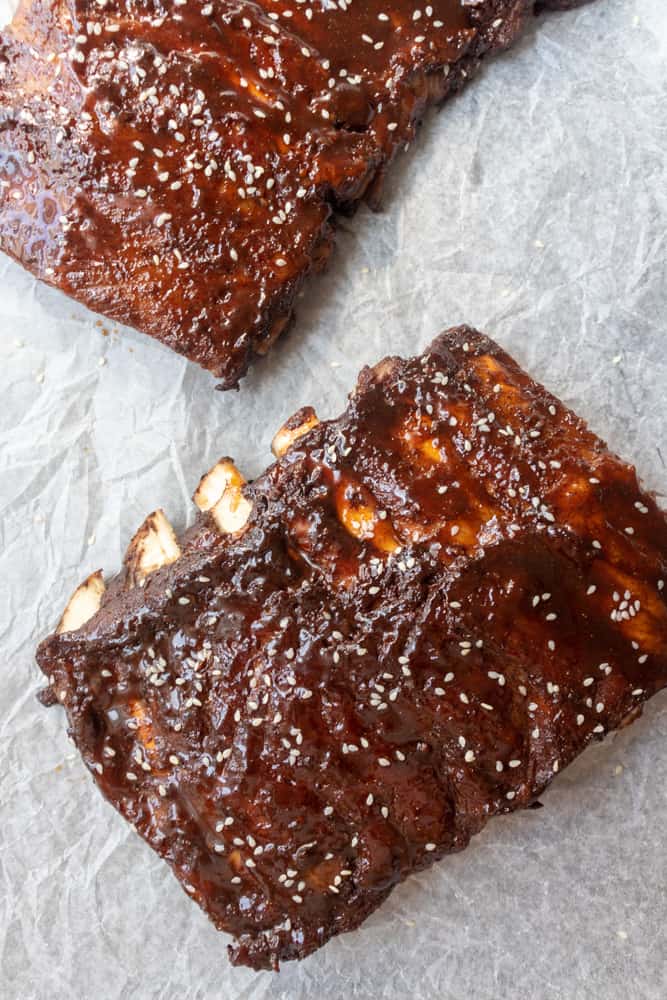 WHAT YOU'LL NEED FOR THE CHINESE FIVE SPICE RIBS:
Baby back ribs are my favorite, but any kind of cut will work for this recipe.
Avocado oil or any neutral flavored oil with a high smoking point.
Fresh minced garlic –use as many as your heart desires.
Chinese five spice powder is the KEY ingredient. You can find it at most grocery stores but definitely at your local Asian market.
Kosher salt is the preferred salt to cook with. If you're using table salt, use less for the marinade.
Ground white pepper is commonly used in a lot of Asian dishes. It's not as pungent as ground black pepper but still adds a lot of flavor and kick to a dish.
Hoisin sauce is like the Asian BBQ sauce. It's sweet and savory and brings a lot of umami to a dish. If you want to make this a completely paleo and gluten free dish there are paleo recipes for hoisin sauce that are the perfect substitute.
Honey pairs so well with the savory and rich flavors in this recipe. If honey isn't your thing you can substitute it for maple syrup or brown sugar.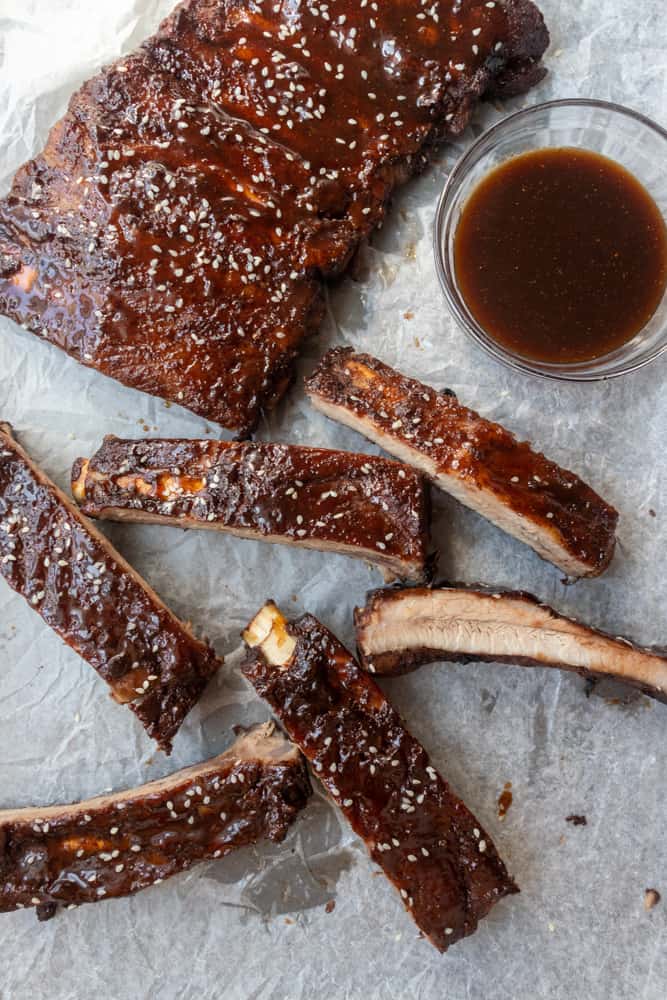 HELPFUL TIPS AND TRICKS TO GET THE BEST CHINESE FIVE SPICE RIBS:
Some people will say removing the membrane on the back of ribs isn't necessary but I like to do it because it will allow the marinade to really get into the meat.
The longer you marinate the better.
If you are using the Instant Pot to make your ribs and have more than one rack place the ribs standing up and just curl the ribs so you can fit more than one rack. My Instant Pot can fit up to three racks if I tightly stack them this way.
The longer you cook the ribs the more tender they will be. I prefer mine fall off the bone, but if you like a chew to your ribs feel free to cut the cooking time.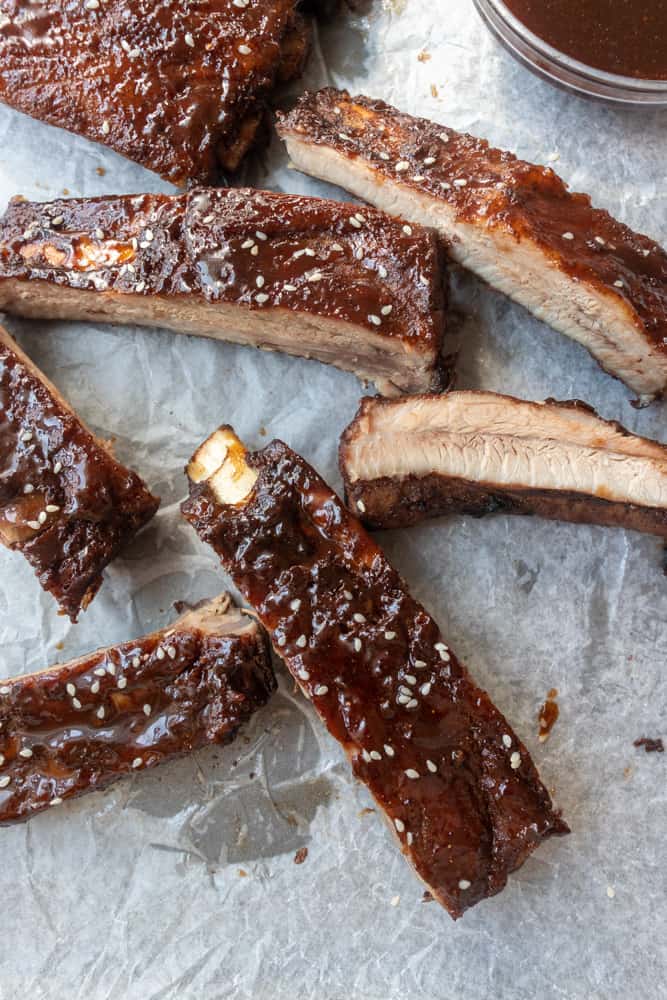 I hope you enjoy these Chinese Five Spice Ribs as much as I do! Grab some napkins and enjoy. Be sure to tag me on Instagram if you make this recipe. I want to see your rendition!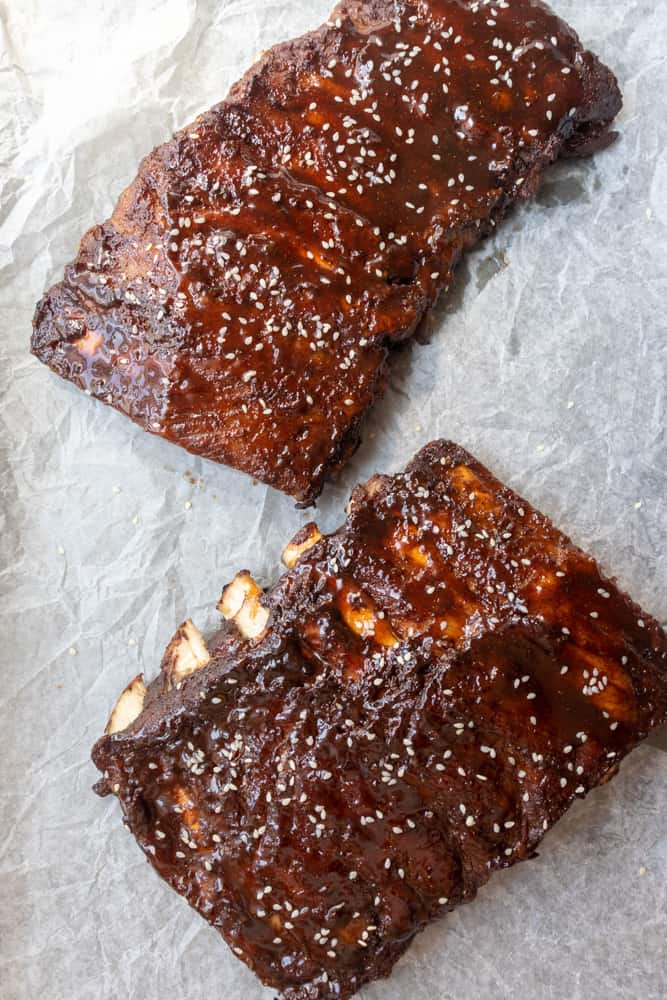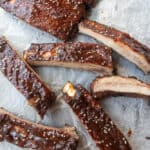 Chinese Five Spice Ribs (Paleo, Gluten Free)
Instructions
Chinese Five Spice Ribs
Flip the baby back ribs meat side down. Run a sharp knife under the membrane. Take a paper towel to grip the membrane and pull it off the ribs. Set aside.

In a small bowl, mix avocado oil, garlic cloves, Chinese five spice powder, kosher salt, and ground white pepper together.

Rub the paste all over the ribs and marinate in the refrigerator for 2 hours to overnight.

Instant Pot method: place trivet into the Instant Pot, add ½ cup water, place ribs (standing up) on top of the trivet. Close lid, seal the valve, and cook at high pressure for 20-25 minutes depending on how tender you want the ribs. Once done, let it naturally release before removing.

Oven method: preheat oven to 350F, place ribs on a foil lined rimmed baking sheet and bake for 2-2 ½ hours.

When ribs are done, remove from Instant Pot or oven, baste both sides with hoisin glaze.

Broil method: broil the cooked ribs for 4-5 minutes or until hoisin glaze has caramelized.

Air fryer method: if necessary cut ribs to fit air fryer basket and air fry for 4-5 minutes at 400F or until hoisin glaze has caramelized. You might have to do this in batches.
Hoisin Glaze
Add all ingredients to a bowl and mix until well combined. If the sauce is thick add more water 1 teaspoon at a time.
---
SIMILAR RECIPES:
Lemongrass Garlic Baby Back Ribs
Spicy Honey Garlic Chicken Wings
---
Some of my posts contain affiliate links. If you use my links to purchase a product, I will receive a small commission, but it will not cost you anything extra. Thank you for your support!