Sometimes my laziness gets me in trouble, but in this case, it worked out for the best! These banh mi burgers were originally going to be meatballs (which you should totally still do) and be put into an ebook I'm currently working on. However, after trying the recipe for the third time, I got lazy and just turned them into burger patties to quickly cook up and see if I nailed the recipe.
Not only did I nail it, but this happy accident turned into my breakfast, lunch and dinner the following day, so I had to share! If you know me, you know that I Groundhog Day the shiz out of food –literally to the point where I can no longer have it. Not the case with these banh mi burgers. As I'm writing this I'm currently thinking of whipping up another batch.
When I was researching banh mi recipes to get some inspiration, I quickly learned that banh mi means bread in Vietnamese. So if you were to translate this recipe (or any banh mi recipes) it would be "bread burger" –which sounds funny, but let's just roll with it.
Anyway, this sandwich is traditionally served in a deliciously crispy but airy and chewy French baguette filled with pickled and fresh vegetables with savory meats that create the perfect balance between sweet, tangy and umami. Are you drooling yet?! And duh, it's another flavor combo recipe.
When I decided to make this recipe, I knew I had to get all the right flavors that would remind everyone of a traditional banh mi sandwich. The recipe calls for a few steps, but I promise you it's totally worth it. I recommend prepping some of the ingredients the night before so you can enjoy these burgers as quickly as possible!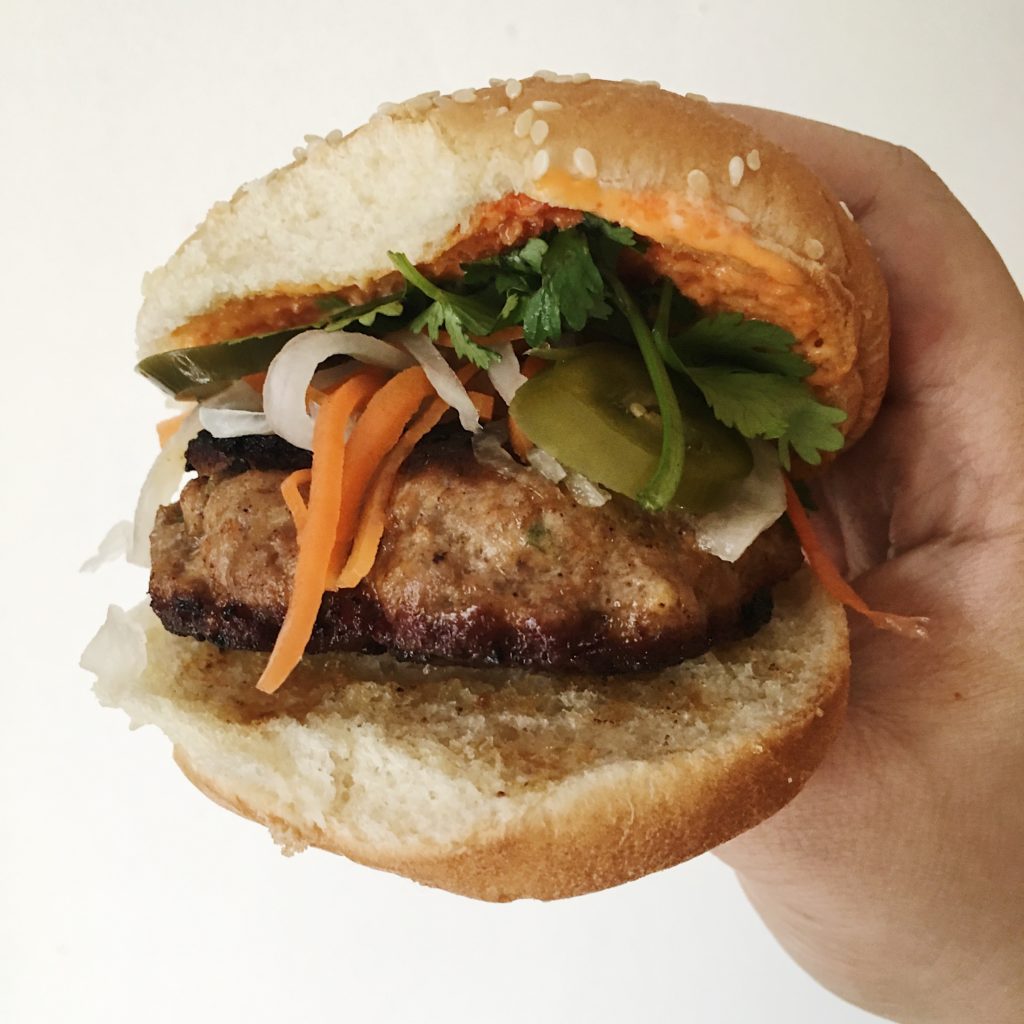 I also highly recommend enjoying these banh mi burgers with (gluten free) burger buns, but if you're doing the Whole30 or following a Paleo diet, I recommend using butter lettuce. I say butter lettuce because they are shaped perfectly to fit burger patties and toppings, but really any type of greens you like will work!
If you become addicted to this burger, don't say I didn't warn ya! Enjoy!
Banh Mi Burgers
Prep Time
1
hour
30
minutes
Ingredients
Pickled Carrots and Daikon Radishes
1

large carrot

peeled and julienned (or cut into match sticks)

1

cup

daikon radish

peeled and julienned (or cut into match sticks)

1

garlic clove

minced

1/2

cup

apple cider vinegar

1/4

cup

apple juice

1/4

cup

cold water

optional

1

tsp

kosher salt
Burgers
Butter lettuce

or burger buns

1

cucumber

thinly sliced

1

jalapeno

(fresh or pickled) thinly sliced

1

cup

cilantro leaves
Instructions
Burger Patties
Mix all ingredients but avocado oil into a mixing bowl.

Form into four burger patties.

Place burger patties onto a plate, cover and refrigerate for at least 30 minutes. This will help keep the burgers together and let the flavors marinate.

Pre-heat skillet over medium high heat with avocado oil (about 2 tbsp).

Place burger patties into skillet and cook on each side for 6-7 minutes depending on thickness of burger.
Pickled Carrots and Daikon Radishes
Combine apple juice and apple cider vinegar with garlic clove.

Place carrots and daikon radishes into a jar.

Pour the brine into the jar until covered. If the brine doesn't cover the vegetables, add in the cold water.

Let the veggies pickle for at least an hour, but I recommend doing this the day before.
Sriracha Mayo
Mix mayo and sriracha together in a bowl.
Burgers:
Layer butter lettuce pieces on a plate.

Place burger patty on top.

Top burger with pickled carrots & daikon radishes, jalapeno slices, cucumber slices and cilantro leaves.

Add sriracha mayo and top with more butter lettuce pieces.
Recipe Notes
Update: there's also a sriracha sauce recipe in the new Whole30 Fast & Easy cookbook
Pin this recipe for later!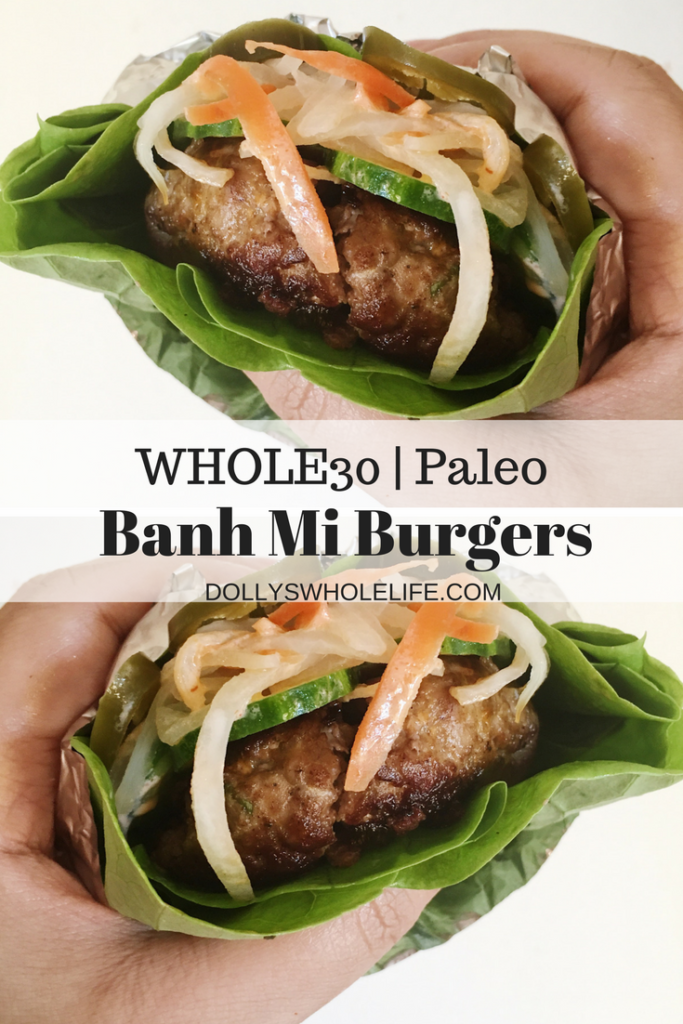 **Please note this post may contain affiliate links. It does not affect the cost of the product but I do make a small commission to help keep this blog running if you decide to make a purchase. Dolly's Whole Life is a participant in the Amazon Services LLC Associates Program, an affiliate advertising program designed to provide a means for sites to earn advertising fees by advertising and linking to Amazon.com.