Print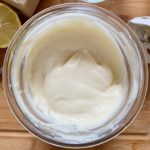 Basic Whole30 Mayo
A quick and easy homemade that is Whole30 compliant and Paleo friendly.
Place egg, extra light olive oil, lemon juice, and Dijon mustard into a wide mouth jar.

Place the immersion blender on top of the yolk and start blending.

Once the egg and oil start to emulsify, move the immersion blender up and down making sure all of the oil is well combined.

Once mayo is created, taste to see how much salt you need and/or want. Start with 1/2 tsp and go from there. Add salt to mayo and blender until mixed it.

Store in an airtight container. Mayo will last up until the expired date of the egg.
Food process method: add everything but the salt and 1 cup of the extra light olive oil to the food processor. Start bending the egg and very slowly start to pour in the rest of the extra light olive oil. Once the mayo is created, stir in kosher salt.