These Street Taco Meatballs have less than 10 ingredients but pack a lot of flavor. Just a few extra steps in the kitchen, and you'll have super juicy meatballs that will remind you of delicious street tacos served in Mexico (or Los Angeles).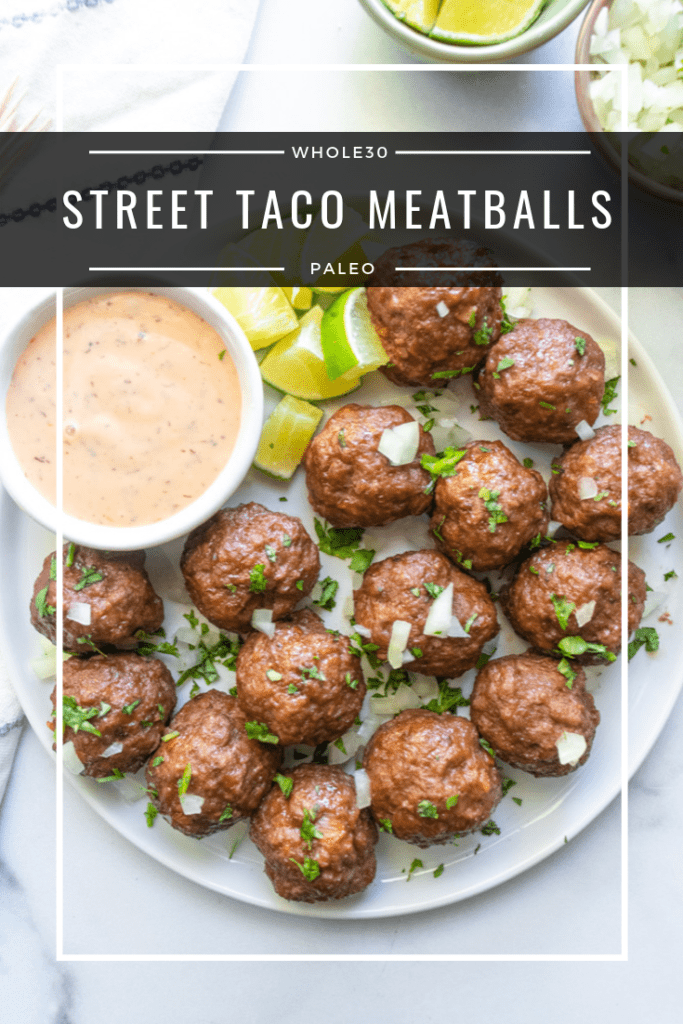 If you've had real street tacos from a real Mexican place, then you know that it doesn't require a bunch toppings piled on top of the meat and then some. When I first moved to Los Angeles, I quickly learned that I had been missing out on real tacos my entire life.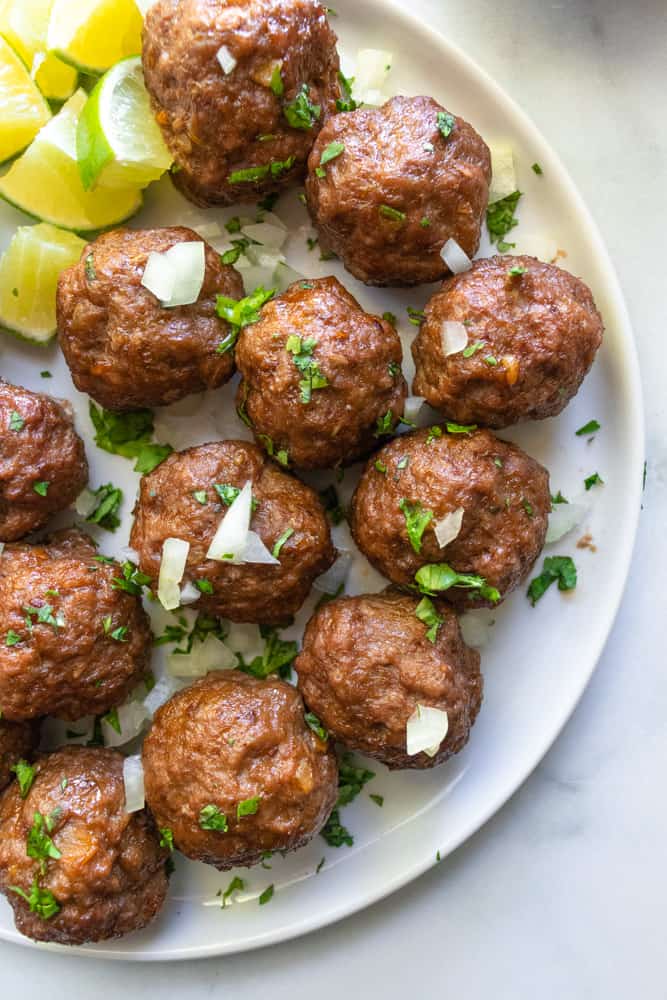 Street tacos are so simple. You have warm tortillas filled with perfectly marinated protein and then topped with diced onions and chopped cilantro with lime wedges on the side. Because you know I love spicy, I'll top mine with some kind of hot sauce but it's so unnecessary.
Since it's football and holiday season, I wanted to recreate my favorite street tacos and thus was born these Street Taco Meatballs. All the flavors of tacos into a meatball topped with cilantro and onions and served with lime wedges and a dipping sauce.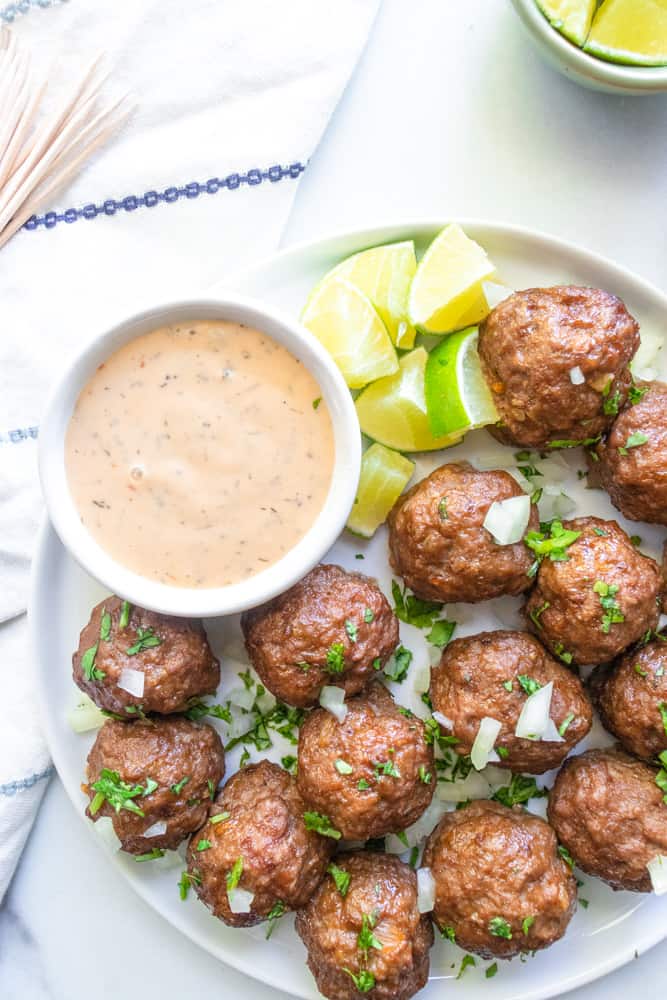 These are perfect little appetizers if you're hosting for game day or a holiday party. They only require a handful ingredients but I'm sure your guests will be begging for more of these Street Taco Meatballs.
As simple as they are, there are a few extra steps you should take to ensure they are as delicious as regular street tacos.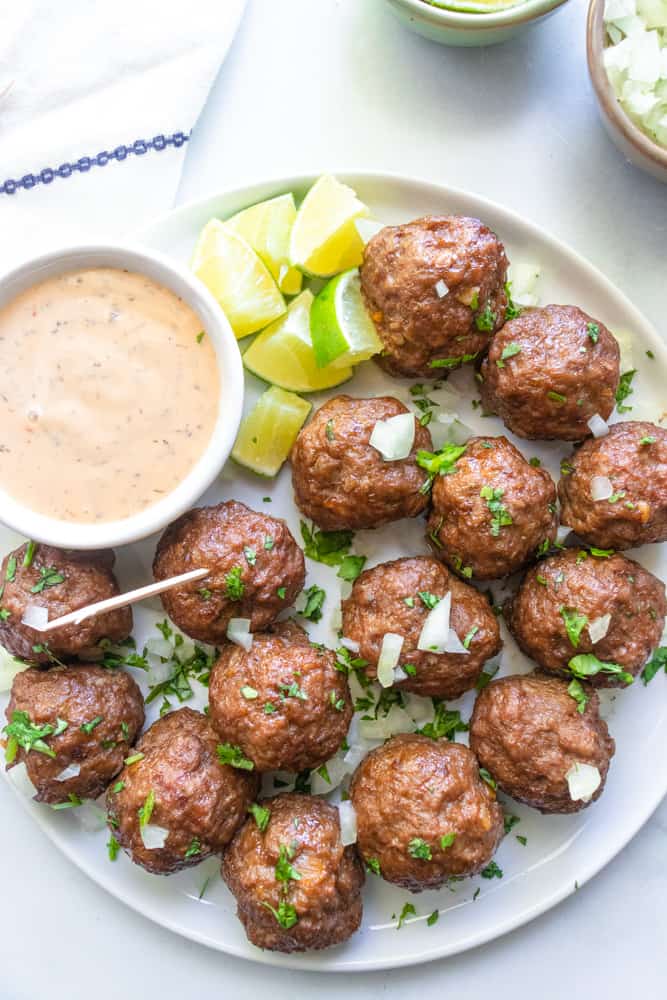 How to get extremely tasty Street Taco Meatballs:
Saute the onions and garlic with the taco seasoning. The onions and garlic will get nice and sweet. The taco seasoning will bloom which means the flavors will really shine through. Blooming spices just means toasting them a bit.
Let the onion, garlic and taco seasonings cool a bit and then add it to your whisked egg. Mix together and then add it to your meat. This will ensure everything is even distributed through.
Definitely use 80/20 ground beef. You want a little fat because it'll keep the meatballs moist and add flavor. You can also do half ground beef and pork if you're using a leaner ground beef.
Don't overwork your meat when mixing all of the ingredients. Overworking the meat can lead to tough meatballs –especially if you're using all ground beef.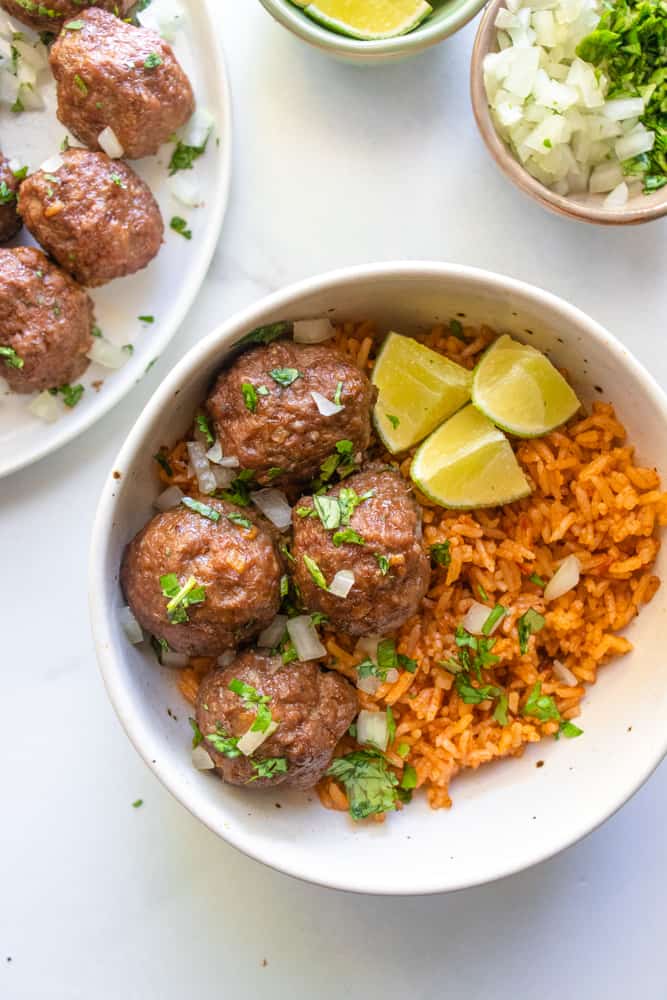 Not only are these Street Taco Meatballs great appetizers, they're also great for meal prepping or having as part of your main dish!
You could also serve them in tortillas and create a different taco experience. Whatever you decide to do, be sure to add this to your menu because you won't regret it!
Street Taco Meatballs (Paleo, Keto, Whole30)
Ingredients
½

small onion

diced

2

garlic cloves

minced

1

tbsp

taco seasoning

1

tbsp

avocado oil

1

egg

whisked

1

tsp

kosher salt

½

tsp

ground black pepper

1

lb

ground beef

¼

cup

chopped cilantro

¼

cup

finely diced onion

lime wedges
Instructions
Preheat oven to 350F. Line a baking sheet with parchment paper and set aside until ready to use.

Preheat skillet over medium heat with avocado oil.

Add in the onions and garlic. Saute for about 3-4 minutes or until fragrant.

Add in the taco seasoning and saute for about 45 seconds or until spices become fragrant. Remove from heat and let cool a few minutes.

Once cooled, add onions and garlic mixture to whisked egg. Stir until well combined.

Add egg mixture to ground beef and mix until well combined. Don't overwork meat.

Using a medium cookie scoop, scoop meatball mixture onto baking sheet. You should get around 16 meatballs.

Round out the meatballs and then bake for 20-25 minutes or until meatballs are cooked through.

Garnish with chopped cilantro and dived onions.

Serve with lime wedges and taco ranch dressing.
Taco Ranch Dressing
Mix ingredients together and refrigerate until ready to use.
---
SIMILAR RECIPES:
Lamb Meatballs
Meatballs Over Garlic Cauliflower Mash
Pork Dumpling Meatballs
---